The Verizon Lumia Icon - Windows 10 Mobile breathes new life into an aging flagship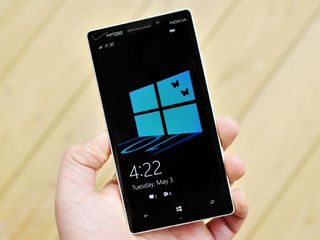 Microsoft and especially Verizon have rightfully caught a lot of flak over not updating the Nokia Lumia Icon to Windows 10 Mobile. All hope is not lost, however, as over the last few weeks the Upgrade Adviser now reports Microsoft is working with the carrier for an upgrade, and Microsoft's Gabriel Aul did mention it is being "considered".
Seeing as those on Verizon have no real recourse to a modern Windows 10 Mobile experience I decided to dust off my Lumia Icon and install Windows 10 Mobile via the Windows Insider program. I had no expectations and frankly, I did not even know if the Icon was still eligible for the Insider program.
The result? It's so good that I reactivated my Verizon SIM and now use the Icon on a daily basis.
What I did
I had not used my Lumia Icon in a long time, so I rolled it back to Windows Phone 8.1 using the Windows Device Recovery Tool. Once completed and after making sure, I had all updates not on the server I downloaded the Windows Insider app from the Store.
I won't go into doing the Windows Insider program as we have covered that story before.
For purposes of this article, I enrolled in the very stable Release Preview channel. That channel features the most recent version of Windows 10 Mobile that is ahead of production, but not experimental either and is considered safe to use on a daily basis.
The Windows 10 Mobile upgrade experience took me from Windows Phone 8.1 to Windows 10 Mobile build 10586.107. After that initial OS update, an OS cumulative update came through for build 10586.242, which will go out to all production devices next Patch Tuesday, which is on May 10.
I had zero issues and not a single problem during the setup process.
How is it?
I am almost shocked at how good Windows 10 Mobile is on this device. The OS is very fast, smooth and as far as I can tell, everything works including Hey Cortana.
Battery life is likely better with Windows Phone 8.1 as many have attested to in our forums, but I cannot say battery life has been terrible on the Lumia Icon with Windows 10 Mobile either. The phone does not run hot nor have I had any sudden battery drains, and so far it gets me through the day.
Even the 20MP PureView Camera holds up. Sure, I consider the Lumia 950 and Lumia 950 XL superior to the Icon especially in low light and speed, but the Icon's camera is still impressive two years on.
What I missed about the Lumia Icon
I have been steadily using the Lumia 950 (and less often the Lumia 950 XL) ever since their release late last year. While I think both devices, especially the Lumia 950, have come into their own from all the OS and firmware updates, there are things that I did miss from the Lumia Icon that I appreciate a bit more:
AMOLED pillow top display – The Lumia Icon (and Lumia 930 by extension) had a fantastic AMOLED display that felt super smooth. The way the screen slides off on the edges is an excellent experience, and it is much better than the Lumia 950 and Lumia 950 XL displays, which are entirely flat and lack contrast and punch.
Build quality – This one is evident but the Lumia Icon – even being thicker – feels better to hold and use with better quality materials. This point is a no brainer but is still worth mentioning.
Still, I can say that I still miss the Glance screen found on the Lumia 950 and Lumia 950 XL. That is one omission along with double-tap to wake (which is on the Lumia 930 oddly enough) that the Lumia Icon can never shake.
My advice for Verizon customers
If you are on Verizon and cannot switch carriers but you still want something with Windows 10 Mobile I say grab a Lumia Icon if you can find one and slap the Preview Release on it.
Microsoft and Verizon may release an official update, which only means you may get firmware if needed and being an Insider right now won't change your eligibility for that. If your OS is older than what you have installed (unlikely) you will get the official update. If there is new firmware you now get that too with no resets involved making this a no-risk venture.
When I compare the experience of the Lumia Icon to the Lumia 950 with Windows 10 Mobile, there is much more overlap than differences. Sure, the Lumia 950's processor gets a boost when rendering images or doing some heavy lifting but for typical Windows 10 app launches, you would think they are the same phone. Whereas running a Lumia 650 next to a Lumia 950 reveals substantial performance differences you won't notice that here with the Icon.
All I know is what started as a little experiment with my dusty Icon turned into a rejuvenated experience thanks to Windows 10 Mobile. If you are on the fence with either buying this device or updating it through the Insider program, I say just go for it and don't look back.
Have you put Windows 10 Mobile on your Lumia Icon? Share your experience in our comments or jump into our Lumia Icon forums to see what others are saying.
Windows Central Newsletter
Get the best of Windows Central in in your inbox, every day!
Daniel Rubino is the Editor-in-chief of Windows Central, head reviewer, podcast co-host, and analyst. He has been covering Microsoft since 2007 when this site was called WMExperts (and later Windows Phone Central). His interests include Windows, laptops, next-gen computing, and for some reason, watches. Before all this tech stuff, he worked on a Ph.D. in linguistics, watched people sleep (for medical purposes!), and ran the projectors at movie theaters because it was fun.
I kinda fell for the Lumia Icon after all of these months. It's fun to re-use this device even in 2016. I really like Windows 10 Mobile and the new UWP apps and they feel right at home on this hardware. Hopefully Microsoft and Verizon will make something "official" even if the phone is not sold anymore. Regardless, if you have this phone now I think you're nuts to not put Release Preview on it and join the rest of us. Even if you have "moved on" to other platforms it's a fun experience and will keep you up to date should you ever switch back in the future or are just curious. Next stop? I need to do this on my Lumia 1520.

It's a great phone. But no Glance and no microSD is a deal breaker for me. Windows Central for Windows 10-Microsoft Lumia 640

As they were in 2014 ;) Still, there's a lot here to still enjoy even now.

I'd love to pick up a Lumia 1520 but they've kept their value surprisingly well over two years on. I need an international unlocked model (I'm on AT&T but I want wireless charging and 32GB) but I can't really find any for much under $300.

Hah, even I don't have the 32Gb and international version. That would be a fun phone to use with W10M.

I have the 32GB and the 16GB ATT models, but I miss the wirelss charing that my 920 had, but I can't argue as we got them for about $150 brand new and unlocked them. Love the phone and I want to find a true replacment to this phone. Love the speed and screen of the 950XL but I want more power and features lol. Daniel, what's you're currently most used phone and what's your reason for using it?

Got the 1520 international version and using it with windows 10 for a month now and I would say is smooth as butter lol, using version 586.218 safely baby

Plenty of 1520s available here in my hood. I might grab one, what would u recommend as the best Nokia to buy and switch to W10?
I currently have a 925, love it but no W10 :|

I got the Lumia 1520 AT&T 16Gb unlocked and local CV FI or Scandinavian.
Both are fantastic in the Anniversary Update (Beta) of the Windows Mobile 10.
Waiting for May 10 Patch Tuesday...

As an owner of 1520 int. 32gb+64gbSD with release preview W10 I am very happy camper, if only I didn't misjudge the size of the phone, when I bought it. I own 920 that is 1520 predecessor and last year I went for 950 just because of the size, because mini tablet format is kind of too big for me. I am running 950 on fast ring and is kind of ok, but 1520 is rock solid, lasts longer, if only the size....does matter ;-)

Look closely on ebay, Unicorns can still be found! :)

@Zachary Boddy, the 1520 sure has kept it's value. I had several chances to get it sub £180 (no warranty). But in the end i got the 930 for £115 with warranty. Which is a bargain for what you get. It had been for £80 min - no warranty. Planning on getting another later for redstone testing.

Fortunately, I still have mine on ATT. I've damaged my phone last year and they sent me an LG G3, instead of sending me another 1520 replacement. After a bit of complaining, they gave me what I wanted. I'm holding on to my 1520 32gig for dear life. Lol While the 950 is a nice phone, I wasn't impressed enough to upgrade. Although, my son seems to enjoy it and gets a kick out of telling me how much better his phone is than mine. I'm enjoying the newest build and hopefully, it will last me until the release of the next Win 10 Mobile phone. If all else fells, I will buy the 950XL and wait it out. Lol Not knocking other platforms, but I'm pretty vested in the ecosystem and I like being able to use most of the apps and media across my devices. Yep...still holding onto my original Surface Pro 128GB. ;)

Did verizon ever let the Icon properly handle group texting? the Lumia 928 would recieve group texts as individual texts. As someone who ends up in lots of different SMS groups, this really was the biggest downside of verizon for me.

I don't use group texting that much, but last time I shared in one a few months ago it worked fine on my Icon.

Yes it handles group texting perfectly

Yes it works as it should with group texting. I am on W10 though. I don't remember how it was on 8. I do recall that was an issue but I think it was intermittent. Haven't had that problem at all since at least a year ago.

Been using group texts since circa 2010 on vzw

Yes, on my Icon with Win10,group text has always worked. I never had this issue with group texts, even in Win 8. I think this was not ever a real issue.

Group texting works fine on my 928, always has, they don't come through as individual texts

The 1520 was ahead of its time. It checked a lot of boxes not found on phones of the day. I liked mine, but I am not a phablet person, so the 950 was a long time coming.

I just sold my 1520 at $180, it is 32G version but with ATT.

I've got an international unlocked version I can part with. What price are you looking for? The only problem is that it has the stuck airplane mode problem. I bought a replacement part that supposedly fixes this but didn't end up having the proper tools to fix it. If you're interested, let me know. You'd get the phone with the replacement part and you'd just have to install. I can't, however, guarantee that piece will fix the problem or not.

$50 for that airplane phone - I'm going to make fake phone calls on airplanes for fun!

You can enable the t-mobile band for good 4G if that's your sticking point. I found a refurbished one on ebay for $180 and have never looked back! I actually actively disable the LTE bands now because the 4G is rock solid.

I could never ever get 'Hey Cortana' to ever activate on my 1520.3 .. the voice detection bit would not work - eventually gave up on windows 10 and went to iOS. Did they ever fix this?

That phone is still good even to today's standards; yes the lack of Glance and MicroSD is a considerable drawback. Unless you have a good mobile rate plant.
A thing I envy about you guys is the enormous chance you have to get an unlimited internet plan for a relatively low price, compared to our carrier's rate plans in MX... That being said >>> If I had the chance to have unlimited internet access for a fair price, that phone can easily be my daily driver. I have a bigass large music library stored in cloud services like Google Drive and OneDrive (+40GB) so the lack of memory would not be an issue to me.

+40GB
Actual size is around 187GB between mp3 and wma track files (vast majority are wma's) I've treasured since I started to burn mi CD's collection back in 1998.

My collection is around that size also. A bunch of lossless rips and 320mp3's. Backed up to OneDrive and Google Drive.

Nokia Lumia 730 No glance Screen add this Feature next update

I agree! If the 930 had glance and SD card this phone wold live on for ever! W10 is great but so buggy and battery now only lasts half a day with only limited use. In need of another update!

Have to agree with you on that one. I ended up getting a band to make up for lack of Glance. Anything to keep the old girl running! My daughter has it now and even the camera is still up there with the best. At a recent Rudimental gig, we both took pics, and although there was a difference, the 930 wasn't that far behind my 950xl!! Hey MS, rebuild them as a midrange!

Totally agree, with such a devastating lack of WPhones, why not re release the 930 and 1520 etc. They must owe next to nothing, what a great way to offer quality phones very cheaply. Beggers belief really they don't do this. Maybe not so good for the Merican market, but the rest of the planet would be very greatful.

I've been faithful, and using preview since it started, but I want Redstone builds!

on Icon? Use the Windows Insider app. I dare you...

Umm... Duh. I said I was using preview since it started. Obviously I'm already using the Insider app. I'm on the same build Dan discussed in the article.

The only issues with windows 10 mobile on the one m8 are, Cortana seems to crash a lot and the default camera app's hdr mode leaves really weird dots in pictures

Yeah, no idea on that. Then again, I can see 10586.xxx giving Icon (and others) just enough Windows 10 until a newer device comes along (fingers crossed).

Daniel, if the Icon and/or 735 do get officially updated to 10586 builds by Verizon, what does that mean for them going forward (to Redstone 1 and beyond)? Is it a "once you're on 10, you're good to go for the near future" sort of deal due to Microsoft segregating the radio stack? As we've now heard, VLC will apparently require Redstone, so if that's going to be the trend with new UWP apps, it seems that an "official" upgrade to 10586 would be a pretty short-lived victory if it's pulling teeth with Verizon again this summer.

The hardware just has to be on Microsoft's eligible devices list to get Redstone as far as I can tell. I have the 735 from Verizon and it updates to the fast ring Redstone builds. So, I imagine if I was on the release preview ring, it would get the production Redstone build when it's finished as well... Probably. The Icon not being on Microsoft's eligble hardware list, can't upgrade to Redstone, only the current W10M build. That being said, my conversations with Verizon's support wasn't productive, so I wouldn't hold my breath that they'll push the update officially, you'll just have to get around it using the insider app.

Oh, wow, thanks for the response - I didn't realize that the 735 had Fast Ring access, so that's great news. I'm not necessarily interested in official support, I just want to get on the Redstone train without having to switch carriers. How are the Fast Ring builds running on your 735?

Runs perfectly fine! I'll admit its not quite as snappy in performance as the Icon, but its a VERY viable W10M phone for Verizon. I actually like it better than my Icon, mainly for its size and SD expansion. Battery life is great.It could use just a little more processor and better camera for those that expect that in today's phones. But given the price.... can't knock the 735 one bit

It's been mixed. The performance leaves a bit to be desired, and the Groove app has freaked out on me a couple of times, refusing to play music till I restarted the phone. Also, the OneDrive app doesn't seem to want to sync changes to the camera roll (I think it's uploading new photos but it doesn't want to delete them). But, the UWP apps are infinitely more useful on W10M/Redstone than they are on 8.1, so I'm toughing it out with a little instability. There's a couple of flaws with the current release preview build also, like using Cortana to set an alarm can sometimes wipe out all your alarms, but I haven't had that happen on the Redstone build yet.

I thought the issue with the icon wasn't a MSFT non support, but more to do with Verizon, as a carrier branded device? Rumour has it, and Gabe has offered a 'we're working on it' quote, so maybe the two have got their heads together and thrashed it out

Nice article. I know when I put the release preview on my Icon it was like a new phone

Hey Daniel, I've been trying it out on my icon but strangely my screen keeps turning off then on again. It hours out for a second then turns on for like 5 seconds and it repeats. Have you had this problem.

I've never had that issue but still dealing with a nonresponsive touch screen on reboot that requires several soft resets to get it working again.

I've had that issue as well but the going in and out is staying to get to me.

Since the last two builds that problem has gone away for me

Last summer I ordered a mugen power case for my l929 did the trick for both 8.1.1 & mw10. & a few months ago got a moto turbo charger(during a mobile nations sale)

Hey Daniel somewhat off topic but since you mentioned using the AT&T Lumia 950 as your main device, I'm curious are you getting or heard of random shut downs or reboots on the latest consumer release? (non insider build) I have the last week or so, and never experienced this since I got the phone for Christmas. I'm beginning to wonder if the phone itself is damaged vs. issues with the OS or firmware? I'm currently running OS Build 10.0.10586.218 and Firmware 01078.00038.16025.39033 on AT&T

Not somewhat off topic, completely off topic. This is one for the forums.

I have random reboots on my 950 and 950xl usually when making skype call or opening photos just after taking a picture.

I love my Icon, and it really has been running good on 10586.242 this last week or so. But, I've already decided to move to ATT so I can get the 950xl with all the new toys, I'm super excited about the new camera specs, as that was the main reason I got into Windows Phone in the first place. Plus, my battery is just plain toast on my Icon, it normally will last me half a day with very light use. I keep it plugged into a battery pack all day at work so it will stay charged. That pillow top display is something I see myself missing, but after messing around with my new 640 and seeing the Glance screen and Double-tap, I don't know how I went without those features all this time.

The 950xl doesn't have double tap to wake...
So you'll be missing that for a while longer!

Ah, good to know. At least I get Glance, which is my favorite of the two things.

Thanks! You just made me miss my Lumia 930. It was a great phone. The only reason I sold it was because I couldn't get 4G LTE on Tmobile.

I recently bought a brand new (sitting out the back in a storeroom and still shrink wrapped), unlocked Lumia 930 32Gb from Vodafone NZ for a very cheap $135USD ($199NZD). It is running very sweetly on 586.242 — does everything except the Glance Screen of course, but does have double-tap to wake; also doesn't run hot like it did on WP8.1. Loving it!

Had a 930, it had double tap to wake, it's the icon that oddly enough doesn't have it. The article points this out anyway!

W10M works great on a 1520.

The latest Fast Ring build of Windows 10 Mobile runs without any major issues on the 1520.

the latest got my <Scandinavian version in a boot loop. but less than a hundred retries fixed it on WDRT.
Now on stable build waiting for May 10 Pa<tch Tuesday.
My friend has my A-t6t 16GB - Install failed. - waiting for May 10 ...

I have switched to iPhone 6 from the Nokia Icon... I do have windows 10 thanks to Daniel I have updated to the latest version.... I really only use it for the camera, e-mails, and updating instagram, as I can take less steps to do so.... Other than that the camera is still great, better than the iPhone... I only wish I could do live stills because the way it was in 8.1 it was easy... IDK how to do it in Windows 10.. Any ideas??

With version .218, the experience with the Lumia 930 is very good. The responsiveness and scrolling are incomprehensibly better on the 930 than on the 950. Just don't understand how it's possible... screen? firmware?

Wait, are you saying you have double tap to wake on your 950? I couldn't find a way to get that on my 950, and I cannot express how much I miss it!

you cannot, at MS they are considering to update the 950 and XL but they have not decided yet, missing that feature too.... If you didn't know we have double tap to sleep though :D just double tap on the windows bar (enable it in settings if it's off)

Why on earth they would remove great features like double tap and super sensitive touch is beyond me. Up in canada, we NEED super sensitive touch. And double tap to sleep is pretty useless imo haha

I've been an Insider on both the Icon and 1520. And I agree: the Icon is fun now! The 1520 did okay but...there were more problems. Lately I've been using the 1520 with the official build as my main phone and the Icon as my Insider phone. However I just bought the 950 XL and 950 in the BOGO deal. I've found Hey Cortana more responsive on the 950 XL than on either the Icon or 1520. Maybe it's my imagination....

Dude even build 14332 runs awesome with the 1520. I can't imagine how stable it'll be with the release preview.

Dan, WHY haven't Windows Central reported on Intel's axing of mobile chips?
All of these other articles are just odd - and are ignoring the elephant in the room.
If there are no x86 processors to power the Surface Phone, then surely that whole project is DOA?! If that is the case, then what future is there for this platform?!
http://www.winbeta.org/news/future-surface-phone-unclear

I was looking for a good used Icon when I heard it may not be eligible for Redstone, even preview builds. I than made to agonizing decision to move on to this here Samsung S7.
Verizon won Microsoft lost. Posted via the Windows Central App for Android

Good read, Daniel. I have been using my 930 (international version on AT&T) as my "test" phone. I still like the feel of the 930, and have had no problems with the latest builds. It just feels more like a "flagship" phone than my 950. Granted, I am only getting 3.5G, but I honestly don't notice much difference.

Thanks Daniel. I've been using Windows 10 on my Icon for a few months now and it's been great. However, the recent doom and gloom has given me second thoughts and is tempting me to move to another platform. Your article has given me the boost I need to stick it out just a bit longer and reminds me of just how much I'd miss. Looking at the comments it looks as if I'm not the only one.

Although you can download Windows 10 Mobile, it isnt the current build. They stop releasing the most recent builds for the Icon when they offically launched Windows 10 Mobile. This is part of the reason MaryJo left. I broke my Icon and I am not going to leave Verizon for a phone, although I really wanted a Lumia 950XL. I am currently using the iPhone 6s and I understand Mary Jo's argument better now. On Windows I simply stopped looking for apps. Although there are more, it is nothing like iOS. Although I still perfer Windows 10 mobile to iOS, its hard to say I can actually come back to the platform unless there is a sudden explosion of apps avaiable. It may sound silly but it is like only eating cornflakes for years and then suddenly someone gives you the option of honey nut cheerios, frosted flakes, corn pops, lucky charms, cinnamon toast crunch, fruity pebbles...and more. Lol silly yes, but true. It even make me question my whole eco system. I love my Surface Pro 3 and was ready to get a Pro 5 when it releases. I still want one because honestly the iPad Pro can't run desktop apps that I need for school and work, however, I take finding good apps on my phone that I can not find on my tablet. I hope somethign changes soon, otherwise....I ....might....turn....into ....a ....mac.....ouch.

I agree. I use mine daily now for months with the W10 insider versions. The curve display face and build are very good. If the 950xl had come to VZ I'd have that and the Icon would be with other family members, but that didn't happen. What I remain watchful of is that the Icon IF it goes Win 10M, will be the only real W10M phone (8 series or 9 series) that ties VZ to the future ecosystem. If a lot of vendors start making GSM only phones, and there are more not just Win phones, I see VZ as more and more abandoned by hardware vendors. We'll see but many vendors in various areas are not bothering with the CDMA fronted providers. For now though, IF it gets updates from MS which it may not, I'm very happy with the Icon. I'll want something bigger, maybe surface phone when it comes around. Has to be QC 820 orr higher chipset however.

​I have a NOKIA 920 that I started using again last month. I was using the Win HD LTE before that, which is a nice, Budget Smartphone. However neither of these have got the Win 10 upgrade notification - the 920 might never, I believe...
I has the 525 for a while too, but bricked it on an early-build Win 10
I'd LOVE to install Win 10 on the 920 or the Win HD LTE, but can't afford yet another bricked phone!!

Well, this is a turn of events! I bet people who still use the Lumia Icon (Lumia 930 to the rest of the world) will be happy to hear this!

G myLumia 930 could get the Windows 10 mobile update withut problems or a crrer not allowt like you havin the US

This isn't a turn of events. Nothing's changed except that Daniel got out his Icon and joined the rest of us on the preview. We still don't get Redstone builds on the Icon - only the 10586.xxx builds. I love my Icon, but I want the Redstone builds that everyone else is getting.

The redstone build is not stable... So many bugs and crashes on Lumia930, and the battery is poor.

Yeah, we don't recommend it using on your only device. Unless you have other that is eligible for Redstone to test on, better stay on stable builds. What I wished though is at least Microsoft release the new Feedback Hub app from Redstone to stable builds so Insiders using stable builds can participate with all new features that now on Feedback Hub. Sent from Turing Machine

Hack the Registry as L930 and you'll get all the bugs and Fast!

I tried that once, and it didn't work for me. Have you gotten it to work? If so, can you direct me to how?

Yeah, I just did that too and my phone now works as a Lumia 930!
Everything seems to work great on my phone too. Heck the battery life has improved quite a bit as well.

A link to directions?? The last time I tried it, I could see the registry, but it wouldn't save any edits.

search it in the Lumia Icon Forums on here and search for it on XDA's forums. They have step by step directions on installation.

Yup that display is awesome, my wife is using my 930 at this time and I keep looking over at it.... Though I will be getting her a 950 just because I have the bad mic's issue on that phone and it's turning out to be more cumbersome than not.

Its hardware issue, if u have warranty , the repair will be no cost, its a mic problem need to replace

Yea I know but I have no where to send it. I imported a Latin america one into Canada

Thanks. Never thought of that. Or that's where I came up with failed methods, which is why I asked. I can't remember which.

I feel the same way, Daniel. All Insider builds I ever put on my 930 were a dream. The only reason I've moved on to my 950XL and don't really use the 930 very much any more is the lack of LTE in the latter. But that's not a knock on that amazing phone, it's just the side effect of importing.

What doyou mean lack of lte? My 930 have lte....

Just lack of LTE in the area I use it. I have an Australian model but use the phone in the US. Posted via the Windows Central App for Android

I'll do it this afternoon. Thanks Daniel :)

Never heard any problems out of my Icon on Win10. Loved it, except for the lack of glance and double tap! Errhg! So used to my 1520, 830, & 640 with it, that picking up the Icon and found myself waiting for the screen to come on, or tapping furiously to no avail!

2 tap is there - put it on

I pit the fast ring on my 930 sim.free edition to see how it foes and works well. My main phone is still 950xl but I see no reason why Icon and 930 users should not get the update.

Lumia 930 is getting redstone...

Hoping the experience is the same when the 10 upgrade is available for the 1520.

The official upgrade for the 1520 is available since at least a week. And it is smashing. All the benefits of the old Nokia Lumias inculding all the things missing from the Icon (Glance & Wake on double tap, microSD). had the 1520 a Dual SIM slot, it be my daily driver for the next decade ;)

You pretty much can't go wrong with 1520. Also battery life on that is/was (with 8.1 at least) phenomenal

I made that little leap recently myself. I have zero complaints thus far with W10m on the Icon. It took a couple solid hours for the entire process as there was a point in the "migrating data" process that took about an hour itself. After all was said and done, I did a full reset of my device, did not restore from a backup, and the only negative thing that ever happened is the app store crashed out one time....that's it. Just another two cents to throw out, but this build is excellent, haven't seen any lag or hiccups at all.

Idk i been using 10 mobile for awhile with my icon the battery life absolutely sucks. Even as I type this comment I have glitches with edge. The official release needs to happen sooner rather than later. Not sure if it's the hardware but my battery last maybe 5hrs.

But I have had this since launch day so who knows.

I too have terrible battery life on W10 Mobile on my Icon. Took my phone off yesterday before I left for work at 8:40 in the morning, and it was dead a little after 4:00.

The Lumia Icon is my only phone, so I have been using Windows 10 Preview rings on it for a long time. It was definitely a hassle in the beginning, but with the release of the Production Ring, I can say that it is a pretty smooth experience. There are a couple weird glitches still. The weirdest I've experienced is when the phone, when restarting after charging from a dead battery, will have no touch screen capabilities. This includes the capacitive buttons on the front... Like nothing works. So you're forced to do a soft reset using the volume down and power button. But besides that weird problem, I've thoroughly enjoyed this phone with Windows 10.

Same experience here. Plus same touch screen glitch. Not a big deal, really, beyond being a bit disconcerting.

I do have a question for you: I had to get a replacement Icon through my phone company's insurance plan, since I ended up breaking my first one. This new one seems to not have great battery life. I'm wondering what the battery life is on yours? Mine lasts between 3-6 hours, and my first one lasted longer than that. I'm wondering if it's my specific device, or maybe just Icons.

Well, the Icon's 2420 mAh battery is the phone's biggest weakness, in my opinion, so battery life will never be great. I generally make it through a full day, but it's completely dependent upon how much time I have the screen turned on. The screen is by far the biggest consumer of power, so I'm sensitive to things like turning it off when I'm listening to an audio book. Also, I've made it a habit of doing things like turning off bluetooth if I'm not actually using it, and turning off wifi for the same reason. Disabling "Hey Cortana" also helps. Once I did that, I found where I didn't miss that feature, really. Lastly, I let almost no apps run in the background. Collectively, these habits have really helped.

Despite the battary size, my Icon always had great battery life until the recent W10 updates. Now, it's crap - mostly due to wifi and BT disconnects (due to something in the updates) that leave it spinning. Screen time is a big drain, but no moreso than most other quality phones. I generally had 14hrs of moderate use before I had issues. With the recent W10 updates, it varies wildly. I'm running the slow ring/RTM version. I have a hard time believing MS thought this crap was good enough for release. Enjoy W10 on the computer. I'm ok with it on my tablets now (but initially preferred 8.1 still). But it sucks on the phone. So much promise, which is what gets people excited. But the reality is not ready for prime time.

I moved off of the slow and fast rings and have had a really good experience with the latest Release Preview ring. I'm staying here until/if Win10Mo is released by Verizon in the year 2025.

Well, it pains me to say it, but I finally gave up and bought a new Nexus. IMO, W10 is at least 6-9 months away from being functional. The last straw was not being able to send replies via gmail. I could compose original emails, but not reply. This on top of the battery issues (which did improve, but not to pre-W10 levels), app crashes, wifi drops, and the inability to use voice over BT for text or search. It also didn't help that MS is putting better MS apps on Android and iOS devices now than they are on Windows devices. I hope I have reason to come back some day.

I switched from a 920 to the 930 in December because it was cheap, still surprised how good the 2 year old Phone holds up today. I'm a little bit disappointed that "Hey Cortana" still doesn't work here in Germany which is weird because we have it on windows 10.

As a 930 owner, I've never been so happy with the state of my phone, OS and Win10 apps. Latest Release ring. Windows Central app

Hmm, wonder would this make MJF consider switching back?

I think she doesn't like to fuss with things and frankly, the Insider Program and Rings can turn off some people who feel it may be too techy/risky. I hope to demonstrate with this article, however, that Release Preview ring is very safe even for older hardware. If you're missing an official update I see no reason to not do this unless you just don't want W10M.

That's true, as far I've seen on windows weekly she never used an insider build. Unless that has changed recently as haven't had the time sit and watch in recent weeks. Hopefully Microsoft and Verizon come to an agreement. Life would've been soo much easier if every carrier used GSM lol.

"Release Preview ring is very safe even for older hardware". How old? Can I try this on my Lumia 928? And is the Release Preview Ring simple enough that I could guide my mother through it from afar on her Icon?

The latest build is running really fantastically on my 928, BUT I did a factory reset without backup restore when I first jumped onto W10M from 8.1 (maybe like 7 builds ago). Apparently they have improved the update experience a lot, but I would not be surprised if you run into major issues without a factory reset. If you're willing to do the reset, then you'll like the experience a whole lot. The Messaging app is just about the only slow one, which is frustrating, but once the new Skype UWP trickles down to the release builds (and Messaging is updated to remove Skype Video), I think it'll be great. As for your mother's Icon, you'll see that Daniel rolled back to 8.1 (presumably from some earlier W10M build) before upgrading to the current build, so again, it you want the best experience, it's not a five-minute thing.

I think you're absolutely right. Even with the previous system with only fast and slow rings, I rarely had any issues running the slow ring on either my Icon or my old 521. Now, my 640 runs great on the fast ring, and my Icon is like a dream on the Release Preview, I would recommend that route to absolutely anyone wanting to upgrade their device to W10M, as long as the device is on the supported list.

No, Windows 10 Mobile still is what it is.

Anyone know when Samsung ATIV SE will ever get Win 10???

I have been using Insider Release Preview for many months on my Icon. The only issue I have is the phone often crashes after taking a picture and immediately going to the gallery. I just wish I could use Fast or Slow ring builds with this phone.

Had same issue but after a reset and restore it didn't do it anymore.

Is the best option to go back to 8.1 then reinstall 10, or just hard reset...

All devices should be able to run Windows Insider program. No matter if carries are not supporting it. If they wanna brick their phone let them brick their phone! I would love to see older Lumias running current builds..even those with 512 of ram. Microsoft should really consider this.

MS has already explained that the reason why older phones won't get support is because WE, the insiders, complained that W10M doesn't work well on them. So, it's our fault we can't continue to have nice things. Also, the more complex an OS gets the more resources are needed. 512 mb of ram just won't cut it with Redstone builds and beyond.

What I find a bit depressing is that I've been running W10M previews on a couple old phones (a 925 and a 635). The experience a while back wasn't great, and I basically switched to a 640 running W10M previews as a daily driver. But just recently I dusted them off and updated to 218 and now 242, and both seem to be running Windows 10 well. I just played around with them some and haven't used them extensively, so I can't say for sure that there aren't any serious issues, but it feels like Microsoft made their decision about cutting off old devices just before the builds started really coming together. I think feedback for build 242 would have been good for a number of old devices.

Yeah, Microsoft simply surveyed the experience based on builds that was really having alot of issues in general. All they just have to do is to push another set of updates which includes bugfixes and performance optimizations. They should revaluate amd consider those who are now on latest release build. For 512MB RAM devices, they might have some life with further optimization and reduced the allowed apps to run on background and trim the fat. Who knows how messy the garbage collection of W10M and memory leak it still produce. Sent from Turing Machine

Its not the insiders fault for complaining it wasn't good enough if it that was the case. The problem though is Microsoft judge it from the older builds which were really buggy and have issues, only the latest builds starting to get those experiences acceptable. They should push another survey on Feedback app for those who are now on .242 builds. The issue is because they didn't really make W10M optimized for those devices from S4, not because the device can't handle W10M on performance, it was just really glitchy to use, which adds big to be problem. Though about 512MB device can be really tough one. But it should able to handle those fine too only if they trim W10M background process for low RAM and not allow tons of apps running on background. Sent from Turing Machine

give them W10M Threshold - and watch them cry out for the impossible Restone!! - nope!

I wonder if the icon had he same dysfunctional problems as the 930 did/does... Broken power/lock button, broken microphones etc.. Hmm Such a shame too cause it was an awesome phone! I still use it as a backup/test phone (w10m rs branch) and it's working fine. Would still be using it if it wasn't for the broken power button. But im loving my gold 640xl

Not as bad as it still continuing to charge

Power button has never caused issues for me, but keep having the issue where occasionally the touch screen would be unresponsive after a reboot and it would take several soft resets to get it working again, also I think my microphones still aren't working right, they haven't worked right since I got on W10M previews a year ago.

lemon hardware needs fixing - not software - bad luck, dude - or was it fate?!

Awesome thanks for this article it speaks to me...
I have been on the fence about running preview on my Icon and was just going to hold out until next spring for the surface phone (which Verizon better support!) but after reading this I'm going to take the plunge. Love my Icon.

It runs great on the Release Preview. And there are so many features in W10M that you will love!

what surface phone? - imaginary "journalist" dream device that'll make even the fans angry when it's never released - that device you mean?

Our company is stuck on Verizon for now. We're thinking about moving to ATT \ lumia 950 but just a couple days ago, we upgraded a user to Windows 10 with the insider app and this user was pretty impressed. One thing missing is 60fps camera but other than that, it seems to run good so far.

Samsung ATIV SE is not on list of insider program. I thought at one time there was a way. I am on Verizon.

Good ole Verizon. You have to drag them screaming and kicking to do anything at all for Window users.

It would be easier if there more than a dozen of you. Posted via the Windows Central App for Android

Totally wrong. The Iconites are a notoriously vocal crowd and have hammered Verizon mercilessly since the days of screaming for the Cyan update. I suspect their voice is the only reason why the Icon is still in the discussion for being a Win10Mo update candidate.


Because Verizon is notoriously slow or doesn't feel they support the device under their roof? Its the carrier issue as usual which unfortunately well all equally being under mercy of them except for iOS users. p.s. Though I heard that even Steve Jobs even mocked by Verizon and refuse to release the first iPhone on Verizon before it even announced. Showing how carriers superiority shows even from tech giants anyways. Sent from Turing Machine

Vocal doesn't mean plentiful. Verizon doesn't waste time on devices that don't sell. You notice they have no problem updating the iPhone and Galaxy S. Posted via the Windows Central App for Android

and they'll still insist that their navigator, visual voicemail, nfl network and other crapware be included as part of the OTA update. They don't like Windows Phone/Mobile because it allows people to uninstall their crapware. I'll check back after new devices have been released. I've had enough of the vzw / windows phone rumor mill.

Lol I always uninstalled every single Verizon app when I reset my Icon.

I'm using the fast ring preview & I've been stuck on build 10586.164 on my Icon for quite a while. It's no longer getting preview builds, & I don't know why. The biggest problem I have is Cortana crashing all the time & the battery life has been terrible for me. A new issue that has cropped up is contacts associated with my university Office 365 account disappearing.

1) The fast and slow rings are for Redstone builds which the Icon cannot receive. 2) You need to be in the Release Preview ring to get the latest 10586.xx builds.

I have been looking for this answer for days and days.... Thank you!!!

I loved my Icon with Windows 10 Preview. It was amazing. If I hadn't switched carriers, I would still have it. It was a night and day experience after loading W10M.

Regarding "BUILD & QUALITY": Well people didn't want a thicker phone, actually didn't want a Lumia Icon or a 930 either. Those phones were never popular enough. I'm all for thicker phones, but let's not be bipolar, the 950s were designed by listening to the public's preferences and the trends in the industry. That is, basically it had to be really thin from the get go. And that's what you get.

Yup. And then you slap a case on that skinny little guy.

Exactly what everyone does with ultra thin phones like the latest iPhones. Which drives me crazy. To be honest, I had to get a silicon case for my 950 XL because coming from a 920 I found it to feel too flimsy in my hand, it was hard to grip. I wouldn't have disliked it having more weight in hand. But you know, it's an arms race. It could be the best phone in the world but it's a matter of milimetres for people to like it. Which they didn't anyway, that is something to think about. MS pretty much whored themselves, well they tried to cater to their target audience. But people didn't like it anyway. I think that they should have done their thing, like Lumia was doing. I respect that much more. People won't forget the Lumias, those magnificent phones, the 920, 1020, etc. That was a great series of phones doing their thing design-wise. And IMHO the industry has enough copycat designs as it is.

Which is weird since if its based on public wants, it should've come with at least metal frame on the sides since we currently in the trend of metal feel phones, not just being thin. So they only listen on one aspect and became deaf on the other side. Though for me, it wasn't the plastic that people subconsciously having an issue on 950 series design, it is the looks that people having a problem with it though most just describe it by the "lack of metal". Previous Lumia's were all plastic but praised for its looks and solid feel despite not being metal. So the material isn't really the core problem. Gladly there is a 3rd-party case maker Mozo makes nice shells for 950 series, but because they're 3rd-party and not included in the package, most people wouldn't even know they exist or know that you can make look 950 series devices great. You get what you saw from the store shelves. The problem was on 930 and Icon us just it was just too thick compared to other flagships, not because its just thick. The same thickness of 830 probably would be more acceptable but that wasn't a flagship though. Also 930/Icon lack Glance which became a no go for some Lumia users at that time. Sent from Turing Machine

I never understood that need for metal for being a premium phone, I guess it's a basic visual reaction. Regarding the lack of glance in the Icon/930, I find it surprising that some people decide against buying what was a solid flagship offering at that time for a minor software feature. Was anyone saying things like "I can't live without Glance"? Sounds like a bit too much. I would have bought a 930 if I had the chance at the time, I just clinged to my 920 until Windows 10 flagships came out. I wasn't disappointed though I regret missing a couple of great Lumia phones.

Yeah, I'm also thinking it's largely a visual reaction but also more ingrained to that. Metals is been a staple material we used for a long time on countless applications. Especially that the basic view about the metal of being strong, solid and have sense of purity, these factors even why metal is used on jewelry items. So having a "jewelry" factor on flagship phones which are mostly expensive or very expensive on other countries, it helps to justify its value without looking at technical specs and features that most people wouldn't even know what it means for them. So the metal factor is more ingrained and unconscious that what it seems to be. Which is why I cannot blame people wanting it regardless of advantages and disadvantages. For me, it doesn't matter if the phone is metal or have metal on some parts as long as its visually attractive and designed well. The looks that something that shows it actually shows it was designed by a designer and not from unknown factory that makes phone templates. I never had a problem with 920, 1020, and 1520 being a plastic simply because they actually look iconic and timeless. Anyways about Icon/930, yeah it can be a weird not to get because of lack of Glance or even more bothersome lack of Double Tap to Wake. But I think it's also because the problem that it is a flagship that lacks certain things that even entry-level device have. I'm was more concerned (even now) by the decision of overlooking about those things and why it was missing in the first place. Why they chose the component that doesn't support feature which people already loved from other models. I find it's more like a decision and planning issue rather than technical here. But yeah, 930 and Icon is still very worthy device to get at that time despite the lack of Glance. Especially that most phones especially at the time don't have similar feature to begin with (though some can have a ways to have something similar on Android world). I think that Glance issue is more like a problem from already Lumia users that have it rather than being a first comer. Now it seems like 930 became more valuable device than it was despite how old it is, especially that there are people still don't like the look and feel of 950 series and don't care about new things like Continuum and Windows Hello. Icon on the other hand only biggest problem is the lack of official support to get W10M which for now only possible on getting it from Insider and install it manually. If this wasn't solved, then the worst issue is that Icon won't have Redstone update.

Redstone needs some Registry hacking ...

I recently nabbed a "certified refurbished" Icon though Amazon, along with an Otterbox Defender and Armorsuit screen protector for less than $220.00. The phone is like new and runs the latest 10 update flawlessly. Love that phone. My 928 seems to labor a bit, though. Posted via the Windows Central App for Android

That wallpaper though... Posted from Windows Central for Windows 10 Mobile

Yup, it is a beast of a phone. I'm running 14332 and it's speedy, smooth, and mostly stable. Anything graphical beyond basic photo viewing seems to take a big toll on the battery and makes it run very warm. 10/10 would take over iphone Sent from my Toaster Oven (Lumia Icon)

I'm running the latest Redstone build on my second icon(wife's old phone). The Redstone build runs just as well as the preview build. I still don't understand why Microsoft didn't leave it up to the individual Icon owners to continue on with the Redstone build using the insider program .

How did you get Redstone on your Icon? I thought they were permitting those builds on unsupported devices, even via Insider? I agree. Microsoft should have left it to the user. Just give me a big warning banner stating that my device is unsupported.

Got my ICON when my 928 died. The biggest thing I missed was GLANCE. Joined the PREVIEW program in February at release .107 and have never looked back. Now I'm on .242 and each release keeps getting better. I love W10M on my ICON and have had no reqrets. The one issue I do have is occasionally the phone will restart when using the camera. Frustrating but not enough to want to go back to 8.1!!

My only issue with Icon on .242 is with the Bluetooth and my Band2. Cortona doesn't connect and the keyboard typing doesn't connect from band to phone. Otherwise its been very smooth and stable.

Icon is not stable on windows 10 latest build. Did hard reset and only update on release ring and was plagued with random reboots and data issues. This was similar experience on two devices. Left Verizon and got two 950 xls they are great.

Just read the posts here and you'll see that you're in the minority with that experience.

I upgraded my Icon to the Preview Ring, since it is my main phone, hoping to get away from an issue I was having with 8.1. At first, I wasn't too sure about it, but it has definitely grown on my. No looking back now. I really like it. And as I was telling someone earlier today, it's not just one thing. It's the whole experience. I was thinking of getting the 735 as soon as I could. But now, I am willing to hold out for something I know is better. And that would have to be really good.

I wanted to start screaming and puking all at the same time when I downgraded my Icon back to 8.1 one time to drop to a slower ring. It's crazy how many things have changed for the better with W10M if you look past the bugs and holes.

Guys, is it worth switching to the Lumia 930? I currently own the 1520 and it is becoming a bit cumbersome to carry around.

1) No glance 2) No sdcard slot 3) AMOLED screen (you may prefer one over the other) 4) Much smaller battery (3400mah vs 2420mah) Your call...

I still enjoy my L930...the looks (I have the green back), the feel, the clarity of the screen. I totally echo the things Dan said in the article -- it's taken all the W10 releases just fine without breaking a sweat.

I have both the 930 and 1520, but I prefer the 930 when it comes to how well it handles W10M. The 1520 does a satisfactory job, but the 930 seems faster and more stable.

I appreciate your thoughts.

Such good news! I love my Icon and my Verizon representative looked very hard to find me a replacement when I needed one. We were promised that the Icon was windows 10 ready so I have been waiting for the release. Thanks for sharing, daniel! I will be doing this first thing in the morning.

Off topic, what happened to smartcam in windows 10. I'm missing action shot.

I have been using the Icon for almost 2 years with no problems. I enrolled in the Insider Program before Christmas and love the Windows 10 mobile. The Icon had hardly any issues with the updates. There were a few apps that failed to update properly but was fixed in short order. My problem/question would be why continue the 930 in the insider program but not the Icon? They are the same phone except for the carrier. Verizon is the largest wireless carrier and Sprint the third largest and neither have the top of the line Windows phone available. The only thing I can reason it's GSM bs CDMA but to ignore Version and Sprint is just plain stupid.

There really is something different and special about the 1520 and 930's screens compared to the 950s'. It's like they're closer to the glass, more vibrant, and feel more responsive to touch, making them feel "quicker." It's tough to describe, but so noticeable in usage.

I left my Lumia 930 only because it does not support SD. But really it feels premium, I have my Lumia 950 XL, and I really missed the feel and the super ultra stability I felt on Windows Phone 8.1. The 930 has the official 10 mobile, but the lack of sd is a no go for me.

I still wished the L930 would of made it to at&t.

I'm ready to put away my Galaxy S6 if there's an official update with firmware released. Cause otherwise, my Icon running Windows 10 mobile drains battery way too fast. I'm hoping a firmware update and official OS update can help fix that. Until then though, I'll have to stick with my Galaxy S6 until hopefully a new Windows Phone is released on Verizon. Posted via the Windows Central App for Android

Hard Rest & latest Threshold build is ok. - try it!

Holy crap! I can't believe buying an Icon and putting it on insider NEVER occurred to me before!!! I'd even be able to do the "sim swap" with my iPhone and use this as a daily driver!! I'd probably swap back and forth, with the lion's share of the time being on the iPhone.....but still!!! What a great idea anyway!!! :-)

Hah, that's why I wrote this. It's a great solution for those on Verizon. I liked it so much I reactivated my SIM/phone. It's great, sort of negates the need for a 950.

The Icon is basically a Lumia 930, which is what I have. I'm on the Fast Ring and the 930 runs W10M amazingly and near flawlessly.

I am still stuck along with my wife and son in a contract with Verizon until august but all of us having Icons is pretty damn cool. Now for me and my son I did the insider preview ( my wife still on 8.1). My wife and I took a road trip up to Oregon and I shot the most amazing photos on Lumia icon. It is a true treasure that is waiting to be rediscovered with Windows 10. Also the slow motion video capture of a waterfall looks pro. If ya want to check it out on my twitter. Capricornius. So Verizon is a loser of a company in so many ways

I love my Icon running Win8.1. I tried 10, but missed a couple features that I believe are still missing. Cortana/Quiet Hours: With 8.1 quiet hours are enabled automatically based on busy times on my calendar. This was a huge feature that's missing in 10. Unless somone can tell me this is in the latest versions. When I pin a website to the start screen in 8.1, the tile shows the actual webpage. 10 just displays a blank ugly Edge placeholder tile. I also had continual issues with bluetooth connectivity to my car. Since rolling back to 8.1, my Icon connects everytime. And yes, I did several hard resets, wipes, soft resets, etc. All to no avail. I'm hoping there's a Verizon firmware update that resolves the bluetooth issues, but I'd still miss the above two features, particularly automatic quiet hours.

The most recent update improved Bluetooth for me. Volume was much louder and quality better on my Plantronics headset. I have not experienced connectivity issues. I also have my phone paired with my car, but I have just recently made that connection and don't have previous experience to compare to. Seems good though.

Thanks Daniel, but for me, having the phone without flaws is only one area I'm concerned with. The major area for me is having my current apps W10 compatible. I don't use a ton of apps, but the ones I do use, I don't want to lose to an upgrade. My Icon runs just fine on 8.1. It is my primary phone and I don't want to risk losing what few apps I use to an incompatible os.

a few photo apps & HERE Maps are gone
I use MS Maps & 3rd party on W10M rs1, which a superior OS compared to anything on phones - ANYTHING!!

CyberAngel, I went ahead and put W10 on yesterday. I think I did lose and app or two, but I haven't had any major issues so far. The email updating leaves a little to be desired, but other than that, there really isn't much difference. I don't care for every app to be tombstoned. I like 8.1 better where I could back out af particular apps and they would close. Now, every app tombstones.

I love my ICON, I'm on version, and just updated to widows 10 with windows insider. It's like a new phone

I bought an Icon almost immediately when it came out and have really enjoyed it. Battery is getting a little worn, now, but I still like it a lot. I have never upgraded it to the Insider Win10 for exactly one reason - currently Quiet Hours is automatically activated when an event on my calendar is marked as Busy. My understanding is that this is not a feature of Win 10 Mobile and I DEPEND on this feature and have my entire calendar set up around this idea. I don't really understand what, specifically it is about upgrading to 10 that would make the phone better. Can someone shed any light on this?

Yah it's okay, smooth, got flaws and swag over the other phones. First of the SD800, and a 2-year old phone...but hey MS, can't you bring a little joy to this....include this as Continuum-abled device.

Continuum needs hardware - buy a new phone

Bleached - They are not wasting time on devices that don't sell. They are not wasting time on - wait for it - customers. When someone walks in the door, whether they walk out with another iPhone, a Samsung, or a Nokia, they are a customer. Period. If I spend $50 at a merchant, should I expect less service than someone who spends $1000? Or should a customer in a small town be ignored in favor of services for a local city? It actually boils down to laziness. With 25 different Android sets on the shelf, and 4 models of iPhone - all allowed to update based upon Apple's schedule, not the carrier, it is much easier to take the simple road out. If they didn't live and die by placing crap ware on their phones, the Icon would have been updated weeks ago.

Naw, it costs Verizon money to update phones. It isn't free for them to test and release the update, so they are not going to bother for phones that didn't sell well. When you have millions of customers on iPhone, millions on Galaxy S and then thousands on the Lumia, the decision on which to give the most support is simple. Lumia isn't going to be given the time of day. Posted via the Windows Central App for Android

Last I heard, even the Blu Win JR LTE X130e Europe variant with 1GB and SD410 was being considered for the update. @Daniel, any news on that from your inside sources in the industry?

Thanks Daniel..going to take the plunge I was waiting for official but this sounds just as good

I have the latest version of Windows 10 on my Icon (version 1511, build 14332). Of course, I hacked the model going from a 929 to a 930. I've had no issues and am very happy with the result. I did have issues with a few of the prior Insider builds before the model change.

How did you get "Hey Cortana" to work? It says that the feature is not available on my device?

Did you check under Settings > Extras > Hey Cortana? I see it there on my device but did not try enabling it yet.

Have to admit, I took the leap to the Release Preview and was initially disappointed - until I found out I had to do a second update. It does run well, and while I'd be happy with WP8.1 on my phone, W10M is fairly nice on good hardware, even though I've had a few more app crashes than I'm used to.

was using the icon the way you described, but still got rid of it as the apps i wanted to use just never came. Along with no sd card and below average battery life, just couldn't do it anymore. i don't use a ton of apps but the one i can now use on my s7 are: 2 banking apps, local government app, sons school app, county, state & national parks apps & 2 apps for work. i stopped making emotional decision to stay and made a factual use decision & left for now. it works for me for the time being & have no regrets. your mileage may vary..... Posted via the Windows Central App for Android

I've been using my Icon with W10M for about 10 months now and it had some problems for a long time but it is getting very stable now. For anybody looking for a good deal pick up one of these phones online used for under 100$ and sign up with Straight Talk, 5 GBs for 45$ or 10GB for 55$ per month. Uses Verizon towers, No two year contract,Cancel at any time, Best phone deal out there.

If ever, I wonder if Verizon would care about and serve it's "Microsoft customers" and give the Icon a "firmware" update. If Verizon ever cared about us Microsoft Customers, is it conceivable/possible that the Microsoft features "Double Tap to Wake", "Hey Cortona" and "Glance" could be implemented in the ICON? These features existed on the similar phones elsewhere in the world, but pathetically not on the Verizon Icon version of the phone. Maybe a Verizon firmware update to the Icon could fix this.
(I don't understand why Verizon is so focused on spending so much money promoting, advertising, and making Google and Apple rich? Doesn't make competitive sense to me?)

Hey Cortana worked very well on my Icon... Something this **** HTC M8 doesn't have.

I just moved from an HTC 8X to the Lumia icon with windows 10 .242 build. So far i really enjoy the OS and have had very few problems.

No way... I had the Icon for nearly 2 years, lost my 2nd replacement in January, was told they no longer carry it and was given an HTC One M8. I LOVED my ICON! The screen felt like liquid, lol, it was fast, camera and video recording was amazing, long battery life.. It was the perfect phone. :'(

My experience is that Verizon backup assistant plus doesn't work on phones on Windows 10 build

Yet again, a nice article. My daughter has my old 930 and it is a little cracker on 10. Impressed with the performance. I have one small issue with the 950/950xl comment. I cannot get a tempered glass screen to sit on the 950xl flush. I thought it might be the screen itself, but even exchange device has same issue. Anyway, 930 does rock on 10.

Hi guys anyone who is using lumia 930 can tell me the exact battery life on windows 10 in full usage of all messaging apps like whatsapp,fb,line,etc or just normal usage. I am thinking of buying this phone and yes after update how much storage left for user ?

Daniel or anyone else, got a couple questions: 1. How is the BT connection between your Icon and your car? I enjoy having Cortana reads my texts and being able to speak my reply. 2. BT connection between the Icon and Band 2? I use my Band 2 a lot for my text notifications, calendar appointments, facebook messages, package tracking and incoming caller id.

I don't have BT in my car so I can't speak to that. I do have a Band 1 though and had to uninstall and reinstall Microsoft Health for them to connect properly and maintain a connection over BT. I don't know the cause, but it seems to be a common problem and that solution usually works. Again, I don't know the details as to why other than you use Microsoft Health to manage your Band tiles and everything else. I've been getting regular email, incoming call, text, and Facebook messages. All the normal notifications you would expect.

Buzzard, installed W10 yesterday and surprisingly, BT works just fine in my car. I did have a few missed text notifications, but I think simply turning my phone off and back on fixed that. The connection between the phone and Band 2 seem to working just fine as well.

I've installed Windows 10 on my Lumia 820 and Lumia 920. Both have the same CPU and 1G RAM. I've activated Cortana and using glance screen with the time and notifications I prefer activated. Quite happy with both they do freeze sometimes but so did they with Windows 8.1. The 820 I've fitted with an 64GB SD card

I still use my 930 daily, it's an awesome phone!

I JUST did this on my Icon over the weekend and echo everything you said. It's like having a new phone. I've had this thing for two years now. It's been running just fine, but I was considering an upgrade and a carrier switch just to get W10M. I figured why not update my Icon anyway. If it works, great. If not, get a new phone. I can't say it worked flawlessly right from the start though. I had some issues with some apps not functioning and others disappearing, but what I didn't realize is it was downloading and installing a bunch of stuff in the background after the W10M update, including app updates. I had to uninstall and reinstall Microsoft Health to get my Band to stay connected over Bluetooth as well. After that though, it's been pretty smooth sailing.

One other problem I had with WM10 was that personalized ring tones assigned to users did not work. Can anyone confirm if this has been fixed?

I have the Lumia 928 and the Icon. I installed the preview version of Windows 10 on my 928. It works realy well and am impressed with the performance. However, I bought into Insteon for my home. And Insteon has yet to release a UWP or Windows 10 for mobile app. I am unable to use their app on my 928. So if I updated my Icon I would lose the ability to manage my home on Insteon. I have reached out to them on several occasions and they have not responded to me. I am very discouraged with their lack of support on Windows devices. I sure hope they do release an update soon.

Can any one give me the link to get that lock screen wallpaper on the icon shown in the article,its just awesome...plz some one mail me at vikassingh0009@hotmail.com

Just yesterday started using a new to me 950xl.... Already miss my green 930 on win 10 release. Screen doesn't pop as well. Having said that the new phone is a tiny amount faster, and the sd is great for music. If the 930 had a replaceable battery and an sd card it would have lived forever quite frankly. Posted from my magical block of green cheese.

Damn. So wish the mozo covers were alloy and green plastic. Posted from my magical block of green cheese.

Try vivid setting in color profile under extras. Make the screen look similar to icon.

Oh, nice. I've been playing around and noticed the Verizon Messages app ( https://www.microsoft.com/en-us/store/apps/verizon-messages/9wzdncrdcsnz ) is a Universal W10 app that claims support for W10Mobile. That's weird, right? Did it carry over when you updated? Can anyone extract the app so I can test it via SideLoading? It's really hard to find anyone talking about Verizon and Windows Phone.

I be "licon" my Icon! Great camera, good for phone calls & texts, and it does all the smartphone stuff too. It works well with W10M. I've had mine for 2 years now, and I plan to keep it until the battery quits. Yeah, a replaceable battery and an SD card would be nice, otherwise the Icon is near perfect. Oh and Verizon is an overpriced PITA, but that's another forum thread...

Thank you for this article!! I have been running the production version of Windows 10 Mobile on my Icon for months. I think it is a great experience as well.The phone has plenty of compute resources available to run Windows 10. I hope the Verizon and Microsoft get out of each other's way and make the Icon official for Windows 10, otherwise we can't get Redstone builds, which will be very unfortunate.

Love my Icon with Win10! If SD Card slot & Glance are what you want don't use the Icon. For everything else like the Camera, Flagship Phone feel, great screen, the Icon is still IMHO the best Windows Phone out there. I'm stuck with Verizon for 2 more months but without another Flagship Windows phone out there I find no reason to jump carriers. Here's to hoping Verizon & Microsoft can come together to create the One Windows Experience we all long for.

I read this and updated. Now my phone is horrible. Maps does not work and every thing is laggy. I blame you..

I think if you are on Verizon and have the Nokia Lumia Icon, use windows insider release preview. The Icon is not on the list of supported devices for Windows 10 Mobile and I don't think it will be. If you want to by a windows phone on Verizon, get the Lumia 735. It is on the list of supported devices for Windows 10 Mobile, Verizon just has to push the update to the 735. I have the 735 and have the latest windows insider release preview on it because I can't wait for Verizon to push the update. If you want good windows phone support and have a choice of carrier don't pick Verizon. They hate windows phone!

1520 on WP81. I have a 1020 with wm10 and dont like it. For a large phone, wm10 seems to be a step backwards as its requriing reaching all over the screen. The one-handed usability of wp8.1 is what apple and google would eventually get to due to the increase in phone size. I hope developers keep making apps for 8.1 for a good year, and not abandon it for wm10 apps. Cuz wm10 is just trying to look like android/iphone and no longer show true innovation.

My Icon bricked using the above steps. here must need to be a firmware update before trying the install.

W10M on the Icon/930 is pretty similar to W10M on the 950/950XL. Great hardware inside but the software is an embarrassment.

Weather's tile transparent? What app is?

I have been running the stable preview Insider build for several months. There are a variety of issues. First, the phone frequently won't connect to known wifi without a reboot (sometimes several). When searching for wifi, it gets incredibly hot. The problem is that I am not in the habit of checking to see if it connectd to my home or work wifi when I go home or to the office. You really shouldn't have to do that. My first indicator it is not connecting is that it suddenly gets very hot in my pocket. By that time, the battery is way down. Second, when you click to open a search result with Cortana, the app often just closes. You lose your search and have to start from scratch. Third, voice over bluetooth has not worked since I updated to 10. This kills my verbal driving directions when I'm in the car. That's not so bad, but it also kills them when I'm on my motorcycle, which can be more of a pain. And, of course, that means no voice texts in the car or over the bluetooth speaker I often use at home. Fourth, the back button does not function within Edge. You cannot go back a page. Pressing the back button simply closes Edge. Fifth, live tiles are mostly a thing of the past. Sixth, every update kills any group I have pinned to my Start screen. It's not a huge deal, but it's an annoyance to have to set those up again each and every time. I keep a number of family, church, and work groups pinned. Seventh, every now and then, the screen simply will not respond to touch. The only option is a forced reboot. For these reasons, I do NOT recommend using 10 on the Icon. In fact, I'm constantly flirting with going back to 8.1 or even just switching out to Android. While there was some initial fascination with 10 on the Icon, I simply cannot recommend it. I never had any of these issues with 8.1, and my phone is in excellent condition. My son has been much happier keeping 8.1 on his Icon than I have been with 10 on mine.

I updated to W10 yesterday and haven't had any of your issues. Have you tried a hard reset?

I just put a new main board in my old 925 and like you said I like the pillow Amoled display and the feel is just nicer then my 640 and 640XL. I know my 925 doesn't have the high end specs but I like it. I'd love to see a revamped 925 with a 5.5" Amoled 1080P screen and other high end specs.

Folks Rumors say that Redstone Surface Brand Windows smart phones wont be out till April 2017. That's almost a year from now. "Microsoft" if you are not going to sell a new Lumia Windows 10 Mobile OS smart phone on the Verizon Network before then Please make it so that Verizon's 2 Flagship type Windows 8.1 smart phones the Verizon Lumia 928 and the Verizon "ICON get the Update to Windows 10 Mobile. If Verizon wont be the HERO to US Windows smart phone fans on the Verizon Net work then YOU "Microsoft must step up to the plate and be the HERO.

I really like my Icon and have had it since it was released. I'm running 10.0.14371.0 as my daily driver (heck...my only driver). Alas.....the screen cracked a few days ago and i am up for my 2 year renewal in a few weeks. Because Verizon has one WP it looks like I'm hitting the bricks and buying an Android. Thinking of the Moto Z when it is released. Sad, because I have been on WP since my HTC Trophy.
Windows Central Newsletter
Thank you for signing up to Windows Central. You will receive a verification email shortly.
There was a problem. Please refresh the page and try again.