Microsoft details plan to enable firmware updates for Windows 10 Mobile Insiders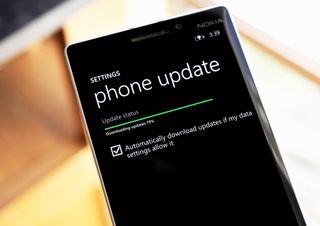 In a new forum announcement Microsoft has revealed details about letting those on the Insider program for phones grab new firmware direct from Microsoft. Currently, if enrolled in the Insider program phones cannot receive new firmware updates, only ones for the operating system. This issue has caused problems for those looking for hardware-specific fixes in the new firmware.
In the post by Jason[MS], details about the recent workaround and future plans were outlined:
Jason goes on to confirm what we already knew, which was that Microsoft works closely with mobile operators when the software "talks to a mobile operator network". This approval process can take weeks for testing before rolling out to users. OS updates, however, do not need such a process streamlining general updates.
Microsoft notes that it will be a "few weeks" before the new system is in place:
For now, a new option in the Windows Insider app for Windows Phone lets users jump out of the Fast or Slow rings and into a new Production branch. Enabling this feature will reboot the phone, but it will not erase any data. The user can then check for a firmware update and once completed they can re-enroll in the Fast or Slow Ring of the Insider program. While this feature came out recently in an app update the new version is more explicit with the choice for Production ring.
Enroll in Production ring (temporary workaround)
Open the Windows Insider application on your device
Select "Get preview builds" There will now be three options to choose from: Insider Fast, Insider Slow, and Production Select "Production"
Read the presented message and tap "accept" to confirm your selection
Your device will prompt to reboot
After the reboot, check for updates. If available, your device will display an update to receive the newest firmware. Settings > Updates & security > Phone update > (check for updates) If the device shows a "no updates available" message, your device has the most recently available firmware
If available, complete the update by following the on-screen directions
Once installed, re-open the Windows Insider application
Select your desired update ring (Insider Fast or Insider Slow) and reboot as prompted
Your device now has the newest firmware available and is set to receive the next flight when launched for your selected ring
Once Microsoft updates their Insider backend this above workaround will not be needed.
Carriers still in play
It should be noted, however, that it does not appear Insiders will get early access to new firmware. Firmware is tailored for each device, as explained by Microsoft:
Instead, this change by Microsoft is simply to let Insiders continue to get necessary firmware updates for their specific device when they are available. It does not mean (to our knowledge) that firmware updates will come to all devices at the same time.
At the very least, this goes a long way in making the Insider program for Windows 10 Mobile more palatable. Previously, users would need to exit the program and rollback the OS to get the new firmware, requiring an OS back and restore that took a few hours to accomplish. Now, with these changes users can just grab the firmware when available regardless of program status.
Source: Microsoft (opens in new tab)
Daniel Rubino is the Executive Editor of Windows Central, head reviewer, podcast co-host, and analyst. He has been covering Microsoft here since 2007, back when this site was called WMExperts (and later Windows Phone Central). His interests include Windows, Microsoft Surface, laptops, next-gen computing, and arguing with people on the internet.
Yup. Well done. I previously chose to roll back my 1520.3, and got an unexpected firmware update. Didn't like that (not knowing a firmware update was sitting out there). This fixes that.

Come January, updates will be thick n fast they said..just that people are out for xmas they said...

Right, then there is the whole Verizon will never update the Icon again thing. Since Microsoft aren't working around them, my Icon is essentially dead in the water. After the Zune which went **** up, HTC Surround that couldn't have 7.5, Lumia 900 which could have 7.5 but not 8, 5 920s that never received an update while I was with AT&T and now two Lumia Icons that Verizon refused to update for over a year to 8.1. Now the Icon will never officially see 10. I'm afraid that my confidence in Microsoft's ability to make something work has reached it's limit. At contracts end I will likely go cheap and say farewell to Windows mobile.

Blame Verizon not Microsoft for your Icon problem. MS is doing what it can to bypass carriers as much as possible but there are somethings that can't be avoided because of our carrier kings in the U.S. I'm sporting a 3-1/4 year old 822 and its hardly "dead in the water". Not W10, but still rocks. When I can, I'll update (switch carriers if I have to) but otherwise no sour grapes from me.

If the Icon had actually sold well then Verizon would have no problem updating it. The issue is with Microsoft not making a compelling platform to drove sales. Verizon is just not seeing the benefit of updating a phone that no one has. Posted via the Windows Central App for Android

Did you really think anyone is going to take you seriously, when you are posting from Android trying to bash windows? LooL

There are quite a few people who use both Android and Windows. Posting from Android does not automatically make someone's comment open to criticism.

He still has valid point though. Besides, perhaps had verizon not removed the icon from their site it would have sold better.

No matter who's fault it is, the customer shouldn't have to suffer. He/she has made multiple investments to the platform with a crappy return. I dont blame him/her for switching.

Hey, it´s Verizon you need to blame, not MS, please.

You have too many problems with carriers in the US, guys. A situation like this is unacceptable.

Just like having american police kill a 12 year old kid and then the grand jury decides there is no point in voting whether is was a criminal act or not because the kid was black. Here you can just port your number to another carrier if you are not satisfied

What B.S. I know you heard it on the internet so it must be true. Give us a break from your stupid comments.

Which part of he comment is stupid?

WOW, what a rasist statement, Do you even have a clue ? Are you trying to start a race war over a PHONE UPDATE ? Be glad I dont own this site, I would ban you for life for that one comment.

My Ativ S with nearly 3 years old wp8.0 GDR2 Firmware is waiting :D

Its nice having the aws lte variant its got 8.1.1 without messing with pfd/wi

Check the forums, Ativ S got 8.1.1 with proper FW before most of Lumias got 8.1 Posted via the Windows Central App for Android

As soon as I press on production, then accept, the app crashes and never prompts to reboot. Hope this gets fixed soon!

lumia 950 camera need some bug fixing update, it seems to show blur videos and shaking videos

Well since you deleted my comment let me ask you this, explain me how does this article is related to your camera experience? There is a place called "WINDOWS FEEDBACK" if you ever heard of it.

i couldn't find it there,

your comments are automatically filtered and deleted :D

Oh ok fair enough.
Well then, is yours a AT&T version?

If you can't find it there, then post a new problem so other people can upvote it.

mine is lumia 950 Dual, unlocked version, India... with latest update

I have even noticed some kind of sounds and screen starts to vibrate and blur while zooming the camera.... even my phone vibrates like it's gonna blast ;)

Oh I see. Have you tried replacing your phone?
If you can do it if not try hard reset on your phone

i hard resetted but no change

Hmm. I suggest you take it to a store near you and get checked.
Best bet to replace it if under warranty

I got your same problem!! The eye of the camera goes crazy vibrating and giving you the ghost movie effect.. All this since the last update, but when I check it with other camera apps it's the same, it randomly goes that way... I'm still thinking if it's the very small dot of dust I see inside the zeiss optics, or a software thing... It happens at random times when the phone is horrizontal, even when taking photos. Even the focus has changed its quality in case of far objects, I need to pre-zoom to see some things otherwise not visible. Something has changed but I am waiting to see 'cause I'm currently abroad and the rest of the phone works like charm, might it be the stabilizer shaking for problems while focusing?

Go to setting, in bout you Choose to reinstall your phone, it´s in the bottom of the page. This way you will get a new installaion, like out of the box. It´s really necesary in many cases. All apps and everything starts to work better. Apps is updates from store, push download and updates there. I did it his way with many phones = success.

Thanks both. Obviously I had already posted a feedback, but just in the italian's feedback page I don't know how much it will be considered. Though, I know about restarting but I haven't re-done it after this "hardware thing", at the next build I will perform it with my fingers crossed and a lot of hope.. Have you ever seen a small dot inside lenses in any of your owned smartphones? May it cause problems even if it's really tiny but viewable by me? Thank you

Dude just press and hold volume down and power button, it will automatically go to feedback app

This is a pretty elegant solution imo

Yeah nice welcome change ...we need this...

Sounds good. But is anyone at MSFT fixing the firmware bugs?

No... They plan to release as many bug ridden firmware updates as possible.... What a dumb question!!!!

I'm sure they'll get to it as soon as they're done with Windows 10 Mobile Pro for Android and iOS.

Lmao. This is great but sadly so true. Posted via the Windows Central App for Symbian

at least you no longer need to unenroll from the program, which also unenrolled you on all devices you may have using insider builds.

Much needed from microsoft

And when you rejoin fast ring it asks you questions about your interests

After MS implements new system I'm guessing it won't

I wish l950 get new firmware soon...

Any chance this will include older devices (if they receive any firmware updates) or is this just for the current Windows 10 devices and newer?

I really hope so, as we all know how certain carriers are with device support as there is no reason why they block updates that fix issues.

It still has to be carrier approved. You just won't have to downgrade or unenroll for firmware now. Posted via the Note 4/Nexus 7 (2013)/Lumia 1020/Lumia 2520

I'm hoping the older ones too, at least the most popular older ones. But based on the article, it sounds like current-new ones.

Same. I also hope older devices like the x20 generation and newer get specially tailored firmware updates! Improved performance and stability and newer drivers would be greatly appreciated! Could you maybe inquire this Daniel??? Cheers!

This is only for the new generation models, right?

Unknown. No evidence yet that older devices are going to get new firmware. However, it remains to be seen what happens with official updates for those phones.

I hope so. I am sticking with Verizon and my Lumia 928 for now. I just upgraded to W10M over the weekend. The biggest issue that I have so far is that group messaging is broken again. This was an issue on Verizon a couple of years ago and took new firmware to fix. I guess I shouldn't get my hopes up for new firmware or any new Microsoft W10M phones on Verizon anytime soon.

So... No fix for the Icon's wifi issues?

I think that is not problem in filmware.

Basically vz cut corners to cut costs which is a shame since I swear hotspot providers are making it so you practically have to lay the phone on top of the router to get it to connect

No we bought their glorious flagship so they would know who to bend over. I have a $39 Android that gets better Wi-Fi and has a richer Facebook app.

Having worked on firmware development for various hardware, I would most likely never opt into Insider Firmware. This is one area I am not interested in screqing up, as firmware malfuntions can cause all sorts of issues, even potentially damaging the hardware. I'd personally rather wait until the firmware is thouroughly tested.

And that is the route Microsoft chose, evidently, which looks appropriate as I agree. Firmware can be damaging.

You must have missed many lines of the articles :P

If I'm not insider, phone L550, software version 10586.29 so I will be not insider, but I will get new bulds? (if they are available)

Yes. Microsoft will push OS updates to production when they are ready. They will be less frequent, obviously, than Fast or Slow Ring insider updates. For instance, all 950 and XLs shipped with 10586.00 but they all got .29 as an OTA update regardless of Insider status. 550 shipped later, so had .29 already.

No Dan, the Lumia 550 shipped with 10586.00 also, with an OTA to .29. At least that's the case for the UK variants.

Yes, 550 shipped with 10586.00. Still waiting for 10586.29 update - it says it's up to date.

For instance he said; he didn't say only.

Good to hear, I never wanted insider firmware. Shame no Mobile update today, Gabe hinted at tomorrow.

Iumia 1020 needs fixing. Specially the camera

that and text alerts...I get none. I have to open the text app and scroll through to see if I have any new texts. DOes your 1020 run slow? SLow to boot, slow to do anything?

I'm sure we'll still have to wait 6 months for AT&T to approve a firmware update while the guys there are too busy gawking at the next iPhone.

Alternative analysis: this is much better than on Android, where even OS updates go through long carrier approval processes. OS updates are more frequent than firmware, so half the battle is won.

This is true. It's where Windows is more like an iPhone in this respect. But you also have to consider on Android you can flash a custom ROM. But you can also make the argument that it isn't for the regular user and a small part of the population actually flash a custom ROM. Posted via the Windows Central App for Android

You should give this a try. Just received Firmware update 15506.02005 on my 950 XL with service from ATT. Thanks for the heads up Dan. Much appreciated.

"ms can't update your PCs wifi card, it needs your router approval, the router is the boss" so if that driver causes BSODs then poor you

That's like saying my bluetooth headset has an update but my phone needs to approve it first. Your smartphone connects directly to a cell tower which is the internet provider. Your PC's wifi card connects to the router which then connects to the modem (if it's not a modem/router combo) which is then connected directly to the internet provider. The only thing the internet provider can dictate is the modem (or modem/router combo) as to not cause any harm to the network and is for optimal usage. Once that's accomplished the ISP couldn't care less what you add to the mesh. In Carrier Dictation Land, a cellular provider also needs to make sure that whatever carrier branded phone used also doesn't cause any harm to the network and is for optimal usage. Now, how often does a bad firmware/software update cause harm to a network? I don't know.

I'm not using windows 10 on my l540, in this way cane we get the new firmware update for my Lumia 540

Is 535 getting the firmware update too? Anyone

Yes, as long as there's one available for non-Insiders.

No,for my lumia 535 no update.

Great, now just push a new firmware first.

Just to clarify: This won't make firmware available sooner if you're stuck waiting on AT&T or other carrier. But when it is available, you will be able to get it even if on Insider.

I'm exited to get latest firmware for L638 India. No os update or firmware update since device launch not even denim.. While china received many firmware updates... Why not India..??

Be nice if the 1520/930/929 group got at least one firmware update for W10M. I'm sure it would fix a lot of the camera issues and reboot/battery problems I've been having on my ICON.

The Icon will get nothing but os updates from insider program. Just one more reason that I am weary.

As per the specs at gsmarena, 1520, 930 and 735 are the only phones with planned upgrade to WM10. So might be we can look forward to firmware updates for these phones.

The lower specked variant 630 doing good at updates..

So what firmware and OS version should the ATT Lumia 950 insider currently be running?

They seem to be highly selective of what they had "loud and clear". Countless of pleas for MS to stop raping and bogging down WP fell to def ears. Now we're in situation where I must choose between the two other mobile platforms

I read the headline and thought, "Hooray! I can get the firmware for my AT&T 950!". What a disappointment.

Its good news, but yeah, I did get my hopes up too for a bit there...

I'm on insiders, now do I have to go to "slow production" to get the firmware's when it will be available? (excuse my English)

can i do one question? i have lumia 640xl (greece) i have windows 8.1 and i dont use insider program cause of warranty... i will get windows 10 update too? or you know when windows 10 will rollout?

Το ίδιο κινητό έχω. Βάλε τα 10 από insiders. Γαμανε.

Ρε συ το πρόβλημα είναι πως χάνεις την εγγύηση με το insider το ρώτησα στην Microsoft...

Εγώ δεν έχασα καμια εγγύηση όταν πήγα για φτιάξιμο το κουμπί. Στην τελική το γυρνάς σε 8 οποτε θες ;)

Να σου πω στο insider έβαλες το slow η το fast?

Αλλιώς περίμενε μέχρι τέλη Φεβρουαρίου

I love to read Italian! Thanks!

Πως τα βλέπεις τα 10αρια ? Από εφαρμογές πως πάνε?

Τα 10αρια ειναι επικα. 100 βήματα μπροστά, και παίζουν πολλές γαματες εφαρμογές

Yes,you get it when released for all users but we don't know when Windows 10 Mobile will roll out. Microsoft says that it "will" have released by the mid-February.

Βάλε τα 10 χωρίς δευετρη σκέψη!!!και γω το l640xl έχω και ειναι τουμπανο!!!μόνο θέμα ειναι η ποιότητα της κάμερας η οποια ειναι λιγο-λιγο χειρότερη...

640 could use a firmware update!!

Does firmware have to do with my 930 not recording audio?

I believe that's a very know problem of 930 handsets and it's a hardware problem, you should send it to repair.

Ok, that's good news but what we need are the firmware updates. Waiting for the L730 Windows 10 firmware so I can install insider version again and see my battery last more than 6 or 7 hours. I've already know and reported that the cause are the radios - Wi-Fi signal are very poor and the second chip while using 2G barely get's any signal. Using Windows 8.1 now and the radios are working just fine, I can get very strong Wi-Fi signal and the second chip is always online.

I'm still confused by what this means. Does it mean that we're still dependent on a carrier like AT&T approving an update before Microsoft makes it available? Or does it mean that the moment Microsoft is done with that update we can install it, regardless of whether or not AT&T has yet conducted testing?

@uselessrobot. Firmware will always need carrier and oem testing and feedback. There is no way around that.

This means we won't have to downgrade or unenroll from Insiders program to get an official firmware update, like we do now. Just a small step, but a nice one. Posted via the Note 4/Nexus 7 (2013)/Lumia 1020/Lumia 2520

Okay, so when the hell are we finally getting win 10 mobile, seriously when?

So if I have an unlocked L950 from att on tmobile, will I get the latest firmware?

Only if it's approved by your carrier. Posted via the Note 4/Nexus 7 (2013)/Lumia 1020/Lumia 2520

Is there any firmware update for 1520

Not working for me. I've been running W10M since .26 My AT&T Lumia 830 firmware was running 02179.00000.151xx.yyyyy. Checking the offical AT&T version, and through the Device Recovery tool, I saw the latest Firmware is 02179.00000.15455.24047. My 830 started with 8.1 GDR2 and the offical 'better late than never' Denim AT&T almost never released, so I know I was running some version of Denim around the October/November time frame. I switched to the production version using the Insider tool, and no new firmware was was found when i checked. Tried flipping back and forth between fast and production a couple of times, so i gave up. I used the WDR tool, let it put 8.1 GDR2 and this new firmware onto the device, and already in the middle of putting W10M .63 back on it, which is why I don't have the exact old FW version. So I followed the process, there was an offical AT&T firmware update available but it did not find it. Oh Well, lets hope my restore works.

Will these firmware updates bring new features to say the Lumia Icon. Would really like Glance or double tap to wake.....

Nope, double tap and glance will not be supported on Icon, because I don't think the hardware is capable of it. Two things I would rather have on my Icon, working mics on video recording(it's pretty crappy compared to 8.1) also color profile has been messed up since Denim, but since VZW and MS hate each other we're screwed.