Windows 10 Mobile users can now grab new phone firmware after updated Insider app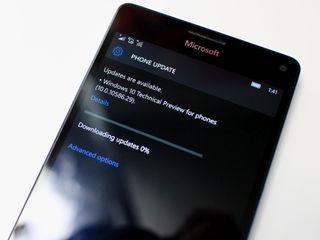 Yesterday, Microsoft sent out a mandatory update for the Insider app and at the time we speculated that it was in preparation for some Windows 10 Mobile Redstone releases.
As it turns out, it is more than that as the app now lets users un-enroll from the Insider program but all puts them back onto the production track for updates. This change is a rather big deal as previously users would have to hard-reset to get back into production mode.
Here is what it means, especially for those on the Lumia 950 or Lumia 950 XL as those phones have new firmware.
Windows Insider 1.3.233.2 Changes
With yesterday's update for the Insider app the changelog has now been refreshed too. Here is what is new with emphasis on the third bullet point:
Show Windows OS version instead of Phone build version in about screen
Fix a possible provisioning deadlock issue
Leave program will now attempt to provision the phone back to official production builds. When official builds catch up, the phone will receive compatible official updates again
Several smaller bugfixes
You are an Insider but not getting new Lumia 950 or Lumia 950 XL firmware?
One of the odd bugs of being an Insider was you could have a Lumia 950 XL and be on the latest OS version e.g. 10586.63, but not get the latest firmware that was released. To get the firmware, you would have to either hard-reset the device so that it would wipe the Insider track from the phone or use the Windows Device Recovery Tool (WDRT) to flash the firmware.
Needless to say, this could take around two hours. This time scale applies if you use the restore function on your phone to put it back to normal after you take all the updates and then re-enrolled in the Insider program. (Having said that, sometimes doing a hard reset also fixes a lot of update issues, so it's not always a bad thing).
With yesterday's update, you only have to remove yourself from the program using the app (directions below) and the phone is now put on production. This action means the phone will act like you hard reset it. Using Windows Update under Settings should let you install the new firmware with no interference (assuming it is there; the Lumia 950 on AT&T still has not had the firmware approved, for instance; but when it does, you can then use this guide to get it too).
As always, taking the new firmware or any OS updates does not wipe the phone. All your information, settings, and files will remain intact.
For now, this only applies to the Lumia 950 and Lumia 950 XL as other Lumias do not have new firmware available. Long term, this can affect other devices should new firmware be released by Microsoft.
How to stop getting Insider builds for Windows Phone
Launch the Windows Insider appFrom your Start menu launch the Windows Insider App. If you need to re-install it just use this link for the Store.
DisenrollFrom the ellipsis menu near the bottom open the menu and choose Leave the program
Sign inTo confirm your account, you need to sign in again
Leave ProgramOn the Leave program screen select Continue to confirm
You are now disenrolled in the Windows Insider Programs for phones. You will not get any more OS updates through the Insider service, but your phone can now grab any official updates through production releases e.g. new firmware.
If you wish to change your mind at any point, just launch the Windows Insider App and re-enroll through the initial steps. This step applies after you grab the new firmware as re-enrolling in the Insider program will never remove the new firmware.
New firmware update for Lumia 950/950 XL: 01078.00027.15506.020xx
As a refresher, this is what the latest firmware for the Lumia 950 and Lumia 950 XL brings. Many user reports confirm better battery life and, more importantly, less heating of the phone due to background processes:
Stability and performance improvements.
Improvements for SD memory card support.
Improvements for automatic display brightness settings.
Fix for a camera problem that was causing noisy images in low-light conditions for some users.
Fix for a 4K video problem that was causing stripes to show up while playing back recorded videos for some users.
Conclusion
This course correction by Microsoft is one that should have been there early on when the Insider program began. Granted, the disconnect between firmware and OS updates was not so discernable a few months ago before the Lumia 950 and Lumia 950 XL even existed, making the "issue" more theoretical. Now that we have those phones and Insiders stuck with old firmware the reality of the disconnect is, well, disconcerting.
With yesterday's update, Microsoft made switching between Windows 10 Mobile for Insiders and Windows 10 Mobile production much easier with no more hard resets. This change in how the program works also means that Microsoft does not need to put the firmware on the servers for Insiders, however, they are reportedly still exploring that option too.
At least for now, Microsoft has saved users a lot of work by negating the need for a hard reset just to get any official updates.
For more information, you can head into our forums where users are sharing their experiences.
Source: Windows Central Forums; Thanks, Shaun S., and Bryant F., for the tips!
Windows Central Newsletter
Get the best of Windows Central in in your inbox, every day!
Daniel Rubino is the Editor-in-chief of Windows Central, head reviewer, podcast co-host, and analyst. He has been covering Microsoft since 2007 when this site was called WMExperts (and later Windows Phone Central). His interests include Windows, laptops, next-gen computing, and for some reason, watches. Before all this tech stuff, he worked on a Ph.D. in linguistics, watched people sleep (for medical purposes!), and ran the projectors at movie theaters because it was fun.
So wait, firmware for all Lumias?

In theory, yes. In reality, no, as only the Lumia 950 and Lumia 950 XL currently have new firmware.

Here goes my faith for more fluid W10 on my Lumia 625 :(

You are not the only one.....I have lost mine too :(

So my LED in my Lumia 730 will have to wait to work then.

Badly waiting for new firmware to enable the LED feature in my L730.

What my Lumia 730 had led notification lights???

Light Emitting Diode. Basically the same light that most phones use for the camera flash and flashlight. The 730 has an extra on that blinks when you have notification, but it is disabled. The users are hoping for a firmware update to activate it.

LED? 730 doesn't have one...how are they gonna enable that?

It does have, you can see it if you dissasseble your phone. 930 also has it. Looks like Nokia played smart, for phones which doesn't have Glance, they've put LED.

But Microsoft might not enable it.

Its a shame Dan. My Lumia 1520 has many issues which I think are firmware related. For example, on my Car, when paired with bluetooth, W10M has lots of disturbances, distortions or even dropouts while playing music via BT. Same car, never had issues with WP 8.1 and worked like a champ. There are few others, but I wouldn't list them all.

I hear you Sunny. My 1520.3 has lots of faults, which I understand in a test builds, but we are getting precious close to the end. I'm worried my device might be an outlyer, except others complain too, but only a few. Still not working for me are Glance, Hey Cortana, Motion, Moton Data, and couple others, importantly, all Microsoft apps. If this build and new Insider app doesn't help, I may go all the way back to 8.1 and start over. Ugh.

Did you do a clean install? I haven used my l1520 all that much but it seems to run fine with the latest build

I can't say for certain that is even firmware or just OS related. We have seen from previous OS updates that Bluetooth can be heavily effected and improved.

Still not updating. The app is on version 1.3.231.4 but still it's Store page shows no update available since the previous article. Anyway it doesn't look much relevant to non-950 phones. Or is it?

I had the same issue and had to uninstall and re install insider app... And after that I got the new insider fast configuration update... Running smooth and nice

Yeah, uninstalling worked.

Any idea for those of us who can't see the update for the Windows Insider app? I've checked for updates manually a few times to no avail, and it's not auto-updated itself as when I try to use the app it says I need to update to the latest version. :S

Uninstall/reinstall worked for me. Lumia Icon

Currently windows store is down for many users from last several hours which cause to not showing app updates.

But ATT still has to allow it?

@Daniel Rubino or anyone reading this. Why isn't the Firmware revision number in this article fully listed out? Are the last three numbers different based on if it's a 950 or 950XL? What you listed was 01078.00027.15506.020xx. Meanwhile, I have 01078.00027.15506.020005 and I'm not certain if that's the latest firmware. Thanks.

I believe the last few numbers correspond to variants depending on the region. So as long as the rest of the numbers before the xx are the same, you are definitely on the latest firmware release for your specific device/region.

Is it likely to allow me to get the denim update?

still stuck on .29 release on 950

This does NOT fix the provisioning deadlock issue. STILL stuck on .29. any advice?

I got an update to the new version for Windows Insider app on my Lumia 535

I don't care about firmware. What I care about is: When will there be a release date for windows 10 mobile for all lumias except 950??? When Cortana for the whole world?? MS is sleeping and getting slower each second!

Dang we're lucky you found the right channel to express those thoughts!

When it is ready. When language support is ready. Its not like any other company is faster.

You can't be serious.....

January 19th - according to Swisscom.

Not even my AT&T Lumia with updated insiders app. Checked and still have old firmware and it won't update. :-(

Please check out the last picture: Updatering för windows....

This is what happens when you push out a bazillion different models instead of just a few really good ones. You have to support all that crap.

I thought windows users can now grab "WINDOWS 10" update :(

Guess you shouldn't read so fast ;)

Early 2016... Whatever that means...

Super easy, that means that something (made by MSFT) is not going to happen the first eleven months of 2016 with high probability of neither does the twelfth.

Is anybody having problems with app updates from the store? My Lumia 550 has been unable to find any app updates since installing .63, so to get the latest insider app I had to uninstall and reinstall it.
It can't find app updates after a hard reset either, leaving me with an incredibly buggy app experience.
Is this a .63 issue, or a store issue?

My 950 has been doing the same thing. I didn;t notice it until I tried to update the Windows Insider app. I am on the old version, but the new version is in the store without an option to update it.

Yes i have the same problem. I can't receive any update in windows insider app. After installing build .63 .

Uninstall the app and then re-install from the Store. That will force you to get the new one.

Except it won't reinstall. Error: 0x8024401C

Edit: I uninstalled the WI app and now when I hit the Install button for it in the Store it just says "Working..." and never does anything. Why is this app store stuff so difficult for MS to figure out? So now I am left with no WI app to move to a newer build and no way to install or update existing apps. So it looks like I'm hard resetting or flashing my phone again.

Took three times, with various error codes, but finally successfully download and installed. Hang in there.

I'm having this problem too. My 920 can't find app updates. I was considering doing a hard reset, but since it didn't work for you, I'm not sure what to do now.

Same here on my 920. We'll have to wait...

Same problem. L920 Update: deleting and reinstalling the app seems to work.

Same on my 635 that I use for testing.

I can confirm this issue on my lumia 640. Did a hard reset today and I'm unable to find any app updates

I'm in the same boat, but I don't even have W10 yet. I'm still on 8.1 v2. Tried to hard reset, then install W10 last night, when it started doing this. I restored my phone from my most recent backup (done an hour before I tried to update last night), but now a lot of my apps just say "pending" but won't do anything. And the Windows Insider app keeps telling my there's a server error :/ WTH!

Same here, seems like a bug

Yup, can't get the lastest Windows Insider...was able to update to Facebook Beta from the app screen in the store only. I just uninstalled Win Insider and i think it's working now after downloading again. Kept telling me I had to update to the latest version. Not sure if that's working or not. It's now letting me rejoin the fast ring and rebooting. And repeat, and repeat. No firmware. Damn!

I also noticed app update issues since the .63 release. I never got the Windows Insider or Facebook Beta app updates that WC reported. Been checking for updates in the Store app and nothing. I guess I will need to uninstall and reinstall like others have mentioned.

Same issue in my L540. No app updates in the store. Not getting windows insider and Facebook beta app update.

Same here Chance. After I did a hard reset yesterday, the Store had almost no new updates. I guessed it might be to the impending .63 release to everyone. Otherwise, a bit disconcerting. I'm downloading the Insider update now (on the third try after error messages).

Same here...I uninstalled to get the update but now I'm not seeing the new firmware. Has anyone else gotten it through the updated insider app? EDIT: tl;dr... Have to leave the program first. Whoops.

Yeah my 920 did the same thing. This fixed my issue. 1) uninstall the insider app. 2) Restart your phone. 3) Go to store and install insider. 4) open and set up fast or slow updates.** phone will restart again**. 5) check for updates.

Darnit, should have been patient. After hard resetting I'm now stuck without nearly all of my old texts.

Set to back up everything.........they aren't backing up. Backed up right before the reset actually. In the past they've magically reappeared within a couple of days, but no dice yet.

Config>System>Messages> Download Messages > From any time (I think it's this in english, sorry if I'm wrong). Maybe your getting messages from just the "Last Month".

After my recent hard reset it took a while to get them but they didn all eventually come back

I had the same issue with my 950 on AT&T. Backed everything upp, hard reset, and was missing like a month of texts. It's almost like it didn't actually finish backing all of my texts up when I did the backup even though it said it did. They all stopped on like 11/4 and I did the backup and reset mid December.

This happened to me after one of my OS updates and hard resets... It stayed that way for 2 updates, then on .36 they all came flooding back! Joy :)

Brett favre? Posted via the Note 4/Nexus 7 (2013)/Lumia 1020/Lumia 2520

Out of box question: Does installation of 10586.63 build in 8.1 requires a hard reset?

It's upto you, actually Daniel made an article about this..in which he's telling us about his personal experience..
I would suggest you must do a hard reset as it will smooth out your experience and os will work flawlessly.
You can follow this steps
1) hard reset on 8.1
2) install insider app and get preview builds
3) Now as you're running wp10 now, hard reset one more time and than install your apps (don't do backup restore & this 3rd step is voluntary not necessary)

Still waiting for official release on my phone

When is the official release comming and wichone ?

At the announcement of Windows 11.

I've had the leave option with the previous version 1.3.231.x for some time now. Also I don't get mandatory update request for the Insider app too.

Of course, you could always "leave" the Insider program. That is not the news here. However, all leaving did was block you from getting Insider updates. It did not, however, let you get production updates e.g. new firmware. That is exactly the issue described here, hence this article and why it is important. The reason is the registry changes made by the Insider app and choosing Slow or Fast Ring remained on the device keeping you in a sort of limbo for firmware.

Yep. I can now confirm all is working now. What should have been mandatory update for the app, didn't show neither in the app itself, nor after a manual check in the Store. Had to reinstall it, to force my phone to update it. The only downside I see, is this actully makes me leave the program (unlike the desktop version, which is per device). Lost my "Insider since Oct 2014" badge (found in Insider hug). Thanks, Daniel. P.S. Tell the technical guys this comment editor has had problems with keyboard navigation in Edge for some time now. Pressing Enter returns you to start of text instead of new line.

Actually leaving only unrolled your Microsoft account from the Insiders program before, your phone would still be on the Insidier program and still get Insider builds. I wish they gave us the option, other than a hard reset, to have the phone leave the program but have your MSA stay, so that your join date doesn't get reset.

Yea, my 950 is still stuck on .63 and when I leave WI the firmware is called "Production-Threshold". Nothing else. It seems my 950 is not seeing the new code, or I have no idea what I am doing.

.63 is the current OS version, there is nothing newer to get. But now that you are on the "Production-Threshold" track you should be able to get the latest firmware, assuming that: You haven't already gotten it. It has been released for your phone/carrier/region.

Just a little bit of reading will explain the updated function of the leave option now.

Too bad the store is dead at the moment. I can't update the app. Edit: It's back!!! :D

Uninstall and Re-Install... That's exactly what I did now

How could I reinstall the app if the store wasn't working at the time?

Well, the store is working for many and presume you can still access it. Some can use the store but are not seeing app updates, which is what he is saying. If the latter is your situation, then it is a workaround.

Store not back for me. 1520.3

I am.not getting updates since yesterday from W10 store for windows insider and Facebook Beta for both 920 and 635.. Anyone got this problem?

Maybe you have automatic updates on

Automatic updates are off since day 1 ,, coz I wanted to know which apps are updating.. This fault is from yesterday.. Probably server side error

Same here.... cant update or download any new app from store, including this Widnows Insider!

Same here: 1520.3 Guatemala

Store is having problems for most users, there's an article on it at WMPoweruser.

My Lumia 830 is staying in the program until AT&T officially announces the Windows 10 Mobile update for it. I have a Lumia 640 set to replace my now-retired Lumia 520 as my Windows Insider Fast Ring device when the initial Redstone Build is released to Fast Ring.

Yeah, until we know a new firmware or official update exists there is no benefit in leaving. Of course, no harm either as you can always re-enroll now.

So we dont get the official 63 update today right ???? For non inseder users

So daniel rubino its not shure if we get the official 63 update for non insiders today ? I dont get it anymoore :)

new firmware for Lumia 950 XL??? i received officialy (without insider) this firmware 01078.00027.15506.02029 on my Lumia 950 XL last year...

Which is not news or interesting. This article is for those on the Insider program.

yes but read carefully what i say. this firmvare is not new. someone forgot this firmvare is available from last year no matter did use insider or not...

We didn't say it was new, but it was rolling out in stages for 950/XL owners. For those in the US/Canada they only started getting it last week.

Now i have the updated app but i can't see any UPDATE on my phone !!

Open WI apps, choose fast insider like first time you install insider build. It's work for me.

I can't either. It's a sham (:

Anyone have advice on what to do if there's no update available for WIndows Insider App yet I'm still running the old version? The store doesn't show any update available. Would it be safe to uninstall and re-install?

Yes, that is your best bet.

If it will actually reinstall, mine won't.

This is great. Microsoft is doing things right.

Just tried this on an ATT 950. Still no firmware update.

Right, as we noted in the article. AT&T still needs to approve the hardware.

Skimmed over that. Thanks for pointing out again!

For those interested, my 730 and 930 dont update core apps (and the store) after install last build and do a hard reset.

edit: not only mine but also of other users (https://www.reddit.com/r/windowsphone/comments/40m14t/unable_to_update_a...)

So this is a firmware and software update for the L950 and 950XL and just a software update for other devices?

"...the reality of the disconnect is, well, disconcerting." You bet it is. I can't quite believe that even in the flowery Eden that is the Windows 10 biodome of Satya love that us AT&T 950 owners are *STILL* reliant on AT&T getting their fingers out of their iPhone-loving bums to approve firmware updates. I don't want to sound pessimistic but, oh who am I kidding, I'm a WP fan so I learned a long time ago about having to wait *AGES* and being treated like a smelly tramp.

Carriers will always have a say on firmware when it alters the radio stack (which this does). Android has to deal with it and so do we. The good news is you now can get unfettered OS updates, which is a huge improvement from last year and is ahead of Android. Apple still has to get things approved too, but it may never be as universal as their updates. But progress is progress.

You're right, having the OS updates unshackled is a huge boost for this community, who, let's face it, have been dragged through this kind of thing since even the good ol' Nokia days of yore. And yes, thinking about it for a second, Android users do have to wait for FW too, some older models never seeing updates at all. Carriers still treat me like a smelly tramp though. Maybe I should shower more.

1520 un-enrolled. No update.

There is no firmware for the Lumia 1520. We say specifically for the Lumia 950 and Lumia 950 XL.

Ur article Headline says, WINDOWS 10 MOVIE USERS CAN NOW GRAB PHONE FIRMWARE AFTER UPDATED INSIDER APP... Doesn't that mean all Windows 10 Mobile devices ? I have the latest version of Insider installed still no update shown on my 1520 ..... I don't say a new firmware but there's nothing......

See, here is the thing. The article is more than the headline and I cannot be responsible for the fact you do not take the time to read the rest of the words I wrote. The change here does affect all phones on the Insider program. However, the reality of the change is only for those on the Lumia 950 and XL as we have not covered or announced new firmware for other devices yet. Do you recall us ever writing about new firmware for the Lumia 1520? No. Do we specifically call out only the Lumia 950 and XL in this article? Yes. Did you purposefully choose not to read the article for details? Also, yes.

No good deed goes unpunished. (Though I can understand his confusion.)

No that's not what it means

So I may as well stay un-enrolled until a new build comes out and hope that in the meantime I "could" get some new firmware? Seems to be the best route as of now.

There is no firmware available for the 1520. Only for 950 and 950XL owners.

Please obtain a brain. Thanks

Why do we even have an indiser app? Why isn't it managed as per Win10 through an 'advanced settings' menu? Especially when the settings app is puported to be a universal app? I guess it may involve being able to deal with firmware as this is one of the few major differences between Win10 and Win10M?

Where is the official update!?

Fantastic! Unenrolled my 950 XL and got the firmware update and will renroll as soon as possible. This is a HUGE change as it really did take about 2 hours to get a phone in and out of the insider program just for an update. I am glad to see Microsoft making this change. Now if they would make the Windows 10 Mobile a selectable option in the Windows Device Recovery Tool, that would be perfect. It would save a LOT of time is we could just select the latest version for our devices. It takes forever to update our fleet of Windows Phone 8.1 devices to Windows 10 Mobile at work due to having to go through the insider app and all of the resets.

Of course they are still exploring putting firmware updates into insider program since the firmware updates are still dependent on carrier's approval. I wish Microsoft had taken the update control totally in their hand. May it be firmware or OS updates.

I got firmware 01078.00027.15506.02017 for over 20 days ago to my black Danish L950XL beauty. :-)

Right, as did others when we reported it. The issue here is about those on the Insider program not getting firmware.

Im an insider, my L930 isn't picking up any update? I've got the update windows insider app and its still not picking it up. Anyone else having this problem?

You folks need to read the article more closely. There is currently only firmware for the Lumia 950 and XL.

Errr...i did. Its blaringly obvious. The title was a bit ambiguous - but I read the article. Perhaps state from the start that this update is only for Lumia's 950 & 950XL....

The update is for all devices; the effect of it - for now - is only for the 950 and XL, which I do state.

As those were the first to actually release with Windows 10 Mobile hence are the only devices that are primarily supported with Windows 10 Mobile. People having a tough time understanding that Windows 10 Mobile, while able to be installed on older Windows Phones, are not 100% supported until the official release aren't they?

Thank you for putting that into perspective

Apparently reading is hard

I think you will find we are talking here about 950/950XL? NOT 930!

Awesome, worked flawlessly. 950XL

The app just rebooted my device thrice.. Still can't see any update on L1520 ... I have the latest version of the Insider App..

Considering there is no update for the Lumia 1520 you just wasted your time.

Still not getting the new firmware on 950xl after unenrolling

Same here, US dual sim 950XL currently in Sweden.

i'm not on insider and i'm on ...29 build and no store updatess for me too... what's wrong????

Considering you didn't tell us what phone, country, or carrier, I'm going to go with 'your phone does not like you' as an excuse.

950XL in portugal, unlocked but using vodafone! is that good for you?

Some help puleeeeze :) ok, so when I open the insider app and hit get preview builds I'm getting the update required message, but there's no update showing in store. How do I update the app? I've already lit a few candles, placed the phone on the floor and danced around it in my underwear chanting bill gate's name but that didn't work either.....I'm running out of ideas people!!!

Uninstall, soft reset and reinstall?

Yes, you can leave the Insider program but only on rare occasions when you're not getting the Server error.

Does anyone have any idea when Microsoft is launching Win10 for its Lumias?

Just as soon as they've sorted out all the bugs.....2017...maybe 2018 depending on when the next blood moon lunar eclipse is scheduled to take place

It will be in stages and for carriers to decide. No single date to my knowledge.

Probably the more polite way to say it... 'SOON'

Can confirm, all works as per the article. Was on .63 on UK CV 950XL without FW update, left the insider program, checked for updates, FW came through immediately. Finished update, re-enrolled. :)

Just for reference, which firmware number are you on now? Thanks, John

FW Ver: 01078.00027.15506.02012 OS Ver: 10.0.10586.63 :)

Thanks. I've hit the check for updates button a few times, no luck, still on firmware 02009....guess I'll wait it out and try again in a couple of hours :)

If your last five numbers are some combination of 020XX then you have the latest firmware. Yours is 02009 so you have it.

So will all 950 and 950 xl be getting the firmware update? Or do you have to be part of the insider program?

Please read the article(s) again

And I just did a reset last night to get the firmware. Oh well

I'm so mad I bought the 950 on ATT instead of waiting for the unlocked version to restock...

I get the point, but even unlocked only saw the update in the US last week. If we head into February and no ATT update, then yeah, your feelings are valid. Let's still wait and see just how long ATT takes, however. If we are only talking like two or three weeks, then that's not bad at all. Two months and we have a problem.

Valid point Daniel. Lets hope your first scenario is the case.

or five months and miscommunication from every possible source, like the AT&T 830 :)

Huh, no 950 n 950xl, nokia L730 here xD

Even the best of news draws only moans and groans here, it seems. Plus, some comments from dumbos who can't understand the article. And of course there will be at least one sanctimonious prick who will declare that he will wait for the official release . . .

I really don't get this article....what's it even got to do with my iPhone!! Oh well, it doesn't matter, I'll just wait for the official release

I really thought I spoon fed as much as I could in this article, lol. Guess I was wrong judging by some of the comments. It's a constant learning curve with this job :P

Chalk it up to reading comprehension skills.

The article title was, as I said before, ambiguous and vague, it could have been more specific. The article is perfectly understandable, its not rocket science. So who are you spoon feeding? Seriously, you write for Windows central, an app we purchase, and then feel its ok to get derogatory in the comments section where some people may be confused and are asking for clarity, i.e. A little help, nothing grand or excessive???!! Seriously? From everybody else, we've come to expect a bit of "in-house" squabbles, but you publish articles for Windows Central.

If you aren't able or willing to invest a little bit of time to read such an article, you shouldn't take part in the Insider program, IMHO.

tN0 - can you even read? ScubaDog (mitch) , do you realize that reading and comprehension are referred to as separate (even though obviously inter-related) skills?

Patronizing your readers shouldn't be anywhere on your "learning curve" I must say. Reading these comments is like listening to a father chastise his children. Chill.

Oh, and should one expect 'children' to join the Insider program??

Worked like a champ for me. Unenrolled, Got the Firmware on my 950 XL and when it is done I will re-enroll. Thanks Dan for covering this.

Nice, glad to hear. Ironically, I did a hard reset yesterday, so even I missed this opportunity, lol.

Since I can't even get my hands on a 950XL and no one can even tell me WHEN they will be available, I've read all these comments in vain. LOL But Thanks Daniel for the information.

Seems like no love for non-insider ATT 950...

I dont really understand. Insiders will get a new update today fixing that stuff?

950, Movistar Mexico, latest firmware still not released oficially... If I enroll to Insider, my phone will get the latest firmware? or carrier still have to approve? Also, where can I check status for Lumia Global Updates.. I remember that nokia had the Lumia Updates page where we could check update status on country and different carriers.

" If I enroll to Insider, my phone will get the latest firmware?"

As of now, no. No firmware updates when in the Insider program. Maybe later.

This is a big deal! Worked perfectly on my 950 xl, where l now have the new firmware. This saves countless hours of restoring your phone and its apps.

Thanks Dan. Worked as described. Canadian unlocked Lumia 950, .36:
- insider app was nit installed
- had previously left the program
- FW was not showing
- after this post, downloaded Insider app, re enrolled on slow ring rebooted
- upon restarting checked for updates none existed
- left a insider, process was different this time, message came up staying I was now in Threshold servers for updates (Threshold? I think that was the name)
- no reboot required
- checked for updates and WindowsMDG is waiting for to connect to a wifi connection. So MS delivered and achieved what they were trying to do.

I got the same message on my 950 but I'm tagged with att. So I'll just wait....

My cortana and Ambient light sensor still not working from buld 10581 to build 10586.63 Lumia 730 anyone has the same issue...????

Once you hard reset the phone

I didnt know how much time i did it...

Still not getting update windows insider app

'Disenroll' is not a word. The word you are looking for is unenroll.

You're only half right, to unenroll is when the subject performs the action, while being disenrolled is when it is done to the subject. So Dan is right to use it

Dan I followed the directions for my 950XL to a T and I am still not getting the firmware update. Any suggestions? I disenrolled, but I am stuck on 10586.36 and as I check I am not getting any updates

If that is the case, it may not be available yet. Still 'rolling out' to regions.

I am in NJ and everything that I have seen shows the US and Canada getting the updates. Bought my phone from the microsoft store here in my local mall.

This is very confusing...i have thiw update weeks ago. Which is the latest firmware number for Lumia 950?

According to the Windows Recovery Tool, what they have on the server in the US as far as firmware is 01078.00017.15454.29031.

Got all excited and then read still waiting on at&t...ho hum.

It would be nice if the Windows Insider app would update for me... =\

Uninstall and reinstall and then you will have it.

Getting it now on my unlocked Lumia 950XL on ATT

Be aware, unenrolling from insider does exactly that, for all phones and PCs. You'll need to register again if you have other devices remaining on insider.

"Be aware, unenrolling from insider does exactly that, for all phones and PCs. "

Pretty sure that is not the case and it only unenrolls

that

device, not all devices from the program.

Well that's what it did to me.

It un-enrolls your MSA, so you lose your "Insider since x" status.

I used the "leaving" option for getting firmware update for my Lumia 950 XL, and it works but I confirm that option unenrolling Windows Insider for all devices include all my Phones and PCs. I hope an option is coming for switch between 'Production', 'Insider Fast' and 'Insider Slow' rings without leaving the program for all devices. Now that Microsoft has implemented rollback ring settings to 'Production', it seems easy to implement a switch :-)

It unenrolls for all the devices. That's what happened with me. After opting out from the phone to get the firmware, i got unregistered on my pc as well

Waiting for double tap to wake support...

I gather the third bullet point "Leave program will now attempt to provision the phone back to official production builds. When official builds catch up, the phone will receive compatible official updates again" will apply AFTER the imminent W10M is officially released as a "production build." In other words, until the official W10M release, leaving the Insider program does, well, nothing, not yet anyway. Here's why: on my 1520.3 running .63 and, which after doing a hard reset yesterday, could hardly get any updates on any apps in the store: 1) installed to today's new Windows Insider 2) exited the insider program, 3) got a popup that said I would get something like "the threathold build" by going to setting->update, 4) went to Settings -> update, as instructed, 5) said I was up to date. Which is interesting. I gather if we start at .63, install the new Windows Insider, leave the program, it won't send us back to an earlier "production" build and certainly not back to 8.1. (I clearly understand, the 1520.3 does NOT get any new firmware update now).

I'm tempted but hmm I don't want to risk my 950 guess ill wait for at&t to allow it sigh

Can anyone else verify your WiFi results with Lumia 950 Series devices. The combination of 950 series f/w update and Windows 10 Mobile Build #10586.63 has very poor WiFi throughput performance on my 950 and 950XL. In one scenario comparable mobile devices testing at 300/300 and 950 series 50/15. If anyone can verify it is helpful. Twitter info: @WindowsCentral @daniel_Rubino Insider Program: @WindowsInsider @gabeaul @northfacehiker

So the news I am reading is the store is not updating the app and maybe this issue affects other apps. Might want to update the article until Microsoft release a solution, in the meantime you could post the work around and information of the problem.

Can anyone else verify your WiFi results with Lumia 950 Series devices. The combination of 950 series f/w update and Windows 10 Mobile Build #10586.63 has very poor WiFi throughput performance on my 950 and 950XL. In one scenario comparable mobile devices testing at 300/300 and 950 series 50/15.
If anyone can verify it is helpful. Twitter info: @WindowsCentral @daniel_Rubino
Insider Program: @WindowsInsider @gabeaul @northfacehiker

So, the Store didn't show an update for the app, so I searched for the app, but the Store crashed when I tapped on it to see the details page. So I uninstalled the app, restarted, and now when I try to install the app I get a "Something happened on our end" error message. So still no new firmware for me... :(

Worked great on my unlocked 950 on AT&T. I did have to manually uninstall and reinstall Windows Insider. The app told me to update but the store didn't show any updates. Reinstalling, however, did install the correct version and I'm downloading the firmware update now!

Hi guys i have a big problem with my handsfree i connect them with my 640XL and nothing happens but they work correct with my laptop,pc,notebook,tablet,and others smartphones and symbians,and when i use my natec and skull candy at my phone i dont have any promblems
My headset is coloud nokia and i notice this promblem after the update to.63.Any sug or solutions??

Yeah, go ask in the forums.

HTC One M8 on Windows 10 needs new firmware

Started installing the firmware update on my 950 like 20 minutes ago and it's stuck at a black screen since then. Pressing the main button lights up the 3 keys but that's all. Should I start panicking? I was on .63.

I gues we dont get the official non insider 63 update ...... So i dont know wath choise i shud make gon on inseder for 63 or wait till it comes official, i have a 950xl

What official non-insider .63 update? (That is only for PC not phone.)

Ppl have with insider 63 on theere phones wich update is for the phones than

The leave program option have been there for long time...

...but it didn't actually do anything useful until now, hence the article.

the title is misleading! Thought the firmware update is available for all Lumia on Windows 10 Mobile. :(

Yes and nope not all (or not on my 920 or 635 as per article).

It is only misleading if you forget the only devices officially supported for Windows 10 Mobile are the 950 and 950XL and any other that has shipped with it already installed. Windows 10 Mobile has not officially been released for older devices, whether you can install it on a 1520 or 520 is irrelevant to it being officially released for those devices.

Good afternoon Dan. Thank you for your patience with everyone. Your site is a tremendous resource. Not to sound too out of touch, but should I am assume that an unlocked 950 XL on ATT will not get the firmware update? I ask because I am still not seeing it. To complicate matters, when I brought the phone to the ATT store to connect to their network I used the IMEI # from the 950 store display trick you wrote about in December. Thanks.

950XL will get the update.

Hey folks , don't put efforts from your side by resetting your devices because windows store is down from past several hours which causes to not showing core app updates. May be 3rd party apps are updating as usual

Is this Insider update also cancel the new build update in the queue by Leave Program option if you don't want to install it?

No FW update for Movistar 950 (Mexico) after disenroll.

Left the WI program but still not seeing the firmware. 950XL unlocked/Canada.... Will peek in the forums...

i do hope for new firmware on my 925... and btw does some of you have some "flicking" on your phone's display ?

on leaving program ,message appear you are not look like windows insider participants.one days ago i already leave program,then again configure fast ring after that leaving program every time getting this message. even hard reset doest work. Posted via the Windows Central App for Android

Hi, What about Lumia 530 single/souble sim?

Don't hope for new firmware for older phones. It won't happen.

oh really ? what makes you think that

annnnnd after replacing my 950 because of battery drain, my new 950 now has battery drain. Thanks a******s at Microsoft

I'm currently stuck on the .29 build, enrolled in insider fast ring with no firmware or OS update discovered on an AT&T Lumia 950. I tried a hard reset this morning, checked for updates to no avail, then installed the insider app (updated version) re-entered fast ring (no dice) then exited\entered the insider program, and STILL have no OS or firmware updates available. I'm at a loss at this point, not sure what else can be done to try and kickstart and update on this thing.

@carl.cliff I had the same exact problem which I couldn't get answered here on the site. Apparently the problem affects very few owners of 950/XL and the cause could be a buggy factory image when you got the phone with .29 on it. Hard Reset and leaving/entering Windows Insider won't work. The solution is to use the WDRT and restore the image that's listed even if you have a higher version. Once that is done, you should be able to go through the motions to get .29 installed and then you'll see the update for .63.

@ qwertytops I went through the WDRT process and that sorted this out. Thanks for the advice!

Edit - comment not meant as a reply to this post.

Awesome news. Just finished the process on my dual sim unlocked 950xl with 232gb of storage. Sweet!

Really wish Microsoft would update the software and firmware available on the Windows Recovery Tool server so I could install regardless of whether my 950 is AT&T branded or not. Since the masses that would typically buy the device on AT&T have no idea the tool even exists, it would leave people who understand the process with an option to move forward and update our devices.

I unenrolled my Lumia 950 (OS 63, new firmware) and now when I try and re-enrol it says "no builds". I've resigned up as an insider online so no idea what's going on. I've tried soft resetting, also uninstalling and re-installing the Insider app. Anyone had this?

You un-enroll THEN check for updates. The point is that if your enrolled you can't get the update. Once you get the update THEN you can re-enroll.

You can keep it, I hope you enjoy your tiny, remote, barely inhabited island full of bugs and ailments. I've had it up to here with Windows Phone - NOTHING EVER CHANGES, same old ****. It's not like I haven't given it a fair chance over 15 months and SIX DIFFERENT, CURRENT MODELS, and each one has the same stuuuuupid bugs and lack of attention to detail and lack of focus on fixing them. Windows Phone 10 is a joke, 8.1 GDR2 was *just about* alright, but stuff this, I am going back to Android - Microsoft need to snap out of their idealist, fuzzy cuddly "community" daydream and take their mess of a business SERIOUSLY, because no one else is. I am sorry if I sound annoyed; not annoyed, just incredulous that a company can continue to make SO MANY BASIC MISTAKES for many years. You've had a good run with me, Windows Phone is falling flat on it's face, but can't see the road ahead as it's face is flat on the ground.

It seems you have a problem, not so much about Windows Phone but more about attitude. Good bye and hope that you find what brings you satisfaction.

Is any one having any issues with their Usb connection.I was able to use my usb cable to charge my phone and computer. Now after I updated my 950 xl it stopped working. I can charge my phone with the Usb cable but I have to turn off my phone first. Plug it in an then it will start charging. Also no matter what I do it will not show up on my computer. Tried hard reset several times and no luck. It will not reset to factory default. Keeps showing the newest update. Any clues what might be happening?

Not sure what's happening. WI about says my current setup is Fast, but when I go to Preview builds and select Fast, it makes me accept eula and reboots. Then, when I check , no updates. NL830. Should I leave and join back?

NL830? We are talking Lumia 950/950XL only .here

Left the Insider Program on my Dual-sim 950 and checked for updates. Currently downloading the MICROSOFTMDG firmware update.

Lumia 950XLFirmware update - Leave insider via Recent updated App. Update Phone - downloads MICROSOFTMDG. Reboot and reinstall Insider APP - All done in about 40 minutes or so - Made a phone call and had a cup of coffee whilst downloading etc. All so easy.

Daniel, Why didnt you guys put in the headling "Non att lumias only"? Its kind of misleading isnt it?

Any news on the fx for 950 WiFi issues?

Amazing write up, thanks. Works as described on unlocked L950.

If i leave the insider program will my Lumia downgrade to W8.1..??

No....... It simply stops receiving insider updates till you enroll again

So can I update my Lumia 720 with this latest update of Insider progam?

Is anyone else having issues with WDRT recognizing your 950? When it does recognize it and starts checking compatability oif files, i then hear the sound like the phone is disconnecting, then it gives an error and says it cannot find phone wtf???

Great !! Just installed the firmware update without doing hard reset on my lumia 950xl .63 insider.. Just update the windows insider then leave the program.. Go to setting and the update is there .. Very happy with it..

So how's the (windows 10 mobile) update is coming for lumias i.e. Through a proper OTA or through Insider Preview?? I've got a lumia 520 so am I ever gonna receive an update of w10 or I just have to update it through Insider preview??????? Posted via the Windows Central App for Android

Pls how can stop de update. Don't have enough data plan and de update my way phone to heat

May I ask anyone who has completed this procedure.
Does this improve battery life sufficiently?
Thanks in advance.

Yes it would appear so - updated last night and so far everything is working great. Battery still up after a busy morning so looks like a fix might have happened! My son also updated his 950XL last evening with no problems. We don't understand why some folks are having a problem. We are heavy users of Windows Phone in UK. However we have noticed folks are not reading these sites and are either going about it the wrong way or as this blog shows are trying to update non 950/950XL phones. Our advice is READ before you dive in to the deep end!

Cool. I just got mine at the weekend. Battery is dreadful for 3000mah.
So hoping for a fix soon

MS should kiss the ass of Lumia users. They brought them here. Otherwise, who buys an incomplete device like L950... Though, it has a great advantage over other OSs. I think MS is impatient to get juice out of it right now but definitely a bad strategy.

It's all about testing. Were the beta testers. They're simply trying to squeeze out the bugs asap. Sooner we test... Sooner they're fixed. Sooner were happy.

I can't leave the program, error came out I have not registered as windows insider participant, but I try to find in the web I can't find any clue to registered as participant, can anybody share and help please

I rarely skip a day of browsing Windows Central at least once. But yesterday was one of those days. And now I see that it was the PERFECT day to miss. :) I didn't have to live through this entire thread in real-time. lol Havinig said that, I actually read the article, all of it, and then followed the directions as they were clearly portrayed. My unlocked Dual Sim 950XL with 10586.36 unenrolled exactly as suggested it would. One reboot and a few seconds later and the new Firmware was available. The normal update procedure then progressed and now I have a fully updated 950XL in Texas. Daniel, thanks for taking the time to spell it all out for this old-timer that needs more than a tweet to know what to do. Ironically, anything more than a tweet drives some folks insane these days.

U got the 63 ? And do u have any problems

My apologies if this has been reported earlier but I've found that if you leave the Insider program from your phone, it also unsubscribes you from Insider updates on your PC. You're either all in or all out. Once I re-established updates via the Phone Insider app, Windows 10 update recognized that I was a PC insider as well.

950 on AT&T, i unenrolled checked for updates and renrolled checked for updates, still no update. I feel like i have been stuck on OS 10586.29 with FW 29031 for way too long. Too many issues with this phone.

I'm not having any of the isseues mentioned in most of what I read in the comments. I have an AT&T 950 and I had no issue installing the Insider App update and then opting out of Insider builds. However, it's been two day snow and I check every three or four hours and I am not seeing any new firmwar updates even though after opting out of Insider builds I got the screen confirming I will receive production updates going forward.

Interesting that the "Phone update" screen shot in the article, is partially in Swedish. "MICROSOFTMDG-uppdatering för Windows Phone.."

is anyone else's WhatsApp really big??? *Lumia640XL

Yay! This helped me to update my Nokia Lumia 635 (512 MB of RAM) : I enrolled to Insider Program "Technical Preview" in order to upgrade from Windows 8.1 Denim to Windows 10, because the 512MB version will not get stable Windows 10. Then, I went back to Production branch in the app. After one month, I was no longer getting updates. I switched to Insider Fast... No updates. I had just to unsuscribe from Insider program to switch to Production Thresold and immediately get new updates. Thanks!
Windows Central Newsletter
Thank you for signing up to Windows Central. You will receive a verification email shortly.
There was a problem. Please refresh the page and try again.