Windows Insider app picks up small patch as official update looms on the horizon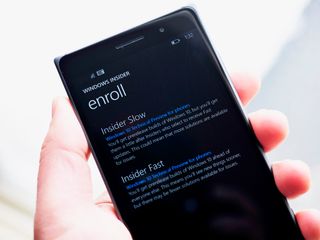 For those who use the Insider program for Windows 10 Mobile you will want to grab version 1.3.233.2 (up from the previous 1.3.231.4) of the app now available in the Store.
Interestingly, this is a mandatory update. If you launch the older version that is probably now on your phone you will see a message stating that an update is required.
Although no changelog is listed, the update is likely related to the ongoing changes in Windows 10 Redstone. Currently, there are no UX or UI changes in Redstone as Microsoft is doing a lot of plumbing in the OS for new features later on. As such, we do not expect to see a lot of outwardly facing changes for a few weeks.
The Redstone branch (i.e. rs1_) of Windows 10 is only available so far for PC users. This app update, however, is likely prepping phones to go to that branch instead of cumulative OS updates that we have seen lately.
Sources close to Windows Central expect Windows 10 build 10586.63 to be released tomorrow for all non-Insider PC users along with non-Insider updates for mobile users with the Lumia 950, Lumia 950 XL and Lumia 550.
For more information about enrolling and using the Windows Insider program head to https://insider.windows.com/en-us/ or read our previous coverage here including how to install and use the Insider app on your Windows Phone.
Windows Central Newsletter
Get the best of Windows Central in in your inbox, every day!
Daniel Rubino is the Editor-in-chief of Windows Central, head reviewer, podcast co-host, and analyst. He has been covering Microsoft since 2007 when this site was called WMExperts (and later Windows Phone Central). His interests include Windows, laptops, next-gen computing, and for some reason, watches. Before all this tech stuff, he worked on a Ph.D. in linguistics, watched people sleep (for medical purposes!), and ran the projectors at movie theaters because it was fun.
Those days will be unforgettable!!

How does 63 compare to 29? Is it a noticeable improvement? W10M is super buggy and needs a ton of work. MS' rate of progress is not inspiring.

I don't want to say big, but it is significant. Lots of improvements including Windows Hello for 950/XL owners. Lots of reports of better battery life, phones not overheating, etc. Not sure I'ds say it's perfect now (will it ever?), but it is better than it was when it was 10586.0 or .29 for sure.

Are those reports of better battery life and less heating issues coming from users with updated firmware? I'm not convinced that this OS update will improve battery performance until there is a fix for the AT&T 950 firmware that keeps a steady transfer of data on the cell network even when using wifi. My 640 with the latest IP doesn't exhibit this issue and it has excellent battery life.

I can't speak for the 950, but my 950XL's battery life was more consistent and less power-hungry this weekend after the .63 update without the firmware. Insiders are on a different update server than the public, so none of us have gotten the firmware update yet without a hard reset via WDRT.

I've got a 950 arriving tomorrow. So to be on the latest firmware should I get all the public updates available before enabling Insider builds? Had my 1020 and 930 on I sider builds so definitely sticking to that on the new phone.

I got my 950 DS and updated to .29 before logging on to Windows Insider but had a horrible experience - most applications stopped working inc. Camera, SMS, Photos etc. Had to wipe the phone and joined WI immediately to solve the issue. Your experience may be different.

I, too, am worried about the firmware issue. Still, I'll take OS improvements gladly. The few things that are actually better in W10M vs. WP8.1 are substantial enough that it's really hard to decide which is better overall. At the end of the day, I have to give the nod to 8.1 as the more usable OS, but if you depend on password encrypted OneNotes, do a lot of Word document editing, or stream a lot of radio, 10 works much better, for sure. If only 10 could get back to the polish of 8.1 sooner rather than later (and give me more than 4 hours of battery life), I'd be a much happier camper. But the built-in apps are all so wretchedly buggy (mail, messaging, browser, etc.) or horribly unattractive (people, calendar) that's hard to be satisfied with W10. Too bad, because the best apps are really nice (like the gorgeous and functional calculator) and the genuine multitasking and file system access are a godsend. Polish. Polish. Polish!!!

THIS THIS THIS! W10M and even W10 really needs massive work on polishing and more usable. We got features and flexibility but at the moment we lost beauty and usability. The promise of Windows 10 are great, but not until we reached the same level of consistent stability, polished, performance and overall good experience as W8.1 and WP8.1. That promise will be wasted.

What??? windows 8,1 will never be as good as windows 10 is overall and mobile :P especialy the pc version :3

I wouldn't say "even" W10. Windows 10 is not as bad as mobile, but it's bad. I can't believe this is the best a corporation the size of MS can do. They've had three and a half years since Windows 8 was released, and they've only gotten as far as Windows 10. Think how much more attractive and usable Android (which was on version 4 and didn't yet have the beautiful Material Design) on and iOS (wich was on version 5 and was a hideous, skewmorphic mess) both are now compared to 2012. Ironically, both Material Design and iOS' new "flat" look, whatever it's called, are clearly pilfered straight out of Windows Phone. MS was on to something (as the people of this site are acutely aware). But W10M is ugly and buggy compared to its rivals, even though MS had a massive head start. It makes me kind of sad.

If an OS update can make battery live worse, what makes you think it can't make it good again?

I don't have the new firmware on my att 950, but battery and overheating issues are gone for me on .63

I have an updatetd Firmware on my 950 and still had heating and battery drssues. now with the new OS Buildhese problems are gone. There is no more heating issue to feel and battery now lasts close to 2 working days. I think the heating issue comes form a problem using one of the cores (or more) at a 100% and therefore also draining the ery, but I cant prove this.

Battery not that good after all, with .63 and the firmware which claimed to be good on battery. And Microsoft should really look into this, it applys to both 950/950 XL, and it is nowhere else talked about. Forum Link: http://forums.windowscentral.com/microsoft-lumia-950-xl/406373-lumia-950-xl-aux-out-plays-jittery.html

On my 950 I can easily get 24 hours of power, maybe just a bit more. The last update improved it tremendously.

You have 15506 and .63? Battery is great for me. Though I did a hard reset and started fresh. I don't get the jittery playback on mine.

Are you not on the insider program? If so why have you not updated. I noticed for mine to be faster, and smoother. Seems to be more bug fixes.

perhaps they are unable to like a lot of 950/XL owners such as myself :)

it works a lot better, but the bugs that are annoying still exist... For example, on both my Lumia 640 & 635, the messaging app still crashes, takes long to load messages after pressing on the notification, and a lot of the apps aren't polished like the built in apps on windows phone

Anyone else get the keyboard lag back on .63 640? Went away for me on .36 then came back on .63.

Yep, i've noticed that on mine.

Battery life is substantially better on my icon now with the new build

I do see that my 640XL is running better overall, and battery time has gone from a decent 48 hours per charge to 40 hours to 50%. That is a huge difference, though under minimal usage for both numbers (a few calls, 10 minutes worth of camera time, half an hour of web browsing, a couple of hours of listening to music). Coming from a 520, or even the 1020 I used to have (which has great battery time so long as you never do anything with the camera), the time per charge has been fantastic.

I agree with the .63 build my battery-life on my Icon has returned to levels that are essentially equal now to what I was experiencing with 8.1/denim

Battery life on my 820 is significantly better. Three to four hours longer. The UI glitches are all still there. SD card stopped responding once, but popped back on after a restart.

I have only one phone, and I still using WM10 since two months continuously. So far very little problem. But since last couple of build, almost no issue. Much more stable, less buggy.

If you need some assurance, consider the progress of Windows 10 on PC. It has improved so much when compared to the July 29 release.

640XL.. Got 14 hours in 8.1, now getting 13 hours.. 4G user, all the time online- either thorugh wifi or 4G mobile data.. I think I am a heavy user.

Thanks for the warning, I triple checked that my L830 running WP81 doesn't check for updates, let alone download them automatically.

I wonder when they'll revamp the app to use the Windows 10 look-'n-feel.

Humm why have two apps? They can just stop updating the 8.1 app since users need it for now.

I still haven't received my insider .63 on my ATT 950...

Re-run the app and re enroll in the fast ring

I've tried that multiple times. I just updated the app and re-enrolled again and still no update...

Maybe your phone updated overnight already and you're already at .63?

I thought about that a few minutes ago and checked. I'm still on .36

Me either and Windows Insider still doesn't seem to work on my ATT 950. It goes through all the motions and reboots the phone but it doesn't stick. Haven't been able to get an update since I got it when they first came out even after a hard reset and not installing a backup.

I kinda gave up on being an insider because of all the confusion over who can get what and when... And I grew weary of using WDRT to get my 950xl back to a (presumably) known state. Never received .36, but maybe it wasn't for my 950xl? Couldn't get the firmware until (another!) WDRT... Anyway, just sayin.

I too gave up on being an insider for essentially the same reasons

I wish the app update will reinstate the ability to obtain 8.1 GDR 2 for those of us who prefer to have that version instead of W10m right now.
I doubt it, tho.

WDRT is your only choice.

I've tried and tried.... And tried some more. Seems, the method doesn't work any longer.

This'll fix it for you. http://forums.windowscentral.com/windows-phone-8-2/359510-8.htm#post3180367

Why wouldn't it work? Just restore your phone, it will install the latest version of Windows Phone 8.1 on your device. Ho wait, you're not using a 4th generation device I guess.

Lumia 830.
No problem getting 8.1 Update 1
It's Update 2 that's the problem. Those instructions looks a bit too involved for my level of patience at the moment. Think I'll just live with Update 1 for now.
Bah!

Don't even recognise my 930 with this build. Battery life has doubled and does not get hot anymore. Very snappy UX. No more screen flickering. Very very happy.

My 930 battery has doublee

Ohh so old Lumia still won't get W10M update... So sad

Huh....they will...just not yet

So this is not the final release ... So why you post it :'D

No...just read the article better...it will come...get over it

will this fix the issues with 950 & XL ?

which issues? zero issues here, Lumia 950 XL with latest build.

Bluetooth is useless on my XL... Disconnects every 30 seconds... Hard to make a phonecall via carkit...

Could it be to force it to register for the new rs1 banch or something, hence why it's mandatory?

It's updated for WP 8.1 also with version number 2016.104.1938.0.

When are they releasing .63 for the slow ring or can i just opt fast get the build and go back to slow again, any one recommendations...? Lumia 535 running .36

If your so intent on getting the update...why not enroll in fast ring?

I just switched to the fast ring for this build and switched back to slow ring afterwards, no issues at all.

I guess this update might unlock a feature later and give us a new super fast ring.

When will older Lumia phones will get windows 10 ?

When MS actually releases it AND if it's a carrier locked phone, when the carrier approve it. MS has mentioned a Starting period (this month) to start the upgrade process, but it's not like everyone will het the update day 1.

Since we just came off of CES with a couple new W10M additions, I'm wondering if these will be included in the Insider Program when they get here. Along with the other Lumia(S) on the horizon.

Guys I want to update to windows 10 for my Lumia535 I have question is that I am on 8.1 should I do a hard reset before updating to windows 10 because I heard some device stuck at boot loop after updating to windows 10 previous builds

Hi, i have the same question if i should hard reset my phone after update,but u dont have to worry i think stuck at boot was 2-3 updates before and the main promblem was with the dual sim phones like my phone(640XLdual sim).

Thanx for reply so I should update without hard reset my phone after update should I have to reset it or not

Windows 10 on older 8.1 devices will adjust kind of hard and slow. You will see some glitches, crashes at the beggining, even some battery drain. Anyway, the problem you're refering to, has nothing to do with windows 8.1 but with an win10 build that got half bricked after people updated to it and hard reseted the device. They could not update to the next build but only by returning the device to 8.1. This users will always have this problems so they are forced to go back to 8.1 before updating to the last build. Anyway, you don't need to hard reset before win10 upgrade. But i highly recommand to do it after the update, also, after the update and setting the device up, let it rest for more then an hour. Hack let it work over night. Windows 10 will still install and reajust allot of things after the update.

Updating the 535 is fine just remember it will be a little weird at first. Update took me about 3 hours ,(store updating the apps ad games afterwards ). Once settled, it is smooth and battery life is the same if not a little better. The games though (mostly because they were written in 8 and have not updated to 10 may not be available, have button placement issues like you press off to the side or something to activate or have a black bar over were the nav bar would be that doesn't disappear) BUT , many games written with windows 10 in mind work great and without hiccup. The bug many 535 owners had with lag or hiccups with hardware 3 that didn't get fixed with the update (like ones with hardware 5) is almost completely gone . I haven't noticed any problems like when it was on 8.1 .

As MS provides W10M as Waas, does it mean Window Insider Program will run forever?

It will run until the sun eventually engulfs the earth.

Humans will die on earth before the red giant phase

Well, let's hope sense of humor lasts longer. ;)

Hi guys, i have complete windows insider update and i go for.63 should i reset my phone after the update?

Guys I have download windows insider should I reset my Lumia (windows 8.1) before updating I please reply guys

Better to update first & hard reset after W10m has been installed.

Also Call+SMS and GroupMe have updates today.

Call+Sms update just to say goodbye.

No, after the update MS put it under a different name and it works now.

Amash, you can download without hard reset then do after the upgrade, its highly recommended.

Thanx now downloading the update. Should any one know the update size.

Evry time when we update our phones we have to hard reset them?I have w10m from July and i have make 5-6 hard resets,its big promblem to re-install my apps and sign-in again.
Can someone reccomend me another way?

The insider program is for people who want to test the new features when it is released. If you want a good working OS, then the reset is mandatory.

Is there still the resuming screen when going into messaging on older Lumia devices (such as Lumia 920)? This is the reason why i rolled back to 8.1, i won't take the update to W10M as long as they can't fix that. In my opinion, messaging is a key feature of a phone, so it should be fast!

Uhm...I'm not an Insider and I already got .63...

But how? Which phone you have?

Are you sure you didn't just uninstall the app without unenrolling from the WIP?

I got the 930. I still have the app, BUT I opted out of the Insider Program. I even tried to opt a few minutes ago, but I couldn't because I wasn't even an Insider. (I opted out about a month ago)

Error w false pending update msg htc 8x

What does official update looms over the horizon means? Does that mean official win10 update will be available for other phones without insider?

I don't have cortana when I upgraded from 8.1 to w10 should I do a hard reset?

Check ur region and ur default language

Huh so the 63 update is comming out for everyone tomorow even for ppl withouth insider ?

The more I use it the more frustrated I get. I'm getting more and more often them nasty loading screens. Phone reboots are annoying me every few hours. Glance requires phone rebooting at least once a day. MSFT need to provide some ground breaking changes to the OS very very soon.

Can anyone tell me if the non insiders are getting 63 tomorow ?

I can confirm all this. At least on my L1020. No more heating and bat life def improved

Yay, going to get mine just in time for a update session! lol

Battery life much better and overheating much less wiht .63 on my unlocked, Insider 950XL. But with .63 going out to everyone tomorrow, this will mean that the Insiders will now be rendered behind the curve, since by virtue of running the formerly-pre-release fast insider .63, we can not upgrade the firmware to the latest update. There is an obvious work-around, I think. Unroll from Insider, rollback to latest general release build, do the firmware upgrade, then install the general release .63. Then presumably you could re-enroll with Insider and not be prompted to update, since everyone is on .63. I tried this a week ago, and everything worked -- I rolled back, updated the firmware, then reenlisted as Insider. But when I was then prompted to update to .63 Fast Ring, that process resulted in a rolling back of the firmware to the old version. I would hope MS fixes this before the next release of a Fast Ring update. But who knows isn't saying.

So all non insiders are getting the 63 update tomorow official the final one ? Sorry i am new to this platform :)

So claims windowscentral, but that is not for sure. Sadly, what you hope is not yet ready. This update being just for the new win10 drvices 950, 950xl and 550. No older drvice will get this but only if insider!

An OS update should not touch your firmware.

Huh so we get os update thatone i shud instap but not the firmware ?

I get the message but there is no update in the store. Store just let's me open it and then I get that message.

Same here, what's the deal with that? It tells me to do it but there's no way to do it...weird. =\

Same here. I uninstalled the app and re-installed. Now is working.

After updating the app now it doesn't even start

Also worked for me to uninstall and reinstall the Windows Insider app on my dual-sim 950 to get the updated version.

Still can't see an option to record calls in my L830 with .63 update. Is that because a firmware is required?

App requires an update but no update available listed in the store (for the 950)

How .63 works on 540? Please reply

Don't see the app update in the store...
And no the app isn't updated yet...

10586.63 has introduced a bug in the windows store which is preventing the store from finding app updates. The only way to install an app update is to uninstall the app, then re-install it.

Uninstalled the App and then resinstalled it again.
Now the app just crashes after splash screen. Microsoft, for Satan's sake, get your act together!!

...rebooted after reinstalling and now it works.

Guys wat to do if it is not showing the update

Can't see the update. uninstalled the old Insider app, re-downloaded, still the old version...

Server error on windows insider appp pls helpp

Are we getting the 63 update today for non insiders or not ?

Help pls server error on windows insider to enroll for attending windows10 program

Did they pull this update from the store? Mine says it needs to be updated but that version is not in the store

When w10 update release for non-insiders? And for lumia630 dual SIM also?

Asking the same question but no one replys :)

Considering all am hearing is happening with the new build, i will stay and wait on .36, i just want a working phone at least, normally. Cant go back 8.1. 10 is delicious.

I've signed with insider, but my 920 has failed to update to Windows10 many times, stating the same error that pop up a few minutes after the download is done and the gear spinning screen halted its progress after just

I'm not getting the Windows Insider app update

Does insider program operational to all carriers of wp??

Still no 63 official update for non insider users

It's can't update in my Lumia 1020.

I'm having the same issue on my Lumia 1520, update keeps crashing. Uninstalled app to do a fresh install, still crashing, says "Try the download again, something happened on our end".

my first phone was Lumia 520 best budget smartphone at that time love windows experience until the Lumia 535 first Microsoft Lumia when I first saw it I immediately brought Lumia 535 just because Microsoft branding but after that I experienced hell using this phone just because of there lagy touchscreen goes to service centre they said this screen have to be replaced after replacing screen never faced that problem again. Since after that I made my mind to not buy any Microsoft phone anyway but now comes the Lumia 950 it got every thing I want made my mind to buy it but still Microsoft phone no problem impossible it was running on the windows 10 most buggiest os now if they ship it with windows 8.1 and update it to win10 when it become stable but they sell there flagship smartphone with halfbaked os now just waiting to for windows 10 become more stable and strong trying windows 10 in my current 535 if windows 10 able to give stable performance in 535 then then it will be rocking in 950 just waiting for that day...............

Had to uninstall the insider app and mess around and finally reinstall it to actually get the update. They can't even update the insider app without messing up... really bothersome. On the plus side, can finally leave the insider program without having to do a hard reset.
Windows Central Newsletter
Thank you for signing up to Windows Central. You will receive a verification email shortly.
There was a problem. Please refresh the page and try again.