Here is the changelog for Windows 10 build 10586.240 (PC) and 10586.242 (Phone)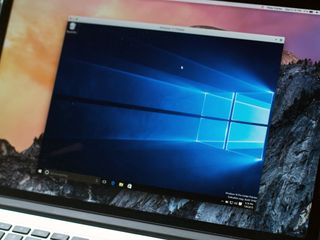 Microsoft released a surprise cumulative update for Windows 10 for PC and Windows 10 Mobile for those on the Release Preview Ring for the Insider Program. That ring is for some last minute testing before the general production release and is the safest of all the Insider levels.
Through the Feedback Hub Microsoft has posted the changelog. As it turns out, the PC version goes to build 10586.240 while the Mobile version heads to 10586.242. Having said that, the fixed and improved list is the same for both releases. Here is what's new.
Windows 10 build 10586.240 and .242 Cumulative Update
Improvements to general application compatibility.
Improvements in the upgrade experience, including fixing an issue where some devices would lose - data connections or touch input after upgrading to Windows 10.
Improved the reliability of reminders.
Improved UI for tracking data usage under Settings > Network and wireless > Data usage.
Improved the navigation bar experience for some devices.
Fixed an issue where some SD card readers were not recognized.
Updated Daylight Savings in countries with Daylight Savings changes.
There are likely some other under the hood changes not noted and so far the feedback has been very positive. We've successfully installed the update on our Verizon Lumia Icon, and everything is running very well with no issues.
For those the PC or tablet you can enroll in the Release Preview Ring by going to Settings > Update & Security > Advanced options > Get Preview Insider Builds. By default, after your device reboots, you will be in the Slow ring so you will want to move the slider to the left to get into Release Preview.
Enrollment in Release Preview is instant for phone and PC and the next time you check for an OS update, you will download tonight's cumulative update. The Release Preview ring has the lowest risk for PC and Mobile users and is considered generally safe to use on regular machines.
For those not who are not an Insider Microsoft will likely roll out this update to all Windows 10 devices and phones shortly and possibly on the next scheduled Patch Tuesday, which is May 10.
Windows Central Newsletter
Get the best of Windows Central in in your inbox, every day!
Daniel Rubino is the Editor-in-chief of Windows Central, head reviewer, podcast co-host, and analyst. He has been covering Microsoft since 2007 when this site was called WMExperts (and later Windows Phone Central). His interests include Windows, laptops, next-gen computing, and for some reason, watches. Before all this tech stuff, he worked on a Ph.D. in linguistics, watched people sleep (for medical purposes!), and ran the projectors at movie theaters because it was fun.
Good good ~DheeraJ~
Lumia 640XL 10586.218

Hi dheeraj, what is the navigation bar experience, how can it be hidden when accessing apps. kindly let me know i cant hide the bar...

I spent 5 minutes playing around with WP8.1 apps on my Lumia 730 on .218 and for all the apps I could hide the navigation bar.

hi dude how to hide i cant do that m on 630ds

Not sure why it is not working for you but on my Lumia 730, now I can hide the navigation bar while using every app.

Earlier, under navigation bar settings we had option to hide /show the nav bar.but after win 10 update, that option is not available. Every time i open/close an app,the bar shows up.i have to hide it each and every time. Does it occur to you?
I am using Lumia 730

It won't hide in 630. Nav bar is fixed. Posted from Windows Central for Windows 10

The 630 won't ever have the option to hide the nav bar, sorry. The on screen buttons are hardcoded into the OS for the 850x485 something something resolution.

Try sliding your finger up on navigation bar, it hides navigation bar.Do it again and it will bring navigation bar back.

Unfortunately the Lumia 630 doesn't allow for navigation bar hiding.

Can you hide navigation bar in WhatsApp ? ~ Windows 10 on Nokia Lumia 730

Could do that since the past 2-3 builds. One of WhatsApp's updates fixed that.

really ? I checked in store there is no new update available for WhatsApp and navigation bar is still not hiding for me..... not just WhatsApp there are few bunch of apps where navigation bar doesn't hide..... strange - Using Windows 10 on Nokia Lumia 730(10586.218)

I'm running WhatsApp version 2.16.14 currently and for me the navigation bar hides. In fact before today's update also, it did hide while using WhatsApp.

are you sure your not on redstone? as fixed there but not on .218 will see about this update later when its offically released

Yep, I'm sure I'm on 10586.242.

I can confirm .242 fixed it for WhatsApp. Sent from an alien space ship with a Lumia 950

When I say 2-3 builds, I mean 2-3 builds of WhatsApp, not Windows 10 Mobile.

No
Certain apps don't allow us to hide nav bars.
Mainly it happens on win 8.1 apps and WhatsApp

That is fixed in redstone builds!

And on .242 Posted with the Windows Central app for Windows 10 on HP 250 G1 notebook. It is a scary old monster, I think :D

You can only hide it in win10 apps. Not for 8.1 apps. Although in newer builds you can hide it in 8.1 apps - Sent From Mars

how to hide the navig bar

swpie up from the bottom edge

m on 630 its on screen navig bar can that be hidden

no, the 630 was designed with a non-hidable navigation bar.

You'll have to Bing it. I don't have the 630. - Sent From Mars

"..Where is Navigation Hyde?..."...

in redstone updates u can hide navigation bar but there is a black space remains, the app will scale ur entire screen..... don't if the issue is with MS or with app - Using Windows 10 on Nokia Lumia 730(10586.218)

This is the fastest build yet! 640xl might as well stop now :) screw Redstone.

has anyone got store app udpate notifications like in rs builds for th2

its just a bugfix thing, something as big as that would probably be in the CHANGELOG ABOVE US.

I haven't gotten them even though I'm on rs builds =/

I'll just wait for the official release. Posted from Windows Central App for Windows 10 on Lumia 950

Did solve the issue that data usages donot not giving up correct data on cellular network usage?

Not for me either. In fact, now it shows cellular data as 0 when on Wi-Fi and the correct amount of data used only when using cellular data.

Fixed an issue where sd card readers were not recognized??? What does it mean ???? Does it means card readers via otg????

Ok.. I got it. It's for PC ...lol

For me it's showing no builds I'm using lumia 820 with wp 8.1 please help me regarding this

im using L820 and everything's fine. u use windows insider? insider release preview ?

This is in the release preview ring, you need the Windows Insider app and then set it to use updates from the Release Preview ;-)

You're right. If you are on 8.1, you can never get win 10 on your 820! This is a RED ALERT for anyone using the x20 phones. If you guys go back to 8.1, you're never going to be using windows 10 on your phones again!! If at all you think your phone is slow, do a factory reset... never go back to 8.1. I'm not sure why guys here blindly down vote here when someone asks a question. Many in other forums report the same issue.

Why cant you never get 10 if you go back to 8.1? I just installed 10 on my firends 1320 about 2 hours ago.

Is it just me or does anyone experience when cellular data is turned off the usage counter is reset to 0, and turning it back on the usage counter will go back to normal and display the amount used. And did anyone have a huge usage counter increase after the update? Posted from Windows Central for Windows 10 Mobile

And does anyone experience that data usage info is not accurate as it didn't add data used in downloading store apps or used over hotspot.

Mine counter goes from 90 to 245 MB after the update, and I was surely on the WiFi... Will wait my mobile provider to update their counter in the website. Also nothing is changed visually.

Same here. 0 when on Wi-Fi, accurate when on Cellular Data.

I have found an unusual bug in Microsoft edge, which makes it hang/unusable in mobile. Though it won't affect much ppl but still, bug is a bug. I don't know if it's just with me (1gb RAM) or will happen to others as well. You could give it a try though. This link is of google search of Flipkart link and it makes Edge go retard. :D Somebody better report it seriously. God knows by how many more such links the edge would get unusable. Force close is the solution.. Lumia 640XL DS on 10586.218. Here's the link.. https://www.google.co.in/search?q=http252F25...

It loaded the search fine on a 1520 and 640. May be it's only confined to your device.

Yes it loads the website fine, but edge UI becomes unusable. Its working for you?

Also PhoneArena mobile site Edge cant handle it right if youre reading an article Edge automatically refresh the page over an over again. Lumia 640 XL Dual SIM
Build 10.0.10586.218

This is precisely what the Feedback / Feedback Hub app is for. Anyone can report issues directly from their device. So that "someone" you refer to could be you... Posted from Windows Central for Windows 10

How big is it in megabytes?

For anybody missing the flashlight toggle. A soft reset helps ;)

This build is better than .218 on my Lumia 730. More responsive and more stable. No problems so far. Things seem to be going in the right direction. Keep 'em coming MS.

Can you hide navigation bar in WhatsApp now ? ~ Windows 10 on Nokia Lumia 730(10586.218)

Yes. Earlier there used to be blank space instead of app rescaling, but now it rescales pretty well. I'm really liking this build so far.

not removable on 950 on .218? will this update fix it? been working good my 950XL running Redstone for ages!

I am on 218 Production. But can't hide Navigation bar in WhatsApp, How can it be, not able to understand, if anyone can help ??

WhatsApp should provide that feature. Hope they'll develop a UWP soon

I think you should just update to .242
This build is really stable and snappier. (at least for me)

Hey Gulshan, You mentioned that: Yes. Earlier there used to be blank space instead of app rescaling, but now it rescales pretty well. I'm really liking this build so far. On which build you saw this ? Also 242 will be in Production somtime in Tuesday, I can anyways update then.

Official release date???"

If it solves battery drain on my 930 and GPS problems (especially on girlfriend's 735), let it out now!

I don't understand one thing, L730/735 and L930 are in top 5 best mobiles of Lumia series, for some reason Windows 10 is not working properly in these phones, there were somany bugs, issue with these phones even though they are packed with best Hardware.... Microsoft want to get rid of these phones so users will buy their Microsoft Lumia's ?

Hiiiiiii...fnds.im using 14332 build. Which one is better. 242 r 14332

14332 is redstone. 10586.242 is almost an official release. So the last is way more stable. The first has way more futures;). You decide Aproved by me!

14332 had bugs and if you want a stable build move to 10586.242

I hoped they would include the screen flickering issue while watching video.

its already been fixed in previous update. Try to soft reset your phone.

It was in REDSTONE BRANCH which is available to new phones. Not in this branch which is available to phones like my L925. What phone are you using? Btw I soft reset after every update.

So I'm not the only one having this issue? My 640 does it on YouTube and on Hulu! Driving me crazy...

Well your 640 can atleast run on newest build which fixed that. I cant. What ring are you on?

I'm in the slow ring and it still isnt fixed

Guys what about lumia 822

Hmm, does this roll in the most recent Preview builds? Messaging Everywhere isn't available (as in non-existent) and my Messaging app still has Skype built in.

Messaging Everywhere is Redstone only.

I have problem when opened equilizer, it was FC. Is it fixed yet in this build?

Everyone who's asking what is the size of this update here is the answer... Its of 770 MB...

They don't seem to have fixed the false "You've reached your data limit" notification. Btw, I am running the latest build on the 1020.

Hi is any body else having trouble with start screen turning pale in light theme??? An also many MANY SD card issues???

It is not an issue.
It is how it is supposed to be.
The app list also turn pale in light theme.
And in dark theme they turn into a dark shade

The system did not recognise you SD card you need to restart or remove SD card the insert it again. It happen to me only once (Toshiba Exceria). Lumia 640 XL Dual SIM
Build 10.0.10586.218

Working well on all my PCs and 950

I agree with PC version but on Lumia my Lumia 950 I afraid install it on my phone

My god these comments are giving me a rash

I'm waiting for ultimate version,anyone knows When it going to be released?
I don't like installing developers version on my phone ,I think it crashes the phone

Ultimate will come when windows 12 will be released. Aproved by me!

There will be no win12. Microsoft said Win 10 is the last major release, and will be continually updated. That's Windows As A Service, or WaaS. Preview releases are pretty good and stable, aka safe to use with less chance of issues

Rs builds have been a bit unstable and drain battery quite fast (like 10%/hour) even when I barely use the phone on 950XL. Also trying to set up windows hello results in my phone freezing and I have to soft reset. I even tried hard reset but it didn't help. Battery drain was much worse and phone would occasionally run hotter than while charging before hard reset

Sarcasm, my friend, sarcasm;). Aproved by me!

It doesn't matter what Microsoft says, whatever incarnation the mobile OS moving forward is; it won't matter. Microsoft is going to do what Microsoft wants to do. Heck, they'll even make committed promises to those of us whom updates were made in good faith, so whether it's Win 11 or Win 12 or Win "Kiss Our Behinds", doesn't matter. I suppose they'll expect WP users to buy a new $1000 phone every 3 years at the rate they're going.

.242 not yet available on my region Philippines. Lumia 640 XL Dual SIM
Build 10.0.10586.218

Im from philippines i just upgraded to .242 this morning..

Insider or Production? Lumia 640 XL Dual SIM
Build 10.0.10586.218

This update is Release Preview only at the moment

I am on a 950 xl, how do I get into the release preview? There is no option in insider.

I also noticed that my missing text history (after a hard reset) has appeared after looking at the history tab of a contact, all texts populated in the messaging app.

Hey did they fixed the heating issue in this build??

I am at 10.0.14332.1001 and i am in fast ring. Have not received this update yet. How to get that ?

You won't get it. That's because you are on a Redstone build. This is a Threshold update.

you cant! you are ona different branch

You NEED to be in preview ring. You are in fast ring

True, but even if he switches now he won't get the update because Redstone does not downgrade to Threshold. Only way to go back is hard reset through WDRT.

Not wanting to be a duck but if you have to ask, you probably shouldn't use insider builds..

More reliable notifications my a** - the alarm didnt ring today, luckily I have a backup alarm clock (I'd never trust MS software with something this important anyway).

maybe this will fix the issue my parents are having on their 650s. both of them keep restarting in a continous loop when you connect it to be charged! the only fix is to remove the memory card. if you then format it and out it back in it works ok again for a bit!

Nothing changed. Why has nobody written it so far? )))))))

What were you expecting, this is a preview for the production branch?

I always expect my phone to match WP8 in terms of performance. And it never happens ((((((

Is the size of navigation bar on Lumia 730 reduced in this update? It appears to be very big for this phone with small screen... What do you think??? Using Windows Central Universal App on Lumia 730

Just wanted to throw it out there that this build does run very well on the Icon. I wiped the device and started fresh for posterity, and so far the app store crashed out one time. Besides that, everything has been great.

Hey, I know that my Lumia 920 isn't officially supported, so I'm ok the release preview ring, but when updating to build 10.0.10586.242, when the phone has installed the update and it reboots, it was stuck all night on the Nokia boot logo. A soft reset fixed this. This was also the case with build 10.0.10586.218. Anyone who knows how or why?

Did you do a factory reset when you installed Windows 10 initially, if not then now might be a good time to and do not restore from a backup.

yeah I was planning to do a hard reset as soon as the build number changes from 10586 to something higher, but I don't think I'm gonna wait much longer :p

My 1020 had another issue with 218. While being on the spinning gears screen, it would display a :sad: emoticon and then would reboot. And again, and again... So i had to use device recovery tool to roll back to the 8.1

"By default, after your device reboots, you will be in the Slow ring."
I'm not sure this is the case, unless it applies only to non-Insiders. I moved my Surface 3 to Insider (I was already on Insider for mobile), and I received as the default upon reboot the same ring I was on for mobile... which is not Slow.

This build on L520 is pretty stable. How I wish they release it to majority.

Tgat device should stay on 8.1 only. You loose a lot of performence with win 10. Believe me. Buy a 640. Is way better an quite cheep this time around... Aproved by me!

Seems quicker Seriously it does, especially shutting down and powering back up (Lumia 930 UK)

L1520 smooth, stable, no app crashes (yet).....havent found many bugs yet (updated today 28/04/2016). i hope no device breaking bugs crop up (ahem Redstone). Outlook mail doesnt want to sync my Sent Mail folder

I have 730 is there any new feature in it ?

6 years on, no official YouTube app.

Try mytube or tubecast...official YouTube app for android is just like a mouse in front of them

myTube is the best app but still would also really prefer official YouTube app.

You like ads? Apparentlay... Aproved by me!

It would be nice if they updated and added the Messaging Everywhere feature. Sent from Windows 386

They are running this on a mac ~DheeraJ~
Lumia 640XL 10586.218

Does 'Preparing to install' also require net?? Why is it so slow in my lumia 822?? Please tell me fast...

No, i thing it is not necesairy. Butb you will need it later on. also, keep the phone on the charger. Below 20% of power, it just won`t update until it gets some :food:

Camera app missing photo timer and maps not showing terrain, only satellite. Not the best experience for me then

No official update of .242 for 950xl yet ?! Showing your device is up to date !

I must say that the 920 is great at rocking this build. Maybe Microsoft should reconsider releasing it officially to older higher end devices.

Maybe AT&T should release it to it's 1520 8.1 users. Still awaiting production release!

No need to wait for AT&T, use Insider for release preview ring --> Update --> then immediately after 1st update switch to Production ring. It will exactly same. No worries.

I guess only for 64bit pc's. :( What a pity, I hown an old win10 32 bit old but fast notebook

I've been running .218 on my fierce xl and cortana crashes a few times before performing what i asked, anyone else experiencing this? still happening on .242

"Extras" in "Settings" still shows win 8.1 UI, When will that be fixed ????

W10M fixed the navigation bar on some apps when is unhidden

Has it been fixed, it was so frustrating especially on the L535 Posted via the Windows Central App

What about Lumia 1020 How is it running?

Improved the reliability of reminders. This has been my gripe since windows 10 for mobile upgrade. When i snooze reminders, it doesn't remind me again. I just tested and it seems to be working. Great job Microsoft.

Where can I check my current build number? I am going to Settings - Extras - Extras & Info and I do not see anything like .216 or .164. I just want to know my current build.

Settings --> System --> About

Cant download the updates,tried it for the whole day.

Two days ago I decided to install preview builds of windows mobile 10 since microsoft did not release official one for my 1320. I am amazed of how well my lumia responds and functions in general. I had minor problems with .218. My phone had frozen three times. Today I installed .242. I have not noticed any difference. The phone has not froze and everything runs smoothly. Very happy till now!

I like the post "Just loaded it on our Icon"..how can we push Microsoft further for Icon/Windows 10 being supported? I know Mary Jo Foley mentioned that Gabe Aul had another request the other day. I am sure there are many like I who would like to see this as an interim solution until Surface phone either arrives or not. Android nor IOS are options for us diehards who will continue to sacrifice apps for functionality.

I have no update available.

Can someone help pls how to get rid of the pending apps in store? Almost all my apps are duplicated in start menu..

Does it solve the Msft edge problem..... Like when we ar browsing in Edge and we are reading something the whole screen tiles a fragment of it.... Mostly in Wikipedia or something similar... Sometimes in home screen too....???

MSN Weather livetile sunnily dead, not flipping after first background proxess run, eg 30 minutes after upgrading phone. Cant uninstall it either. This is frustrating...

Still have a reboot once a day on this build, anyone else? (or what I can do?) (lumia 950)

Change time settings from 24hours to 12hours. I had noticed my phone used to freeze around 14:00 every day. I changed it and for two days my phone has not froze. Could be random or could be a bug. Only problem I have with this build is that once or twice per day my display does not function and turns blue. After a minute it gets back to normal without restarting it.
Windows Central Newsletter
Thank you for signing up to Windows Central. You will receive a verification email shortly.
There was a problem. Please refresh the page and try again.