Windows 10 Mobile build 10586.242 for Release Preview Ring now live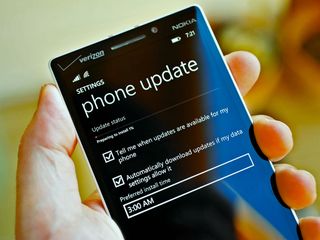 If you are on the Insider Release Preview Ring aka the most stable before it hits production – then you will want to check your phone for an OS update.
Build 10586.242 is a bump from the production release of build 10586.218 and continues to improve and fix the Windows 10 Mobile OS.
Microsoft has not yet posted a changelog nor have there been any announcements making this update a bit of a surprise (along with its unusually late timing). We suppose Windows as a Service (WaaS) means just that so updates can come whenever. In fact, this marks the fifth OS update for Mobile (including Production and Fast Ring) over the last ten days, which is rather impressive.
For users not on the Window Insider program build 10586.242 will likely go out to production after some initial testing, feedback, and telemetry. No new features are expected, but the last two build (.168 and .218) have been fantastic experiences for many.
Rod H., who sent us a tip noted he is updating his Verizon Lumia Icon to the latest release build as well, which is always good news for those looking to keep that 8.1 device ticking in 2016.
Let us know in comments if you find anything new and we'll post a changelog if and when one becomes available.
Thanks, Rod H., Charles S., and others for the tips!
Daniel Rubino is the Editor-in-chief of Windows Central, head reviewer, podcast co-host, and analyst. He has been here covering Microsoft since 2007 when this site was called WMExperts (and later Windows Phone Central). His interests include Windows, Microsoft Surface, laptops, next-gen computing, and for some reason, watches. Before all this tech stuff, he worked on a Ph.D. in linguistics and ran the projectors at movie theaters, which has done absolutely nothing for his career.
um, guys, the changelog is in the Feedback Hub.

um, poster, we have yet to update our phone to it, but thanks, lol

It appears that it's also available on PC too!

But this is the first time they released it to PC on the Release Preview that isn't at the same time as the Production Ring.

Sounds like when Dane Cook says "Viewer" on his "15¢" bit. ~~~~~~~~~~~~~~~~~~~~~~~~~~~~~
ROJO > ARLINGTON, TX > LUMIA 1520 ≥ 950... WAITING FOR 6.2" SURFACE PHONE

Hey Daniel, which Insider Build are you using for your daily driver? I'm using Redstone on my 640, but I just got the 950XL. I'm wondering if I should stay away from Redstone for now for the best experience...

I am afraid you have to travel with a power bank if you're in Redstone!

The latest Redstone is not that bad, I'm getting 30 hours poor battery life than before but much better than previous build (14332 I'm using) also fresh install it.

Agreed, newest fast ring is much better for me

Battery on thins thing is spotty as hell! Last night i lost 30% of it while in standby, for 7 hours. And this happens with official build. With this phone, i won't recommand you to go redstone. If still want to use it as a device. Some have luck, some don't. But i won't take the risck if i was you. Especially that is new and will probably suck on your battery already enough for the next weeks to come! Aproved by me!

Does the change log also include the missing flashlight toggle?Does the change log also include the missing flashlight toggle?

Does the change log also include the missing flashlight toggle?

Hey Daniel,
You've got to see this!! My Lumia 720 (512MB RAM)is getting a w10m official update! Should I download it? Will it be okay if it runs on a 512 MB device even though its not optimised for it?
Please I need someone to answer me! I font want my only device to be a lag machine and also if i could remove this from my update screen, because I am ucant use wifi because of this. Watch it on link: https://onedrive.live.com/redir?resid=4CE67F6944487FAA!18193&authkey=!AF...

Not sure you really want to do that my friend. It really kinda sucks on 512 devices.

Well thanks. I feel like being pressurised to download it as I cant use Wi-Fi. Well anyways so is it always hung up to 'Loading' screen?

Nope sounds like you
Need to roll back to 8.1 or it really needs to take a while to past the loading screen, I had 10 installed on my 620 at first it hung during the update, when I tried again wife was not working and a few weeks ago I finally tried one last time everything worked but the device froze up about three or five times a day , some apps crashed and I had to uninstall and reinstall them at times but I was on the fast ring. Maybe you should still give it a go but be on the slow ring instead, and be honest in your feedback to MS in the feedback hub on how your device is preforms.

can't find anything about this build in the app

When I got the notification for this article, my phone was already preparing the update to install, at 94%, automatically. MS is working really fast and hard on W10 and W10M :D Posted with the Windows Central app for Windows 10 on HP 250 G1 notebook. It is a scary old monster, I think :D

A nice surprise indeed for us "semi-adventurous" souls. Downloading now on my Lumia 735.

Help me, im in insider slow ring, what is the last update for slow ring?

Check the forums Posted from Windows Central for Windows 10

The last update on your ring is probably the one you already have. But why bothering with our ring when you are already a ring further?

Because i think it stop updating. 10586.164

What phone do you have? The Slow ring is now for Redstone builds but if your phone is not supported then it will not get any new builds. If your phone is not supported by Redstone then you can either try the Registry hack (which seems not to have worked for my Lumia 925) or go back to the Release Preview ring and at least get Threshold builds as early as possible.

Do not reg hack it ruins data for Microsoft

That's what they get for not including the 1020. Sent from Windows 386

Open windows insider and make sure that you have a ring selected. Sometimes it resets after an update, then you wouldn't know if there is a new one. Posted from PornHub

I too was marooned on 10586.164 using a Lumia 520. I was previously using Insider Fast Ring. It seemed like there hadn't been any updates for will over a month and yet news of updates continued weekly. Tried Insider fast and slow rings with no change. Then set the Lumia 520 to Insider Release Preview and now back in business with update 10586.242 So, I'm now as excieted as only an owner of a Lumia 520 can be. *yawn*

.218 works very good on my phone . Excited to try dis update.

Famous last words:
What can go wrong?
I'll be right back.
I promise it's safe.
My parents won't be home for a few hours. Windows Central for Windows 10-Microsoft Lumia 640

"I am not afraid to keep on living
I am not afraid to walk this world alone
Honey, if you stay
I'll be forgiven
Nothing you can say can stop me going home" Is anyone recognizing this? :D Posted with the Windows Central app for Windows 10 on Lumia 535

what just stay inside honey I love you baby oh what a day.... what a mother f#$%ing day (should have been king kong ain't got **** on me) .218 works very good on my phone . Excited to try dis update. (this is the best one)

Good news guys! The next update will be more big fixes. You know, like Facebook.

This Cumulative Update brings the following improvements for PC and Mobile: Improvements to general application compatibility. Improvements in the upgrade experience, including fixing an issue where some devices would lose data connections or touch input after upgrading to Windows 10. Improved the reliability of reminders. Improved UI for tracking data usage under Settings > Network and wireless > Data usage. Improved the navigation bar experience for some devices. Fixed an issue where some SD card readers were not recognized. Updated Daylight Savings in countries with Daylight Savings changes.

Rogers Canada : Windows Nokia Lumia 830 8.1 update to Windows Phone 10 April 28th

Later update wait for feedback

i just installed the insider preview on fast ring yesterday and I thought there's already a new build today :O oh, but 'twas for release preview :D

Still hasnt fix the dark glance screen on 950XL. it broke after the .218

Yup. And also windows hello hasn't worked for me either when using these two latest builds..

Hello was fixed for me on the last build, back to a descent speed, and not requiring a pin on every lock

Lumia 520 can not take update

Ah dude don't be rude to him @ venetasoft

Is this the same as 10586.13080 that's the recovery tool is having? I try to do a recover to my 950xl and that's the update that appear

Guys, the navigation bar can now be hidden in 8.1 apps :D But the app doesn't scale to full screen, and leaves a black space on the bottom, or in some apps, like Facebook messenger, the app tries to scale to full screen, but leaves a clean space above the bottom app bar :D
That's all I think, I didn't notice any other new things. Posted with the Windows Central app for Windows 10 on Lumia 535

Then it's just like Redstone update, well at least we can hide but it definitely like ugly, has to see if battery backup, app crashes are resolved or not... Thanks ~ Windows 10 on Nokia Lumia 730

Yeah, I forgot to mention, that it's just like in redstone. But no apps crashed for me since I upgraded to this build. And for me, on .218 too, apps crashed very rarely for me.
And I don't know anything about how battery is, because I just upgraded yesterday night :D Posted with the Windows Central app for Windows 10 on HP 250 G1 notebook. It is a scary old monster, I think :D

Just installed it on my Lumia 920. Very good build. Very smooth.

Nice that older phones can still get these builds, even if not the slow and fast rings.

Did you install from WP8.1 directly??? I cannot do it on my L820...

this build is released only to insiders???? not for non insiders

Yes, but you won't have to wait long.

For now. Windows Central for Windows 10-Microsoft Lumia 640

Really, if I update from .218 it will take only 63MB ? I suspect?

Hote Big is the download?

OK, so it appears the navbar issue for WP apps is partially fixed- The bar will minimize for legacy apps, but they won't scale, it leaves a black stripe on the bottom of the screen. Still a bit of an improvement, though! Posted from Windows Central for Windows 10

For some legacy apps it doesn't scale. For others, it does. At least for me it does.

I got this one very fast last night about 1AM, and there has been a lot of changing. I can say battery life has been just a tad bit improved. And most noticeable has to be the notification of messages, and texts...much better looking. You don't strain yourself to see the messages anymore in notification.

You are on Fast Ring and got build 14332 from the RS1 branch, not the Current Branch (10586.x).

Hope they will fix living images with this build

My flashlight toggle is gone after this update. 930

This should be fixed before moving to Production

For me the flashlight toggle is still there but now the Wi-Fi toggle blinks continuously.

It's already available. Check for updates. If it says you are up to date and you want the update now, then download Windows Insider app and choose Release Preview Ring and then again check for update. The update would show up.

.218 was fantastic.... Updating this one...hope it gets even better....

Great. Over half my apps are unaccessable now.

Same here. Trying hard reset to see if fixes

Did hard reset and apps are reinstalling. Still have the problem with apps barely opening and or opening then qyuickly going black, "resuming", and going back to start screen. If somebody has a way to fix this please let me know. Verizon 735

This community is full of clowns. Me and another guy have an issue with our apps after updating, and we get downvoted for it. Hahaha. Clowns.

Same happened here. You just need to wait for some time and then the "unavailable" tag will go away. If it doesn't, soft reset should solve the problem.

It will get fixed it self wait for some around 3-4 hours... I faced the same problem when I first time updated my phone to windows ten...

Is this build available for 512 Mb ram devices like my l630??

yep...Installing right know on 630

I wish they would include the fix for the custom message alert tone in the next build if it's not fixed in this one yet. :-\

Lumia Icon, smooth update, no issues. ☺

Just updated my Lumia Icon and it works great also Facebook got an update ( a little off topic but my girlfriends icon (not an insider) says under upgrade advisor that it qualifies for update to 10 but not available)

Has the dark shade on app list fixed?? And also does the windows logo in start. If these still exist i am really disappointed.

Start isn't, but shade since .218 build.

The Start logo is fixed in Redstone builds though. Posted from the Windows Central app for Windows 10 Mobile

So, this is for PC as well if you're on the Release Preview track. Anyway, I noticed one change immediately on the PC (my Lumia 640 is still installing), and it is that the auto-shift to/from tablet mode when pulling off the type cover from my Surface 3 is SUPER FAST. It always took a while and was a bit unsmooth, but now it is pretty much immediately. VERY nice.

Hopefully they fix the additional phonetic language keyboards. They have fixed it in Redstone, but nit in these builds. Maybe it's done in this one. ~DheeraJ~
Lumia 640XL 10586.218

A minor bug that probably won't affect everyone. On my 950XL if I go to: Settings -> Display -> then toggle off or on "Automatically adjust display brightness", after that, ​try to change brightness via action centre - the phone freezes for a few seconds.

Does this latest build fix the ever crashing Cortana?

This. Amazing how unreliable she's become compared to 8.1.

I had that problem before. After a hard reset, the problem is gone.

Is anyone here still having issue with phone numbers in Mail and Calendar app not able to link to Phone app?

Hopefully this fixes Cortina crashing all the time on my 830.

It crashes on my L550 all the time.

Does this mean it will be available for general release or say non insiders?

This is answered in the article.

Is battery backup is good in bulid .242?

This update just made the lumia 650 faster than ever...I'm quite surprised

If there are isseues that causing apps not opening and app resuming as people are saying about this build? What is the size if update from .218 . If camera quality has improved as photos taken were getting darker after processing camtured picture in my 650.

Smooth 950!....very noticeable speed increase all around...........issue free at the moment..

This is amazing, every alternate day something happening.

How do you get on insider release preview ring? I only see fast, slow, and production in windows insider app

I did. I see the same 3 options. I even deleted the app and reinstalled. Weird

The data usage setting they updated is either broken or by design, when I turn off mobile data the usage counter goes down to zero, just why would you do that... And the counter is also way off, have used around 150mb the counter shows 585mb... Posted from Windows Central for Windows 10 Mobile

Im on build 14332.1001 how can i install this veraion?

You need to use Windows Device Recover Tool and flash back your phone, losing all of your apps and data. We have written guides on this.

This guys are update freeks. All they want to do is to install an update, no matter what :))). Aproved by me!

You can't, since this is redstone, unless you downgrade to 8.1 first.

Thanks i too had this question in mind

Does this support the Lumia 928? I know the 928 was dropped from the list of supported devices but it still gets updates from the production ring. Will it get this one too?

Yep received this build on my Lumia 928!

It *should* as i'm on 820 and I keep getting the updates so far. When redstone is released to non-insiders, the unsupported devices will stop getting release ring updates.

Just completed upgrade on a 640. Seems stable so far. Don't notice any obvious changes.

Which is more stable on the lumia 1520? 14332.1001 or this Redstone? Which also has more features?

14332.1001 is redstone!!!!!!;). This release is actually for the devices that are not signed to insider updates;). Aproved by me!

"Extras" in "Settings" still shows win 8.1 UI, When will that be fixed ????

Just installed. Camera app missing photo timer. I had the same problem with previous build but only in main camera. Now gone in both shooters. Some apps tiles blank. How can this be possible in a release preview?

Can anyone tell me that what is latest of windows 10 in fast ring...

Anyone know the size of the update

Is the fm radio included in this update

fm radio never left this branch... updated to 242 and it's definitely still here. Are you on 10586 or Redstone?

Fixed: Notifications to Band 2 now instantaneous!... lagged 10-60 seconds on latest official release; Photo timer shows on my Camera... 1520

What is new in 242
Im using insider new build.which is best

Thinking about getting again an Icon while nothing more cheap comes.... From Windows Central App for Windows 10

Installed and running fine on my Lumia 928.

IDC: Windows phones market share Q1 ~ 0.5%

Why i don't have the release preview ring anymore in the inside app since i have update to 14295.1005 ??

Received it on my Lumia 920. Thought it was end of life, hopely not!

Did you installed it from WP8.1 or W10M (previous build)??

I got the update for my Lumia 925!

Woohoo. Update showed up on my 920.

Please someone! Did anyone of you installed this build directly from WP8.1 phone that is W10M NON UPGRADABLE??? Like Lumia x20 series???

yep, works on my lumia 620

Does it have Messenger Everywhere? Sent from Windows 386

Well.. now.. Not sure what MS has done here.. but WOW ! 640 was having heat issues.. not major but noticeable.. now .. it is cool as the underside of a pillow ! Nice...! and yes seems faster too.. and have yet to have any issues with Groove and/or Bluetooth to my Chevy Link.. YAY ! Definite improvement !

Working great on my old Lumia 925! Posted from Windows Central for Windows 10
Using the Alcatel OneTouch Fierce XL for Windows 10 (Redstone)

.242 running very nice on my Lumina 925! SKYVIN surfaced pro 4

When will be available this build for end users. The current build 10586.218 is s**Ks on my phone. Almost each app crashes after few minutes of usage. ☹

when will this coming to production release??
Windows Central Newsletter