Verizon pre-orders of the Lumia 822 shipping today?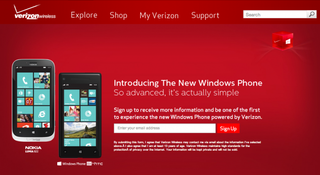 We have been tipped off that Lumia 822 orders have been pegged as being shipped today. One of our readers tried to pre-order with no luck, but then logged into their account and upgraded through available channels. A confirmation email was sent stating that the order would ship today.
This could be very good news for Verizon customers indeed, we have yet to hear from anyone that has received a Lumia 822 so we're not going to get too excited right now. We'd certainly like to hear from any of you if you're seeing similar order confirmations. If you have one already be sure to let us know too.
What about review units? Any word?

I'm likewise waiting for reviews- Verizon specific. I cant decide between the Lumia 822 and 8X. I've read some things about the 8X that didn't sound too promising- namely the battery life being subpar and the camera suffering from lots of noise and stuttering. If this is true Ill be getting the 822 for sure. The only thing it really lacks is a 720p screen and more attractive design.

Going through upgrade channels, it states it will ship by the 13th. So I guess we know what that event on the 13th with HTC and Verizon will be promoting?

The reason it says it will ship by the 13th because Verizon is targeting the 15th as a launch date because Verizon releases phones on Thursday's. The event on the 13th with HTC and Verizon is for the Android phone, HTC DNA (aka DLX).

got my shipping confirmation for my 920 last night should b here this afternoon I have at&t though

Ya, this thread is about Verizon pere-orders so who cares?

Exactly what I was thinking. Every effing post has to have an irrelevant mention of lumia 920. Definitely not irritating at all. Nope.

I just pre-ordered. Here's the Status: Order Location: 1434901 Order Date: 11/09/2012 Ship By: 11/13/2012


Ordered the 8X, Ship By: 11/13/2012.

Not sure what I will end up acutally paying though, hopefully they honor the discount.
Your Order
Item Description Quantity Your Price
HTC Windows Phone 8X Blue
1 $ 549.99
Order Subtotal Today $ 499.99
Sales Tax* $ 34.92
Shipping $ 0.00
Order Total Today $ 534.91

Sure looks like you're gonna pay $534.91. If there was a discount it would have been shown on the Receipt! I bought my Win 7 Trophy last year so didn't have a discount available until next July. So my total is the full prioce for the Nokia 822. :>(

Upgraded my wife's awful Droid 2 to the Lumia 822 today. Note that the Verizon information says nothing about wireless charging and no wireless charger is listed in available accessories for this device. My online chat also confirmed that the rep saw nothing about wireless charging. Let's hope it's in there but that they just don't have a charging pad availble yet.

Yeah, same for me. I'm hoping it's part of the package that ships.... But with VZW, I'm not keeping my hopes up.

The rep pasted the box contents to me and there's a wall usb charger in there but nothing wireless. I suspect we may need to swing by an AT&T store and pick up a charging brick from the competition.

I would recomend just buying a qi compatible charger on amazon for a lot less money, unless you really want the Nokia branded one

The charging pad is actually available already and was on sale for $37.49 instead of the $49.99 full retail price when I placed my order last night. You can find it by just looking through all of the accessories starting from the main page (it didn't show up as an option when I did my checkout either). See here: https://www.verizon.com/b2c/store/accessory?action=accessoryDetails&archetypeId=13453&accessoryId=52120&initialPhoneId=

Excellent! Ordered. Thanks Spiff!

This is what really puzzles me about retail, especially on the internet. The one really killer accessory for this phone doesn't show up when you have your wallet open. Just a bunch of universal stuff, mostly overpriced unnecessary crap IMHO like cases (it isn't a delicate Iphone) and corded headsets. I'm sure if I went to the Verizon store they would have tried to sell me another car charger and a zebra case, and would have looked at me like I was an alien if I asked about a wireless charger. They're not the only one, the related items or whatnot on amazon are usually clueless as well </rant>
Thanks you also, spiff_p239

Wish they had the Wireless Charging Stand as well. But this will have to do for now. :>)

The 822 product page does mention wireless charging in the description. Someone else missed it as well and then the online rep said there was no mentioned about it. It's starting to seem like although we heard that VZW in-store training was taking place, maybe not much went into training the online reps. Wireless charging seems one of the main things VZW would want reps to highlight to customers since its distinctive (right now) to WP8 phones.

What irks me is that on top of the inflated price of the 822 compared to the 820, Big Red appears not to be offering any incentives to sweaten the deal at all like many other carriers are. I guess Almighty Verizon think we should just be grateful they are carrying WP8 at all.
(I don't sound too bitter do I?)

Isn't one of the reasons for the price difference between the 820 and the 822 that the 820 comes with 8GB of storage to the 822's 16 GB? Or did you mean compared to the 920?

the website lists the 822 full retail price as 449.99. if so i may pay full retail and just wait for a 920 variant and sell the 822....i refuse to pay for a 16gb phone with no microsd slot (8x)

Just got done chatting online with a VZW Rep. I asked for her to confirm if the 822 had the wireless charging as an option since it was advertised that it did in the 10/21 new release. The product description on the VZW site does not mention it at all. And guess what? She said it did not. Also negative for Gorilla Glass 2.0 even though the product page on the NOKIA site lists it as a feature (also lists wireless charging as a feature too).
I'm feeling more and more shafted as more and more info is revealed.

So you beleive an uninformed VZW Agent more than the Manufacturer's Product page?

If you look up the Nokia Wireless Charging Plate DT-900 - White
in Verizon's store, it doesn't list the Nokia 822 as a compatible device, in fact, Nokia doesn't show up period. Verizon is so "with it". The agent did his/her job, they went on to the next customer. Quantity > Quality.

The second paragragh, last sentence of the details mentions wireless charging...but yes, it is oddly missing from the specs list. Especially odd since the 8X mentions that feature 4 times.
"There's wireless charging, built-in Xbox® LIVE and more on this Nokia smartphone."

Since the specs are wrong on this, I'm expecting the same on Gorilla Glass. Surely the Nokia specs page isn't wrong about that. The reps typically know nothing that is not listed, unless they happen to own the phone you are calling about.


I loved their logo: So advanced, it's actually simple. It's catchy.

Hey all this was my tip. My order confirmation says this:
Order Date: 11/08/2012
Ship By: 11/08/2012

But when I log into the Verizon web site to check my order it says this.
Here is the status of your Pre-order:
We received your order and it is in process. Expected Ship Date: Not available at this time.


Can you talk on the phone and browse the web at the same time like on ATT? (not wi-fi)

All of the LTE devices except iphone 5 can while in LTE coverage.

Ordered the 822 about an hour ago. No issues with a ship date of 11/13. In addition I called the local store and they confirmed that the 822 and the 8X will be available in the retail location on 8/15 at the same price listed online (they had a meeting to confirm the details this morning). One big difference between online and in house is the online discount is instant and the in house discount is mail in rebate.
Windows Central Newsletter
Thank you for signing up to Windows Central. You will receive a verification email shortly.
There was a problem. Please refresh the page and try again.