Verizon rolls out Windows Phone 8.1 GDR 2 to HTC One M8 for Windows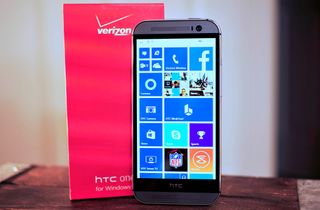 Owners of the HTC One M8 for Windows on Verizon Wireless should be on the lookout for a software update today. We have received a number of tips alerting us to an over-the-air update for the smartphone, and Verizon's website has confirmed they launched an update. It will bring the OS version of the phone up to General Distribution Release 2 (GDR2), otherwise known as Windows Phone 8.1 Update 2.
Unfortunately, the support page does not offer any other specific information about what new features have been included in Update 2 for this smartphone. All the page does say is that this update is "designed to improve the performance" of the HTC One M8. The new build number for the phone is 2061.30.30501.605. If you do notice any big changes or improvements, be sure to let us know in the comments.
Source: Verizon (opens in new tab); Thanks to everyone for the tips!
Get the Windows Central Newsletter
All the latest news, reviews, and guides for Windows and Xbox diehards.
I'm surprised myself lmao. Still no interest in this phone whatsoever but still not bad. Now do right by your icon owners as Lumia owners deserve much better.

This must be painful for you.

Hey HTC 10 fans deserve to feel relevant sometime :)

First the LG Lancet launch, now providing updates; What's wrong with Verizon? :)

I agree. The name Verizon and the word 'Update' never seem to correlate.

I've been on Verizon since WP7.5 Mango was released. Overall they have been very good with updates. WP8.1 Cyan was an exception. It didn't pass their testing. They skipped it and went directly to WP8.1.1 Denim. The L928, L822, Samsung ATIV SE, Icon (L929) and HTC One M8 for Windows have all been updated for a while now.

And the HTC 8X. How can I forget? ​

Let's not forget the alleged launch of the L735 on Verizon, too.

This is huge news. Next thing we hear is that they actually sold a Lumia device.

And a sales person actually knows something about it

"Cortana, what's the weather like today in hell?"
Chilly with a chance of Verizon support for Microsoft

You win the quote of the day!

ROFL! That was a GOOD one! Thanks for the chuckle!

Genius comment. It took me a full minute to get the analogy. :)

I nominate for quote of the year! LMFAO!

They see me rollin'.. They hatin'

The world is gonna end soon. Verizon and updates. o.O

I've Lumia 730 running 8.1 update 2, so far I've noticed double tap to lock and settings got a new look, app permissions. That's all

Yeah, it's a very minor update.

Don't forget Bluetooth keyboard support as well if I'm not mistaken. Posted via the Windows Phone Central App for Android

How did you get the update?

But where's that double tap to lock? Can't find it anywhere in my 920 with GDR2.

Double tap to lock only works with a software based navigation bar (double-tap the nav bar). Your 920 does not have a software nav bar, as it has 3 capacitive hardware keys.

Update improved speed but now I cant use my IR blaster remote.. :(

Sadly this is a known issue, HTC has ended support for it's HTC TV application and it will no longer function. The Peel remote app was supposed to replace this however it's still MIA

What were you using, since HTC discontinued their app?

Probably his remote.;) Posted via the Windows Phone Central App for Android

In retail and traveling this universal remote feature is like gold.. And why build it and advertise it and not support it?

They are releasing this only to say after they are ending the support and not upgrade to Windows 10...

Microsoft will update it to Windows 10 directly, regardless of what carriers and OEMs say.

Nope. Not really allowed.

Preview for Developers is eligible for non-Lumias. Why wouldn't Windows 10 Mobile be once it hits general release?

Meanwhile AT&T is still testing Denim for the 830!

But they're likely testing with GDR2 so... maybe soon.

I really hope it's this month!

Nice! Now, get me that update on my M8, AT&T...

WELP cant believe in this

And yet Microsoft didn't release this update on their Lumia phones yet! How absurd. My 930 is waiting for that nice organized settings list.

Microsoft did release the update its the carriers fault that the Lumia's are not getting updated so instead of blaming Microsoft you should call or email you carrier and bitch at them it its there fault cuz there supposedly testing it.

My country variant disagrees

Last update released was Denim (Update 1). Update 2 can be received through Windows Insider.

MS never promised Update 2 for 930. It will go straight to Windows 10 apparently. Seems that only 730/830 and others are getting it. EDIT: I must say, I managed to get Update 2 on my 930, and believe me, despite the new Settings page, battery life decreased a lot compared with how Denim fixed it.

Update 2 kinda okayed the battery life of my 920.

Damn!Verizon has been on the ball the last few months.AT&T were you at?;)

Verizon did break the mold by merely releasing a update so any thing can happen.

The update is not showing up on my M8. Currently I'm running OS version 8.10.14219.341 firmware version 2016.30.21705.605, which is a lower version than what the article says, yet I check for updates and it says no update available. Is it because I'm running a build I got from the Preview for Developers program?

Uncheck the box in pfd and them check for updates again :)

I tried that, even rebooted the phone twice, and still says no update available :(

Disable the preview and power off your phone and back on and check for update again.This is one of the reasons I don't run the preview's on any of my phone's.Had to factory reset one of my old phone's for the update to go thru.

I did that twice actually, and still no update. I guess my next solution would be factory reset the phone, but this is my main phone and reseting is time consuming

Sucks,but your only path is a factory reset.Did this with my old 1520 that was running the preview to get WP8.1 .Would not pick up on that there was a update available.

by factory reset do you mean the 'reset your phone' button on the About section? or a complete rom replacement via an external software tool?

Used the Windows Phone Recovery Tool and went back to WP8.Was running the Preview For Developers on my 1520.The reset button in setting's won't roll your phone back to the previous OS.

will the windows phone recovery tool work for the htc one m8?

Just updated yesterday to support HTC phones.

Hmm.. Here's something we don't see everyday.

Some love for HTC lovers. I thought Verizon was the worst, turns out ATT is lagging long behind. They only recently released Denim for 1020

If u own 640 XL then u will see many features added in real GDR 2. Motion Data, apps permissions, setting on display & brightness etc...

Some of those are firmware dependant. App permissions are there for every phone with Update 2. I'm using it on my 920 as well.

Good for Verizon. Keep it up.

So their leap froging over the icons update to 8.1.1

And what about htc 8x? One m8 available only on the Verizon network

Does Lumia 520 support this update?

If it can support Windows 10, support for GDR2 is a no-brainer :)

Surprising considering the HTC One was not one of the select handsets mentioned in this article: http://www.windowscentral.com/microsoft-confirms-windows-phone-81-update-2-select-smartphones

This update is the one complying with the law to have the Device hardlinked to an account,right? IS this a US only thing or do all WP GDR2 < have this? And how does it work. Do I get a message when someone tries to relink the phone to a Microsoft account different? does he always need a MS account to use the phone? How do i unlink my phone from an Acc like this if I dont have the phone anymore?

It only works with newer hardware starting with the 640 series. It's not restricted by region though.

Thank you Verizon. I'm so happy to see Verizon support more WP.

Good Guy Verizon provides Satan a day of AC.

Why has this phone not been released anywhere on Earth outside the U.S.? What other Windows Phone 8.x device can you say that of? The Lumia Icon and 521 don't count as they're essentially U.S. variants of international models. I likely would have bought this handset if it had been released in Canada. I wanted a 1520 enough to import it. Ditto the 640. I wasn't quite prepared to import a non-Lumia due to the possibility of future support issues, but might have taken the plunge if there'd been a domestic release, though.

i dont get it about this whole carrier and contract thing
anyone kindly explain it to me?
is it possible to bought the phone off the contract?
because this whole time all i know is international unlock phone

Yes it is possible to be it off-contract, but the branding will be there, anyway, also it just works with a couple of frequencies, also some things are locked ( as I know of the Verzon One M8), you can't change the MMS PN, also you can't change the default search engine to Google....

Doesn't seem to have changed much.

Settings app has been redone, now organized by category. Changes to wi-fi sense? Maybe I just haven't looked in a while, but it looks like you have more control over what is shared and with whom. Arrow at the bottom of the start screen has been replaced with "All apps ->"

Really? Interesing I seen none of those changes on my phone I'll try uninstalling the windows insiders app.

Thats the Win10 preview tho

Is there Support for mkv playback in videos app..

Use VLC or MoliPlayer, they'll do, native MKV will only be included in Windows 10 (mobile)

So a company whose support for the platform is almost non-existent beats Att to the punch with Denim and GDR2? While my 830 is yet to receive proper Denim that it was falsely advertised with and continues to be ignored... And here I thought Att was the wiser choice for a WP user... Smfh

I didn't catch if Verizon said they would update the Icon as well? Anyone know?

mine just got one! it's downloading :O

got it yesterday afternoon

I was looking for the update and Win10 Tech Preview was pushed to me. I installed and now have a problem. When I type in my password I get "loading" on my screen and it never loads anything. I can put the notifications down and get to my settings and see past notifications. Build number 10.0.12562.84. I had call come in when in settings and was able to answer it. The name of the caller was showing also so my contacts are still in place. Any thoughts? Thank you, Tim

Guys I got an update on my ICON I think it's getting one too!

are you sure it's not the windows 10 for phone technical preview instead?

Want this for my 830!!! :/

Want this update for my 830!!! :/

Really nice feature here: Double-tap nav bar to turn off display! It's in the settings disabled by default.

Bluetooth SMS now works with my car. My car now is alerting me for new text message and it's now displaying on the screen. Settings are now in groups.

Verizon releases update the same day Microsoft Insider says you can load Win10 Preview on HTC One M8, funny.

With my HTC One M8, the new release has reduced my battery life from all day with heavy phone and data usage, to about 2-3 hours. Terrible. Do not allow this update on your device.