Verizon's feeling the love this year with a free Lumia 822 in red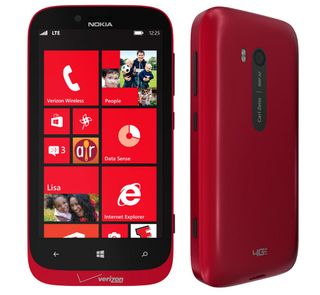 The Nokia Lumia 822 has already hit the shelves at Verizon in the United States, but this time it's sporting a fancy new red shell just in time for Valentine's Day. And it's also available exclusively on their website for a new price - free, with a new two-year contract.
The smartphone features a 4.3-inch WVGA Nokia ClearBack OLED Corning Gorilla Glass 2 display, a dual core 1.5GHz processor and 1GB of RAM, 16GB of internal memory, and supports a microSD card up to 64GB.
The Lumia 822 is packed with an 8-megapixel camera with Carl Zeiss lens, support for full HD video recording, as well as a 1.2MP front facing camera. The spec list also includes WiFi and Bluetooth connectivity, NFC, LTE support, and the full suite of Nokia apps.
You can pick up and fall in love with your very own red Nokia Lumia 822 here on Verizon's site (opens in new tab).
Windows Central Newsletter
Get the best of Windows Central in your inbox, every day!
I like the 820, I just wish they woul've taken that over to Verizon.

Really? I think it is a great looking phone. Maybe not as sexy as the 820, but I can see this appealing to a LOT of folks. Another phone, by another provider, adding to and enlarging the windows phone ecosystem. How can this be anything other than great?

My freind has the grey one with the black wireles charging back (No grey wireless back available) an not only do I think its a great looking device, but so does she. To each his own.

It looks hot to me, but I don't have Verizon anymore.....

I switched to ATT from verizon for the 920.

I really love the design of the 822, much more then the design of the 820 on ATT. I think the red makes it even more appealing.

Nokia really has to start getting their phones a bit thinner....

Rest assured, they will ;) One month and you'll see... But I agree, they should have had at least some models already for the people who like their phones thin.

I am fine with my 920 size, and can justify it due to the camera tech. However..i hope Laser, Catwalk, etc are thinner to appeal to the masses.

I like thicker phones. It lets me get a grip on them, just as long as they are light. Same with tablets

Same here.
There's a reason behind me getting the 808 PureView.

People really need to get over this thin fad. Its so useless.

Pretty nice to me. Just in time for V-Day, smart move!

Does anyone know when Nokia accessories like the purity pro wireless headphones will be available?

How many colors can Nokia produce...amazing...red, magenta, pink, white, black, cyan, yellow, lime green, grey, and I must have missed a few, pretty good deal on big red, glad they are wanting to move units.

If I were on Verizon, this would my secondary phone...

I thought this was ugly at first but you have to see this phone in person to really appreciate how nice it is really.

I agree. Kind of weird how it doesn't show well in photos but seeing in live in action is a different story.

Do you only have one type of contract in the states? It's completely irrelevant what you pay for the phone if you can't control your monthly payments.

It depends on the carrier.

If you are on att, vz or sprint most people switch phones and get two year contracts. Prices are quite high compared to other countries. T-mobile is the only large carrier with real pay as you go plans. Their phone selection is improving but they still don't get the phone variety the others do. They just got the iPhone recently. With only 3 major carriers sometimes only one has good network in area it is tough to switch. So it very much a monopoly/duopoly in a lot of places.

The U.S. Cell phone carriers rape us on a daily basis. The benefit you get from ATT, Verizon, or sprint for bring your own phone to their carrier is the ability to sign up for a one year contract instead of two. Big fucking deal. That's why most people upgrade their phone and sign new contracts with the same carrier for decades. They basically have everyone locked in. That's what happens when your government helps companies become monopolies and duopolies.
I really don't like it. Same with our cable/broadband companies.

How is it completely irrelevant?

The 822 feels fine in the hand and my wife LOVES hers.

Looks like a nice device. But... I have at&t so I have the amazing 920!

Bought the 822 in white for my daughters b'day & must say it does look & feel better in person. Many hidden features to list but an awesome phone. Upgrade is tomorrow but may hold out for the aluminum 920 variant....ugh choices!

I carry the black Nokia 820 for work and purchased it for all of management and they like it. One supervisor told me after using the phone for a week, windows 8 makes total sense to him now

It's amazing how thick it looks in pictures, yet not so in person. To me the 822 feels nicer to hold than the 8x with it's thin edges.

You are correct. The picture does not do it justice.

The red is simply stunning in person, and its good quality; not like the white plastic one. Well worth the free price tag, and a good replacement for my Trophy.

I saw this exact device on TV last night for the Verizon commercial - where the guy on the bike maps out a heart on Maps, and then sends it to his lady friend. Nice to see Verizon advertising Nokia/WP devices.

I was firm in my decision to get the red 822 when it came out until they announced the Laser. Ah, more waiting.

Just spoke to Verizon all three colors are free with a 2-year contract.


It looks much better in red :)

I'm using the red 822 right now. It has a great look and feels just right in the hand. Not too big or heavy. Don't go by the pictures. Go to the store and try it out. I'm very happy with the purchase

Has Verizon crippled the 822 like they did the 8X? By cripple I mean they disabled two things I know of, maybe more. 1) You can't get directions from the map if you are in a location's details. They try and force you to buy the Verizon navigation app. You have to back out of the details to get directions. That isn't the case on the AT&T 8X. 2) Verizon has disabled group texting, which isn't disabled on AT&T. My girlfriend moved from Android and used group texting all the time with her friends. But now she thinks less of WP because of Verizon's asshat decisions.

Nothing says "I love you" like a 2 year contract :P Hope she doesn't dump you and leave you to carry the bill!!