Verizon's Nokia Lumia 822 checks in at FCC?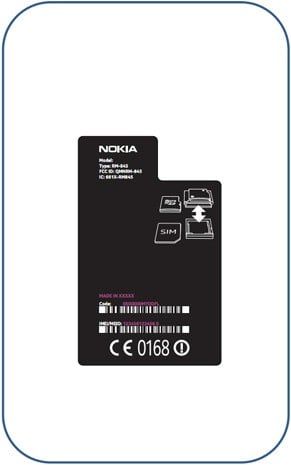 Midway through last week we saw the first real pictures of Verizon's upcoming Nokia Lumia 822 and then heading into the weekend learned a little more about it. Now, a posting over at the FCC reveals that the Lumia 822, may have checked in for certification. A filing for a device known simply as the RM-845 has cropped up with similar measurements to the Nokia Lumia 820, which the 822 is modeled after, and sporting Verizon's CDMA and LTE frequency bands. It also shows a MicroSD slot, which distinguishes it from other Nokia WP8 devices, like the Lumia 920.
The RM-845 is listed as having both NFC as well as quad-band HSPA 3G for international roaming. It may not be the flagship Nokia phone that people were hoping Verizon would get, but it's certainly a good first step. There hasn't been any concrete timetable announced, but with the likely Lumia 822 now in the hands of the FCC, we could possibly see it in time for Microsoft's October 29 launch of Windows Phone 8.
Source: FCC; Via:Engadget; Thanks for the tip, MaulerX!
Windows Central Newsletter
Get the best of Windows Central in in your inbox, every day!
Not what I want but might be what I get..... :/

Was thinking the same. Then again, it's a mid-range phone, and the HTC 8x would probably be the better phone to get. Unless Verizon smartens the F up and picks up N922!!!!

I am in the same boat. I have been due for a contract for almost two years. I want the highest end Nokia phone but as of now it doesn't look likely for this year; spring might be that time. I am looking to selling my HTC Trophy and buying a Nokia 822 off of contract. My biggest cocern is paying too much out of pocket because of Verizon...

The sd card slot goes a long way....

Yep, and so does the super sensitive touch screen (SSTS).

Any word on wireless charging?

According to most reports yes. But also no removable back cover and NFC should be onboard

....and yet again. This is not a filing for a "VZW" phone. It is a filing for a phone that a manufacturer wants to sell in the US. To put it another way, it is not a carrier phone, it is a phone in search of a carrier. FCC sees lots of devices that never the light of day with any carrier. When VZW announces a phone then it is rreal. Until then, it is just another rumor regarding a carrier that has announced nothing with less than two weeks to platform launch.

Seriously, you post this on every Verizon phone rumor. Guess what, they're rumors, we get it. Then again, nobody makes a phone using Verizon frequencies without having an agreement with Verizon first, because no other carrier in the world uses them.

lol. Verizon be getting phones and your all salty? Verizon never announces phones until the week of anyway. Heck, this was proven again just this week with their precious droid line.

Waiting for the 9XX, wherever that might be. So sick of the largest carrier in the US having simply the worst phones.

Couldn't had said it better my self! +10000000000000000000000000000

+10000000000000000000000000000000000000000000000000000000
Windows Central Newsletter
Thank you for signing up to Windows Central. You will receive a verification email shortly.
There was a problem. Please refresh the page and try again.