Viber for Windows 10 PC and Mobile ditches beta label and adds video calling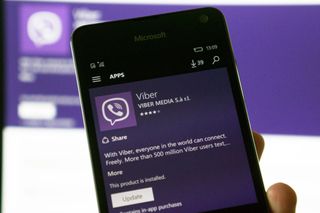 Viber has announced that its Windows 10 UWP app for PC and Mobile is leaving its beta stage after first launching in June. The popular VoIP app also has a number of new features, including video calling.
Viber announced the new features in its blog (via MSPU):
Video calls on mobile - Probably the most requested feature we've received for the Windows 10 app is video calling - and with good reason. What is better than having the face of person you're talking to right there in front of you at the tap of a button?
Quick Reply - For those of us who can't be bothered to open each and every message, this feature is a serious time-saver. Viber pops up messages outside of the app so that you can reply quickly and get on with whatever you're doing.
Cortana Support - Your phone calls and text messages can now be 100% voice from start to finish. Cortana has dialing and texting covered for you. No need for fingers! But keep the fingers, you'll need them for other things.
Like messages in group conversations - Message likes eliminate the need to think of what to say when you want to express that you like or enjoy or have positive feelings towards someone's message (or photo or video or link or file or...you get that it's anything that's sent in a conversation, right?)
Share to Viber - Spot something that must be sent to your crew, like, now? Share links, text, photos, videos and location easily to your Viber conversations from within any Windows 10 app.
Viber adds that the Windows 10 app lets users quickly access their most recent and favorite chats from the Start screen. The update also adds support for Russian and Portuguese languages.
Download Viber from the Windows Store (opens in new tab)
Late how. W10M was widely launched in March. Its not that late really

Late because Viber has been around in windows phone store without video calling since WP8

Two years later. Not too bad.

Not available on production build. Maybe for insiders for now

oooh you're saying fiver for viber?

I thought you were saying a bad word there.

It's available on production build.

Are you sure? I don't get any update... maybe later?

Got the update,us region.

Not showing available yet on IP Fast for me. Listing has x86 as a requirement. Maybe the listing it's still being updated in the store.

This link is for w10 app..check mobile app

That is amazing. Video calling and quick reply to action center.

If anyone has the update, in what region???

And guys, this is why Viber is better than WhatsApp and Facebook Messenger... Combined... :D

Do i need to change region to get it. Till now no update on my phone .

No update for me too. On fast ring, l950.

"But keep the fingers, you'll need them for other things." LOL

After installation on PC and opening the app, it is still labeled as Beta.

No update here either. 930 fast ring UK

No update here in Bulgaria. Lumia 930, 950 XL.

Excellent news!!! Viber deserves to top every similar application because they showed respect to windows mobile users and their choice of operating system. Well done guys!!!

No update in Greece. the none beta version will probably be the 6.1

Now that's an update that is certainly bringing me back to viber

Replace Viber by WhatsApp and read the article again xD

Did Viber not already have video calling? I've been on the Fast Ring with Insider for a couple months and downloaded Viber to message my brother when he was out of the country a couple weeks ago. I didn't personally try video calling, but the People app has listed Viber as the only option under "video call" for my contacts since I first installed the app.

I don't see the update in the store either
Region: Hungary

Old news, update is live for almost a week now for some. I heard only Fast ring Insiders see this update or people who anticipated in Beta.

Wow this update is great...looks great on my Lumia 640xl..

Can't download even on insider fast

Cant fine in store.its showing already installd.and version is 6.0

Didn't get any update.. Didn't see any changes, not sure if my phone updated the app automatically. For those who had gotten the update, did they fix the live tile counter?

I reinstalled viber and I still dont have video calling

I'm in the US and I have no update for video calling yet..

No update for US region. L830, Fast Ring.

Update is available in Bulgaria now. Just downloaded it on my 950 XL. Also has a transparent live tile! I'm very happy! Great app, great job by developers. Thanks alot! The only thing that is still missing from desktop version is sending documents and pdf files! Hope they will put update for that too!

Used to use this as our family's go to app, but we switched to GroupMe for some reason. May have to go back and revisit. Hard to convince them since they love their Hangouts, they only put up with GM because I use it.

Did anyone try the videocalling?

I can send you link but wpcenyral not allowed me to do so, who unable to download viber new version. If u can't still download it. Just Viber me or Whatsapp I'll send you link, 0094771875611

Update now available in Hungary

Got the update (KE) totally loving the update can finally video call and make paragraphs too. #Lumia640XL

Sorry. No video calling as of yet on mobile.

Oh there is, make sure you are on 6.1

Just love the latest update. Transparent live tile with video call also. 5 star love it

The update seems to have just been release.today according to Viber. Loads of new features and video calling seems.to be there but haven't had time to use it. The transparent tile ow much nicer as well. Top quality app very smooth and actually better than WhatsApp now
Windows Central Newsletter
Thank you for signing up to Windows Central. You will receive a verification email shortly.
There was a problem. Please refresh the page and try again.