VicTsing's affordable mechanical keyboards are actually rather good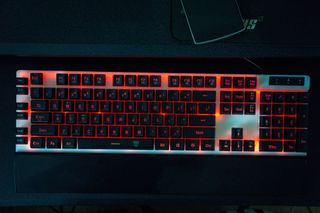 VicTsing is a company responsible for a variety of affordable keyboards, mice, and other devices. We've taken three keyboards, two mechanical and one membrane, to see if these cheaper alternatives to more expensive input devices are worth investing in.
The mechanical brothers
Since making the jump to mechanical keyboards many years ago, I generally steer clear of keyboards that do not sport engraved key caps and backlighting. It's 2016, all mechanical keyboards should have LED backlighting. That said, VicTsing has two keyboards that sport cheaper switches equivalent to Cherry MX Blue — my personal favorite for typing — and thus I just had to give them a go to see how sub $60 keyboards stand up against more expensive offerings.
VicTsing has ensured that these mechanical keyboards will endure every day life by making them both robust, thanks to its metal chassis, and are in fact water-resistant. A massive bonus for the clumsy owner (like myself) who happens to have a bottle of water next to his (or her) keyboard and just happens to accidentally knock it over. This particular model comes in two variants: One sports 104 keys, while the other slices off the numberpad and has just 87.
They're both classed as "gaming" keyboards, but unfortunately there aren't any LEDs to be found underneath the key caps. This is a problem, not only for those who enjoy having their keys lit up, but also because it means you're getting painted caps over engraved ones. I find that these particular caps won't last long under heavy use. Should you be needing a keyboard for office work, or do a lot of gaming, you may notice significant wear and tear after a few weeks, as confirmed by other reviews.
The switches themselves aren't bad for third-party Cherry MX Blue alternatives. They're loud, responsive and replicate the experience well. While VicTsing boasts anti-ghosting across the entire board, I have found certain keys to not pick up while simultaneously hitting a second. The shift key can be particularly fiddly at times, but this is an uncommon issue and doesn't really affect gaming performance. For the price, you're actually getting quite the bang for your buck.
While these are targeting the low- to mid-tier segment and I wouldn't expect to see a braided cable, I believe adding in a few macro keys and LED backlighting would improve things and take the keyboards to the next level. But for $35.99 and $57.99 you really can't grumble. These are solid keyboards for the price, however if you can fork out for more expensive options from the likes of Razer, Corsair and other manufacturers, I would recommend doing so. Those of you searching for a bargain and don't need any additional features, these are great entry points into the world of mechanical keyboards.
To purchase either of the two keyboards we've covered:
Not quite mechanical
I was pleasantly surprised when I extracted the I-1000 out of its box. It's a membrane keyboard, but thanks to the lack of a key cover (I personally prefer this style), macro keys on the far left, as well as LED lighting you really could mistake it for a mechanical keyboard before attempting to type out a few words. That said, when you do eventually boot up your favorite title or get creative, it doesn't feel like you're returning to the old days when it comes to keyboards.
Sure, it's still membrane and there isn't the satisfying click you'd come to expect from switches, but it has been designed to create the illusion of using a mechanical keyboard without that annoying click-per-key. Should you be tired of audible feedback from your typing that keeps the entire neighborhood awake, it's definitely worth investigating in one of these. While the typing experience with this keyboard isn't shabby by any standards, it has nothing on its siblings above, or any other mechanical option.
Since the I-1000 has been designed for a "mechanical feel", some degree of anti-ghosting has been included. It's possible to take advantage of this feature across 26 keys, and works as one would expect. There are 5 programmable keys at hand too, ideal for those who require frequent commands and don't wish to repeat numerous key strokes. There's no requirement for software too, meaning this keyboard will save set macros using on-board memory, which allows for use on multiple PCs without having to set everything up.
As for the LED lighting, one has the option to choose from a total of 7 colors. There's no full RGB spectrum here, but for the price, it's not a complaint. Three modes can be switched between, which sees the LEDs breathe, remain on, or disabled altogether. Key caps are engraved and bicolor injection should help prevent the keys themselves from wearing out easily. The issue I have here is the font used for the caps themselves. I'm not a massive fan.
For typing, which is what you'll be using this thing most for, it's not a bad experience. I didn't find myself missing keys and feel as though I'm activating them with each press. It's a pleasant experience, for a membrane. I've noticed the springs underneath the space bar to be quite loud, and you can definitely hear the parts vibrate from contracting and springing back out.
To aid with long periods of typing, VicTsing included a detachable palm rest, which can be stowed away should you have a comfy alternative or prefer to not rely on one. There's some flex in the plastic construction, but only when applying significant force. I'm impressed by the build quality. As an added bonus, this keyboard is also covered by VicTsing's 45-day money back guarantee and backed by a 1-year warranty. For $33.99, it isn't a bad option at all.
See at Amazon (opens in new tab)
We'll be soon taking as look at whether or not it's worth forking out on more expensive keyboards and mice, but should you go for an affordable VicTsing mechanical (or mechanical-feeling) keyboard, you won't be disappointed by the experience brought on through cost cutting.
Windows Central Newsletter
Get the best of Windows Central in your inbox, every day!
Rich Edmonds was formerly a Senior Editor of PC hardware at Windows Central, covering everything related to PC components and NAS. He's been involved in technology for more than a decade and knows a thing or two about the magic inside a PC chassis. You can follow him on Twitter at @RichEdmonds.
Man £28.99 for the 87 key version is so tempting. I haven't "gone mechanical" yet but I have been considering it. If they could add some LED backlighting for around the £35-£38 mark I'd be really interested. It's not even about aesthetics I just need to be able to see clearly in low light when I'm coding in the evening. The keys sound good for people who mainly type like myself! Might need to get a second Microsoft Sculpt Ergonomic for now and use that at home. I'm tempted to order one of these on Prime to try it out, but the lack of backlighting is concerning. Saying that the Microsoft Sculpt Ergonomic doesn't have it either. Difference is I use the Sculpt at the office mostly and it's almost always light there. In my home office I often work into the night in dark conditions. The closest keyboard price wise to the 87 key version I've seen is the 2014 Razor tournament edition and it's at least twice the price if you can find it discounted

I'm right there with you, Dan. If only they threw in backlighting, it wouldn't even make me question the slight price increase. That and it would mean they'd have the key caps engraved instead of printed, and thus will be more resilient to wear. Let us know how you get on with the keyboard!

Tried to post this on the "Best PC Cases" post but the app wouldn't let me - I checked the website and comments aren't enable on that post? I'm cool with it including affiliate links but it didn't read like an advertisement so I assumed it was a normal article? Anyway, I enjoyed it and this was the comment I tried to post: "Nice selection of cases. I'm liking this new trend of more PC articles. I've noticed an increase in hardware related stuff particularly. Please do keep it up.
I've got a pretty cheap case, but it's just about the right size to fit my build in and keep it cool so I do love it. Bitfenix Neos. It has some nice features for it's pretty budget price such as dust filters on the bottom of the PSU intake and on the two front fan points. If you get it with the Window panel though you lose some room for more advanced coolers.​"

I'm curious to see how the monoprice mechanical keyboard compared to the cherry one since it's quite cheap and I love monoprice products.

I've had the VicTsing 87 key mechanical delivered today. Great keyboard for the price if you just want a basic mechanical typing experience without the bells and whistles.