Video editing apps are coming to Windows Phone 8.1, here's a preview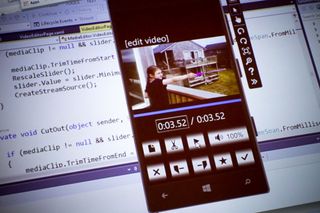 One of the many things we're excited for in Window Phone 8.1 is that it's going to allow developers to create video editing apps. While we were at Build 2014, one of the sessions showed off, for the first time ever, a Windows Phone app performing a video edit. Take a look after the break.
It's easy to shoot videos with our camera phones, but your friends would not want to watch hours of footage from your vacation. Video editing apps will let you take highlights from your footage so that you can create videos that are shorter and more watchable. We're sure many of you have been looking for video editing apps for Windows Phone. With the upcoming release of Windows Phone 8.1, it looks like developers are now able to deliver.
Perhaps this will make it easier for the official Instagram app to finally add the video upload feature that has ben missing. Hopefully, the updated version of Instagram for Windows Phone 8.1 will let us select video clips from the camera roll, trim, and rearrange to fit within 15 seconds.
The closest thing to video editing that we currently have on Windows Phone 8 is trimming. Apps like Video Trimmer and Nokia Camera let you cut off part of the beginning and ending of video clips.
There's also Nokia Video Director, which allows you to quickly capture and transfer videos to the Nokia Lumia 2520. Unfortunately, it isn't exactly a standalone video editing app experience and is meant to be used in conjunction with the Nokia tablet running the same app.
The video above is part of the Windows.Media.Editing session at Build 2014. You can watch the whole hour-long session at Channel 9. Are you looking forward to editing videos on your Windows Phone? Let us know in the comments!
Get the Windows Central Newsletter
All the latest news, reviews, and guides for Windows and Xbox diehards.