Video editing apps are coming to Windows Phone 8.1, here's a preview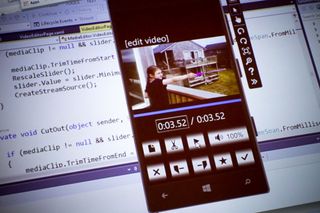 One of the many things we're excited for in Window Phone 8.1 is that it's going to allow developers to create video editing apps. While we were at Build 2014, one of the sessions showed off, for the first time ever, a Windows Phone app performing a video edit. Take a look after the break.
It's easy to shoot videos with our camera phones, but your friends would not want to watch hours of footage from your vacation. Video editing apps will let you take highlights from your footage so that you can create videos that are shorter and more watchable. We're sure many of you have been looking for video editing apps for Windows Phone. With the upcoming release of Windows Phone 8.1, it looks like developers are now able to deliver.
Perhaps this will make it easier for the official Instagram app to finally add the video upload feature that has ben missing. Hopefully, the updated version of Instagram for Windows Phone 8.1 will let us select video clips from the camera roll, trim, and rearrange to fit within 15 seconds.
The closest thing to video editing that we currently have on Windows Phone 8 is trimming. Apps like Video Trimmer and Nokia Camera let you cut off part of the beginning and ending of video clips.
There's also Nokia Video Director, which allows you to quickly capture and transfer videos to the Nokia Lumia 2520. Unfortunately, it isn't exactly a standalone video editing app experience and is meant to be used in conjunction with the Nokia tablet running the same app.
The video above is part of the Windows.Media.Editing session at Build 2014. You can watch the whole hour-long session at Channel 9. Are you looking forward to editing videos on your Windows Phone? Let us know in the comments!
Thank goodness. I have been wanting this for things like social networking and what not. I hope that with video editing we can also add music into it. We need something like the iPhone video editing thing they have

There is a Lumia video trimmer in WP Store. no use, because it only trim video shooted on Lumia devices.
I think this video editor will be same line.
only edit video shooted on device cameras,no movie editing support
Otherwise very good step of MS

This was just a demo to show what will be possible for devs. Now it's up to devs to get creative. I've already seen one new video editing app coming to Windows Phone 8.1. It's very cool and does way more than the Lumia video trimmer. Can't wait to share it with you guys.

Nokia is gonna make something really cool out of this for sure!

So negative. No, they wont be along the same lines because MS has opened up the APIs to allow video manipulation.

Well, the trimmer is of SOME use...it trims. I'm not sure that very many people are going to shoot video on other devices, transfer that footage to their phone to edit. That's kind of what computers and tablets are for. If this can let me spruce up my Windows Phone shot footage to upload to YouTube and Facebook and OneDrive and VIMEO, that'd be great. My Top Ten wishlist: 1. Add music or narration.
2. Arrangle clips and have some basic transitions
3. Add text/drawings/simple graphics to video
4. Make a Title Page
5. Add some credits
6. Upload in proper format to various social destinations
7. Speed control for slowmo and sped up clips
8. Add still shots to make a slide show
9. Some goofy overlays like the color bars, a countown circle swipey thing, a "frame" that mimics a video camera viewfinder, a generic lower 3rd where you can edit the text (like putting your name there or the "headline" as if it's the news
10. Some cropping would be nice. Yeah, that's all I need! ha ha

Fully agree with everything here. Huzzah!

This is great, it's about time. Now all WP needs is the big name apps for video recording that iPhone users have.

Filmic Pro for the iPhone. I'd like to see that on windows phones. Also a decent screen writing app. There's nothing for windows phones.

When this thunderstorm is coming?

Been waiting for this for a looooooooong...

So cool to be able to edit videos that WE WILL NOT BE ABLE TO SHARE UNLESS WE USE A PC OR THE YT UPLOAD APP. Or is MS allowing us to share videos we made through apps like WhatsApp? I get very pissed when I remember I can't share something I recorded previously (sound files, videos). Can anybody help me with this?

U can share pre-recorded videos through WhatsApp.

You see, THIS is why aliens won't talk to us.

Chill the hell out, no need to be rude.

I thought whatsapp allowed video upload from the camera roll

Omg. I've tried that like 982338923 times and it never allowed me. Now it did and I'm feeling like a noob.

Third party Apps can access video (as the video shows). They can edit and upload them. The previous restrictions of video are now gone.

Imagine video editing apps making use of the chroma-keying capabilities in Nokia's Imaging SDK. Green screen effects from your phone! Seriously though, if there was something that could render more basic special effects (like a less capable but still useful Adobe After Effects,) and piece together a video (like Adobe Premiere,) Windows Phones would be the best for content creators on the go. (The latest Nokias being able to record 5.1 dolby audio and the fantastic optically stabilized 1080p video... Some pretty spectacular stuff could be made completely on a phone.) Or maybe I'm just dreaming too much. Would be cool though.

It makes sense marketing-wise to pair amazing recording with amazing editing.

What I would like to see is the ability to draw lines on a video. For instance I record my golf swing, I want to be able to draw over top of that video to see if my alignment stays correct the whole way through. I know iPhone has this feature I hope we can get it too.

Nice, what we need more is just official youtube app and better fb app, even though i care just about youtube

There are very solid 3rd party YouTube apps that offer more features than an official app ever would offer.

Yeah I know, lol. But still google one would feel more official

I want to add different videos+music+photos to create a great video

It looks like this will be possible. Looking forward to what developers come up with.

Cool......i was expecting this for a long time....and please make more editing options please

So what video types will be able to be edited? What is the maximum videolength that can be edited? What are the minimum hardware specs microsoft will ask for to make video editing possible? Will editing be possible offline, or will microsoft only consider online editing? will transitions and audio dubbing be possible? Wil there be an option for an intro screen en end screen? Will fading in/out be possible? So many questions! Sigh.

I want a audio editing app like garage band, that's the one of only reasons I have an ipad

Get a dvp 8" tab and you can run cubase etc. You need ASIO4ALL or a usb asio running, but yeah easy peezy. Anyways audio stuff requires screen real estate and countless mouse clicks, neither of which are served by the small form factor devices

You do have Fl studio as an app for tablets

I hope there will be a video app that will allow me to trim videos and publish to Vine/Instagram!

Very nice presentation. Cant wait to see what devs give us. Portable premier anyone?? Also, i hope it isn't limited to vids recorded on the device but i fear that drm issues might mean ms might lock features down. Still cant wait though.

It's clear: 8.1 delivers the good to consumers and developers. I mean really. So many missing gaps have been filled with this update and it beautiful to see Windows Phone grow from its beginning stages in WP7 to WP8 and now the 8.1 update.

Wp8 has no ability to do for video editing,, ios is powerful abilities for video editing than Android. Thanks for wp8.1.

Muvie maker something like that

What about being able to access previously recorded video for apps?? Have about 30 videos, I would love to up on Instagram

Is it going to have slow motion capabilities i.e. Can i make slow motion videos with it? Does anyone know?

Yesss pleez lets add slow motion to it haha

So happy to hear this. Give me pharrels hat and I dance. Muy sensual

its an amazing sample usage of the new sdk and hardware capabilities (eg. performance) - so just stfu about the "wtf is with the ui" and etc. comments - i am totally looking forward for the great apps in the marketplace in few weeks based on some similar codebase. nicely done guys.

I would love to see Magisto come to WP!!

Finally!! So excited for the future of WP!

I'm looking for something by Nokia like they had on the Nokia n8.
Now that was a fun app!!

Anyone up for a bet? I bet Rudy adds video editing to 6tag before instagram. Any takers?!

Still feels like we are way behind and not just the volume of apps, but also feature rich apps like the new Adobe Lightroom and pretty much all of the Apple apps like iMovie, iPhoto and Garage Band which I know are Apple only but we need something as powerful.

I always wanted to make video editing app my self. But I could not because the app making software (dont remember name)didn't work on Win 7. and I don't like Win8. Plus right now apps don't have access to video library anyway. Will the libraries for audio and video be opened on wp 8.1?

You sound like a pro. Watch out Adobe!

Here is looking at you Rudy! :D Bring this to 6snap so i can send video chats! :D

Never seen before features on any smartphone. Thanks Microsoft for being way ahead of the competition.

I think video editor was present in N73..

Instagram was waiting for this API to add video editing and upload to his official app. Maybe it will now exit the beta phase quickly.

Screen recorder In WP 8.1 ?

Finallllyyy!!.. What took them so long tho? :'(

14th april .. (Maybe). .. WP 8.1 preview..

I am into filmmaking, i bought 925 because of great video recording capabilities. Now it's a good news, video editing in mobile and uploading hand to hand. Great!

Can we send videos through Bluetooth now ?

Finally! Can remember having this function on my Nokia 3200 in 2004.
It was THIS phone: http://cdn2.gsmarena.com/vv/pics/nokia/no3200_00.jpg

Ok first off, nobody clapped that was awkward for sure.....also....again they are way behind ios in terms of apps or not so much apps but quality of apps....we will see what ios 8 will have and iPhone 6 then you can compare it to windows phone 8.1
Windows Central Newsletter
Get the best of Windows Central in in your inbox, every day!
Thank you for signing up to Windows Central. You will receive a verification email shortly.
There was a problem. Please refresh the page and try again.