Hands on with the Xbox One Windows 10 Creators Update (video)
The Xbox One's branch of the Windows 10 Creators Update is rolling out to the public.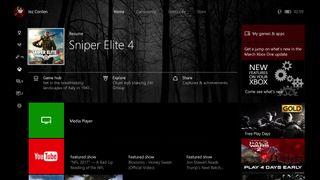 The latest update to the Xbox One OS is rolling out in waves, but you can force the update now by heading into your settings, selecting System, and then hitting Update.
The Xbox One Creators Update brings a wealth of new features that not only promote creativity but also refine the user experience in important and powerful ways.
This update is in addition to a wider range of features and improvements hitting all devices in the Windows 10 family, including PCs and Mobile. For more information on what's to come, head over to our comprehensive Windows 10 Creators Update review for PCs.
As far as Xbox goes, here's a quick look at what you can expect from the latest build.
The biggest features include:
Beam.pro app and broadcasting.
Refined home screen.
New guide for quick access of pins, Game DVR, and more.
A new Achievement tracking interface.
Filtering and sorting for Games & Apps.
Filtering for the Xbox community feed.
There are also several under-the-hood improvements and tweaks that drastically increase the speed of the dashboard, giving it a huge boost in usability.
Sadly, we lost "snap mode" and picture-in-picture viewing for things such as TV and YouTube. We also lost some features from the Windows 10 Xbox app, including remote control for the IR blaster and the OneGuide.
We'll have a more comprehensive and detailed review on all the latest features in the Xbox One update in the future, but for now, take a look at the video and let us know what you think.
More: Xbox Insider Program
Windows Central Newsletter
Get the best of Windows Central in your inbox, every day!
Jez Corden a Managing Editor at Windows Central, focusing primarily on all things Xbox and gaming. Jez is known for breaking exclusive news and analysis as relates to the Microsoft ecosystem while being powered by caffeine. Follow on Twitter @JezCorden and listen to his Xbox Two podcast, all about, you guessed it, Xbox!
Here's Microsofts official comment on the removal of TV streaming from the XBOX Apps on Windows 10. It's pretty sucky, really. https://forums.xbox.com/en-us/thread/0ea8d262-ba17-4b81-bb09-334888a59802​

Wrong. It's NOT instant access to Home, and it's not the most efficient way if you are NOT a gamer. Instant access to Home WAS when you only had to hit Xbox button. Now it takes more steps.

The guide does everything that you could want from 'home'. why do you insist on going home?

I think the issue is less that, and more: If I was watching Netflix, and Hulu was my last used App, to switch between them the old way Hit Xbox button Down A Now it's Hit Xbox button Right or A Down several times A I find myself constantly thinking I'm already on the right side of it, and just start hitting down (muscle memory), and then it takes way longer to get back to the right place. It's not a huge deal, and the performance increase is nice, but it's definitely more friction than before.

I wish they would've kept double press and use it to go home. Or long press to go home and double press to bring up the shut down menu

No more streaming to computer through the Xbox app? That sucks. I haven't had SmartGlass installed in probably a year and had assumed they were moving everything into the Xbox app. This is confusing strategy to me spreading the functions across two apps. No more video playing while on home? That sucks, although I do notice the difference in speed, so arguably worth it if that was the cause of the drag. The Xbox Guide I imagine is nice for gamers, but most of it is wasted on us. After getting the update I seriously considered getting a Roku. I can still access my favourite apps on Xbox so I probably won't unnecessarily spend money on another device, but it's clear they don't care about providing more than the minimum for media functions, very different than how they first sold it to me. I still dream of a device that can tie all of my media together in one guide and with universal search.

As long as Beam is included, that makes everything ok..... /s

Wait... We can't stream and play a game in another room on the PC through the Xbox app anymore!?! I didn't do this often, but it was awesome to be able to do.

This is an improvement over the existing UI, which sucks, imo.
It was much easier to get around on the 360.

I agree. Whiners to the contrary, the new Home navigation is much more like the simple 360 approach than the original XBO. It's new, so people complain and muscle memory issues will occur. In other circumstances people would get use to the changes and the complaints would stop. As this involves Microsoft, people will still be complaining about these changes when the console after Scorpio is on sale.

I've been on the Alpha ring using this update for awhile now, and trust me when i say you get used to the new changes very fast. It's annoying at first, but once you acknowledge the level of speed they were aiming for and start navigating the OS accordingly, you'll forget all about the older OS. I love the new changes.. Much faster to navigate around.

I dont understand why they would remove the remote control and oneguide from the Xbox app.

I used this feature all the time, from my phone and my surface, time to blast them on feedback, is there any work around for the remote?

You and me both! I didn't check last night and see if the Xbox One Smartglass app has this functionality.

I an going to check as well, already used feedback app, please do the same, hopefully they will listen.

I'm wondering if Microsoft is trying to make the Xbox less of a multimedia center and more of a gaming console with this update? I bought it mainly as a multimedia center and was want to continue on that path.