Vinci is the first neural network visual app for Windows phone, rivals Prisma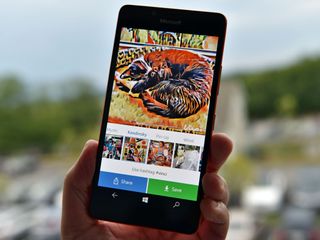 Artsy photo app Vinci from Russian social site VK is now available on Windows phone (8.1 and 10 Mobile). Vinci was released for iOS and Android on July 28 and quickly became one of the top apps in Russia. Now, the same app and features are available for Windows phone users as well.
If your social stream is filled with artsy-looking photos, it may be due to the rise of Prisma, which came to iOS and later Android (there's no sign of it coming to Windows phone despite some earlier confusion). Prisma takes your existing photos and applies non-traditional filters based on various art styles. The process is similar to rotoscoping minus the manual labor intensive process.
Vinci is in the same chic, however, what makes it neat is that it gets help from "neural networks" and is based on recent research cited in "Texture Networks: Feed-forward Synthesis of Textures and Stylized Images". The excerpt from the paper reads:
To put that in English Vinci is fast.
In fact, it's nearly instant at around 2 seconds per filter to apply. For comparison, Prisma on iOS running on the iPhone 6s can take between 4 and 9 seconds per filter. While that may not seem a lot in reality when you are shifting through each filter to see which looks the best, it is draining to use Prisma (the Android app is no better, and maybe even worse).
Not all is fantastic, however. One limitation of Vinci is there are no gradients for the filters. Right now they are all or nothing. Nonetheless, the technology behind it and prospects for future updates look great. From the press release:
I have been using Vinci for a few days on iOS, and the Windows phone version compares very well. The app is fast, reliable and you get the same filter options. For those looking for a way to add some flair to their photos, you should give Vinci a shot. Plus, it's free and has no ads.
Download Vinci from the Windows Store (opens in new tab)
Thanks, @djweritos, for the tip!
Windows Central Newsletter
Get the best of Windows Central in in your inbox, every day!
Daniel Rubino is the Editor-in-chief of Windows Central, head reviewer, podcast co-host, and analyst. He has been covering Microsoft since 2007 when this site was called WMExperts (and later Windows Phone Central). His interests include Windows, laptops, next-gen computing, and for some reason, watches. Before all this tech stuff, he worked on a Ph.D. in linguistics, watched people sleep (for medical purposes!), and ran the projectors at movie theaters because it was fun.
Almost instant filter application on 950XL. Good work, looking forward to the additional filters in the future.

Really awesome... Not gonna miss prisma anymore...

To be honest, I wasn't expecting much from this app, but actually is pretty good.

Downloading! Greetings from Portugal

Where is our Prisma for Windows 10 and for phones promised in July? :P Anyway I like it, russian developers seems great at photo beautifying :D

Once again, it demonstrates why we should never listen to customer service. In hindsight, they clearly did not translate very well. Shorter story: no plans for Prisma here.

That's true but there is a Prisma bot on telegram which works. Check it out on windowsblogitalia!

Yayy, downloading right now!

Will download when I arrive at the office!

Excellent fun app and artistic filters. Tried it out on my 950XL and it is very fast. Will definitely be using this app often. Can't wait to see what styles the additional filters in development will be.

Just downloaded it. Pretty cool!

I tried to download but it says item is not available?

R u using wp 8.1?? I am using 8.1 and item is not available for me also..

Hi, we're looking into this issue. Alexander / Vinci dev team.

Its working perfectly on my wp10 phone.. But can't open it on 8.1. Even i ask other 8.1 user,they also facing the same problem. Pls solve it .

The app is amazing! I hope more filter coming in next update!

Great job guys ! excellent. Worth a paid app.

Very good app. My friend has an iPhone 6. My 950 does the filter change twice as fast as his phone.

How can i download for 8.1?? Store says item not available..

awesome app, can't wait til they add more filters and remove watermark. will definitely pay to support this app. good work deserves support

I'm fine with the watermark. Let's my friends know WP has an app like prisma

That worked surprisingly well! Shame there's not a "premium" option. I would pay for more filters and the ability to remove the watermark.

Or maybe you can get it free via myAppFree deal!

The built-in filters are impressive. Look forward to future updates with more filters. If Prisma won't come to WM, then Vinci will be a worthy substitute.

With the speed advantage, I'll take Vinci over Prisma.

Works super amazingly.. Nice. Thanks.

It's a fantastic app, I have been using for about a day now looks really cool with those flare and artistic effect. I love it, thanks to the dev

Works awesome even on Lumia 640XL rocking 10586.545. And the results are awesome. Already facebooked a bunch of awesome #vinci pics and i feel it smacks down prisma...

Ok.... i'm officially mindblown at the performance of this app on my lumia 730. Fast, fluid and amazing filters

tried it today, its really amazing. Quick and beautiful.

Very excellent. Perhaps they will add gradient strengths, or spot/selective control in future updates. Definitely worth paying for.

Really great app must appreciate this one.Not like other app fearing to come on windows. Just waiting for an update

But the prisma guys didn't said that they were working on a app for windows?

Can someone remind me how to scan the code at the end of the article to get the app, using 950.
Didn't we used to use a bing lenses?

There are plenty of QR Code Scanner apps in the Store. Also, you could directly get the store listing from the Windows Central app.

microsoft try to increase market share. so that you would nt have to tell us about substitute of apps! an official app is an official app! perhaps some unofficial apps are ok but other than that almost all are cheap rip-off!

This one is free. Can't get much cheaper than that. If it doesn't satisfy your needs, you know what to do. Also, MS didn't tell me, I read it on here. There have been some good, grown up, apps in the past couple of days. One of which is a live wallpaper app. Live earth himowari8. It takes a feed from the himowari satellite, and your wallpaper updates accordingly. Not everyone's cup of tea, but its from a dev on here!! The free app is good, and you can upgrade for more features. Vinci is a good app, as is the Logo one that appeared. Shame they don't meet your skewed expectations.

This is an official Vinci app. Prisma doesn't own photo filtering. Geesh

I wonder why it needs access to the microphone and can act as a server.

"Yeah nice one....faster than Prisma....शानदार एप बनाया भाई ने...."

Brilliant. Amazing...this will go a long way in rubbing this in the noses of the pesky no identity *droid users :P

Yeah. I am not a number, I'm a free man!!!! I am an individual. I'm a 1%'er, and in the motorcycle world that means I live on the edge ( geddit, edge... I'll get my coat )

Still not available on store for wp 8.1

Many thanks to the developers for this app, It's great fun!

Been playing with this, and it has put a lump in my throat. I've got a pic of my 10 and 2 yr old daughters asleep on the settee. I used the cloud filter and the look as if they are floating whilst wrapped in clouds. I started to well up. The looked angelic. It never happens when they are awake though ;-)

This cannot be installed on the MicroSD card. I can't spare the space on my device, a L640. Too bad, looks interestng.....

What the hell is wrong with Windows Store search?? Couldn't find this app!! Microsoft's store search never works properly...

Looks like this app isn't available in store for WP 8.1.

Now I badly need a UWP. The app is just awesome and if its released as UWP then it will gain much traction also on Windows platform.
Also need some more filters and control and support for any aspect ratio. Only 1:1 is a bad choice.

I can't download it (Windows Phone 8.1)

Great app, awesome results. I've tested it on both my l535 and l640 and it's notably faster than the prisma app on my mother's Moto G 3.

I tried to download but it says item not available in store

LOVE IT. Now if only my camera app doesn't instantly drain my battery, I'll be happy!
[ATTACH=CONFIG]129454[/ATTACH]


After installing this app, Facebook Messenger and 6tag stop working, don't know why!!!


After getting all hyped that something similar to Prisma was available to Windows users, I was shattered to discover that it's NOT available to PC users

First time in the history of my windows phone usage. My android friends gets ​jealous.
Windows Central Newsletter
Thank you for signing up to Windows Central. You will receive a verification email shortly.
There was a problem. Please refresh the page and try again.