Virgin Media announces MVNO extension with EE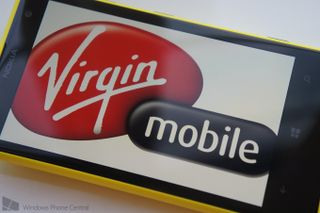 Virgin Media and EE have both announced an extension to the MVNO (Mobile Virtual Network Operator) partnership for Virgin Mobile, the UK's largest (and oldest) MVNO to continue operations with over three million customers to boot. EE has the largest network coverage in the UK, along with the controversial head start with 4G, both likely played a major deciding factor in the deal.
The partnership between EE and Virgin Media dates back to 1999, when Virgin Mobile launched as the world's first MVNO. Gerry McQuade, Chief Marketing Office at EE, had the following to comment on the deal:
EE recently snapped up ASDA with an MVNO deal, taking the UK supermarket away from the clutches of Vodafone.
Windows Central Newsletter
Get the best of Windows Central in in your inbox, every day!
Rich Edmonds is Senior Editor of PC hardware at Windows Central, covering everything related to PC components and NAS. He's been involved in technology for more than a decade and knows a thing or two about the magic inside a PC chassis. You can follow him over on Twitter at @RichEdmonds.
Oh dear, this is not good news, I am a current EE customer and the call quality is the worst I have ever experienced, without sounding negative I would avoid anything to do with EE. I've also had my fair share of nightmares with virtual operators. If you need some proof there's enough on my blog petergore.net - O2 seem to be doing good things and I'm currently looking at Vodafone too.

I'm curious... how is that not sounding negative? :-)

I'm happy to sound negative. EE are shite in so many departments. If you're not a 4G customer, they don't want to know. If you're not an iPhone customer, they don't want to know. Their 3G coverage is even worse (or seems to be) since they went to 4G: I can only get a signal -- any sort of signal -- about 50% of the time in my own lounge. (My O2 PAYG Lumia 520, by comparison, gets at least three bars most of the time.) Needless to say, I'm jumping ship to either Vodafone or O2 when my current contract expires.

I've noticed a substantial drop off in signal strength since 4G became available near my house. Couple this with extreme unreliability at being able to get data at Stratford (London) during rush hour, or even voice at Canary Wharf, and there's definitely been a drop in quality since 4G arrived. A recent episode of Click on the BBC news channel also mentioned this. I doubt anything is being done to rectify this. Unfortunately I've still got 16 months until I can jump ship.

I do have a good laugh when the Virgin TV engineers can't get a signal at my house on their super EE/Virgin Mobile phones.

Yeah i had enough of EE speeds were awful and I couldn't a decent 3g signal in central London let alone 4g poor call quality and dropped calls switched to 02 to get 1020 64gb such refreshing change i don't have to walk down the bottom of the road to take a call!

I was an Orange UK customer for 9 years and my parents 11 years. Our best decision was to leave for Vodafone, got two Sure Signals for free and we didn't really need them, getting about £5 per line off and no handset charges either. Vodafone's Web Relations team help no end and are willing to do almost anything. I last used Orange after their merger with T-Mobile and found I wasn't receiving calls when my phone was on and texts took hours to deliver/send as its so congested in Manchester where I live.
In Northern Ireland where my parents live, they switched off the T-Mobile masts and didn't bolster the Orange coverage. To top it off the contract for the town centre mast placement run out and now no coverage indoors in my home town.

Give me giffgaff any day don't like EE at all

I've only been on EE since 4G but have found their bandwidth and coverage far better than anything else I've been on so feel compelled to put a positive comment alongside the negative. I travel regularly with business and have a Vodafone work phone with awful coverage. My personal voda experience was not better. Three was good but only in major cities and their customer service was nothing short of rude.

When travelling the M6, M5, M62 and M56, I've found Lumia 820/620 connecting to Vodafones H/H+ network.
Nothing short of shocked tbh. Orange were lucky to give out G in those regions.

I'm on Virgin Mobile and on a very good contract and I nearly always have full signal on my Ativ S

Don't get me wrong, I love the benefits of 900Mhz for calls and texts, but Vodafone's 3G coverage is pretty bad whenever you travel. Whichever network you choose they all use 2100Mhz for 3G so you won't get good indoor coverage for high speed internet. That's why 800Mhz 4G is going to be king, and why Vodafone are investing so much money in it.

Terrible. EE is the worst mobile network, they are on watchdog almost every week, and they have lost well over 1,000,000 customers in the last few months which keeps growing. They put a lot of limits on Virgin and destroyed their reputation by not allowing them to keep providing customers unlimited data. Three is the way to go, 98%3g coverage, truly unlimited data, cheapest taffifs and free 4g from december onwards for all customers

Ever since EE started 4G they appear to have forgotten about their 3G customers. I'm always dropping calls in London and data services are poor.

Well is seem that most people here think EE\Orange are shite, i have to agree....3 is the way forward for me, only 4 months left of my contract then hello 3.

Good, I'm on their VIP sim with a network locked lumia 920. Can't fault it for Unlimited calls, texts & internet for £15pm. I'm happy, just need Virgin to offer 4G but can't see that any time soon.
Windows Central Newsletter
Thank you for signing up to Windows Central. You will receive a verification email shortly.
There was a problem. Please refresh the page and try again.