VLC for Windows Phone 8.1 updated with support for m4a files and more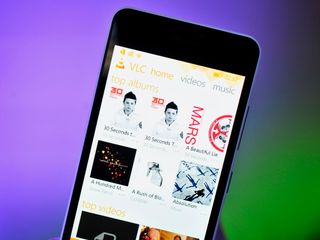 While we wait for a true Windows 10 version of VLC, the team at VideoLAN continues to support the Windows Phone 8.1 version with an update. This brings the version number up to 1.7 and has a number of additions, changes and improvements.
Here's a breakdown of what's new and improved in VLC version 1.7:
Core:
Rewrite of the thumbnailer process

Speed up of the video decoding and output, and removing deadlocks
Support of acceleration activation per-file
Faster input support
Application:
Support of m4a files

New gestures and keyboard controls
Control of audio/video/subtitle delay and synchronization
Better hardware acceleration
Support for chapters control
Support of a light and black theme
Important interface update to prepare for Windows 10
Fix support for SRT and SSA
New mini player design and widget
Fix support for Windows RT
The main developer of the VLC Windows apps, Thomas Nigro, stated on Twitter that the universal Windows 10 version of the app is still in the works and the team hopes to have it out in November. It's possible that same app could be released for the Xbox One as well.
Thanks to everyone for the tips!
Download VLC for Windows Phone (Free)
Source: VideoLAN
Good update, After long days

When Windows central launch is universal app?

I'm wondering this as well. It's ironic Wcentral is behind on their apps.

Question of the Year....( more than a year since they updated it)

Now an article will follow such as "How to press play with VLC for wp 8.1"

You're complaining about them writing too much or something? I don't follow. Surely if you don't like an article for any reason...you just don't read it?

Stupid comment of the day

Lmho! Nailed it. Thumbs up pal.

This is an important article if you know how important VLC is for windows phone. VLC is the only app that can play any video or audio files and play folders for free.

What about zooming options?

I'm working on it. It's a bit difficult because of the way we display the videos, but I'll find a way ASAP :)

Crashes on playing any video of any format shows green screen and crashes
Using Lumia 620

If you have questions, please ask, I'll be happy to answer them, BTW.

Will you update this app with swipe gestures like swipe to move forward/backward ,volume up/down?

Oops,missed the change log! Came straight to comments

Are you planning on integrating subtitle search and download? Thanks for the great work by the way. Posted via the Windows Central App for Android

While scrolling down the music list in album view the app crashes constantly. Lumia 640 with WP 8.1 denim

How many albums? Never encountered that bug :/

Not much. Around 75. Still crashing :/

In the Windows version, I still have problems to access DLNA media servers. After the fifth layer, it doesn't find anything, neither media, nor files. Also, if the request timeouts because of many items, nothing is being shown. If you then go back one layer and repeat, the items are shown. Weird.

We rely on Windows API for DLNA media servers exploration, and indeed they are a bit broken, I don't really know why. ASAP we'll use our own APIs, the same we use in Android and iOS.

Can you make it amplify the audio like desktop VLC? And why does playing video sometimes have glitches, with green colour showing up randomly? Is there a fix coming for this?

Yes, I'll add sound amplify. Green color showing randomly means the CPU/GPU didnt had enough time to process the part of the video you're watching

Oh great! Is sound amplify coming on phones as well?
One more thing, I've got an AVI file that won't play well on my Lumia 820. The video plays but the audio is choppy and out of sync. What can I do?

so whats the solution for that? Any work on your side?

Hi Thomas. Will the universal W10 app have DVD playback capability? Is this on the cards (sorry not really sure how it would work so not sure how to word the question)

It's definitely in the cards. We want to replace the old Media Center in the long term.

when I play a video, the audio goes through the phone speaker, even when I have Bluetooth earphones active. And if I have music playing from another app, it doesn't stop like most apps normally would, the music continues and the audio from the video plays on top of it (if bt is active, the music is in bt and the audio on speaker, otherwise both on speaker). is this the intended behavior?

Why doesn't VLC recognise my playlists?? They show up in Mixradio.

No sorting by "Genre" or "Recently Added?

Hey Dear, is it possible to bring Video pinch Zoom to VLC app?

It's probably a bit of a longshot (forgive me, I don't own windows phone yet) but will you consider doing a "cast to" option for DLNA? No media player does this other than Lumia Play To, which is fairly limited in functionality.

Will vlc detect files that are named 'video s01_e01.xxx' or video s01_e01.part1.xxx' and recognize them as shows with cover and description?

Hi. I have been liking the VLC for WP updates. The newest version, while it looks nice has some issues. The most important one is that when playing videos I get the audio but the video is green. Never had this issue on previous versions and it's pretty much a killer for me. I also have a few issues with audio. 1, it rarely picks up where it left off if I pause. This has been true for the last few revisions I think. This is also something I think is extremely important for a phone-based media player. 2, I have had some instances where the time doesn't begin. It plays but the time remains at 00:00. This is not always the case but it happens. I also would love to see where the default is that it plays the entire album (folder) when playing an audio track rather than just looping the same track. I am running WP 8.1 on a Lumia 635 (OS version 8.10.14219.341) Thanks

Forwarding is a tougher job in this player

What do you mean? It's hard to move in the video? Even with the swipe gesture?

swiping never worked for me and seeker bar has huge lag,means seeking smoothness is on zero level.

Even with 1.7? We worked on lot of smoother seeking and better swipe gestures

actually I am unable to play any video on 1.7 coz of crashing issue,so can't tell about seeking improvement on 1.7.but i hope seeking will be fine on 1.7

on windows 10 mobile or wp8.1? What device and what kind of videos?

I am using this player from when it released for bets testers. And i agree to @chetan kumar because the first there was forward button to 30sec skip. I liked that type of forward rather than scrolling that point. Can you please bring that feature again ???

Good to hear
Thanks for supporting windows phone 8.1 and also for reply

What OS? While playing videos? Please give some details.

Yes Thomas, while playing videos it just closes automatically but mp3 files are playing fine. I am using Lumia 520 with denim update.

Ok I'll test again on a 520 thanks

Thomas sir,we want you to update the app and provide each and every feature like an android app... Hope you will do that asap..

I'm half at computer science school and half time working at VideoLabs. Hence the fact we're not going uber fast. However, you may notice the app went out of beta and got features faster than the Android version.

Keep up the good work! Happy to see a developer committed to work for windows platform!

Thank you for the Great app sir

UPnP/DLNA playback? I don't see a way to find/browse DLNA servers.

Not there yet. We're working on it

It would be pretty awesome if one could browse to a shared folder on a local lan, like a NAS device, and stream a video file from it, SRT and all. :) Are there any plans for that?

I have some 720p avi-files that has caused some trouble previously, seemingly being too heavy to play since sometimes image freezes but audio keeps playing. Also, resuming from previous location did not work and no thumbnails. Now thumbnails are back, but VLC crashes as soon as I try to play those videos... BIG thanks for the swipe gesture!! Super feature!

I think WP 8.1 is crippled in terms of APIs when pitted against android.Even official apps has many features missing. Hopefully Windows 10 mobile won't repeat that...

Maybe you were living under the rock in the past 6 months, but Windows 10 mobile is still crippled as hell, so no, windows 10 mobile will not solve the majority of the crippled-API -> crippled apps problem in the foreseable future. You know what MSFT will say in next month (this year October is the forecasted release date of W10M) : "wait for Windows 11 mobile, we will ship everything in that version, SOOOON". Too bad even the most diehard WM / WP fans have abandoned the sunken ship by that time. Maybe including me as well.

Are you sure you want to change from WP to Android or iOs?

Any chance to play mms streams videos? Had no problem with Windows Phone 7 by playing mms streams. Windows Phone 8 skiped supporting. No idea why. Example: mms://wms.indiana.edu/ip/nmstream/wm/nz4000.wmv Thanks!

Two issues:
- Playing a track from all tracks list of an artist making the app crash.
- Pressing back button when viewing an artist's album takes back to artists list.
But have to say, it looks the best!

Still not playing well .mkv videos. Lumia 1020 (8.1 update)

Thank you for your support. The update is awesome

Sir, in the music library when we switch to songs then when you select the song none of the song is playing and the app crashes..

Plz I have a problem music player is not working and mp4 hq file is not working

It doesn't find all videos located in different folder of memory card.....app start time is slow but nice to see it updated with bunch of features

Even though the app is updated, it crashes when fast forwarding in my Lumia 625. The phone heats up. And it takes long to load.

I really love the new ui... The round album art looks beautiful.. Groove music apps should follow this..

It's crashing on my L730 while playing the mp4 videos..

Thomas Nigro,
Thank you for all your work and for supporting Windows Phone.

Fantastic! Thnx, downloading.

The pause button can't be pressed when you press the volume button.. :(

Always keep crashing after update

Good one developoer...superb app!

Now the app constantly crashes and only audio is playing. Earlier it was ok ! But the new interface is good.

" VLC for windows phone " is too big for a name shorten it to VLC !

It's not working properly. Any time I am about to watch video, it shows green blank screen, and I am not able to download the previous one. It's a problem for me because I mostly watch my video with it. They should find solutions to it.

I am happy that VLC released an update of its player for WP. But so far the experience is bittersweet. The player is faster and doesn't lag like before and also the UI looks better. But also because of the update, my playlists are gone and the player also crashes more than before.

"Gesture control for audio/video/subtitle syncheonization"
That's really great!!! Great work!!!

Crashing a lot with green screen

I cannot download vlc for l535 any help here :-(

I just want fullscreen button or maybe change aspect ratio like in pc version app. I hate the inabililty to watch fullscreen and now i want to ditch moli player because i am annoyed to reinstall it again and again and now the price has gone up.

You can download moliplayer for free. Just change your region to China and after restarting the phone download the moliplayer free version from wp store and then change the region to your country. You can use it as long as you want.

Just crashes for me on my Alpha Luxe on H264 videos level 3.1 and 4.0

Vlc for windows 10 is dead. The default video player is better. Posted via the Windows Central App for Android

After its update...its only crash and crash....no video running only green screen is appears....very bad and bugs full update....

I m not able to reinstalle it after having few issues with it
Its showing pending for a long time what to do now

Wondering if the 1-man show VLC for WP project will ever be able to deliver at least a semi-usable player before MSFT discontinues the WP8.x OS officially. I am not even dreaming about any more feature working in the VLC apart from SIMPLE playback, SIMPLE stop/pause button, VOLUME up/down and maybe Fast Forward (but that latter one is already a very naive wish). I dont even dream about properly working subtitles, or -god forbid- stable DLNA support, not demanding any kind of streaming feature. If just these 4-5 BASIC things would work without crashing any 15 seconds, I would be happy. But seems the MSFT windows phone 8.x operating system + VLC combination is not possible to do this. Sad reality about the overhyped mobile world.
Windows Central Newsletter
Thank you for signing up to Windows Central. You will receive a verification email shortly.
There was a problem. Please refresh the page and try again.