VMware Horizon Client app for Windows 10 PC and Mobile runs virtual desktops and more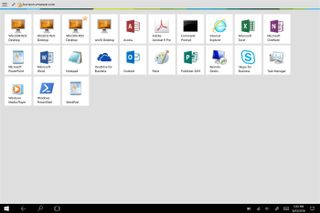 VMware has released a new Windows 10 PC and Mobile app version of its VMware Horizon Client. It allows people who have VMware Horizon 7 at their business to run virtual desktops and applications on their Windows 10 devices.
VMware, which as of this week is now part of Dell Technologies, has this to say about the Windows 10 Horizon Client app (via Winbeta):
ENHANCED USER EXPERIENCE The VMware Blast Extreme protocol used with Horizon 7 is designed and optimized for mobile users. Blast Extreme leverages H.264 hardware decoding to deliver the best remote experience while reducing power consumption.
LEAVE THE DESKTOP BEHIND WITH HORIZON HOSTED APPLICATIONS Use VMware Horizon 7 hosted applications, leave the desktop behind and run remote applications with delight experience.
WORK SMARTER WITH CONTINUUM Attach your Windows 10 phone to a monitor, mouse and keyboard through wired or wireless accessories to get complete workspace experience without productivity compromise.
Again, this app is only designed to work for customers who have VMware Horizon 7 and use a VMware Horizon 7 virtual desktop or hosted application. This is also a public beta of the app, and feedback can be given at VMware's forums (opens in new tab).
Download VMware Horizon Client in the Windows Store (opens in new tab)
Get the Windows Central Newsletter
All the latest news, reviews, and guides for Windows and Xbox diehards.
Now need a freaking high-end spec'ed Phone from Dell like HP Elite X3 or even better to create a competition.

Would Dell be willing to risk releasing a Win10M device? That would be huge support if so, having both HP and Dell promoting this new ARM based, remote x86/64 mobile productivity solution.

I think eventually they will, maybe they are waiting to see what success HP gets with it first.

possible, as Dell just recently ditched Android from their production line, and focus more on windows and enterprises as they were always.

Lumia is dying, but Windows Mobile sure isn't

Lumia was dead the day Nokia Mobile Division decided to make hundreds of models and saturate the market with useless Windows phones. By focusing on 3 key categories, namely Budget Friendly, Enterprise, and Premium phones; Windows phones will come back even better than before. Till then it's a slow and painful process to get there and could take until Q3 2017 to even see positive results

My Lumia 640XL running Windows 10 sure isn't dead but kicking some of my friends android phones ass....

I am about to get one of those 640 XL and I would like some feedback about the camera please. Posted via the Windows Central App for Android

Camera is great in daylight, but not great in lowlight. Also, due to slow chipset and OS, if you shoot multiple photos at once, be prepared that sometimes it won't save images, or you'll be stuck with endless saving screen or photos will be saved unprocesed at 1280x720. Otherwise good camera.

Just save up and get a 950 or 950xl it's entirely worth it

Nice to see an optimist like me! I've been saying for ages that MS / Nokia produced more phones than users and just confused people. They should have stuck with the, and it pains me to say it, Apple mantra of "less is more". They should have stuck with the 930, 1520, 640, and a nice little budget device. IMHO, MS pulling back was a good thing, which started with dropping a chunk of devices when W10M was released. It wasn't nice, but it was necessary. We are going to see a few more apps like this, and the Continuum feature is going to be utilised better. When you see the S7 ad, with its quote of rethink what a mobile can do, I have to chuckle because it does the same as previous generations, where as w10m doesn't! If you look at the whole picture of other OS's, they are concentrating on huge specs and yet, comparatively, they are they don't really bring a great deal to the party. We've seen the curved screen gimmick, we've seen the same design over and over. Nothing really groundbreaking though. And to top it off, its been reported in the News over here in the UK that Samsung are in a spot of bother. Their shipping / boat building branch are in dire straights, the Note 7 fiasco is also costing them a fortune as they have decided to recall ALL of them, and the Korean financial market is 'concerned'. Long live W10M

Bloody hell, did you read my comment from the Lumia is dead article. I virtually said the same thing about the approach ms/nokia took towards device releases/models.

While Nokia was releasing devices, markershare was raising. Now, when MSFT has exact devices your suggesting, marketshare is low as much as it can be.

There are other factors at play here other than just a number of devices.

The 10% share in EU5 disagrees, they should have built on that, not destroy everything and try and rebuild.

In certain markets it was above ios. Now it will be a long time coming for local app support... For instance to pay to park is now app based (where i live) which is mighty convenient as opposed to the long winded phone call automated approach as the text based method is hit and miss. That one app has had people switchout alot. People need to open their eyes and realise it's not the big name apps but the local apps. Right now in this state of flux, this ecosystem needs every single app it can get.

I totally agree. They made too many irrelevant phones like 530s, 650s and the design language got tiring towards the end. That said the 950s are as good as any phones get. And they never got any credit for it. Maybe the buggy OS screwed them bad

Microsoft bought Lumia line to secure there would be manufactory of windows mobile devices. But now they get some good partner OEM like HP and VAIO and the merging of Microsoft Devices. Lumia is about time to merging into Surface line .

Very nice! The future is on the horizon.

IOS and Android first as always. https://communities.vmware.com/community/mobile/

Of course. What do you expect? Android and iOS is 99% of all mobilephones in the market. We're glad they still include Windows Mobile in it.

iOS and Android can't do Continuum or UWP though - leaving the best till last ;-) It's examples like this that show where UWP and Continuum is positioned and elevate Windows 10 movile from a consumer phone to a professional device.

Android can, it's called Andromium OS, so do some research before talking :)

It's a third-party app solution. With no support level from Google itself, business might think thrice before committing to such tech.

Just like AutoCAD And almost EVERY other industry software is developed by a third-party yet widely adopted in the industry so long as it works and has support, both of which Andromium OS does...

But how difficult would it be for ios or android to implement continuum? Not much I guess.

It's not that direct. First the native Android or iOS phone apps were never designed with display/interface scalability built in. As such, continuum in such cases is not actually continuum per se, but just a VMware-like client, similar to remote desktop. The true continuum runs the phone's native apps in an adaptable mode such that the same app binary scales in proportion to the user interface. It's definitely a non trivial technical achievement!

Yep. dajma00 probably never used Continuum.

You guessed wrong, Dave! ;)

@dajma00 The need to rewrite the apps. So yes it is. It's not just a blow up of an app. There's more to it. Guess again..

Or go the apple route, put a phone os on a tablet and call it a "computer" lol :P.

Can you post a link or video to use this app?

Anyone know of a way to do this with a private system? Having a NAS at home for programs (for example a gaming box) and streaming programs to your devices?

I just do remote desktop (RDP) to my windows pro machine at home. Works exceptionally well and I've been doing it since Windows RT.

Well was more thinking of a way to directly launch certain applications. But in general that would work.

You can run remote apps through windows server. It's amazing and you can pin the applications as tiles on the start screen.

Very exciting. I will give this a try. Getting closer to truly being able to leave the laptop at home for business travel / meetings.

Dell should come out with a W10m phone as well

The dell venue pro (which ran windows phone 7) was pretty decent.

If this kind of thing begins to become integrated and associated with W10m, then more OEMs will quite possibly get on board. This is good news and a step forward. For example if the (likely) Surface phone is able to integrate virtualization seamlessly, it will be viewed as a new type of mini pc, which is also your phone. Thus OEMs like Dell becoming more interested. Things get more interesting by the day.

Horizon view is now a complete solution for me. With Continuum support this is just excellent. I now have access to my virtual desktops on a big screen from anywhere and simply using my 950 XL. Exciting time!

Nice and all, but this only supports RDP and no PCoIP; which is the protocol my client uses. Even worse, no clear error message is provided...it just disappears...