Vodafone Australia to begin Windows 10 Mobile rollout on March 25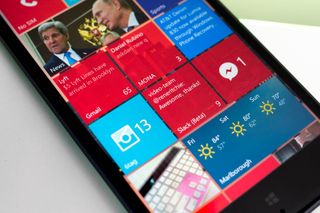 Vodafone Australia has outed its Windows 10 Mobile rollout plans, noting that the update will begin hitting four phones on its network starting Mach 25 (opens in new tab) (via MSPU). All told, the following phones will begin receiving the update on Friday:
Lumia 640 XL
Lumia 640 LTE
Lumia 735
Lumia 930
That's a pretty quick turnaround for Vodafone, as the Windows 10 Mobile update was only released to the public roughly a week ago. If you call Australia home and own one of the above phones with Vodafone as your carrier, you now have a good reason to look forward to the end of the week — barring any last-minute snafus, of course.
Dan Thorp-Lancaster is the Editor in Chief for Windows Central. He began working with Windows Central as a news writer in 2014 and is obsessed with tech of all sorts. You can follow Dan on Twitter @DthorpL and Instagram @heyitsdtl. Got a hot tip? Send it to daniel.thorp-lancaster@futurenet.com.
One day, US carriers will be like this... Or at least I can dream. +950 XL DS NAM CV

I contacted Telus for us people north of the border and it's not looking good people. http://forum.telus.com/t5/Mobility/Software-Update-Schedule/ta-p/53566

I'm w/Telus and think our chances of getting "any" update will be slim to none

The reason why they're being so quick is that they had already tested the 10586 branch through earler builds. Since the radio stack hasn't changed from 10586.0 to 10586.164, there is not much testing to be done before the actual roll-out.

Is the 930 camera video audio recording issue solved?

Apparently the update to the camera app that came few days ago fixed it for the majority of people who had had problems earlier.

Thanks, I'll check the forums

To my fellow windows phone fans who are rocking Samsung and HTC Windows phones we should have bought lumias... We are out of the W10 race before it even started :(

I have the Lumia Icon and it will not get Windows 10 officially. Total disgrace on MS part and VZW as well.

The Lumia Icon is still under consideration. But odds are, you might just have to be on insiders to get it because I highly doubt Verizon will roll out W10M. Posted via the Windows Central App for Android

Well, no - we were in the race when Microsoft lied and said ALL Windows 8/8.1 phones would get 10.

Do you want to curse MS momentarily for lying but still enjoy 8.1, or or curse them every day for a sub-par W10M experience for your device? They're releasing it for devices where the feedback was good. Sadly it was bad for some devices so they won't get it. They tried & failed, hardly "lied". Your 8.1 device will work fantastically for the next couple of years until you're ready to upgrade. You're not really missing out by not being able to upgrade.

I can finally login on the app, thanks windows central. Windows Central App for Windows 10
Lumia 630 build .164

Took me a while too. Happy though. Sent from my awesome 640 on Windows 10

It doesn't even open on 925 /.164. Using the old one

Ehh hopefully AT&T will follow soon

If only AT&T U.S. would release it soon.

is it only for Vodafone Australia or any Country with Vodafone? like New Zealand?

exactly. I'm in New Zealand and wondering when it will officially arrive here. I dont want to use the insider programme.

Vodafone operates independently in each country & do their own testing. So you'll have to wait for Vodafone NZ to do their own release

How about CV Australia? Even non-carriers don't have the update yet.

Did you download the upgrade advisor app? You can't get the update without it.

I did last march 17, afterwards I keep checking it every day

Bla vla vla... InoSanchezJr @Lumia1520

Still waiting on ATT, I mean, what kinda test could they be running? Wasn't that the whole purpose of the insider program?? Ugghh W10 L640

Yea dat, even if my 920 runs win10 much better than my 950... Just sayin

Straya for the win *******!!!!
Cant believe I said that. Australia sucks but maybe tomorrow ill have something to forget about how much it sucks down here.

Wtf are you talking about?

AT&T: Are you listening?! Live & Learn!

I'm from India. At least for once we got the upgrade before you(Australia).

Downloaded WM10 .164 official build Tuesday here in South Africa

I got it 2 weeks ago in Australia :P (Optus/unlocked, official release)

Forgot to add....Lumia 930

I'm using BLU Win HD Lte x150E but still didn't get windows10 update..!! Do anyone is having any information?

W10M has become joke now.

I am an insider first ring.I am not getting any update after 10586.107.can any one help me with this issue?

Or release preview. Fast ring is now for Redstone builds, which are at the moment only supported by devices shipped with win 10 mobile. Posted from the Windows Central app for Windows 10 on Lumia 535

If your device is on the 'supported' list leave the Insider program by flashing back to WP8.1 and load WM10 using Update Advisor app. I ended up firstly with .107 and second update took me to .164. Note only if your device is on the Supported list.

So my unbranded and carrier free 735 still hasn't officially got the update yet in Australia but Vodafone is going live tomorrow? I hope Microsoft send the update out for the non carrier branded phones tomorrow also or I'll be more pissed than what I already am. Posted via the Windows Central App for Android

That's exactly what I was saying! I am confident though that the remaining countries that haven't received the update though would receive it tomorrow (that is 1 week after the official rollout) for all non carriers and Vodafone Australia supported phones. That's how Microsoft planned the batches.

Get the windows 10 update advisor, that's how I got the updates no need for carriers

I used the windows update advisor yesterday and I got a prompt that an update was available, checked the details it said windows 10 is here, my phone was from ee in the uk, when I used the regular update check it said I had no updates

What model Lumia do you have? Is it on the official 'supported' list? Mine is the Lumia 930 which I successfully upgraded to WM10 .164 build via the Upgrade Advisor app. here in South Africa. I was using the Slow Ring Insider build .164 before my device became 'supported'. On Tuesday I 'flashed' my device back to WP8.1 and reinstalled WM10 using Upgrade Advisor. I ended up with probably a default build .107 and the same day upgraded to build .164 via Upgrade Advisor. All running well. Will never go back to WP8.1

The reason why I flashed back to WP8.1 was to leave the Insider program since my phone is now supported officially. I used Upgrade Advisor from WP8.1 to get back to WM10 .107....(default) and same day to ..164. If your device is supported outside of the insider program rather follow the procedure I've explained. Worked 100 for me at the bottom end of Africa!

Correct me if I'm wrong but a checking for updates is for the insider program if you are on insider. Using upgrade advisor is the official upgrade check. You need to flash back to 8.1 and start afresh using UAdvisor if your phone is supported officially.

Hi Dan nd all Readers, I want to know that where I can get the wallpapers featured in following links on Lumia 1520. I really really liked these wallpapers I want it for my Lumia 730 so pls if possible give me source for 720*1280 image. THANK YOU.
Link 1 - http://m.windowscentral.com/microsoft-releases-windows-10-mobile-insider... Link 2 -
http://m.windowscentral.com/windows-insiders-can-select-new-release-prev... Link 3 -
http://m.windowscentral.com/windows-10-mobile-preview-build-10536-released Posted from Nokia Lumia 730

Also when you are back on WP8.1 therefore leaving Insider, Upgrade Advisor will install the latest Denim update before taking you to the WM10 official upgrade. Hope these comments help slot of people since it was very much of a practical experience!

They don't have the 950 though and they don't sell windows phones anymore

Hey guys could you please tell me what's the latest update for windows 10 , I'm getting.10586.164 but the problem is it's not installing, it says 'couldn't download the update search on web(0x800f081f)' please give solution

On a non branded lumia 930 in Australia, just started the update at around 7:40 this morning :D
Windows Central Newsletter
Get the best of Windows Central in in your inbox, every day!
Thank you for signing up to Windows Central. You will receive a verification email shortly.
There was a problem. Please refresh the page and try again.