Vodafone Australia has pre-tested Windows 10 Mobile for Lumia 630 and 640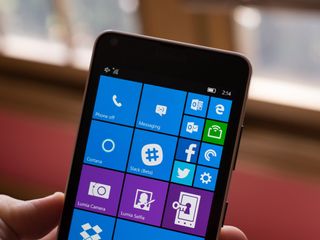 Windows 10 Mobile is getting closer to its official launch, and one wireless carrier has already been testing the OS on two lower-end Windows Phone devices. A software update chart from Vodafone Australia showed that it has completed its internal pre-testing of Windows 10 Mobile for its versions of the Lumia 630 and Lumia 640.
While pre-testing may be completed, the update chart also notes that there is no Windows 10 Mobile release date yet for Vodafone Australia customers. As we noted earlier this week, our own sources have told us that Microsoft currently plans to release Windows 10 Mobile to carriers sometime this week, and the first over-the-air updates are expected from at least some carriers next week.
Thanks to Rahul for the tip!
Source: Vodafone Australia (opens in new tab)
Get the Windows Central Newsletter
All the latest news, reviews, and guides for Windows and Xbox diehards.
They shouldn't release rtm without any makeover to the notification centre. It is blatant.

The way windows 10 is being ran cosmetics can be changed with updates

Yes. But you know first impressions is all that matters. And windows 10 will always be catching up. Because they just cant think ahead. Where are the basic features like downward progress in notification. Update notifications.

Oh no, that wont come. MS knows what we need not want, they know whats best for us.

agree action center need big impruvement. I would like to have set filter for notification and easy switch profiles (sound,volume, other settings.) --> https://windowsphone.uservoice.com/forums/101801-feature-suggestions/sug... edge gestures could be also different --> https://windowsphone.uservoice.com/forums/101801-feature-suggestions/sug... data sense app also need a big update --> https://windowsphone.uservoice.com/forums/101801-feature-suggestions/sug... and more

So that mean we will get w10 for phones this week? Posted via the Windows Central App for Android

I would be really surprised if we get W10M before the launch of the new flagships.

I think that RTM version will be bushed to Fast Ring before devices will be shipped. As I remember that Developers Preview for 8.1 RTM was ready before L930 was out, but there were no firmware updates so some features were ready for new devuces, and available later for older ones.

I've been on texting a Lumia 640 on the fast ring with Windows 10, except for the update issues, it worked great.

Actually build 10586, already available on rings prior to Fast, is taged as Win 10 mobile. So yes, insiders have it/will get it before

Did u get any confirmation??? W10m releasing for all by next week???

Which carriers which countries?? Is it only Australia. What about the rest of the world.

Wen in Ind......onisia???? LOL

Found ya. This guy actually comments. :D

I know right, I should be on an episode of Mythbusters!!!! :p
I don't comment on every article though, just things that a relevant to me!!!! Or if I want to make a stupid comment as you can see above!!!! To be honest before I become WC famous, no one notices if someone comments, as in remembers their name, unless they reply to them or they make a very good point, as is the case with me, but after the infamous comments I got, now I'm famous, shame its all for all the wrong reasons!!!!! :p

WOW that's a good news.I hope other carriers will also test windows 10 and make it available to their costumers.

Why only people that dress up in costumes? Why not all customers? :P :P :P

Well Vodafone were selling the Nokia Lumia 930, when I asked them if that phone will receive the update for Windows 10, they responded by saying they only get the updates through the manufacturer.

Lol, that is a pretty vague statement.

You mean it's a vague statement from Vodafone or me?

They said this: "We don't get to choose which updates make it to your phone, we just test and roll out any updates that the manufacturers release for their devices here in Australia. If Nokia/Microsoft send us the update for the Lumia 930 we'll make sure that out part of the testing process is finished as quickly as possible so that it can be sent out to your phones. " So this means Microsoft has not sent them the update for 930, which of course means Microsoft doesn't care.

They said that when Microsoft sends them the update, they will test it as soon as possible for it to be available. Unlike american carriers that launch Lumia 735 and Denim after a year. They seem really fast on testing w10m so I think I'll be staying with Vodafone

http://community.vodafone.com.au/t5/Software-Updates/29th-October-2015-S...

It is aus of tralia, so obviously everyone went to hit it first

I will be in Melbourne in a few weeks time. Which service provider is better, Telstra or Vodafone?

For better coverage, go with Telstra windev. They are a bit more expensive but the coverage is better.

What about non-carriers? I got my lumia 640XL from Microsoft Store. I have to wait more?

I think no. W10 for phones will be realised GLOBALLY Posted via the Windows Central App for Android

As far as I know phones that are not carrier branded get updates first because they don't need to be approved by the carriers or tested to see if they work with their apps, I got the 8.1 update on my unbranded 1320 and 925 before my O2 branded 1020....O2 were pretty good though and it came soon after!!!! :p

Idk when the apps be available.... I feel like old already using windows phone... Fuckers... & now.. Its blah blah Windows 10 mobile...put some... Apps..

Hopefully the Apps will come when Windows 10 is released because I don't see why people/developers will miss the chance to have their app on Windows 10 aka 110 million users...

In windows 10 mobile ready list if the Lumia 630 available

I've pretested it in my sons two Lumia 640 phones build 10581 and it work fine.

Only big issue so far is the storage sense bug which will be fixed next week with build 10586

You should shit daily, not next week :P

Come on am i the only one who see this horrible screen jumping in certain apps that apear two builds earlier?!? When i slowli scroll through people app and number of other aplications content is dancing around my finger like crazy!!! It lags behind my finger and then jumps ahead and back where it was quite often during scrolling, sometimes even when i stop moving my finger while keeping it on screen, content of the screen jumpus up and down around it O.O!!! I have Lumia 640 and its just as ordinary L640 as any other so it must be on all Lumia phones or at least on all L640. It apeared on i thing last tree builds and nothing helps (factory reset settings (magnifier is turned off and i dont have touch sensitive settings at all), updating again and other possible solutions). By the way its not there when i roll back to 8.1, only when i update to w10m... If they are going to release update next week, or at least new build i hope this is fixed (otherwise w10m is almost perfect and it runs great).

I wonder if Telstra have the 635 then....

windev, Telstra is good but not worth the extra money. If you were going regional, I'd say Telstra but both Optus and Vodafone will serve you well. In my opinion, over the past 18 months, Vodafone have gotten their stuff together and their month to month plans have shown a lot of improvement. I'm BYO Sim and they currently give me 8GB for $50. Hard to agrue with. Telstra would be lucky to give my 3GB for $50 a month. IF I was Lucky

FYI you replied to the wrong person

Guys... First of all we need to know that, is the upgrade coming in this week/next week or not??? Or this is yet another rumour... If yes, to which countries??? N which carriers???

I think you need more question marks?!?!???!