Vodafone: Windows Phone 7.8 rollout is delayed by Microsoft, possibly due to Live Tile issue?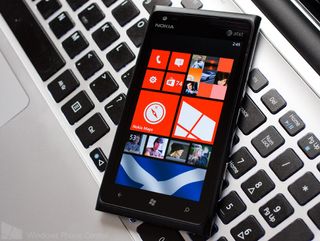 Microsoft is holding back on the Windows Phone 7.8 update, according to Vodafone Germany. A member of the community team responded in a thread on the mobile operator forum that the reason customers aren't receiving the update is because Microsoft has halted the process. Vodafone originally planned to release the update to consumers through February.
There were supposed to be four stages (or waves), but unfortunately the mobile operator has been unable to push out Windows Phone 7.8 to the majority of subscribers, leading to numerous requests for information on the matter. It's odd that the company would publicly point at Microsoft for delaying the update (though the team member in question could be incorrect), but here's the full post which was published:
Well hasn't that spoiled the party? Those who were expecting to see their Lumia 610, Lumia 710, Lumia 800 and Lumia 900 Windows Phones updated this moth may have a slightly longer wait to endure. That said, is Windows Phone 7.8 worth all the trouble? Sure, there's the new Live Tiles and other improvements, but is it not the case that Windows Phones work rather well without the update? We're sure the wait won't be too long.
If what the moderator on the Vodafone Germany forum has pointed out to be true, one has to consider the possible reasoning behind Microsoft's decision. There's a major issue with the Live Tiles (arguably the highlight feature) in the update, which we've covered extensively. Rather than pushing out a faulty update, Microsoft may well be limiting damage by fixing everything and then continuing to publish a new release.
We'll dig around and see if anything pops up.
Source: Vodafone.de, via: WPArea.de; thanks, emin, for the tip!
Windows Central Newsletter
Get the best of Windows Central in in your inbox, every day!
Rich Edmonds was formerly a Senior Editor of PC hardware at Windows Central, covering everything related to PC components and NAS. He's been involved in technology for more than a decade and knows a thing or two about the magic inside a PC chassis. You can follow him on Twitter at @RichEdmonds.
Wat a mess. Ms needs to get some better programmers.

I don't think that's the case. I've got a parallel imported 1st gen HTC WP from Vodafone Germany; and it got updated on the 1st of Feb (the day it started rolling out). Since I dont update my phone often, I actually got 5 updates that day with 7.8 being the last one.

Live tiles are pretty much dead tiles following the 7.8 update. Only my Engadget tile still lives! BBC news and WPCentral are both dead tiles now...

If you use the small tiles, they won't show any live notifications, unless the developer has updated it to support the feature. My advice: use the live tiles for the apps you need and the extra apps get the small non-live tile. For me, my phone has ALWAYS shown updates regularly, even though app launches from the start screen are now slower than usual.

It isn't the size of the tile that is the problem. It all has to do with the method used by the app to update the tile. Only one of the 3 methods has been found to be reliable. Some apps use one of the other two methods, one of which has been found to be completely broken.

That's strange, following the 7.8 update my BBC News live tile doesn't work but my WPCentral app does? Also my FFFFound and Forecast live tiles don't work but all other apps are fine.
I wish the MS fix would hurry up. I like the new 7.8 interface, didn't think I would as much as I do until I tried it.

I upgrade my laptop to mountain lion and had to update the Windows Phone connector app.
The new version checks for an update for a while but returns nothing. No message, positive or negative. :(

I sincerely suggest that you make further updates on a Windows machine with Zune/Windows Phone app. From my experience, the new Windows Phone Connector app doesn't work very well for updates, if at all.

Zune works better for OS and firmware updates, but your carrier may prevent you from getting them. If you're that impatient for 7.8, I suggest you use the manual .cab method or WPHacker's seveneighter tool.

They may be correct. I'm on AT&T and haven't received an update yet for my Lumia 900. I spent a couple hours last night trying the force update method and had absolutely no luck with that either. Maybe the update has been pulled.

You can either use the .cab method to pull the files containing the .cab updates and the language packs required or just download seveneighter, but you won't be able to use Bluetooth Share as well as changing the search provider because both only update the OS, not the official Nokia firmware.

"Currently there is a new date for it"
Wrong translation, there is a "no" missing ;)

It would be nice if they fix the buggy live tiles and also the lag which we experience after clicking any tile on start screen, there was no such problem on 7.5

I manually updated my hd7 and get this lag when I press anything on the start screen. I keep hoping that some sort of patch will come along and address this, but no dice yet.

Will we know when/if Microsoft pushes out a fixed 7.8 update? I was planning on manually updating my HTC Trophy, but talk about all of the live tile problems have given me enough reason to hold off for now.

It's good to have WP8 look and fell on ours old WP7 but Good how a bad implementation MSFT did. My WP tiles are slow as sh*t.

I can't think how Microsoft could have handled this whole thing any worse.

Glad I didn't force it! Don't know what the big urgency was with everyone wanting this lame ass update that only brought 2 features.

Actually, having forced the update on my Focus, I can't see myself going back to the Mango version. I really like the three tile sizes. It's like a new phone altogether! That being said, the issues are frustrating to deal with (I did a hard reset yesterday when most of my live tiles stopped working).

Agreed. On one hand, I was so tired of the disappearing keyboard that I had finally given in and loaded 7.8 on it. On the other hand, none of my live tiles work anymore. Even the native OS ones for Groups stopped for about 4 days. Then they mysteriously started working again yesterday. Ah well....one step forward, two steps back.

Seems like I'm lucky enough enough to have my live tiles working flawlessly on both HD7 and Lumia 610!

I manually updated my Focus S to 7.8 and my Live Tiles have worked a bit better...

Nokia emailed me the same thing, but no date. Hopefully its not too much much longer and hopefully its not the last update we receive!

I don't get it; How is Microsoft, the biggest software company in the world, so incompetent with WP? Extremely slow, super unreliable, lacks in features etc... Get a grip Microsoft! It feels that Nokia is doing all the work and you are just milking the licencing fees!! It can't be so hard to make stable, useful updates faster with all the resources they have!

MS employees are too busy battling each other. Flawed corporate culture yields flawed products.

T-Mobile Deutschland hasn't released 7.8 either so I wouldn't be surprised.
However it's still amazing how Microsoft creates and update that basically consists in changing the tiles and even there they manage to screw up.

My question. Will there be an update to fix this for those of us who received, 7.8?

Updates work on my Focus Flash.

I was wondering what happened

Well, my Lumia 800 updated to 7.8 with Vodafone UK a couple of weeks ago and I prefer 7.5. The only real difference I get apart from really annoying lag is the tile size changes. The phone was much snappier before the update. I hope they fix this soon!

my lumia 900 drains battery with no use and 3G switched off in a couple of hours its almost dead! only started happening after the 7.8 update.

People who have WP7.8 on their smartphone will receive an update that fix all those problems ?? Because I have a really late response of my tiles when tapping it and even some Live Tiles that are updated (one time out of two) only when I force them (open the app, refresh and close the app).

Experienced on HTC Titan X310e and on a Nokia Lumia 800. The Lumia 800 has been sold few weeks ago with a great price because of having the 7.8 update :)

Live Tiles that are experiencing a bug: WPCentral & Groupon.

Actually my wpcentral live tile is fine.

Probably. Except if you are on some idiotic US network that likes to skip serious bug fixing updates. AT&T comes to mind.

I hope so. This is ruining the experience to pretty much everyone that managed to grab the update before the halt and should be MS's top priority.

Well when i first flashed 7.8 onto my L900 it seemed faster, but about week or two later it slowed, some tiles went dead, and occasionally my phone freezes on the charger with the screen off, it resets a moment after I unplug it. But it's all random, sometimes some tiles come back to life, depending on if I install/uninstall a app. I'm completely baffled but want it fixed.

I have this problem also .

I noticed the Live Tile issue (tile looked like it disappeared, only showing garbled text) for the first time on my Lumia 900. But then my son showed me the same thing on his 920. Perhaps because the app he used was built for 7.x? Very odd indeed.... If it happens again I've shown him how to get a screenshot.

Microsoft has to hire more people for their WP division so they can address these issues quicker or avoid problems like that altogether.

I highly doubt MS will devote any extra resources to fixing or adding anything to WP7.x since it's been "legacied" after 2 short years..

I never got the mentioned issues on my manual install via Navifirm, so it must have cropped up after that build was uploaded. My wife has a Vodafone NZ variant (Lumia 800), no update yet.

No update in my Vodafone NZ Lumia 800 either. I was excited but a bit over it now after the wait/problems.

My Live Tiles are death too.... After the last WPCentral's update I receive only toast notification about news.

Mine work fine on the Lumia 800, only problem i have is the notification numbers (tile counts) (on the tiles, like for fb/whatsapp/viber) are square and not round like in wp7.5. Anybody else have this?

TIle counts has been changed. This is the new one.

Alright, cool thanks, i personally liked the round one better, but hey, still loving the 7.8

Actually they are square in WP8. So is by design that they are that way in 7.8. For consistency's sake. ;)

Will my Samsung focus ever going to get 7.8?

head over to XDA forums and load on Clean ROM 3.10a, works perfectly for the HW v1.3 Focus from rogers/att

Microsoft really needs to fix this. I didnt think WP7 could get more buggy after 7.5, but it did with 7.8. The start screen lag is so bad for me that sometimes my screen shows Resuming and the loading dots when returning to the start screen. Even just unlocking the phone to the start screen sometimes shows Resuming.

I get the resuming/loading dots occasionally as well going to start screen. Annoying.

Since the 7.8 update some of my tiles have been frozen, while I experienced a noticeable lag when tapping any tile on the start screen. Yet somehow yesterday all the problems have gone away, with fast responses and the tile and toast notifications appearing once again... Really don't know if it was something I did.. Hoping for it to stay this way :D

I haven't even got my unlocked Lumia 800 to get the 7.8 update in the UK yet!! Slighty annoyed!!!

I updated my Lumia 710 using navifirm and downloader.exe from xda, clean flash, ive gone from a fast bug free fone to a sluggish half working buggy one, tempted to go back to 7.5, hope MS get this sorted quick

All my live tiles are no longer updating on their own starting last Friday. This applies to all app except the WP built-in apps (Calendar, People hub, Marketplace, etc.). Even Samsung Now live tile doesn't update on its own, I have to open the app and refresh before the live tile updates.
Mine is Samsung Omnia 7 16GB.

Mine too on a Lumia 800! I didn't experience any of the problems, until Friday. WPCentral stopped updating all weekend, BBC news tile also. Really poor of Microsoft. What's more frustrating is that 7.8 took much longer to be released than stated, and it managed to get past QA. I hope its an issue with the servers that handle live tile updates and not the OS.

Instead of Waiting for 7.8 buy a device with 8.0 why stay with an Ancient, semi-abandoned platform if there's a brand new one?

Why should I throw more money at a vendor that already let me down once? Or twice (if you came from Windows Mobile)?

If I use BT and music, and someone calls, my Samsung Focus crashes. (hangs) and requires a reboot.

Lame. Been checking every day for the last month.
Windows Central Newsletter
Thank you for signing up to Windows Central. You will receive a verification email shortly.
There was a problem. Please refresh the page and try again.