WhatsApp for Windows Phone to get voice calling support soon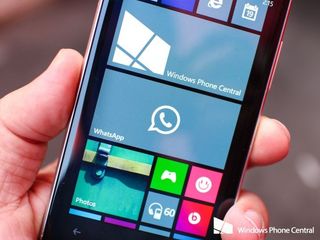 At the Mobile World Congress earlier this year, WhatsApp CEO Jan Koum announced that the popular instant messaging client would soon be adding voice services to its feature list. Now it looks like the voice calling functionality is coming pretty soon. Those who volunteer with Hindi language translation of WhatsApp received new translation requests this week.
The new strings - Hang up, Incoming call, Outgoing call – clearly indicate the upcoming voice calling functionality. The translation might be the last mile in finishing up the user experience.
At MWC, Koum had specified that voice services would first come to Android and iOS this spring, with Windows Phone and BlackBerry to follow suit. So, it might be a while before Windows Phone users can experience the new feature. WhatsApp leads the instant messaging space, but would compete in voice-calling with Skype, a signature service for Windows Phone devices, and services like Viber.
Thanks Saurabh for the tip!
Windows Central Newsletter
Get the best of Windows Central in your inbox, every day!
First,give me the update already!

Ye,,,we(windows phone users)are always last......what the hell

Well likely we will get it before blackberry...so 3rd. If we get it at the same time or last, then we should be ashamed xD

With Cortana... Maybe not. Cortana will bring developer support making us a priority in the future

No, it won't. Cortana has nothing to do with that.

Yes first give the update loaded with bunch of goodies..!!!

THE WORST APP ON THE WP ECOSYSTEM!! IT'S C R A P..... First work on all the issues the app has and then you should work on new features. WHATSAPP - WINNER OF THE CRAPPIEST APP ON WP.

Why so much hate! We should be happy that all major players are looking on WP now!

We always last to get any whatsapp update why even bother to mention.

We haven't still got the update to hide last seen, i just feel like they don't even know bother there's wp platform as well

Guys you must understand this is business, windows phone sells cannot be compared to android or ios. Even if we were on their shoes we would do the same thing.

i think the issue most people have is that they keep adding new functionality to the beta, without pushing it to the users. Beta has had numerous new features added over the past few months, but we haven't seen a single one of them

The public update would be pushed in coming couple of weeks. It looks like. Beta version is much more stable now and would be live soon with loads of new featues. A very few crashes too. Its just a matter of weeks.

And i would just request not to post anymore new update about beta WhatsApp, it simply boils the blood

Not just WhatsApp, but Spotify, Instagram, FB to name some...

YAY !!
Abhishek when do you expect it to come ? Weighing the small team size, when can we expect it out for WP ?

With all the developments in BETA currently I can see, we can expect a complete stable build being pushed by the end of April if everything goes well.

the was so much hate and finally there is an exited person like me , those hating comments let me down

Even Symbian got that 'last seen' update. Its humiliating. Also WhatsApp crashes..,so much..

At first i thought the update is available for download.. Bt no.. *sighs*..
But its good to know that voice call is coming soon..:)

This "COMING SOON"status is mostely COMING LATE on windows phone

Atleast official Flipkart app for Windows Phone is available now Posted via the WPC App for Android!

Thanks for sharing this.... just downloaded

Blabla...we will get it, nobody knows WHEN. Asking asking blabla...complaining...blabla... To me, WhatsApp gets less and less important. At least in germany people are looking for alternatives because of the privacy issues and facebook.
Whatsapp was great, because everybody had it, now i have to check which app i can use to contact someone, or i simply send a text msg and done :)

I'm from Germany and I give a shit. Wanted to use Telegram (Migram), but the only people I found there were already talking about switching back to WhatsApp.

*only in Germany FTFY. Germany is a paranoid country rg privacy. WhatsApp will be around for a long, long time.

Well, given their history, can't say i blame em for being sceptic about what's happening with their personal data etc.. Civillians in other countries would be wise to do the same. Just question WHY a company or, even worse, a government, would want to know every single thing you do.. And how/why it would be in YOUR benefit?

Where the hell is the update???

First give update for sending audio and video option.. And fix the crashes issue after that u give voice cal feature.. WhatsApp Going worst in windows phone..

Dnt just keep talking give us the updates.. We ant stupid here... :-S

First u guys make it stable , crashes almost all the time in my l520 .

Runs ok for me. But even with text size in OS turned down the text is pretty large!

This is going to effect Whatsapp badly in the countries were they banned viber because of this feature.

I also got a string to convert to from English to Hindi.it said cannot use this file.corrupt or unsupported media.
so i suppose we getting more deeper access in whatsapp

Error 404: update not found

So tired of hearing about what's coming. Wp8.1 then maybe we can add music to whatsapp

ahhhh...stop posting this coming soon stuff...now its just got irritating.....

It will be in the beta on WP for 10 years first.. I'm seriously annoyed that they haven't released the update yet.

Same here, can't even see old messages!

I agree.. They are not giving windows phone priority

The beta is like years ahead of what we have now. I would be happy with it.

ABHISHEK BAXI those stringsare for android devices, not for windows phone. You can see "screenshots" tab on top right, but wp doesn't have this tab. Do you want full screen? See here: http://translate.whatsapp.com/?next=/it/Android/edit/512300 http://translate.whatsapp.com/?next=/it/Android/edit/512301 http://translate.whatsapp.com/?next=/it/Android/edit/512302

He has already said that in the article.

Where? o.O On bottom of article there is only a general advise reported from MWC by Jan K. New translation requests are for android, not for wp.

It is indeed not fully clear, that Abhishek (and the translations) are for Android. Actually he doesnt say, it comes to Windows Phone, but first I thought that, since this is on WPcentral... So Calls are coming to Whatsapp in general, but no word about WP...

Exact. So no real news since we already knew that in a first moment the calls were released for ios, then Android and then for the other systems. If he want to write a clear article need to specify because WPCentral is a site about WP, not general site.

I just noticed that in the title there is writte "Whatsapp for WINDOWS PHONE..." so he does not only generally write Whatsapp gets calls but he underlines that WP wilk get it soon... And WMPoweruser just copied it...

I think nothing that we want to update has been updated e.g. Phone OS, Skype, Facebook, Skype, Twitter, Facebook Messenger, Skype, Whatsapp, Skype.

Day 89: Still waiting for the update.

People like you should be banned from commenting.

Waiting for the update since January, they seem a little bit slower!!

As slow as a turtle for WP while as fast as a rabbit for IOS & Android

Arg I want that purity pro app (for my purity pro obviously) but I don't have a Nokia windows phone...

No background image change, last seen undated.
sucksss wp,WhatsApp.
i never buy again wp,very poor review,it will be really bed experience of me.

Take care sweet dreams Rest in Peace...RIP

Do you know what rest in peace means? What a dufus.

With all the money they have, they still keep exploiting poor monkeys instead of paying some real developer...
I hope PETA will say something about this!

@All.. Sorry if Out of topic.. I want ask a problem...
I know privew developer WP8.1 is coming 14th April..
but. i want ask a feature In WP 8.1. Screen Recorder?..
Will Available in WP 8.1 or not ? please answers Anyone. thanks A Lot for all .....

Ever heard of friggin FORUMS?! I guess not.

no, he didn't.... like many others! it seems people haven't heard of search machines yet. i am always open to help people when they are in need, but in these cases i just get angry!

Lolololololololololololo.. So many people like me

of course we have to wait longer then the others (ios, android) but in my opinion the sadest thing: why can't they simply deliver in the mean time all the other features (background, etc)? but no they want to make a mega update with a lot of bugs (after the release certainly there are updates every 2 days) and we have to wait EVEN LONGER -_- so annoyed by whatsapp and their soon

When will functionality come to WhatsApp?

Now it seems slower....errr..the update rates I meant

GIVE US THE FREAKIN UPDATE ALREADY!!!!

First give us wp8.1update , cant wait microsoft

It's so stupid to read about new features on beta without getting any functionality for the real app. It's like reading a book to learn how to drive without getting into a real car. Totally useless. Give us the update already! At least, give us the features that are on beta channel for months. Haven't they tested long enough to add them into the mainstream app? More like Facebook killing off WP support. 4 years into WP and no full featured FB app from the company itself.

It crashes every single time I open it... So first give an UPDATE FOR SOLVING THE CRASHES!!!!

This is my main complaint with windows phone , we always get everything late. Microsoft needs to put more pressure on devs to release apps and updates on time. Why must we wait 5 months for an update or app

I hate the word "soon". Lately, everything is coming "soon".

Whatsapp will add in the new updat..... "SLAP"

As of now i am waiting for the long awaited whatsapp update that brings auto download toggle.

Go to hell Whatsapp!Just how many fuckig months are we supposed to bear with the shitty crashing featureless App!

JUST GIVE THE UPDATE!!!!!

Maybe they should plan to come to WP first. That way they could trial it on a smaller user base before rolling out to the other platforms ?

This, this this this, thiiis, and this, oh and that is COMING. in 2015.

Still coming soon??? -.-"

I'm sick of waiting for updates on WP to reach a similar experience like android and IOS !!!

I'm so tired of hearing about what's coming to WhatsApp. Update the WP app already!

Sure What'sApp. Sure. Waiting for the announcement that What'sApp will leave voicemail with Cortana using a Darth Vadar voice.

I wanna be able to send audio already!!

It will come next year on WP os...

I will be disappointed if the next release won't be integrated with Cortana. I want to say "Cortana, send a whatsapp message to my brother and tell him I'm on my way".... Now that, would be worth the while of waiting this long...

It's been... 84 years (since we got our last update)

-Cortana will the update be released soon? -Yes, after me saving the universe, in 500 years. Not big deal.

Update will be released tomm.

can u tell the source....its long people r predicting the release...

Whatsapp should be changed to WhataCRAPp for Windows Phone!!

i rather they just fixed the attachments, i want to access my skydrive folders

Give us the update already.! Users are tired of waiting for these promises you make.

I'm also upset that WhatsApp for WP is not receiving updates like Android and iOS. But I'm sticking with it, because the whole world's on it. I will remain loyal to WhatsApp! And these updates will come eventually!

soon, soon, soon, soon...

Been hearing this "coming soon" bs for longer than I care to remember.
These guys should team up with Skype team and create the drag ass slowest lazy developers club.

I thought SMS was the leader in the instant messaging space.

We'll probably get this Whatsapp update the year after NEVER .. -__- I've resorted to using WeChat as a substitute for Whatsapp because I just can't bear the pain of facing the current dull Whatsapp version ..

The voice calling functioality is not even pushed to us, the BETA users. So people do not expect is real soon. Even BETA users are awaiting this feature. Rest features may get rolled out soon to public update, a more stable build with very less to no crashes.

Is it so hard to copy exactly the android app and port to windows phone? This app, the way it is, it's just impossible to use. Crashes everytime: if there's more than 20 messages; if there's audios, videos; basically everytime you need to use it, it crash. It's hard to change to another app (viber, line, etc) because here in brazil (by the way, don't come to brazil for the world cup!!!) everybody uses whatsapp. It's rare to find someone using another messaging app. Anyway, I really hope that the facebook team lookup for us WP users and improve the app to fit the system properly.

First give audio sending option in whatsapp for windows phone.............................................