Voice Commander: Play this game on the Xbox One with your voice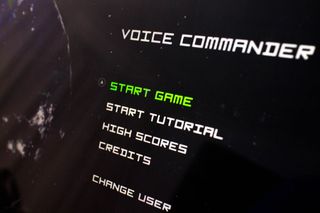 If there's only one game you should play today on your Xbox One, it should be Voice Commander. It's a fast paced, space themed, top-down shooter, but a lot of the gameplay relies on your voice. We've been playing it for a bit already. Check out our gameplay video.
You can move a tiny ship with your Xbox One controller, but the big weapons are controlled by your voice. You can build different turrets on four different locations on Earth. An example command would be, "build laser turret in Alpha quadrant," but that can be shortened to "build laser turret Alpha." You can also move a bigger ship, called Vox, which flies just above Earth. A sample command is, "Vox move Delta."
There are other commands available to help you stop the relentless attacks. You can use shockwaves, nukes, and gravity bombs, and missile blasts.
Voice Commander can be played with up to eight controllers, and anyone in the room can issue voice commands. It's definitely a unique experience on the Xbox One. Since it is a free download, there's no reason not to check it out.
Voice Commander – Xbox One – 369 MB – Free – Xbox.com Link

(opens in new tab)
Windows Central Newsletter
Get the best of Windows Central in your inbox, every day!
This means you can't play with a kinect right?

Looks like little sperm cells trying to break into an egg. Her voice is sexy as hell as well! Microsoft,what's going on here?

Now that you've mentioned it, lol you're kinda right!

I don't feel like shouting to play a game

Clearly I have to or I wouldnt have said that

Ever since I moves to my new house kinect works like that. It cant cope with big rooms and hard floors

Buy a rug and a beanbag. Then you can sit closer, and stop shouting :) *maybe*

But I like my couch :( I just pretend I'm barking commands to a dog. Haha

This is not bad. It's actually kinda good. Use that Kinect MS! And make use of my rumble triggers while your at it guys!

Tried to play Peggle with my hand. Failed! Should I try to play a game with only my voice? We shall see.

It's not only with your voice. You control your ship with your controller. You command your buddy "Vox" with your voice.

Yes there are achievements

is this shit US-only? can't see it for donwload here in Brazil, and when I put my XbO in USA for it to appear, it requires a US credit card, even being free. why? MS and it's regional bullshit.

Can't see it in Canada either.

Got it here in Canada fine!

I suggest to change your region to somewhere in the US. Just suggesting though. :)

People shouldn't have to do that though.

I tried, but even being free, it requires a US credit card registered, with a valid US address.
Microsoft fucked up logic.

Got it was fun and challenging!