Voice Controlled: A guide to using speech with Windows Phone 8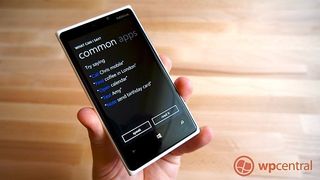 Speech has always been a part of Windows Phone and it has offered some nice ways of interacting with your handset by using your voice alone.
We have put together a guide that should suit those that are new to Windows Phone and also to those that have upgraded to Windows Phone 8. Interacting with voice recognition and commands can be a powerful and time saving way to use your phone efficiently and even safely.
There are a number of ways that interacting with your phone can be very useful but the most obvious example would be while driving. The last thing we want to do when driving is sit and hold the device typing messages, finding someone in the People Hub to call or so on. It's far too distracting and in many places now totally illegal.
Windows Phone can be configured to read your text messages back over headsets and hands free kits and also lets you respond to instant messages and much more. Before we get into that we'll need to setup the device for speech.
Getting your phone ready for speech
You'll find the options under the main settings menu, just scroll down and click on speech.
In here you'll find a few options, one you may want to tick is to be able to do certain things when the screen is locked. If you have this enabled you'll be able to call/text a contact without having to first unlock the device. Whilst this does dispense with the process of unlocking the it won't just be you that can do this, anyone who has your phone will essentially have these abilities. It's more convenient but also less secure, you can decide which suits your needs best.
Within these settings you can also choose whether the phone will read incoming messages to you as well as the allowing you to choose a male or female voice.
You'll also need to specify the language pack that the phone will use to enable speech recognition, there are 15 options to choose from. Lastly you'll need to put a tick in the box to actually enable speech recognition. Now that's done its time to get cracking with some of the commands, press and hold the Windows Key on your phone until it engages the listening mode... uh, not so fast…
You'll need to download and install your language pack...
Unlike the previous version of the operating system, Windows Phone 8 needs an extra few steps to get up and running.
If this is the first time you have tried this on Windows Phone 8 you'll get a notice to say "Speech is off until your language pack has been installed". Oddly here you'll need to re-select your preferred language which then kicks off an update to the phone. The UK pack is only 21MB for instance but once that's downloaded the phone has to install it and restart you phone. It's a fairly lengthy process that looks more like a major system update rather than a simple plug in.
What can you say?
Once you have installed and updated your phone you can now simply press and hold the windows key to put the phone into listening mode. You can click on the question mark icon on that screen to get a list of commands you can say. It will also read them aloud if you so wish.
Windows Phone 8 doesn't actually list all the things you can say, only a summary of common commands…
Call Chris Mobile
Find coffee in London
Open calendar
Text Amy
Note send birthday card
Expanded Calling Options
Call Chris
Call Chris, mobile
Call Chris on speakerphone
Call voicemail
Redial
Finding things using voice commands
Find Coffee in London
Find weather in London
You can also start apps using your voice
Open Store
Open Calendar
Open Hotmail
Windows Phone 8 speech improvements
Transcribe a note directly to OneNote
You can now dictate a OneNote entry directly to you phone by saying "Note – I must email my boss" or something similar. You can do this directly by just activating the listening mode, it will then create a recording and insert it into a new OneNote section and even transcribe what you have said to text. Like all speech to text you'll need to speak clearly and see what works and what doesn't. On the whole it does a pretty good job of transcribing my mad mutterings but your millage may vary.
Transcribe an email message
Now you have installed the language pack you'll now be able to dictate emails too. Simply launch the email app and create a new message, you'll be able to dictate both the subject and the email itself by using your voice.
All you need to do is click the microphone icon to start talking; the phone does a good job with this but will only let you transcribe a short paragraph at a time. You'll quickly get used to how long you can speak for before it cuts you off. Compared to actually typing this can be a real time saver. If only the phone would read incoming emails and offer up the ability to reply too...
Talk to your apps now!
Apps on Windows Phone can now use voice commands. Two of note are the Audible App and the Red Bull App. To find out what apps can use voice commands simply press and hold the windows key to enable speech then click on the question mark icon and scroll across to the apps section which will reveal how to interact.
Wrap up
As you can see there are some great ways to interact with your phone using voice. Much of what we have covered here can be used with Windows Phone 7 with the exceptions of dictating notes and emails and interacting with apps. If you haven't used speech much then it's really worth taking some time to try and incorporate it into your everyday routine. Responding to texts and dictating short emails can be such a time saver and allow you to do other things at the same time.
We'd love to hear from you guys to know how you're using Speech on your Windows Phone and if you have any tips and tricks please share.
Windows Central Newsletter
Get the best of Windows Central in in your inbox, every day!
In Polish voice controls are limited to only "Call [contact name] and "Open [app name]". Still better than WP7 which had none for my language.

Rarely used but glad I have it.

I feel the same way about my Johnson.

You can reply to emails if you have a microphone headset. In fact, when the email comes in it gives you the option to listen to it and reply, and then you can speak out your message.

How do I say SEND DAMN SMS rather then me having to press the button?

Say "text (contact name)" It'll go into the SMS with that person in the subject... Then ask you to say your message. Say it... Then it'll read it back. Then say send.

This is one of the biggest things that edges the Lumia over my HTC One X. I love being able to hear messages and respond without picking phone up when 'i'm driving.

can only nokia phones read out emails? and is german supported? would love to just play them back whenever i want to, for example when washing the dishes you can still get stuff done :)

I used this a LOT yeaterday on my drive to my mom's. Had a FB chat with a friend in Germany. It's remarkably better than Siri.

Text messages, yes. Emails, no.

It's times like this I curse me feckin Irish accent.

It don't seem to like Cajun accents either. Even though mine is minimal.

I try to talk like Luke Skywalker or Han Solo to overcome the issues with my east London accent. Give it a go! :) RB

Hell, I'm from NY and it doesn't understand me sometimes..

Should be a lot better by now.. But it does a good job..

Any options for music controls by voice?

There's an app called Hey DJ! that lets you open music on your phone with voice commands and it integrates with the start button so you use it just like any other voice commands. No reason to even open the app. Its nice.

Perfect! Thanks for the info. :)

The first comment by the writer of this article is nog quite correct. speech has not always been part of windows phone. I have a titan I with windows phone 7.5. After over one year I have yet to see this feature support in the Netherlands. It is time microsoft wakes up and does something about this. I also believe speech support will not be supported correctly in Europe. It's also time something is done about this.

Yes, I hope that wasn't too misleading, some speech wasn't available in other regions and is patchy even now in places. Sorry I didn't reflect that, I intend to write up a post on the disparities in the WP eco system very soon. Windows Phone is far from equal, really depends where you are in the world, if your in the states you're going to get everything. RB

Sounds great Mr Brand, looking forward to the article and hope you can showe it down Microsofts throat. Scandinavian language support is non existent, but the Finnish should see some love, or maybe even have that because of Nokia already.

I have used these features daily since WP7.5 and have now since getting my WP8 L920 have incorperated my ability to open and resume playback of Audible books.
Granted as a daily user I have trained myself how to speak so that TellMe works best and for that I probably have a 95% accuracy when dictating Text messages. The new "Add More" feature is great and really is major improvement.
I did make the mistake of reading this article and thinking I would like a pleasant English(UK) voice to tickle my American ears and sat through the download and reinstall of the language pack (about 15 minutes). It sounds good but now people here will think I way overuse the letter U in everything. I'll leave it like this for a week or so and see how it works out.

Does it have Portuguese Language?

Yes, but only for non cloud reco scenarios : call..., open... And 3rd party applications which implement voice shortcuts.
Voice search and SMS dictation is not available for Portuguese.

I had no idea about the speakerphone option, even in WP7! SWEET!

I bet you didn't know you can say in a text or email "smiley emoticon" either :) or cow emoticon for that matter...

I just found out that Urbanspoon supports voice commands too. The examples it gives in the help are pretty bad though. I got these to work: "Urbanspoon, find Mexican"
"Urbanspoon, find Chinese"
"Urbanspoon, find lunch"
"Urbanspoon, find dinner?" It's a pretty slick integration. It'll be nice when more apps support this!

Audible implemented voice commands as well.

I haven't typed a single message on my 920 yet. Voice commands all the way!

I knew about most of this but I didn't realize you could use the voice control to open apps. Thanks for the info!

Try saying help or "what can I say"

Been using the 7.5 voice features for a long time and I love them. One thing I've never understood is that when using the "call" voice command, the confirmation merely tells you who who it thinks you want to dial and informs you that it's dialing them. If its misunderstood the name and identifies the wrong one, there's no way to tell it to stop dialing. On Windows Mobile, it worked better because it would read back who it was going to dial and ask you whether or not to continue. I don't know why they dropped this. I've had to scramble many times while driving to reach out to the phone and hit "cancel", when the phone starts dial the wrong number. Not very safe, and odd considering that this feature is supposed to be used in exactly this situation, when hands on isn't recommended. Any changes to this in WP8?

Yeah, I miss that feature from Windows Mobile. I also miss the ability to play music which was built in on Windows Mobile.

If you want to dictate full emails with punctuation, etc...use the Say Mail app. The built in email dictation is really only good for quick replies...

Is there a way to say "Text [name]" and have it use the preference of Messenger or Facebook instead of SMS?

Speach is pretty weak. Lets face it. This needs to improve to compete.

You're pretty consistent with the troll comment whenever someone has a valid opinion on something? The comments you so easily negate are not troll like at all. Perhaps you are the troll? Comparatively WP voice commands are minimal. They work well, but are by no means as extensive as Siri or apps on Android. How about researching before you just label someone a troll.

Your English isn't any stronger. It's "speech," your Reefness.

After you click the question mark and pan over to Apps, you can actually tap the name of the app to get a much bigger list of examples that the app supports. Really undiscoverable but useful feature.

I hate the speech's inability to add appropriate punctuation. Annoys me to no end. Also... I should be able to dictate not only in mail... But in any app. Also... I should be able to go to a website from my home screen.

I know - the inability to add punctuation is kind of pathetic. embarresed to text my friends with such leading edge technology....lol

Having an issue when I'm Bluetooth connected in my truck. When listening to music and a text comes in, everything works as normal but then music comes back on through phone and not Bluetooth. when I check settings, it says Bluetooth connected "voice", but music is off. Have to turn off and back on before it works again. Any ideas?

Nope nope nope... This won't do. I want this:
http://youtu.be/iB6pWs46GY8

THAT is brilliant. I want that too!

Can WPCentral take a screenshot of full list WP8 speech language?

Is it possible to use voice commands within Nokia drive? Typing out and address or location while typing is a big pain the butt and is one of the reasons I really like google maps on android.

"To find out what apps can use voice commands simply press and hold the windows key to enable speech then click on the question mark icon". I don't see this icon?

I found the question mark icon, but it didn't appear as described. When I held the Windows icon, I had a screen pop up that had text "What can I say?" with a list of about 5 examples and a "Speak it" button at the bottom. But if I held down the Windows icon again at this point, I got another screen that had the question mark icon "Listening", and Go button. I could now press the question mark icon as described. I was able to duplicate this a couple more times, but now I can't and it goes directly to the "Listening" screen.

Too bad there is no indonesian language pack available ..Bummer :(

Anyone know if you can change the default navigation app on the Lumia 920? When I use the "navigate to xxxx" command, it opens AT&T drive and I would vastly prefer that it open Nokia Drive.

that command doesn't work for me on my htc 8x with nokia drive installed as the only navigation app. it's possible it's an at&t drive specific voice command so it would only work for that and nothing else.

I really like the text message read/reply, but is there a way to turn off "You can say..." because I'm pretty clear on what my options are at this point... many thanks.

Hi, I want to delete a language pack which i downloaded and don't want to use it anymore. Is it possible? if so it will save my storage space..
Thanks
Badhri


Hey did u find a solution ?

One thing you forgot: In order to use speach anything on a MS phone, you will neec to allow all of your spoken words, including cotacts and details, to be sent to MS. "If you acept [accept to use speech options on MS phones] the words you speak and supporting data, including recent contact names, will be sent to Microsoft to provide and improve the speech recognition service." You do not have the option to opt out. Acouple of other concerns too. MS phones give you the option to NOT sync wiith all of your other accounts, such as Google or Facebook, but that option is not available for the Microsoft account. So any private numbers, such as confidential business contacts, you have in your phone will automatically get uploaded to MS also. In other wrods, you cannot stop auto-syncing with MS accounts and those accounts that automatically sunc to MS, such as Skype. (I current have no MS account linked to my phone, and I never will, ever.) This means I have very limited functionality with a phone I bought. In reality, Microsoft owns your phone in that you can't use it to it full poetntial, and either allows or denies you access to many of its functions without a MS account--that automatically takes your information and gives it to MS--without the option to deny it, or turn it off. Nokia made a good phone, but the MS system will eventually kill it. The only thing that will save the MS locked down phone is the ability to root it, rip out all of the MS garbage, side load apps when and from whom you wish, like stand alone speech recognition apps, all without giving your life to MS. In other wrods, freedom and privacy will prevail at some poiint.

Download Hey DJ app and you can use voice control to play your music when your in your car with Bluetooth.

HI I am using Nokia Limia 720 with English UK.. But I dont see seak option when emailing.
Also "text contact name" doesnt work...(I hv latest version of windows )..
any help? regards// Rakesh

Windows Phone 8.1 doesn't let you add punctuation to a text given through speech????? How useful.
Windows Central Newsletter
Thank you for signing up to Windows Central. You will receive a verification email shortly.
There was a problem. Please refresh the page and try again.