'The Voice' Windows Phone app is live for your music artist voting needs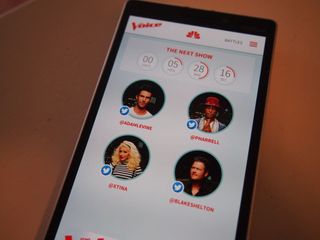 NBC has launched the official Windows Phone app for its hit music competition show The Voice. The app allows viewers of the show to, among other things, vote on their favorite contestants during the current season.
The Voice, in its US incarnation (the show actually originated in Holland) first started in 2011 and is now in its 8th season on NBC. This season's lineup of judges and coaches include Maroon 5's lead singer Adam Levine, country artist Blake Shelton, pop singer Christina Aguilera and R&B artist Pharrell Williams. Here's what Windows Phone users can expect when they access the app:
Keep track of your favorite artists through the season
Share your choices on Facebook & Twitter
Tweet the coaches right from the app
Make your own picks for battle winners and steals
Suggest songs you want the artists to perform
We're still waiting for the other big TV music competition in the US, American Idol, to launch a Windows Phone app.
Download The Voice from the Windows Phone Store (free)
Windows Central Newsletter
Get the best of Windows Central in your inbox, every day!
Dude I can't believe this isn't just a web wrapper :O. This is legit! What a great UI too!!!

I was expecting the karaoke game based on the show :/

This is seriously surprising❗❗
......
Now, all we have to do is keep them around... W10 can't come soon enough...

Windows phone is not all doomed after all

No.. Not yet... But, MS still needs to be pushed in the right direction by fans, the media, OEM's, carriers, and it's shareholders...
.........
There's a lot of work to be done when you start from point A every year..... The good thing is that MS gets (a little) smarter everytime they do start over... Just hope this is the one time they make it happen...

All it took was a "The Voice" app to change your outlook?

Nobody has a different outlook.. Well, at least I don't... MS simply will not succeed if they do not improve upon marketing here in the US.. This is something that is crucial, and simply has to change.... It's just as I said it in my comment above..
..........
What outlook do you think I had before❓ Everything, and anything, I've said in the past still stands because nothing yet gas changed...
Don't fool yourself.

I like ur pattern of ur comments !!

Respect.. We should all download to show support for new apps

Agree... Because these kind of apps for Windows are rare.

Great minds think alike..

Yup...c'mon people..download it and give it a whirl...can't do so myself though cause my region is India... :|

Okay to download and uninstall? Do they know if you uninstall?

No, developers do not know if you uninstall an app. They do, however, know how many times you installed it.

They know if you write about it on the internet.

I don't think they care much about how many downloads, but rather the number of people who are using the app.

Just saw this and about to download for support

I'm not from US but ill be downloading this. #SupportDevelopers #DownloadTheApp #ClickAdsOnceADay

Apps coming and leaving. Nice.

Don't care for the show, but always nice to see support.

Please vote for this!
https://windowsphone.uservoice.com/forums/101801-feature-suggestions/suggestions/7229501-start-screen-windows-10-for-phone-like-start-menu

This article is not the place for this crap.

Seems too long winded and unintuitive

Stupid idea personally and not the place to post this. For both those reasons, I won't vote. Don't spam here

Sweet! Always great to see tv shows supporting WP. I actually do watch the show so I'll definitely use it.

Notifying my wife right now!

Originated in the Netherlands*

Thanks NBC for further supporting my wife's addiction. A happy wife is a happy life!

Not my kind of show but I downloaded and will vote just to show support to the platform.

I'm in Europe but I'll download just to show WP users care!

Praise these guys for thinking of the 2.0%

Don't watch the show, but I'll download it to support new apps. Also new today NCAA March Madness - this I will use!

Downloading in support of WP and The Voice.

I don't think they care much about how many downloads, but rather the number of people who are using the app

US only what not ctv support typical BCE

Hope we get The Voice UK some time down the line.

Ha, with the Apple bumming corrupt BBC involved? More chance of Apple making the next flagship Windows Device.

Just need one for the UK :)

I'm not waiting for American Idol. That show sucks like a Hoover. The Voice on the other hand, is awesome.

Download this even if you aren't going to use it, to boost download numbers!

Quick... Someone show the BBC to get a UK version before the live shows start... :)

I downloaded this, not a huge voice fan, but it is a pretty good show. Might start watching it now. Those that support what I like will be supported.

I hate these types of show but this is great.

Just hope it doesn't get pulled

I love it every time I launch the app. Hehehe

Wow... I love the UI of this app. It's sooo out of the ordinary. It's very rare that I've seen this kind of sophistication in the apps I have downloaded. Super great!!!

Yay! But will they(NBC) have the guts to promote it on national tv... Hmmm..... Also hoping that push will actually let the west coast (instant save) votes count...

With only 3 MB of download size, everybody should just install it even if they're not following the show.

Really like the app. It stays in sync pretty good with the show even though I'm in mountain time. And NBC is actually advertising the download app on their site.

Voting on these shows are very suspect. Nice support though.