Vote for WPCentral in the Nokia Conversations March Madness contest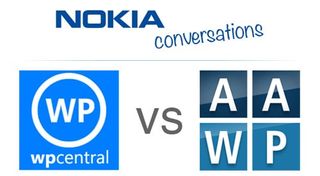 If you're not aware of the positive news this week surrounding our Windows Phone app, we've been nominated for Nokia Conversations' March Madness contest. The WPCentral app is in the "news & entertainment" category, and you guys requested an update as to when you'll be able to vote. The time is now, fellow WPCentralites!
Be sure to head on over to the Nokia Conversations' article to vote for the WPCentral app, should you wish to do so, as we're up against All About Windows Phone. While we're flattered that our work has been considered for the contest, we do have a secret desire to win with flying colours. On a serious note - we thank our readers for continued support and wish every app the very best in this contest.
Source: Nokia Conversations
Rich Edmonds is Senior Editor of PC hardware at Windows Central, covering everything related to PC components and NAS. He's been involved in technology for more than a decade and knows a thing or two about the magic inside a PC chassis. You can follow him over on Twitter at @RichEdmonds.
WPCentral is currently up by 15%! Let's stretch that lead!

WPCentral is almost up by 40%. Hell yeah :)

Voted. WP central up to 67%

Oh crrap were only up 19%

Done! WPCentral at 62.21%.
Come on guys ... Let's push WPCentral to 99% :)

Voted for this great app!

*shakes fist at spotify* damn you for being US-only!

Where else can you get it? Canada? It's not available in Australia, and I think the UK too (last time I heard)

It's here in Sweden, maybe because it's a product from our country?

Done voting. Actually your app is definitely FTW in news section even if there's no vote thing.

just voted: Thank you for voting! AAWP 41.02%
WPCentral 58.98%


I don't get it...AAWP is soooo slow. They barely ever put articles out. How is this even close?

The AAWP app is really quite good, it's simplistic, fast and quite feature rich. I have a lot of respect for Rafe and the 'AllAbout' sites

It is a very nice app, no denying. I had it installed for quite some time, but after realizing that it was rarely updated with news stories, I didn't see the point in keeping it.

Just reinstalled it, and I guess I may be mistaken. When I had it before, it seemed like there was only one article posted every few days.

AAWP is a relatively new site (about 6 months old) so they are still building their base; the site also kind of served as a launchpad for former Symbian users, familiar with their sister site, who transitioned over to WP. That team is extremely versed in all things Nokia, and branched out to bring WP news to include Nokia, HTC, and others, as well as Microsoft news.
It's a good site, but so is WPCentral :)



Well wpcentral still up by 15% :D

Done , over 57% at the moment

Voted as soon as the link was posted. Now where is my "I just voted" sticker. :D WPCentral ftw

U beter know it. lol WPCENTRAL is the best we got the best in tha bizzz :P

Wer can I get the CNN app there to many who makes the one I should download

Vote posted......Viva WPCentral

Just voted. Currently AAWP - 37.09% and WPCentral - 62.91%

Voted, your app is a drug for me :)

Voted... Wpcentral is a must have

Just voted and WP Central is back up to 64.54%.
Glad to see that Wordament is busting HD Golf's balls also.

AAWP. Is a great sight and the app is pretty darn good too. Not as good as wpc app sad that in the first round that it had to be both apps going at it. Just saying I enjoy both apps. WPC is the better app

I love WP Central but it's .99 for the app. AAWP is smaller and offer a free app. Just on that alone makes me want to vote based on value. I don't mind having an add support one give me that option. I am voting AAWP just on principle.

For those who have a hard time scraping up 99 cents, the WP Central app does offer an unlimited trial. Also you have a weird sense of value, if you value constantly updated content and other features over 99 cents--to each their own but that is unfathomable to me.

duk3togo, what are you talking about?

"I don't mind having an add support one give me that option."

Our app has had a free, ad-supported option since Day 1. It's the "trial" and is unlimited. Have you even tried it or are you just trolling? If you want premuim features (no ads, Live Tile, etc.) it's $0.99. C'mon already...you want to talk about "value" you act like we should all do this for free. This is mostly a volunteer site with little renumeration for the writers or the developers who run the backend.

I don't troll I am telling it like it is. Yes I have used the trial option but it does have limitations. In the end its a matter of "Why", I mean Geekbits is a free news source, so is Technews, AAWP, and so on. Why do you have charge? Is .99 a big deal, NO?? But in the end I get my info from many sources without paying but in order to get it directly its either pay the .99 or get limited by the trial version.
I'll tell you what, to support the great volunteer work you guys do... I will give up my .99 since you guys are supporting my OS of choice then I will support you guys as well... Thank you... Just don't ever state I troll please...

I paid the .99 cent for the WPC app. my reasin was this. I like the app to me it's one of the top five WP7 apps in the market place. that didn't happen over night it took hours of work and thus should be worth something to the developer in time and effortl. .99 is less than a soda or a coffee...the AAWP is an awesome app as well it's loaded with infomation and has a great podcast feature in fact they do great work over there I use both apps and read from both home pages.. The WPC app offers more flavors overall it's smooth as can be it doesn't crash out and from the looks of it it's updated almost ona bio mothnly thing lest it looks like it there is always something new being added .99 cents is one heck of a deal for an app that is so well crafted.

Voted AAWP, it doesn't particularly matter since they have a smaller reader-base anyway. But the fact is they offer more insightful, meaningful coverage than websites like WPCentral, that just parrot whatever news is out there.

I like WPCentral but I think they do way too much Nokia news.

keflexxx, Jody Granted, I'm biased here but our gaming news, reviews, podcasts, hands on coverage, over 800 videos that we've shot, app release coverage and events (Windows Phone launch events, Nokia World, Mobile World Congress, CES) is unparalleled by any Windows Phone site. Period. That's not to slight AAWP, but it's a lot easier to have "more insightful" posts when you cover 1/10th of what we we cover on a daily basis. That's just a fact. Some days we have 20+ posts alone here which is what other Windows Phone sites do in a month. If we do a device announcement for a carrier, or we note a new app has been released, those posts can't (and won't) all be "deep" with 500 words. We try to offer a balance of being comprehensive for news with insightful writing-- there's a reason we're the #1 Windows Phone site out there, where people go to get the latest, learn the most and get full Windows Phone coverage whereas AAWP is a blip with no breaking news. But to each his own!

As far as covering too much Nokia: they're the only ones doing anything interesting. If HTC or Samsung have a new device, new software, or a launching somewhere new, we'll cover it. But they aren't so we cover Nokia. It's that simple. No one is being ignored here. Blame HTC, Samsung and LG for not doing anything new, not us.

My argument would be that WPCentral is a breadth-oriented website; AAWP is a depth-oriented one. As such I have a preference for AAWP, because they fill a niche that otherwise is not addressed in the WP journalism ecosystem. You may believe that certain pieces of coverage you offers have that level of depth, and on that I disagree. However if you can offer me examples of articles that address aspects of the WP ecosystem that other websites have glossed over, or some really insightful deep-diving, then I'll be happy to be proven wrong.

I agree with and stand behind Daniel on this on. I didn't know AAWP was even around or had an app. I use to go to other windows phone sites but have since given up on them because wpcentral is simply the best out there. I was religiously following this site before I even had my trophy. Plus they have the added benefit of having all other phones covered by mobile nations.
The wpcentral app was the 1st app I bought on my phone and it's the only app I check every few hours. I can't say anything much about the aawp app cause I just downloaded it to give a fair judgement (I voted wpcentral) but wpcentral is the best wp app out there period.

so everyone that voted has a Nokia phone? Because Im still waiting on the 900..

I have enjoyed the WPCentral site and now app long before WP7. Mobile Nations is great. The app is great and Jay works his ass off to make it, tweek it and support it. I happily paid for this beautiful app. Dan, Jay and the rest are also ALWAYS supportive of the readers both here and through the forums and Twitter. Thanks WPCentral!! You guys rock!!!

Vote from Sweden as follows. WP Central, en poäng. WP Central, one point. :-D

HOW IN THE HELL DID AAWP BEAT U?
Windows Central Newsletter
Thank you for signing up to Windows Central. You will receive a verification email shortly.
There was a problem. Please refresh the page and try again.