Wacom's new MobileStudio Pro tablets with Windows 10 are made for digital artists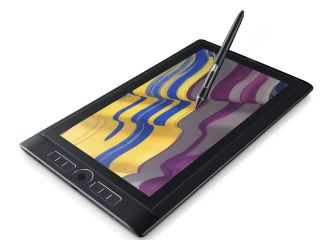 Wacom has announced plans to launch a new family of Windows 10 tablets under the MobileStudio Pro brand. The tablets are designed specifically for digital graphic artists and designers and will include the new Wacom Pro Pen 2 stylus.
Wacom's press release states:
As far as the Wacom Pro Pen 2, the company says:
Storage options on the Wacom Mobile StudioPro tablets will range from between 64GB up to 512GB. Some models will also have Intel's RealSense 3D camera that will allow designers to scan a object so it can be used as a 3D model. Pricing for the tablets will begin at $1,499 and they are expected to go on sale sometime at the end of November.
I think i'll pass this. Pricey..

Are you a digital artist?

Yeah, you havent heard of my stick figures in paint collection? /s ​But to stick with the actual thread, I do think this is for professional digital artists like the elite X3 is for business pros. But most people on Windows Central are Windows fans but consomers so I think sometimes we see something we want and forget that something might be for the professional not the consumer.

So far, The Surface devices are the closest thing to offer consumers who want to use a pc for digital art creation. Leveno's Yoga book is a more affordable device option without all the bells and whistles that Wacom's products offer.

It's not consumers... it's consomers!

how does the price compare to the tablet you currently use for digital design?

Most digital design equipment tend to cost around $1500 - $5000 so this Wacom product is on the lower cost end. This is a great thing when it gets released and I hope to see it in some schools.

I'm curious on how this compares to Wacom's Companion pc. This seems to be a direct competitor to Microsoft's Surface pcs.

Coming from a professional animator/artist this isn't pricey at all its rather inexpensive

As someone who uses the Surface Pro to do photo work, this isn't too pricey if it can deliver something beyond what I'm getting already.

Judging on the price point, it should be on par with the Surface Pro with the added features of Wacom's technology.

I think this will suits me. I'm getting bored of bringing up the laptop for designing. I'd rather have this one... I wish...

Looks neat.
13.3 pretty much compares to Surface Book screen as the only competitor, and SB does not have any NVidia powered options under $1500.
But I'm really curious about pricing of the options with 3D scanner.

Is there a product (or an interest in a product) like this that can also work with desktop computer as a really high-end Wacom drawing tablet? It seems you'd still want to take advantage of the 30"+ display on the workstation, but benefit from the added display on the tablet. But I'm not an artist.

There is, Wacom sells drawing tablets to use with a computer (they're not standalone computers)

@Soypan, I'm familiar with those -- dedicated Wacom drawing tablets been around for years. I'm wondering if they offer something like this, which is really a full computer/tablet, but that uses that power in coordination with Adobe or Corel apps running on a Mac or PC for a more potent overall experience. Maybe there's no need for that. Just seems like an opportunity.

Ohh ok, I misunderstood then. As Jacob points out, the source article mentions you can use Wacom Link to use it as a standard Cintiq tablet in Windows and Mac.

It says in the source article that you can use it as such with PC or Mac.

I believe there are some companies such as Wacom that manufacture 24 inch+ models that would cost you upwards of $9000. For that kind of thing you need to be a REAL PRO ARTIST and Video Producer.

Just connect out to whatever monitor you want to when at a desk.

The Companion or Mobile studio would be the closest thing with Windows 10 and a miracast compatible display. Considering Microsoft is focusing their efforts into developing a more intergrated experience with Continum, I can see a form of multiple PC link between desktop and laptop.

My girlfriend would love this so much. But I'd rather get a Surface Book (I'm more of a writer and programmer).

If it's for your girlfriend why would it matter what you do? Oh, I get it.. You get her a gift but it suits only your OWN PERSONAL SELFISH RANDIAN AUTO-PRESERVING SCREW-THE-OTHERS-IN-THE-WORLD-MENTALITY TYPE OF NEEDS!!!!!!!!!!!!!!!!!!!!!!! *takes a deep breath* Sorry, I got carried away.... Anyway.... where was I? Oh, yeah.... Get a Surface, bruh. Don't think twice.


looks like you skipped your medication

He's saying if it was for him, he'd prefer the Surface Book. However his girlfriend would love this product.
Calm down

I know right? I can't tell if he was serious or not haha.

Looks great. I'll have to keep an eye on this. I love doing design work on my Surface Pro 4. But depending on a number of factors, this might not be for me. I love the physical buttons, but the old Cintiq companion's were HEAVY. and the keyboard situation wasn't great. I'll have to go hands on at Adobe MAX this year and find out.

I'll patiently wait for the Huion take on this. After working with some of their products nothing can justify the price difference with Wacom products.

Can't spend the money yet. Will continue working on SP3 for now. And yes, I'm a part time sketch artist (for those who will ask me that right away).

Want. Need something more mobile rather than lugging the laptop with my old Intuos 4 around.

This thing is calling me out, but is too expensive.
I would happily buy a 8" Windows 10 Tablet with Digital Stylus support but I believe there are almost no options right now (only the new Dell Venue 8 Pro but I haven't see ir on sale on retail stores in Mexico).

What's wrong with the yoga book?

Wow that's a great deal, will be picking one up for sure, i just hope the battery will last for more than 5 hours.

I doubt you will get 5 hours if this device is running a Quadro graphics chip

Ohhhhhh man! This may just be the replacement to my SP3!

Heck, this a replacement for my PS3!

Nice Range the Windows 10 extends to.
Windows Central Newsletter
Thank you for signing up to Windows Central. You will receive a verification email shortly.
There was a problem. Please refresh the page and try again.