WakeUp Alarm for Windows Phone 8, an interesting usage of NFC/QR tech to get you out of the bed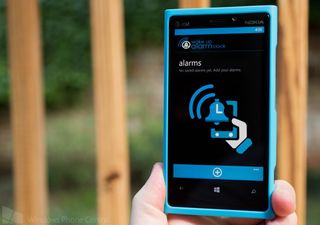 At first glance WakeUp Alarm for Windows Phone 8 looks like your average alarm app. You can create up to five active alarms that can repeat daily or once a week.
What sets WakeUp Alarm apart from other alarm apps is the use of NFC and QR codes to disable the alarm. You can create a situation where you physically have to get out of bed to silence the alarm.
WakeUp Alarm's layout is fairly elementary with a single page listing your alarms. You can add new alarms by tapping the "+" button at the bottom of the screen. You can give the alarm a custom name, set the frequency to once, daily or weekly, and choose how you want to silence the alarm. You can silence alarms by tapping the screen, using a NFC tag or a QR Code.
If you choose either the NFC tag or QR Code, you'll have options to create the NFC tag or generate the QR Code for printing. To silence the alarm, you will need to place the NFC tag against the back of the Windows Phone or scan the QR Code with your Windows Phone.
You can increase the effectiveness of WakeUp Alarm by placing the NFC tag or QR Code across the bedroom. This will force your hand to get out of bed to silence the alarm. It's an interesting way to make use of NFC and QR Code technology to help get your backside out of bed.
While we like WakeUp Alarm, there is a little room for improvement. Mainly, there are no alarm sound options/choices. The alarm sound is effective but a little on the gentle side. If you don't have the volume maxed out, a good pillow would smother the quaint jingle making the alarm harmless. There needs to be a few sound options that give the alarm a little more gusto (like a fog horn).
Another downside is that there isn't a trial version to let you try WakeUp Alarm before buying. The good news on this is the full version is only running $.99. If you're looking for an innovative alarm app for your Windows Phone 8 device, WakeUp Alarm is worth considering.
You can find WakeUp Alarm here in the (opens in new tab) Windows Phone Store.
George is the Reviews Editor at Windows Central, concentrating on Windows 10 PC and Mobile apps. He's been a supporter of the platform since the days of Windows CE and uses his current Windows 10 Mobile phone daily to keep up with life and enjoy a game during down time.
Cool stuff. I must try to dive in to this NFC stuff.

Sounds perfect, however...
If you press the windows button does it exit the app, ergo, silencing the alarm?

And I only slept it out this morning after knocking my alarm off , first time in ages !!

Interesting but I fear that if I set up the qr code and put it in another room, my phone might get killed if it does not shut up in the morning.


What if you are not near your qr code when it starts ringing because you forgot to turn it off?

If I can choose which days I want the alarm, I'll buy it. 'Once, weekly, daily' won't work with my schedule.

It would be neater if it could enable the alarm only when it comes in contact with an NFC pad... That way when you go to bed and set your phone down it would set the alarm...

Like this https://vimeo.com/64375100

I just might have to place the QR code next to the coffee pot for my unwelcome early start tomorrow morning.

I would just turn down the volume.

If I set the alarm on this right before bed, and then I start playing with the phone by going into several apps, will it still ring in the morning? I have a third party app that doesn't go off if I go into other apps. I hope it's clear what I'm asking for.

I bought the app because I thought it would be great to actually get me to walk around and wake up but either I am using it wrong or it doesn't work. When the alarm goes off I can just hit the dismiss button and it turns off. This was my experience with the QR Code setting.

Yup, same issue here. WPCentral? You guys have this issue?

Actually, the alarm keeps ringing every 5 minutes, even if you click dismiss, until you go in and disable it with the NFC or tag reader

Interesting, not quite what I expected. I guess it would be impossible to have the sound keep going continuously since it's an app controlling.

If i'm not mistaken, if the phone is off, the alarm won't work, correct? That's one of the biggest pet-peeves i have with this platform- my 'unsophisticated' 9630 would power itself on to activate the alarm. it could also be set to power off and back on at different times during the week and weekend.

IWhat you mean by "off? Powered off, like middle of a soft reset, like no battery ? It be awkward if it powered itself on, even scary. If not, just normal stand by, my alarms work fine.

It's the same low-tech that keeps your phone clock running if you turn it off. In the good old days you could turn off the phone with programmed alarms, it would automatically set a wakeup timer before going into ultra-low-power-cold-standby, when the timer sets off boot up the device in a few seconds into alarm-only mode and then do its alarming thingie.

Too smart approach for smartphones I guess, especially since my trusty 6310i lasts 1-3 weeks (!) on a single charge depending on the usage so the only reason to turn it off for a wakeup alarm would be to not have the radiation near your sleeping place while with my Lumia it would rather be to conserve battery...

I think (not really sure) Symbian is still capable of that trick.

@therealprof:

Exactly...why do i need the phone to stay powered-on while i'm sleeping? that's just totally wasting the battery. one of the biggest disappointments for me personally on this platform.

i sometimes put it into airplane mode. it saves almost all the battery

I bet I would just completely turn off my mobile phone to turn off the alarm lol

really it is beatiful idea and v.good app
Windows Central Newsletter
Get the best of Windows Central in in your inbox, every day!
Thank you for signing up to Windows Central. You will receive a verification email shortly.
There was a problem. Please refresh the page and try again.