The Walking Dead invades your living room with new Windows 8 app from AMC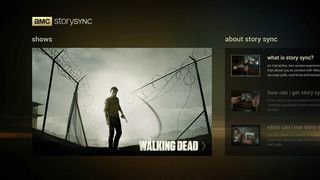 Do you have a love for the undead? How about a love for AMC's "Walking Dead"? If you are watching this season of the hit horror drama, you are going to want to make sure to download the new companion app for Windows 8.
AMC's latest application for Windows 8 PCs, StorySync, allows viewers to watch their favorite AMC shows, while interacting with other fans simultaneously. The first show available for AMC StorySync is the "Walking Dead" and engages viewers in polls, trivia questions, exclusive video, and more.
Application users can also view flashbacks, instant replays, and other information from previously aired episodes. So even those of us who are behind, can catch up on the fast packed zombie gore action.
Microsoft is working hard to create exclusive experiences with their SmartGlass technology, but other companies are beginning to see the benefits of a second screen.
Do you watch the walking dead – will you be trying out the new AMC StorySync app for Windows 8?
You can download "AMC SyncStory" by clicking here (opens in new tab).
Source: Microsoft
aww man i thought i was going to be able to see the new episodes... not at all what i expected when i read the headline.

One could almost say that Windows Phone is a bit like the walking dead.

Wuddeva, ah do wut ah wont!

Dude, how old are you? Serious question.

Comments on the internet don't have an age. U madbro?

Can you not read the timestamp under your posts? Absolutely comments on the internet have an age. U blind bro?

Lol, no. Just see you on here alot, I remember you saying you go overseas to fix something or other. So I figure you must have some age but you text like a 15 year old sometimes. Hence you mad bro? You like the word bro, don't you? You puzzle me. . . Is this dude 60 or is this dude 15.

Really good? My favorite? Badass?

Yeah, I agree.

They should make that app available for the WP8 too.

This may be a sign of things to come.

We need a dead yourself app like iOS.

Definitely! Been waiting for it since it came out, you'd think they would with all the W8 commercials.

I tweeted Windows, windowsphone & AMC asking and I didn't get any response and normally WP will get back to you.

There is nothing more annoying than people who feel the need to Tweet/Facebook their every thought about a show whilst it's on.
If this app keeps them all in one place it is something to be applauded!

http://windowsphoneapplist.com/en/stats/

Really cool, cant wait to get my Windows 8 device so I can download...love this show

The app was decent but it was very buggy. Hopefully they can push some updates soon. It was cool to take group votes of what was going down in the show. When the app was working, I thoroughly enjoyed it

Worked awesome for the first five minutes! I loved asking our viewing party the poll questions.
Sadly, after I backed out to check an email, it would never reconnect. Hopefully they get it ironed out by the next episode.

Hopefully they port it over to Wp8.

I downloaded this app after I saw the first new episode, definitely going to try it out next Sunday ☺ so happy "the walking dead" is back❕❕❕

Damn, I mistakenly thought at first that this app was for WP8. Oh well. Hopefully it will get to WP8 over time.

Doesn't seem to be available in the store any more?

I can't access it from here either.
Switzerland.

Ugh. Love Walking Dead. ZERO interest in this.
Windows Central Newsletter
Thank you for signing up to Windows Central. You will receive a verification email shortly.
There was a problem. Please refresh the page and try again.