Wallet 2.0 with NFC Tap to Pay is now rolling out to Windows 10 Mobile Fast Ring (US only)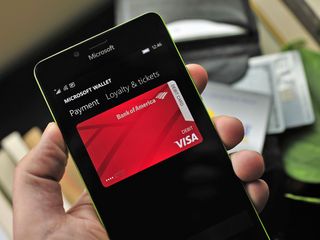 Microsoft is evidently rolling out the Wallet 2.0 update complete with NFC Tap to Pay options. Numerous tips have come in from users noting that the update is now live, and we can confirm on our Lumia 950 enrolled in Fast Ring (Redstone) that the update is rolling out.
Wallet 2.0 has its usual batch of Loyalty Cards for getting discounts at local stores, but the bigger deal is the inclusion of NFC Tap to Pay based on the HCE standard. This feature will allow users to enroll their Credit and Debit Cards into the program and to be able to pay at participating locations. Since the Tap to Pay is standardized this feature should work at all sites that Apple and Android Pay are accepted at as well.
It is unclear yet if NFC Tap to Pay will be available in all regions or just the US at this time, nor is it clear if all phones will get it or just ones approved by major credit card companies. So far, most of the tips seem to be those in the US as Microsoft may be trialing the feature in the States before going wider. We'll update the story as more information becomes available.
Update: As suspected, only those in the US on select devices e.g. Lumia 950, Lumia 950 XL, are able to see Tap to Pay options and enroll in the program.
Update 2: We have now confirmed that the Lumia 650, Lumia 950, and Lumia 950 XL are capable of supporting Tap to Pay, at least in the US.
The feature looks to be available only for Fast Ring Insiders, although a wider release is expected for the Anniversary Update later this summer.
Download Wallet 2.0 for Windows 10 Mobile (opens in new tab)
Daniel Rubino is the Editor-in-chief of Windows Central, head reviewer, podcast co-host, and analyst. He has been here covering Microsoft since 2007 when this site was called WMExperts (and later Windows Phone Central). His interests include Windows, Microsoft Surface, laptops, next-gen computing, and for some reason, watches. Before all this tech stuff, he worked on a Ph.D. in linguistics and ran the projectors at movie theaters, which has done absolutely nothing for his career.
So stoked. Gonna try it out today

It says my 950 isn't compatible, lol...yes, I am on Redstone.

What's funny though is that the (approved) list has 925 & 928 (own both) but they were never updated to 10. What was the point approving them? :)

It took a couple tries, but my app updated...the only kicker is my bank, Regions, is apparently not included in the program right now.

Yeah this app is probably region-locked

What did you do, because mine isn't updating

Well I purchased the Lumina 950 from US (BHPhotoVideo) and even though I am in Canada, I still got the updates

Not if you have Chase you won't...

Don't feel too bad, though. Chase doesn't work with Android Pay, either.

Works great with Samsung Pay!

Yes Android Pay, Samsung Pay and other NFC mobile payment systems although have been in Canada for many years still have problems. Please upvote me as I'm aiming for the most

Does not show the update on my 950xl on fast ring

I would be a shame if it were limited to US only, but then again it would be much of same as always

Well, none of us on Verizon have phones that can utilize it, so it's really "half of US-only," if that makes you feel any better

Don't get me wrong, it's not about who gets it in the US, its about if we all get it at the same time

That's what you get for living in another part of the world. Blame your government for their banking regulations and tax laws. Maybe you should start your own software company and make your own phones.

Definitely an idiot. If you think that Canadian banks don't want it then think again. The hardware has already rolled out to many businesses/schools since 2012 but it's not always going to work.

One reason I won't consider Verizon.

At this point, any time Microsoft releases something, it's just easier to assume you're going to see 'US only' in the article. Most of the time, you'll be right.

I heard something about the "tap to pay" or the "wallet" itself to have changed in the last years in such a way I *wouldn't* work on older phones. Anyone remembers that?

I believe they said it had to do with current NFC standards versus the old ones. Plus, they have to be approved by the banks.

Yeah, I get this. so if its a matter of software and firmware only I can assume its going to be compatible with older phones at some point. If this standard is also related to hardware components we can forget about having compatible older phones.

Just stop whining and buy a new phone.. If everyone that was whining about upgrades with 3+ year old phones bought new ones, MS probably wouldn't have shuttered the phone biz.

What phone should I get? I am currently using the FLAGSHIP phone on verizon. There is no better windows device on verizon than the Icon. Yes, it is two years old and discontinued, but still has the best screen, processor, camera, and build combination of any other phone on the verizon network.

Consider ditching Verizon. Seriously. Unless you live in the middle of nowhere (in which case cellphone service is the least of.your problems), ATT (or TMo) are just as--or early as--good as Vzw...and cost a lot less.

Sorry, but actual usage shows that to not be true. T-Mo absolutely blows where I live and AT&T has no reception inside my work place. Verizon beats them both. Plus, I have a great discount for verizon, so the cost is actually a few bucks less per month than AT&T.

Well, usually I'd agree with you (although I don't think we insiders buying would solve everything), but problem is the commitment MS had to older phones. Here I am back production version of W10m on L830 and still struggling to get it working.
Sure we can always say this "tap to pay" thing is a new feature, not an old feature they would be committed to.

W10M runs like a champ on the Icon. The latest build has been basically flawless for me. Bluetooth in my vehicle, wifi, battery life, etc. are awesome. It's like a new phone. The Icon sports a Snapdragon 800 processor, quad-core running 2.2 GHz. There is no struggling.with W10M on this phone.

Good for you. I think I had only one build in the past I'd call it flawless, or almost that. But I'd send several reports on each build since the beginning. And now that I'm back to production build I still have to deal with random restarts (twice yesterday, while listening to music) on L830 (which is pretty much the same as the icon, right?)

The L830 is a completely different class of phone from the Icon. The L830 has a lower resolution screen, less RAM, slower/less capable processor, worse camera, etc. Worse case, there may be a required firmware update to meet the HCE requirement, but other than that, the hardware is more than capable. Remember, the Icon used Tap to Pay during the short-lived SoftCard (ISIS) period, just fine.

Softcard was a combination of software (app) and a secure sim.

Happy you all are getting this. This was a big reason I left the platform. Maybe in two years, I'll be back! :)

Remind me! What should we be happy about again!!!???

Yay. Hopefully a new build will roll out too tonight.
P.S.: Germany here, just got the Wallet update as well. Tap to Pay still not enabled.

Apparently us 640 owners will be left out even though our hardware is newer. It doesn't allow me to add a bank card, just loyalty cards. HUGE bummer.

Same here on my unlocked AT&T 640. I went into NFC settings, and although I can turn Tap to Pay on, no options under Default Payment app, even though Wallet appears to be updated and I am in the USA.

Your bank has to elect to participate. Not all banks do. I sorta suspect only B of A and maybe wells Fargo at this time.

You're not understanding. We don't have the option to even add a bank card.

You're not understanding. We don't even have the option to add a bank card. We're restricted to loyalty cards. We're not dumb.

Yeah, right now no Wells Fargo, but hopeully soon. My Debit or regular CC through them didn't work.

Pretty sure the 640 doesn't have NFC... So there's that.

It has NFC, check here http://www.gsmarena.com/microsoft_lumia_640_lte-7055.php. It just does not have the newer NFC.

Has the same NFC as the 640XL, which was approved. Go figure. Quick! Someone tell my wife that our 640s don't have NFC so she'll stop sharing contacts with me by NFC!

I realized I was thinking of the 635, which lacked NFC.

Got the update but no Tap to Pay. Might be US only. (Canada)

Confirmation for Canada. Just loyalty cards. No Tap to Pay.

In UK got the update but no tap to pay

Thanks for confirming, didn't expect it to work in the UK right away but hopefully we are next. We generally get things shortly after the US when it comes to Microsoft. Since the update the Wallet app just crashes on my 950, at least I'm not missing out on Tap-to-Pay due to the crashing. What phone are you on?

I added a Tesco Clubcard but doubt I'll use this much until Payment Cards come to the UK. I only keep a few loyalty cards so I think it's quicker to grab that from my wallet right now, but if both payment and loyalty in one app then it becomes less hassle to just use my phone (if that makes sense)

I got the update but no option to add a credit/debit card. I switched region to USA and the option is available now but still doesn't work because you have to register the card by adding your address. The system does not allow addresses outside the USA so doesn't work unfortunately. It was worth a try...
Hopefully it won't be long til we get the green light.

Got the update in the UK but the Wallet crashes when I try to launch it. If somebody in the UK gets it running post here whether or not it has Payment. I'm not expecting it to outside the US in the early stages but you never know!

I have the updated app running on my 950XL but no tap to pay I am afraid.

Where are you? Just installed on my 950xl and I have the option.

Think he is in the UK like me

Correct - I am in the UK!

Got the update on my 950XL, no tap to pay in UK...

I'm not going to ask when it will be available......in India

Lol No Android pay, Apple pay. Should we expect Microsoft pay?

I dont really get the hype...am not sure what makes this a more reliable or useful service than debit/credit cards...
cards are there with you at all times, need pin to authorise transactions and most of all wont run out of battery when you need it the most...! :P

And leave you stranded at the exit barrier after a long day at work as a dead phone is as useful as a spoon trying to hold a bucket of water :P.

No option to add a payment card here in Aus, only loyalty cards

Loyalty cards are still a huge improvement over the very limited number of third party mostly useless apps previously. Hopefully they will continue to add merchants to the loyalty card list.

You see a list? I can't get that. It just lets me enter in the details of the card manually, the barcode itself can be manual or scanned.

Having the same issue. 950xl Redstone in US. No way to add Credit/ debit card

It's a shame we don't have the Tap To Pay option in Australia yet, considering we're #1 in the world in adoption of NFC payments. Despite that, Apple and Androids offerings have been very slow to roll out here.

We also have a higher WP market share in AUS compared to the US. I can understand that there may not be any banks on board with this yet considering there is only 1 (ANZ) that supports Apple Pay, however at least let us add the cards without the tap and pay ability, until the banks are on board.

No tap-to-pay available in UK on L930.
Also scanning in my subway card doesn't show the barcode off my loyalty card. It scans it and recognised it but then doesn't show up when I open the card unfortunately.

I scanned a Tesco Clubcard and it put in the number from the front of the clubcard but in reverse - Is this normal? It does show the barcode when I go into it - Unfortunately not detected the Clubcard branding

Got it on my 950, which is awesome, but apparently Chase debit cards are not eligible yet

Neither of the cards I've added are eligible either. My Key Bank Debit or my Capital One credit

Here is to hoping this is mainly a rollout test. Perhaps the cards will be added before Anniversary update.

I'll be writing a few emails today. None of my cards work: CapitalOne credit, USAA debit, PayPal Business Debit. Maybe have to get a Wells Checking that I'll just transfer spending, "pocket cash" into.

This is one of those that "Will never happen in Estonia" releases... Its so nice to watch all of it passing by... Together with Cortana, Xbox, Surface and countless other features, software, accessories and harware.

Can't you order things like Surface and Xbox from Europe? I know it's a pain but surely you can get access to them even if it's through more effort than it should be

Got the update on my 950XL, but none of my cards are eligible. :(

Got it, but none of my credit cards work with it. :(

Do I still need to install another app just to see my passbook tickets?? Hate it!

In the UK with a 950 and no tap-to-pay unfortunately. It won't even accept boarding passes either, only loyalty cards. Hopefully it'll roll out internationally on the preview programme soon, I don't really use loyalty cards so much but tap-to-pay would be really cool to have. Especially on the London Underground.

Yup, I don't have the "NFC" thing on my 950XL (france). Us-only for now it is !

Got the update on my 640 in the US, but no option for credit cards - apparently not supported on this device.

Using the QR code at the bottom of the article, the latest Wallet app version I can get on my 640 XL running build 14371 is 1.1.16056.0. A user in the forums said the new version of the app is 2.0.16160.0. Are you sure you got the updated app?

Time to get me a high-end windows phone... Looking at the 950XL :-)

I'd do that, but then I'd have no money to use tap to pay :)

Be lucky your have the option, I am on Verizon, not one of their models are supported for Tap 2 Pay...screw verizon..

Won't work in my Verizon 929. Of course.

Is there a dedicated forum to this? Would like to know if my bank works.

I started a forum post for people to add cards that they find work. Check it out here, and spread the word, hopefully we can start getting a nice list together. http://forums.windowscentral.com/windows-10-mobile/429020-what-compatibl...

Will add card soon. 950 in the US. Up updated it self today at 4am

No go on Lumia Icon, only loyalty cards.

yes, same, lumia icon. i had tap to pay turned off, turned on in settings but no change.

Oh well. I love the phone, especially with W10M, but it is over two years old now. Hopefully something can be done to bring support.

The worst thing is that even at two years old, it is the FLAGSHIP windows device on Verizon. This is bullshit. There is no windows device that is better on the verizon network, yet we are still locked out. I have the NFC updated SIM card installed, so that I can have encrypted exchanges with the phone, but no go. I am stuck on Verizon, AT&T is not an option for me, so why is it that my current FLAGSHIP phone does not have this function.

Apparently none of my chase cards work with this....

Does that include their credit cards (such as Chase Freedom), or did you only try debit cards?

Tried a couple cards. Didn't work with either. Wonder if the app is there but the back-end support isn't?

Except that BoA works. And apparently US Bank does as well, at least it doesn't give the "working on this... This card isn't eligible for Microsoft Wallet yet". But it fails out on the verification portion.

Would be awesome if any of my cards were eligible.

App works on Lumia 950 xl w/ dual sim, but both may cards (citibank mastercard and my local banks visa) don't work.

Curious....do they have a chip in them?

Dan Rubino, which card did you use at McDonald's? Has anyone successfully added a card yet?

Haven't seen any reports of a successful card yet. I tried my Discover and visa with no luck.

Daniel used his Bank of America personal card. Business card didn't work.

I believe it looks like a Bank of America card.

USAA Debit and Credit cards do not appear to be supported yet.

I noticed that too... I e-mailed them just now. Let's see what they say.

Awesome, please let us know what they come back with. I was going to ask my brother later since he works for USAA

Hopefully it will be soon

I'm emailing, Facebooking and Tweeting them. :)

Lumia 650: Loyalty cards, no Tap to Pay (The Netherlands)

Got the update on my 950XL, apparently my AmEx isn't supported yet even though it works for Apple Pay, hopefully MS is working on getting more issuers onboard.

I have a 950 (unlocked US) and can see the Tap to Pay feature but when I try to add my card, I get an error stating my "This card isn't eligible for Microsoft Wallet yet". :(

All 4 of my chase cards are the same way

Agree with Mike, none of my cards including Chase work

USAA not compatible with tap to pay. Many large merchants missing from the list of loyalty cards, such as Kroger, Albertsons, Costco, men's warehouse to name a few.

In the UK I don't even get a list of loyalty cards, but I can add manual ones - I hope we get frequent updates to this going forwards (in all regions)

USAA not supporting it does not surprise me. They don't even have chip cards for their debit cards.

You can add cards that arent listed. Select where it says "My card isn't Listed".

Join the "email USAA" band wagon. ;).

I think that Bank of America is the only card working for now.

I'm in the UK and have just got the Wallet 2.0 update. As I already knew from the article, the Tap to Pay option is US only at present, but I've added in all my loyalty cards :-) ​Barclays Bank in the UK sure as hell better approve the use of Windows 10 Tap to Pay over HCE. I've been a Barclays customer for 26 years, love using the official Barclays app on Windows Mobile. MasterCard/AMex/Visa have already approved the HCE chipsets etc in the new Lumias, so I really do hope that Barclays can sort out their side of things, and setup the neccessary requirements in order to pair the device with the bank account etc

I was a bit disappointed that we don't get the branded images for the loyalty cards in the UK (From what I can tell) Hopefully in a future update

Remind me why I would want to do this? I can reach in my pocket and take out my phone to 'Tap to Pay' but I'm too lazy to reach in my pocket to take out my card and 'Swipe to Pay?' I don't get it. Why would I want the added security vulnerability that comes with enabling access to personal information via NFC if I don't need to. I'm glad the option is there and am not criticizing the addition...legitimately interested in what drives the desire for this feature.

In my case, I get tired of fumbling with chip cards. Swiping is easy, but it's going away. This should be easier and maybe faster, if any of my banks ever participate.

I only wanted it really for the loyalty cards. It's just a matter of time before some scammer figures out how to capture the Data stored in these systems and use it to clean out your accounts or steal your identity.

It's an e-penis kinda thang.

The pros are: Free pocket room. Your wallet in your phone. It's actually probably more secure since you do need authentication for nfc payments.

I can only see the benefit when both a loyalty card AND payment card are in the app - You don't have to fiddle taking the loyalty card out, putting it back in, taking out the payment card, putting it back in. Not that the above is a problem for me, but it's still less fiddling. I only use 1 loyalty type card in the UK for the Supermarket tbh

I use tap to pay all the time with android and I love it. I can't wait till its mandatory everywhere so I don't have to deal with a separate wallet. Try it you might get it then.