Want to attend CES 2013 for Free? Now's your chance, thanks to the The Mobile Nations 2013 CES Experience!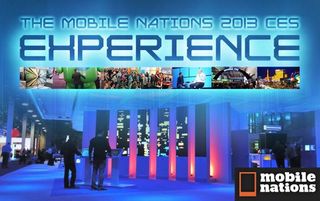 Do you love mobile gaming? Are you active on Twitter and Facebook? Do you spend hours on end posting in Mobile Nations' communities? More important, have you ever wanted to attend the Consumer Electronics Show (CES) in Las Vegas and are available the second week of January next year? If you answered YES to all of these questions -- have we got an experience lined up for you!
There's no doubt that CES in Las Vegas is an event any tech junkie MUST attend at least ONCE in his or her lifetime. All of the latest and greatest (and sometimes bizarre) tech is at CES -- it's something to see. And even better than going to an event like CES as an outsider is to go insider. That's why we are thrilled to announce the "Mobile Nations 2013 CES Experience," in which six lucky individuals will receive round-trip travel and accommodations for CES 2013, courtesy of NVIDIA Tegra! Woohoo! Keep reading for all the details
To Apply, Here's What You Need to Do:
1. Record a 30-second to 2-minute video - Fire up the video camera on your smartphone and record a quick video of yourself. Give a big hello to Mobile Nations and let us know which site(s) you're active on and why you love them. From there, tell us what your favorite mobile game is right now. Finally, tell us why you think we should select you to take part in this Mobile Nations 2013 CES Experience.
2. Submit Your Video - Upload your video to YouTube (you can leave it unlisted if you want). Then send an email to cesexperience@mobilenations.com with the link to your submission video. Be sure in your email to let us know your full name, address and phone number so we can get a hold of you if you're selected.
3. Like NVIDIA on Facebook or follow @NVIDIA on Twitter! - Show our friends at NVIDIA a little love. Recording and submitting your video is enough to enter, but we hope you'll go the 'extra mile' to show them your support!
Not sure what to submit? See my sample video below for encouragement, support, and more details! :)
Get your video submissions in soon, because the deadline for entries is Friday, Dec. 21 at 11:59 p.m. EST. We will select and announce the 6 lucky recipients across all of Mobile Nations early the following week!
Before you enter, read these important notes:
Availability: PLEASE ensure you are available Jan. 6 - 12th, 2013. If we select your entry and you are NOT available during CES week, we will have to select another entry.
Eligibility: The Mobile Nations 2013 CES Experience will be awarded to North American entrants only. Attendees must be at least 18 years of age.
What the Winners Get:
Round-trip airfare - tickets to and from Las Vegas.
Accommodations - complimentary accommodations (5 days, 4 nights).
Passes to CES - all of the passes you'll need to experience CES and attend the NVIDIA press conference as an NVIDIA VIP.
An Evening (or two) Out - spend an evening on the town with the Mobile Nations team and NVIDIA.
The Experience of a Lifetime - winners are going to have one heck of a time!
What You'll Need to do in Vegas:
Of course as insiders at this event, you're going to see and do a lot of cool stuff. Your exclusive experience as a Mobile Nations/NVIDIA VIP will include:
VIP access to NVIDIA's invitation ONLY Press Conference at the Rain Nightclub at the Palms Casino Resort.
A chance to experience CES from an insider's perspective at the NVIDIA booth.
Share your pics and thoughts from the NVIDIA press conference and the CES show floor.
Have FUN with the other winners, myself, and other members of the Mobile Nations team!
Good luck to all that enter, and remember, the entry deadline is Dec. 21 at 11:59 p.m. EST! I'm looking forward to reviewing the entries as they come in. Hope to see you at CES!
Get the Windows Central Newsletter
All the latest news, reviews, and guides for Windows and Xbox diehards.