Want quick access to creating notes? You can with OneNote and the GDR2 update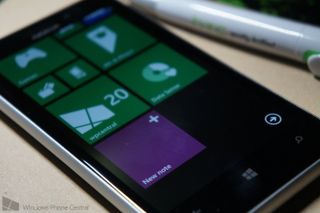 This is a strange one indeed. OneNote for Windows Phone 7 allows consumers to pin the create note tile to their Start screen, but this feature is amiss in Windows Phone 8.
That is unless you're using the latest hardware with the GDR2 update. We've checked on our Nokia Lumia 925 and it does indeed enable us to pin the tile to the Start screen, which has been confirmed by the OneNote team on Reddit.
An option to pin the new note tile is now listed in the main menu. We've not noticed anything else that's new, though we could easily be missing something else. Good news is the feature has returned and will be available when you update your Windows Phone 8 smartphones.
via: Reddit
Windows Central Newsletter
Get the best of Windows Central in your inbox, every day!
Rich Edmonds was formerly a Senior Editor of PC hardware at Windows Central, covering everything related to PC components and NAS. He's been involved in technology for more than a decade and knows a thing or two about the magic inside a PC chassis. You can follow him on Twitter at @RichEdmonds.
Maybe MS is finally "getting it"..

The only thing I have used one note for is keeping recipes. Comes in very handy for that.

I use it for everything, before windows phone 8 and OneNote i used Fridge notes...

I made 3 separate folders (had to do that part online through skydrive via outlook)! Quick notes, work notes and...lyrics!
Great for when you are on the go and I love it syncs up seamlessly...I'm never that afraid of losing my phone!

I have the same school notes work notes and lyrics lol

I totally forgot about this feature missing when I upgraded to windows phone 8

Finally, it was one feature I really missed!
After upgrading to WP8 I was searching testing Onenote to find where that option went to, it was very strange! Finally found my answer on the forums that it dissapeared. So strange if you know it should be there and you can't find it.

But good MS is bringing it back!

Can't wait for the update!

Until then , press the windows logo , Say Note "pause" say your note ... it'll record it and try to transcripe it .

It does that? Nice, that might give me a reason to actually use Microsoft's voice thing

I tried it. It works quite decently I may say... :)

How about ink-feature (missing also iPad app)

tried it the other day in the car when i had navigation running - didnt work:(
hope the voice will work properly soon. also missing stuff like stop music or stop navigation.
where was that list again of all voice commands?

Long press on Windows Button, press the question mark. It displays the most common commands but you can also swipe to the side to get a list of commands added by installed Apps.

I don't understand why they are waiting on this update if it's finished. We're hungry!

My guess would be that it's the carriers holding it up for their internal "testing"

@daly you have VZW too? LOL*1000

They are testing it to ensure that there are no any critical bugs, freezes, lags, etc, on various devices

....and we will still see them like we did with WP8.

as they subsidize their phonse "the carriers" , then need time to figure out if their service will run well so customer feedback won't be hard on them , its sad how telecoms are becoming huge smartphone selling store. (Internet crushed them .)

No they are not. Maybe in US and Canada but mostly people buy their phones unlocked.

Now if only you could pin more than one note and be able to tell them apart.

Exactly. When they're small they go nameless, and all my little note tiles have to be memorized. They also need to make it so when you open the main app it opens to the list of all the tab sections, instead of the last used note. Very annoying for an avid OneNoter like me with great organization skills.

Why not make it a medium size tile and place it at the bottom of the start screen? Then you could tell them apart.
I actually use evernote, it stays labeled as a small tile.

I haven't tried Evernote. How does it compare? Can two WPs open the same shared notebook to edit things like grocery lists and such?

What is the behavior of evernotes when pinned to a home screen on an android phone? Can you tell 2 different notes apart? I've never been an android user I just wonder how this issue works for them.

Couldn't tell you about Android bro, but on WP the notes are labeled and live.

I've never tried it on two WP, but I suppose they could as long as they are both synced to the same notebook. Evernote has a ton more features/apps, unfortunately they have yet to make all of their apps/features available for WP.

Evernote allows for sharing by default, but cooperative editing requires a paid subscription.

not sure if it requires both accounts to be paid.

But which note book will it be created it? Can you pin one for each notebook?

How does it work with notebooks that you are syncing with your account?

You can select the default notebook. I am happy that my beloved feature is back!!!!

+1! I hope you can make new notebooks from the app too. I hate having to grab my laptop just to do that...

On WP7.8 both "new note" and "notebook" use the same icon when it is a small tile. I'm glad they fixed that for WP8.

That was greatly missed in the move to WP8

1 in store tile...for YouTube app right?

Lol I was thinking the same thing. It annoys me on my but I like to think of the one sort of like a lone finger telling giggles goodbye i don't need u

The useful and the "new" old youtube app are different for me. I can install both using wp8. So what is going on with your update?

You are talking about crap app, you can't get it anymore goofle forced MS to remove it, search YouTube app in this site and you can read about it, sorry you lucked out

Hey Rich can you please try to play a .wav file with the GDR2 phone. Thanks in advance :)

It's more specific to the type of .wav -for example, I used to be a brighthouse customer and prior to around June vm attachments would not play, but afterward they are fine. I don't know what part of the codec they changed, but it works now.

WP7 plays free pbx VM but WP8 doesn't. I've spent a lot of time on MSFT forms and its a big problem and not just for free pbx but other systems as well.

Pin to the desktop. Oh joy. I can hardly contain my excitement.

What Windows 8 Phones will be getting the GDR2 update? I have a NL822 and I am wondering if my phone will get the update.

The update should be due put sometime this August.....hopefully because I can't wait to have the constant clock and the tap to wake function. Will come in handy

I'm afraid of what those features mean for my 920's battery, seeing as its not an amoled screen.

Anybody up for a Lumia 1130❔.. L530, 630, 730, 830, 930, 1030, and yes the almighty NL1130❕❗❕..
Lol! I got Nokia's numbering scheme down baby❕❕

Oh, my dear sweet Mikey.. You sir have lost your precious little mindypoo❕

Didn't realize this feature was missing but I use one note every day, so this will come in handy. It's the very definition of a feature i didn't know I needed!

I want to see more pinning throughout the OS. Let me pin appointments, to-dos, messaging threads, etc.

Make a room and you can pin it ;)

I'd like to see a full breakdown of what GDR2 has brought to the table. Does Microsoft have a "changelist?"

Still missing a password protect option for notepads...

What I do is pin one note that I use daily, a to do list to my start screen. Launch that, press the title, and I can go to any of my other notes from there. I prefer that to pinning multiple notes to the start screen... That behavior is new to wp8, btw.

Can you listen to wav files attached to emails, like you could in wp7 but not wp8!?

I thought the Lumia 925 only came with the Amber firmware update and the OS version was the same. So the Lumia 925 comes with GDR2 and Amber?

Huh. I guess that means there's no fix for the other storage then. We would have heard about it by now. :(

It probably comes with an early version of GDR2 but they may be working on a final version that they may have implemented other things and who knows the 925 may actually get another GDR2 update. I am really hoping they address that "other" storage bug and I am sure they are more than aware of this issue.

Meh I just got in the habit of clicking on quick notes when I'm done with the current note. This takes you back to the one note start screen were your notes are at. Next time you need to open one just open one note hit the right one and go about your business. Hit quick notes again before you close out. Why clutter up your start screen with a bunch of shortcuts?

What!?!... Hmm My 920 with GDR1 can do it.
Open OneNote, press the clock icon, choose one of the notes listed. Press the settings (the three dots), there it is

No, that's to pin a note that has already been made. This is a pinned tile to make a new note.

This will come in handy as I use one note to keep track of my mileage for the church...

So the update adds features that were already in WP7 like radio and this that Microsoft took away from WP8? Really smart...

Rich do you have fm radio too?

+1, I want to know this too

Do gdr2 resolves other storage bug?

I sure hope so or all I am left with is resetting the phone.

Beware the spinning cogs, more you have in other file longer it will take for cogs to go away, reset is very iffy u might brick the phone

Such a big deal "GDR2" for seemingly so little. I don't think it actually has anything useful for me. No VPN, no improved calendar, no built in Skype or fb messenger improvement, no other storage fix...

We don't have any evidence of the full spectrum of what GDR2 update will improve. I'm sure Microsoft works hard so that not all their info is leaked out to the world. Lol. But I think you're jumping the gun here and coming to conclusions too quickly.

Since I got my 920 I have had one note pinned to my start screen

How to pin that to homescreen? I cannot find it.

I wonder if this means that GDR2 has fixes for fast app resume in it? As a developer I certainly hope this is the case...

Will this update fix the memory problems ?

You guys do know that you can pin a note to the home screen right now right? It just has to be part of a room. I have a shared shopping list pinned to my home screen right now!

That is good and all but, come on release GDR2 on all phones now !! Anyone find a hack or mod to allow another Nokia phone (like my 928) to grab GDR2 now ?