Watch our Sunset Overdrive stream and win Xbox gift cards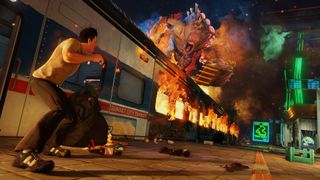 Want to win some cool prizes? How about watching the first two hours of Sunset Overdrive on Xbox One? Well, this afternoon we can do both for you! Starting at 7pm EST/6pm CST/4pm PST we will be streaming the first two hours of Sunset Overdrive right HERE on Twitch. We will also be giving away two $25 Xbox gift cards as a thank you for watching. As a reminder, these gift cards can also be used to buy apps for Windows Phone and Windows 8.
Sunset Overdrive is an Xbox One exclusive from Insomniac Games. The game takes place during the Awesome-pocalypse when an energy drink turns its consumers into mutants called the OD'd. The game features a traversal combo system that has you grinding on rails and running on walls while you kill the OD'd to rack up points.
Today we're going to show off the first two hours of the campaign in order to help you guys decide if this is a game that you guys want to get. Later in the week, we will show off Chaos Squad which is a Sunset Overdrive's take on Horde mode. Of course, if you are on Windows Phone you can watch us on the LiveGaming app and just search for WPCentral. Be sure to follow on Twitch for your chance to win,
Sunset Overdrive launches next week on October 28, 2014 on Xbox One and is available for pre-order and pre-download.
Sunset Overdrive - Xbox One - 22.98 GB - $59.99 - Amazon

(opens in new tab)

- Xbox Store

(opens in new tab)
Windows Central Newsletter
Get the best of Windows Central in your inbox, every day!
Stream really made me have a different view for the game....soo fun and think I'll get it. Thanks @Kiddj55 for the stream, had a good time and good chat with my fellow gamers and wp fans :)

Yeah looks fun, just so many good games coming out right now.

Yeah...and you know the funny part? Less time. I just want more time to play ma games...sucks to grow up sometimes lol

Solid stream hombre, My opinion has been swayed

Glad you enjoyed it mate!

Not sure if I want the first two hours spoiled though.

I'm in the same boat. Wanted the gift cards but I want it all to be a surprise for me.

I have a spare two hours, today. Why not!? This may decide whether or not I buy this game. Or just wait for games with gold.

I can't wait for this game

Me neither. I'm only afraid that it could be a clone of Left For Dead (Which I tink is a good game but never played past the first 2 missions)

Totally different games. Absolutely different gameplay.

Would love but I'm working

Looks pretty cool, running short on funds though. I bought Destiny Ghost Edition, Forza Horizon 2, and preordered, Halo: TMCC. Really want this game though....

I still have my Halo 2 Collector's Edition sitting on shelf. The case is beat up, dinged, scratched, aluminum rusting. But Halo 2 was priceless. If you feel the same way about Destiny, the purchase was well worth it. Otherwise, consider it a lesson well learned...

/gasp, my xbox will be shipped next week! O__o it's quite exciting! (Oh yes, my GF returns from Germany the same day. That is exiting too)

I can't sign up with the app. It says do the captcha code. But there isn't one.

Sign up using twitch.tv then sign in to the app.

If I win do I have to be watching? My speeds are too slow for streaming and it keeps stuttering bad. How will I know if I win?

Unfortunately, yes. The organizer will be posting a keyword that you have to type for you to qualify for the raffle. It is used to verify that you are not a bot as well.

Thanks! Hope you enjoyed it!

Enjoyed the stream ... Followed the twitch account and would be looking forward for more.

I got onto twitch.tv. Lovin it. This app is incredible. It's my new fave. But I notice all the female gamers get the spotlight. Oh well. Serves me right for watching them. Lol

Looks like the channel was closed after all #sadface

We had a small issue with it, but the channel will be back soon. Also, my channel is unaffected and we use it for streams as well.

LiveGaming is a great Twitch client for WP fyi.

Thanks again Windows Central for hosting this stream and giving out prizes. If anyone wants to add me for early Sunset Overdrive play my tag is xUberSuave

How to get Xbox gift caard I have watched the video

Mb you must saw on stream activation code and entered him in xbox

So now I'll give u my email and could u give microsoft gift card of at least 10$

Looks like everybody is sleeping

Might have to skip this one for a while.....Forza Horizon 2, COD (2 weeks), Destny...just too many games not enough time. Once cleared up with these games with nothing I must buy now (or due for a month or 2) I will grab this one... Sometimes it stinks that I have a family and a job to have time for more games but, I would not give the family up for the world (and the job because How am I to buy games ?)

Hey... WPCENTRAL... I went to your twich page and it says "The community has closed this channel due to terms of service violations" What happened?

Gagging for this. Never catch the streams though. Was the game worth it?