We go hands-on with the Acer Switch 12 S 4K 2-in-1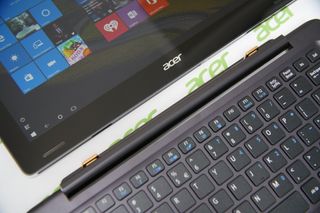 At CES 2016, we got the opportunity to get our hands on Acer's new Switch 12 S 2-in-1 laptop. In the video below, we take a look at its ultra-sharp 12.5-inch 4K display, along with its built-in Intel RealSense camera.
The Switch packs in Intel's 6th-generation Core M processor, and supports both USB-C and Thunderbolt connectivity. Customers will have two storage options, 128GB and 256GB, and it comes with either 4GB or 8GB of RAM. In addition to USB-C, it also features two full-sized USB 3.0 ports.
The Acer Switch 12 S will be available for consumers in February.
Windows Central Newsletter
Get the best of Windows Central in in your inbox, every day!
Can you use the Thunderbolt connection to connect to an external desktop class GPU?

I have a touchscreen Asus Tp400 laptop and the one thing that bugs me is that the screen is way heavier than the keyboard section. Just like in this video, when you tilt the screen back to a certain degree, you basically have to anchor it down with your palms to keep it from falling over.

I'm more interested in the new Acer laptop.

Am I missing something? Where is the hands on part instead of a retelling of the specs?

They put their hands on it, didn't you see?

I ws reading on the Windows Mobile app, and it didn't have a video. now I wonder how many times I am missing videos!!!! The app on windows mobile is pretty awful.

Haha, same thing with the app on Windows PCs, just awfully compromised compared to the website. Ironically, the one on Android let's you view videos conveniently in the app...sometimes I wonder if the app was made by Android Central devs. Posted from my OnePlus One.

I think all the Mobile Nation apps share the same/almost the same code

I think I found my next device.

With all these lower end devices coming with Thunderbolt 3 ports, this better be available on the Surface Pro 5.

Well so much for this model. As seen in the video it's top heavy.

I dont believe that device runs anything well on 4k
Windows Central Newsletter
Thank you for signing up to Windows Central. You will receive a verification email shortly.
There was a problem. Please refresh the page and try again.