We go hands-on with Acer's Revo Build, the new block building Windows 10 PC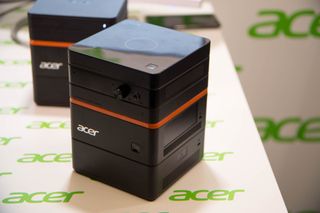 The Revo Build is one of Acer's latest desktop PCs, but this particular product has quite the twist. Acer has made it so you'll be able to add and subtract blocks from the PC depending on what you require, be it increased amounts of storage or even a wireless charging pad.
We took a few minutes to check out the new Revo Build.
As previously covered, the Acer Revo Build M1-601 will be available in EMEA in October with prices starting at €199, and in China in December with prices starting at ¥1,999. US availability and pricing will be announced closer to launch.
What are your thoughts? Let us know in the comments if you fancy some block building when it comes to PC customization.
Windows Central Newsletter
Get the best of Windows Central in in your inbox, every day!
Rich Edmonds was formerly a Senior Editor of PC hardware at Windows Central, covering everything related to PC components and NAS. He's been involved in technology for more than a decade and knows a thing or two about the magic inside a PC chassis. You can follow him on Twitter at @RichEdmonds.
Mmmmm, not really sure what to think of it...

Think of it as Acer giving a finger to project aara?

It is a great concept for the future desktop box. Xbox One should probably be built thay way. Starting with a lower cost of basic CPU unit, you add BR player, different size of storage drives or other modules (like Continuum Dock) as needed.

Like using USB ports to add devices?

Your comment has nothing to do with this article.

But without the near-term planned obsolescence.

Finally, a true Minecraft-inspired PC.

Bing is your friend. 199 Euro is 223.74 US dollars

Except sale prices don't translate 1:1.

not exactly. It's really about sales taxes, custom duties, and currency exchange that causes the MSRP to differ between many countries

Convert price from euros to dollars, then cut it in half. The only company that didn't add a ridiculous 100% Eurobonus to their prices was Nokia, and they're now owned by an American company. "Hello European customer, could I interest you in an entry level Surface 3 with 2gb memory and an atom processor? That would be $900. No?" That overpriced POS is tanking hard over here and I'm sure they don't even understand why.

I like the concept. I remember seeing a modular phone concept along the same lines although not by this company.

It was and still is Project ARA from Google.

Acer beat Google to the modular concept. Now Acer will also build modular phone and Google will hate them for eternity

wireless charging/power bank module on top. thats cool. project ara of windows PC, i say

That is a nice touch. I wonder how hot it will get sitting on top of a "PC" with little to no airflow for cooling. Lol Posted via the Windows Central App for Android

Looks like mini gas range hehe

Looks pretty cool and neat to me. Posted via the Windows Central App for Android

Had this idea several years ago... Should have raised the money then :'(

An idea is one thing, but making it a reality is another. Posted via the Windows Central App for Android

I think it's a brilliant idea which allows users to easily expand the capabilities of their pc. I'm curious of the performance of this thing but overall the idea is great, just need to see it in action. Posted via the Windows Central App for Android

I'm just guessing, Atom x3 with 1GB RAM. :). It's going to be entry level regardless... Posted via the Windows Central App for Android

I think not, depending on whether it is a success. Posted via the Windows Central App for Android

You think not what...? How is around $200 for a PC not entry level?? Posted via the Windows Central App for Android

It is possible to fit a Intel Core i3 and up to 4GB RAM with this computer

For $200? Nah. There's are other components, too. Some form of a motherboard has to be there. Posted via the Windows Central App for Android

This has piqued my interest....

Great idea for the less than tech savvy.

It's a pity acer has never gained more traction in NA. My 2003 laptop – with a slot-DVD no less! – still works! And, they always seem to make innovative products where others fear to thread. This product interests me, and depending on how potentially scalable it is, it's something I'd give a try.

It would look great on my desk.

Desktop PC for assemble-your-own-pc-phobes like me :D Not that I would want one, but I like the idea. It depends on what blocks are and what is upgradeable, because you depend on what they have for you.

reminds me of their home server Posted via the Windows Central App for Android On W10

Buy one of these, save up for the parts you want, get an ok machine for a very high price, then discover that after a couple of years, when you need another upgrade, they don't sell parts for it anymore.

Oh I like it. I wouldn't mina bluray rw module.

Windows is going the nokia way extreme design

Not really this ain't Microsoft making this pc so that statement makes no sense

Base model for ~$200? It might interest buyers on price alone, but that's not going to be a good performing PC. Fine for web browsing and such, but why not just get a tablet then? It's a really neat idea, but they need different price tiers or something. Build one with an i5 (true desktop quad, not a mobile unit) and people will take it seriously. Posted via the Windows Central App for Android

Yum, nothing like proprietary connectors to build a modular PC. I question many things about it such as stacking HDDs, and maintaining performance, or how about more gaming centric graphics?

Gaming? No way. There's no airflow. This won't be a high performance unit, at all. Posted via the Windows Central App for Android

I want this........but will I get it? Posted via the Windows Central App for Android

All I'm wondering is if you can upgrade the GPU,CPU and RAM. Otherwise it's useless.

You can really build your own the size of a DVD/Bluray player, already, no custom parts. It will be like twice as wide, but you can always swap parts without question. Posted via the Windows Central App for Android

Interesting concept, let's hope it takes.

Great concept and implementation! An easy modular PC which would be great for some casual home users that want to upgrade PC but afraid to do manual upgrades or just too technical to do.

Great idea but too proprietary. On the surface it looks expandable but really your options are truly limited to Acer provided expansion options. Instead what they need to do is sell the mini pc and then empty shells to accomodate your own hardware. But even then, if you think about it, all you could really do is add a harddrive since there aren't any other typical external devices that match this form factor in their basic size and shape. Additionally I can see alot of these things growing legs and walking away if used in a corporate environment. Too easily removed from the homes.

I like this idea, but it's been years since I owned a stand-alone Desktop PC. My Surface Pro 2 is Desktop enough when docked, and it's my on-the-go Tablet/Laptop/Digitizer-Drawing-Board. Only thing that can be an upgrade to that is another 4-in-1 PC (Tablet, Digitizer Drawing Board, Laptop, and Desktop in 1) with upgraded performance...something like the Surface Pro 4 or a futuristic Surface Phone that can transform into a Surface Pro with an ASUS PadFone-like Tablet Dock (that'll be a 5-in-1 PC). http://www.pcworld.com/article/2907539/this-fake-microsoft-surface-phone... 1 PC for all my computing needs...
Windows Central Newsletter
Thank you for signing up to Windows Central. You will receive a verification email shortly.
There was a problem. Please refresh the page and try again.