The Weather Channel app for Windows Phone gets a minor update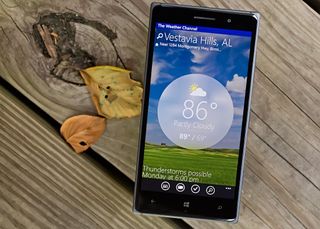 It's been a few months since there's been an update to The Weather Channel app for Windows Phone. This weekend, a new version was pushed out but there's no change log to go along with it.
This would strongly suggest that this new version is just for fixing bugs. If you happen to notice anything major when you download and install The Weather Channel app, please let us know in the comments. Both the Windows Phone and Windows 8.1 versions got a major user interface redesign in February.
Thanks to Rokibul for the tip!
Download The Weather Channel from the Windows Phone Store (Free)
Download The Weather Channel from the Windows Store (opens in new tab) (Free)
Windows Central Newsletter
Get the best of Windows Central in your inbox, every day!
This vs Bing weather,which one is better?

If you only use Bing, how do you know which is best?

What silly logic is that? Coz i have used many weather apps but i find bing better.

In my region this one is more accurate

I choose this one (pc version) than Bing.

I use Bing Weather and also have Vieather because of the cool looking live tile.

I don't know about "better" but I have both. I installed Bing back in January or so, when Weather Channel was going stupid for some reason. Then they pushed the redesigned app out and it works again, but I didn't bother removing Bing. They both do the same thing, although I prefer WC vertical scrolling to Bing.

Just the opposite for me. Prefer horizontal scrolling. Gave the new WC app a fighting chance but I just prefer Bing Weather better. Deleted WC.

I just use Cortana now as my main weather application.

But the live tile again dont show weather, It has started showing news again..

I would use Cortana (and do, for all intents and purposes), but I just wish the data was more accurate. It's ALWAYS off, so annoying! I wish the Cortana settings would allow the user to pick from a variety of sources for whether data. They'd still be presented in Microsoft's current fashion, just the data could be pulled from different sources. Options typically aren't a bad thing, and I for one want to pick a source with more accurate predictions.

I think windows central should stop reporting minor updates for apps it's unnecessary.

Do you have much better news..? If you have problems, then don't read the article, or much better don't comment.

If you are looking for a better news, yes there are good new apps that major sites don't want to look into as they are not 'popular' - and it isn't hard to imagine that new app is not popular. I have one such new app File Cards (Windows Store), which brings one fresh approach to file management. But it doesn't stand a chance of being rewied here. Even my previous app, Share to Speech got only some minor space in '5 intriguing apps of the week' but only after being featured so many times on the Windows Store that they couldn't ignore it any more. So all in all, it was reviewed not because it was good, but because it performed well on the store.

Exactly, ignore the article. I do it too, and I forget about it after a few minutes.

Sweet remind for the minor update but I believe if we set automatically update on apps store, it will be able to update itself within 1 day if there is app update.
Why don't focus on major.

What major..?
And learn to scroll.

Some users have no idea about any of this. I am rather tech savvy(kind of but not really) yet I wouldn't look for any changes because it auto updated. Since I see the article, I have something to kill the next 30 mins with.
(I may have completely misunderstood your comment. If that is the case, disregard mine)

Microsoft should make change logs mandatory when an app is updated.

How can one expect microsoft to mandate writing a changelog when its microsoft itself that rarely publishes a changelog or anything beyond the statement: Bug fixes

Precisely. They should be the first to do this and lead by example. As it is, Microsoft change logs fail miserably(do not always exist).

Even if they did, stupid folks are gonna comment negatively on apps such as 'rate us' or 'storage check'.

It is quite impossible. First of all, what is a change log? If it logs every change, then it would be hundereds of items for some releases. If it lists just important changes, then what if some release has only changes that would be considered 'unimportant' in their normal change log?

Yeah I just noticed that but its still my main go too app.

The app is somewhat ugly..

I wonder if people really prefer to hear those 'nothing new' well known apps news to some news about some new apps that actually bring something new. I might be biased as my app File Cards (Windows Store) is waiting in line for such a review, but I guess there are many other not so much known but well made apps that are waiting to get their place on the Windows Central. Other readers, please comment whether I am right or wrong about this, as I said I might be biased?

Not finding your app in the store when searching for "file cards".

Windows Store, not Windows Phone Store. Currently there is no WP version as I will skip 8.1 and publish for 10, but as app for its main feature requires the big screen, it won't have it on Windows Phone and thus won't be as attractive. But it will be still able to match other apps of this type, so it will be added value for people that buy the desktop app.

Why didnt they bring back double wide live tile radar?

Short answer: Because the IOS version doesn't have it. It's almost like they forgot how Live Tiles work at all! It's just bizzare watching them: the tile flips and then changes what data it shows. then flips and still shows the same data... then flips.. then a second later changes to different data. But yeah, the customizable Live Tiles where you could set what it showed was a very cool feature of the old app!

It's a major change not minor, to be compatible with W10 mobile.

86 degrees? Do you even metric, bro?

Try mobile.weather.gov it's free, works great on Windows or Android and no ads.

Well myself.. I went the weather channel app because of a promised existing tropical weather section of the app.. However that does not exist on windows phone app.(at least not for me) I download the app on my kindle hd7 lo n behold I have a tropical weather section.. I have tried to update my review for this app in the Microsoft store and lo n behold again it won't post... Yup I frustrated I call bullshit

Nice all but needs lock screen feature

Well lock screen b dammed I live panama city beach fl tropical weather magnent of the world and id like to have the advertised tropical weather features over a lock screen lmao!!!!!! If not fixed back to weather bug for me at least some tropical data is available there though its way far behind the weather channel for android

Both features in the next update are welcome.