Latest WeChat update adds a way to record and send short video messages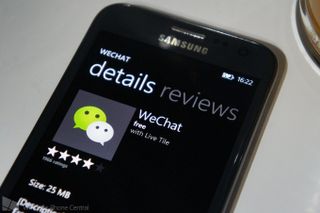 The popular messaging app WeChat for Windows Phone was updated today. Version 6.0.2.1 includes a way for users to record and send short video messages to friends. The app's last big update was in December, which revamped the user interface.
Here's what's new in this update, according to the store listing:
Sight: Take a short video and share it with friends in a chat or via Moments
Tags: Add tags to contacts and search them quickly
Both of these new features should be highly popular for the many users of WeChat for Windows Phone. Let us know your thoughts on the new release in the comments.
yeay! Sight finally came! :D

Still doesn't pick up as many people around you as a blackberry.

Why are you not covering updates to Microsoft's Yammer? Even android central does. Anyway great to see improvements in wechat. Could do with call quality improvements though

Finally with "Sight" features.. ! Now what we need are games...

Tell Cortana to start wechat games ;)

I haven't tried this yet but suppose I will. Something like IP messaging apps, if that's what this is, are one of the only things that people should be choosing based on popularity... If they don't interoperate...NOT their phone OS of choice. Do these apps work with other similar apps or does everyone have to have WeChat to be able to communicate? For instance on the PC years ago my friends would use AIM or Yahoo Chat and ICQ but I used Trillian which worked with them all(signed into each service via that one app).

You all need to have wechat to be able to communicate...

Well the messaging hub and the idea of windows phone used to be right that. but they moved away from this sadly enough.

i tried updating early afternoon. Then it suddenly cant be seen in the store. Then appeared again for update by evening.

we want WhatsApp to get fully integrated woth Cortana. but with windows 10 having inbuilt Skype i want more friends to skype as the primary messenger. and just not for video calling.

Whatsapp is way overused and overrated.

Yeah there are many other messaging apps which are much better.

Waiting for Verification Code....

I was thinking about this feature yesterday.!!!

WeChat is good with it updates. But I love Hike.

Gr8 feature but I don't think that l people will use WeChat instead of WhatsApp

Routing your personal communications through the China government or through the largest advertising company in the world... decisions decisions... Or just use a messaging service from a fucking actual software company instead.

Love to see WP 8 in pic..!! Feeling sad to lose social integration n music hub!! :(

Just noticed that the status bar are displayed when using this apps and the "Tag" features too.

कहना क्या चाहते हो?
-a famous dialogue from 3Idiots :P

I mean. Even we chat is getting updated. Instagram which is more famous than wechat is getting no updates. Last update was on 22 march 2014 and that too was only a bug fix update -_-

I really wonder why IG isn't being updated at all. How long has it been? 9-10 months?

1 year. If you don't include that bug fix update. Otherwise 10 months :/

I don't know i just find wechat don't work like it's suppose to be like , late notification + it drains the battery + it's inconsistent or is it just me??

Probably it just you.i been using WeChat for quite awhile and had no problem. Heap better than Whatapp.

If u actually used it before calling it that used it, you wouldn't be calling it that

I would like that WeChat to use WP UI. And to be faster. And to pin contacts to start screen. And to auto-update a conversation content when closed (we have to wait to refresh for displaying latest messages)
Windows Central Newsletter
Get the best of Windows Central in in your inbox, every day!
Thank you for signing up to Windows Central. You will receive a verification email shortly.
There was a problem. Please refresh the page and try again.