Weekly photo contest: Filters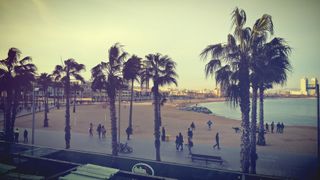 The weekly photo contest is back with a new theme and a new week to show off your best work. This time around we're asking to see your best efforts with filters. Those weird and wonderful effects that helped make Instagram so popular can be a great way to simply and effectively make your photos take on a whole new life.
Like the shot up top. I took this relatively pleasant, if somewhat uninteresting scene while catching 5 minutes after a press conference at Mobile World Congress in Barcelona, Spain. But with a little goofing around in Camera 360 Sight it became (or so I think, at least) something worth keeping. So, as ever, read on for the full rundown on this weeks contest and to see who won last week's!
Last week's winner: mudrilaci
Taken on a Lumia 735 this image from mudrilaci has some great movement without the car even moving! Fantastic shot and well done!
Rules for this week's contest
Rules are going to be just like last week:
Picture must be taken with a Windows Phone
Picture must be uploaded to the contest thread (linked below)
You have to tell us what device you used to take the picture, and any special software or apps you might have used. Editing your pictures is fine, this is art
Feel free to add a little back story, we want to know how the picture came to be
You must have used a valid email address to register here at Windows Central, so I know how to contact the winner
Only ONE entry per week per person
How to use Tapatalk to post images in the Windows Central forums
We've got a great walkthrough on how to do just that!
Social
Share any pictures you take for the contest on Instagram, Twitter and Fhotoroom using the following hashtags. It's a fun way to at a glance check out your competition and get inspiration. Plus we're building a community of Windows Phone mobile photographers!
Here's how it looks this week.
This doesn't count as your entry; it's just a fun way to track the photos on social media. Your entry still needs to be in the forums!
Prize
One winner will get a $25 gift card to the Windows Store. You can use it to buy apps and games in the Windows Phone Store, Windows Store or Xbox Store.
We'll pick a winner Saturday night (April 4) at 11:59 PM ET. Winners will be announced in a blog post for the contest next week.
Quick PSA: We've set up dedicated sub-forum in the Windows Central forums to keep the photo contests in one location going forward. You should bookmark this page, so you never miss a contest.
Windows Phone Central – Photo Contests
Good luck and have fun!
Richard Devine is an Editor at Windows Central. A former Project Manager and long-term tech addict, he joined Mobile Nations in 2011 and has been found on Android Central and iMore as well as Windows Central. Currently you'll find him covering all manner of PC hardware and gaming, and you can follow him on Twitter and Instagram.
I have two units in my house, one upstairs, and one downstairs.... A total of three filters...
........
They haven't been changed in a while, so they should make for some good shots.

Congratulations to the winner of the last contest, awesome picture

It really is pretty cool :)

Yeppp at moment I thought only high end devices usually become the winners but got proven wrong .!!! That car and pic are really a classic

Let me know if you receive any gift card? I haven't heard anything after winning the trees contest, and I've sent several emails. So much fun!

I am also still waiting after winning the 'Patterns' contest.

March 3 for the deadline? You meant March 31?

No, I didn't at all. I better fix that!

Forgetting it's turning to April eh Rich? I keep doing the same thing at work too xD

Not wrong. Especially having not slept basically for 5 months!

I think I'll participate this time :)

Took a pic on Camera360Sight yesterday with a filter so think I'll just upload it. Worth a go :)

That picture at night its impossible with an mobile phone! Come one! No way

Nice photo,BMW biggest Lumia buyer for this year

Please how do I attach my pic to window central

Using tapatalk. http://www.windowscentral.com/how-use-tapatalk-post-images-windows-centr...

Congrats, mudrilaci... It is a very dynamic shot.

Nice shot, user with a difficult name.

Wow amazing click..by mudrilaci

I would have also posted this one for the contest: http://i.imgur.com/iFScAUF.jpg Here services car, and my father!
But only one entry per person ç_ç Anyway, GG, the winning one looks great.

So, how long does it take to get the gift card when you win? I won the trees contest, still haven't heard anything.
I've sent several emails, nothing is happening.
And this is the second contest after the one I won! You except them to contact you, but when they don't it's really not how I thought this site treated their users.

Gtrat a magyar nyertesnek :D

OHH! Woow Thank you very much / Köszönöm szépen! :D

Windows Central Newsletter
Thank you for signing up to Windows Central. You will receive a verification email shortly.
There was a problem. Please refresh the page and try again.