This weeks Red Stripe Deals saves you cash on Mirror's Edge, Paper Racer, and HDR Photo Camera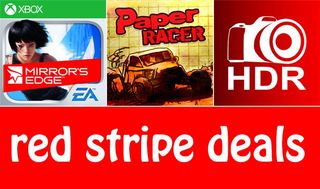 Every week Microsoft releases app savings to the Windows Phone Store in the form of their Red Stripe Deals. Three apps are yours to claim if you're up for saving a few bucks. And the majority of the time these apps (or games) are ones you'd probably want anyways. This week we've got Paper Racer, Mirror's Edge, and HDR Photo Camera on sale. Let's check them out.
Mirror's Edge
This game started out as an exclusive to Lumia devices in the Nokia Collection. It wasn't until earlier this year in February that the app left the Nokia Collection became available for everyone to download. Haven't picked up Mirror's Edge yet? Now you can for just $0.99 in the Windows Phone Store. Feeling like playing a fast-moving platformer? Grab Mirror's Edge in the Windows Phone Store.
Paper Racer
Up next in this weeks Red Stripe Deal is Paper Racer. It's a Windows Phone 8 game that we actually just reviewed a little over a month ago. The game went for $1.99, but as part of the promotion you can pick it up for just $0.99. We really enjoyed this game when we looked at it back then. Want to grab it for a buck? Head to the Windows Phone Store.
HDR Photo Camera
Windows Phone doesn't come with any built-in HDR (High-dynamic-range) capabilities. Instead, we rely on developers to step up to the plate and fill that gap. HDR Photo Camera has been one of our favorite apps for HDR. It recently picked up a really impressive update over the summer. That update introduced tone mapping, which helps gives single images higher dynamic ranges than you might get elsewhere. Want HDR Photo Camera? Grab it in the Windows Phone Store for just $1.49, that's 50% off the regular price.
Those are your Red Stripe Deals for the week. Which one are you thinking of picking up?
Via: Windows Phone Italy
Thanks for the tip Diego!
http://en.wikipedia.org/wiki/High_dynamic_range_imaging

http://en.wikipedia.org/wiki/High_dynamic_range_imaging

HDR is one of the best photography app.

HDR is one of the best photography app.

Dafuq .. So many multiple posts

Same here.server's getting error while trying to post :(

I see comments multiplying here. As my videos multiply on my sd card. Hehe

So no new Xbox games this week?

If you don't own Mirror's Edge I highly recommend it: it's one of the best mobile games I've played. At 99¢ it is a must buy, and the Xbox achievements are fair, fun, and add replay value. I am going to buy it for my wife's phone just so that I can play through it again.

haha, a true sign of an addict :P, going to pick up mirrors edge and paper racer. As paper racer looks abit like micro machines lol.

Crazy people around here. OMG

Does the HDR camera app still suck?

I see one comment about it crashing with GDR3. Anyone else having that issue?

I have been waiting months for mirrors edge to go on a sale, Thank you MS!

I just bought it about 3 weeks ago at the full price, but I don't regret it at all: I loved it! One of my favorite mobile Xbox games. I like it so much that now that it's on sale for $.99 I'm going to buy it for my wife's phone just so I can replay it!

Good deals, but MS needs to remove the over the air download limit. It doesn't make sense to allow unlimited media streaming, but not allow downloading the same media all at once.

Looking to unlock your mobile? Go to www.cubeture.net, I just unlocked mine there and they supported my every need!

Mirrors edge is a fantastic game. One of the first games i bought on my phone. Anyone who has been on the fence due to price, should pick it up

I second this. Mirror's Edge at $.99 is an absolute must-buy game. For the price of a Coke at McDonald's you can get hours of fantastic gameplay with intuitive controls, a cool dystopic sci-fi story, badass Matrix-esque slo-mo cinematics, and fun Xbox achievements that add replay value. I pray for a Mirror's Edge mobile sequel. The Xbox One version coming also has my interest.

the app does not look like the image in the article at all, at least on ativ s.

Do these Red Stripe deals apply in Great Britain too? If they do I'm wondering why HDR is selling for £1.29 and Mirror's Edge is 79p. Using the current exchange rate of 1.6 dollars to the pound they should be 94p & 62p respectively. Is Britain being ripped off again, or have I missed something?

Each market has its own pricing scheme. Not everything is tied to the U.S. market prices or to official exchange rates (which are in flux so updating prices daily would be a mess). So, Mirror's Edge at 79p in the UK market is a sale from whatever it was at before, probably 3 times that price. In the Japanese store, Mirror's Edge was 265 yen, but is now on sale for 90 yen, which is the equivalent of $2.72 and $.93, so in this case the games are cheaper in Japan than in the U.S. Either way, Mirror's Edge is totally worth 79p, 99c, or 90 yen!

Hey Sam, Tiny Plane and Dream Track Nation are also on sale today. Also I've checked that Assassins Creed: Altair Chronicles, Uno HD and Brain Challenge are also back in the store also with a $0.99 price. Can someone confirm if the other delisted games are back? Thanks!

Just in case anybody is reading this comment tonight, check the price of Angry Birds games ;)

Whoa...that's a lot of Angry Birds, for free. Glitch or random sale?

Yep, I downloaded Angry Birds Rio and Star Wars 2 for free! :D
Windows Central Newsletter
Thank you for signing up to Windows Central. You will receive a verification email shortly.
There was a problem. Please refresh the page and try again.