Say hi to Windows Central Gaming
Long in development, we're finally going live with our separate gaming experience on Windows Central!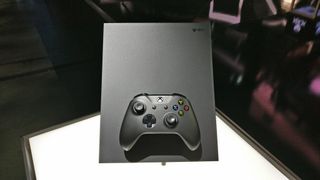 (Image credit: Windows Central)
We've been covering Xbox and gaming on Windows Central for a few years now, but our previous linear blog system didn't really support separate audiences for who might be interested in different things. Someone who's interested in the latest gaming trailer perhaps isn't that interested in Windows apps or business laptops, and we always felt there were better ways to serve you guys (and of course, you can always access the old format using www.windowscentral.com/blog.)
In any case, this is why we've been working long and hard on a new front page for the site, and also a separate entity for our gaming coverage entirely, which can be found right here on WindowsCentral.com/gaming.
Image 1 of 2
We're still finding our feet when it comes to gaming coverage, but we're kick starting our efforts with a few key aims. First, we want to provide rapid, up-to-date news coverage across both Windows PC and Xbox One. We also want to offer in-depth game reviews that put value for money, gameplay, and software quality at the forefront. We want to ensure that we're providing the latest information on UWP and the Windows 10 Store from a gaming perspective. And we want to make sure you have the best information possible before spending money on expensive Xbox accessories, PC parts, monitors, TVs, and beyond. And finally, provide great exclusives and insider analysis for which Windows Central is known.
Most of all, we want to keep it 100% pure gaming, as we build up a community on our Xbox forums and PC gaming forums, our Xbox Central Podcast, our separate Windows Central Gaming Twitter feed, our Discord server, and our Mixer stream channel. To celebrate, we're giving away an Xbox Elite Controller on our Windows Central Gaming Twitter, so be sure to go and enter!
Image 1 of 2
We're already off to a solid start, but we'd like to hear from you directly as we shape our content moving forward – what would you like to see? What can we do better? How do you prefer your game reviews? What would you like to see more of? Let us know in the comments, or say hi in our forums. And of course, you can always reach out to me on Twitter.
Windows Central Newsletter
Get the best of Windows Central in in your inbox, every day!
Jez Corden a Managing Editor at Windows Central, focusing primarily on all things Xbox and gaming. Jez is known for breaking exclusive news and analysis as relates to the Microsoft ecosystem while being powered by caffeine. Follow on Twitter @JezCorden and listen to his Xbox Two podcast, all about, you guessed it, Xbox!
awesome. great upgrade, align all gaming under one roof!

Wouldn't it be an idea to cover all gaming when you're first spinning it off like this? There are plenty of Windows-users that game on Nintendo and Playstation.

This is a Microsoft focused site, so it would be like if the main site started covering Android and iOS

You mean like the current phone coverage? =P Damn you Microsoft.

And it doesn't already? Please...

We're an all-Microsoft site, but iMore is covering Nintendo and AndroidCentral is covering PlayStation, with VRHeads focusing on VR, maybe a convergence could happen some day if we have the right teams in place.

"All Microsoft site"? LOL Sixty percent of the posts have nothing to do with Microsoft. You're content starved and using gaming articles for fillers. Dream on.

Actually, 'you're' is correct in that sentence.

o, I read "your content is starved," my bad. in any case, lol @ content starved, Windows has 500 million users

And yet here you are commenting.

Nice to see windows Central evolving. You know what would be awesome though!! a dark theme 🙃

I agree! I think that might be on the "to do" list for the future.

Future ? May be u should bring that dark theme option asap. It's kind of tiring to see white colour all the time....would be nice if we have the option to change to dark theme or black background. Like the Wc & ac app.
& I face some Issues with the site on ms edge or any browser I use.
In the new & even the old browser ui....whenever I scrolled to the bottom of page & clicked to load older articles...nothing happens....Plz tell me what should I do ?

Someone plz tell me how to solve this issue ??

Does this affect the (Android) app at all? I hardly ever use the web version.

Not really, I haven't used the Android app myself - can you select Xbox or gaming from it at all? I'm still on Windows 10 Mobile haha.

No, just home, forums, etc.

I'll look into this possibility

Does this meaning gaming will not appear in the regular Windows Central feed? As a non-gamer I'd be happy with that change.

Please don't do this... As someone who enjoys both, I don't want to have to check two feeds, or have two apps, or however it would be divided.

This! I don't want to have to go to a separate site to check on my Windows/Xbox related gaming information.

Nope, sorry, but we're working on a similar "Windows" section if you want the Windows-only stuff.

Nice one more game focused that's good just make it easy too find and access and I'm in simpleton me haha.

WindowsCentral.com/gaming. Add it to your bookmarks! :)

Thank you! Looks like this will be a very postive change. Going to regularly check out both.

For gaming & hardware reviews...not everyone has the time to read the entire article.
So, give video review of games & In both written & video review.......provide headings about what we will be reading....like single player campaign review, multilayer review, shortcomings of the game & the final verdict & score. Regards & all the best.

Making videos is time-consuming and there's very little ROI on that time spent for us right now. We'd love to make more videos, but it's just not that easy. Our reviews already have sub-headings in them to break up the content, a pros and cons box and a score.

What makes videos less time consuming? I can read a heck of a lot faster then I can listen to someone talk. Not to mention the ability to skip to relavent sections easier. Is it that you listen to reviews on your commute in a car or during a workout or something?

Pretty much nail on the head. We'd really like to get to a point where text and video go hand-in-hand (personal preferences and all that jazz), but for the time being, written articles are the most efficient (taking into account cost) way of getting our content out there.

Won't argue...just personal preferences. I'm not that fast reader :)

Maybe an article on how to build your own PC?

https://www.windowscentral.com/how-build-pc-ultimate-step-step-guide Already got you covered :)

And if you live near a micro center you are even more covered.

I'm really excited for this. Jez has been hands down the best source for news on Xbox related stuff for a solid year now.... And that was without a gaming dedicated section.

Awesome! Glad to see there's a dedicated branch going on with WC :) Good luck to you guys and Jez C. =-)

AUTOBOTS ROLLOUT ... DO SOMETHING.

Hello everyone
Hoping all are doing well happy gaming!

It doesn't work with Firefox Live bookmarks -- provides same feed as regular Windows Central home page.
Windows Central Newsletter
Thank you for signing up to Windows Central. You will receive a verification email shortly.
There was a problem. Please refresh the page and try again.