What's your favorite Windows Phone screen size?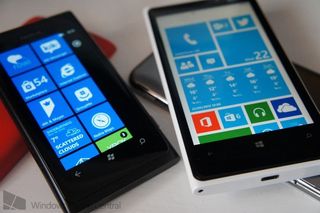 It is a question many of us ponder and the topic of a Windows Phone Central forums discussion. What's your favorite screen size?
Is it the smaller, 4" screen of the Nokia Lumia 520? Maybe the 4.3" screen of the HTC 8X tickles your fancy best. Then you have the 4.5" screens of the Nokia Lumia 92x series/Lumia 1020 and the whopper of a screen on the Lumia 1520 that measures 6" in size. How about an 8" screen or would that be too big?
Some find the smaller screened devices more comfortable in the hand and easier to pocket, while others prefer the larger screens for viewing videos or playing games on. For me, I would like to see a 5" screen become available. I like the real estate available on the Lumia 1520 but the overall size is not very practical for my needs. I think a five inch screen would be nice middle ground and small enough to keep the overall size of the Windows Phone manageable.
What about you though? Join in on this Windows Phone Central Forums discussion (opens in new tab) and let us know what your favorite Windows Phone screen size is.
Windows Central Newsletter
Get the best of Windows Central in your inbox, every day!
George is the Reviews Editor at Windows Central, concentrating on Windows 10 PC and Mobile apps. He's been a supporter of the platform since the days of Windows CE and uses his current Windows 10 Mobile phone daily to keep up with life and enjoy a game during down time.
absolutely agree, I think 5 inch is the golden mean at this point

I still think 4-4.5. Anything bigger is too big. If want bigger that's what my computer or tablet is for.

That's fine. Some people are going to prefer a screen smaller than 5" and some larger. However I think a poll would show that 5" would get the most support, which is why I am calling 5" the golden mean.

And I think a poll would show that "blue" is everyones favorite color, so it is the best color. See? I can pull crap out of my rear too, doesn't make it true. Jokes aside, looking at the first page from the thread in the post, I would say more of them were in the sub 5" category. 4-4.5" would be ideal for me.

You're sloppy. Your equvocation between "favorite" and "best" is at the worst irrelevant and at the best a matter of semantics. If you don't know what the definition of "golden mean" is then perhaps you should look it up. Overall 5 inches will set in the middle of the groups of people calling for 4-4.5 and those calling for a 6 inch display. I expect 5 will end up being often mentioned, with quite a few people stating that it is an "ideal" display size depending upon bezel size. I also think that quite a few people have stated that 5" is the upper limit to what they are thinking of at this point.

I don't believe in the golden mean, as 98% of all statistics are made up.

This comment deserves tons of likes, 99% of people who didn't like it depend on statistics to prove all their half assed points.

Lol okay. I know the definition of golden mean, not sure how what I said would indicate otherwise? I guess you enjoy speaking for everyone based on your own preference and presenting it as some sort of truth/fact.

Like I said, you are sloppy. The fact that you do not intuit that 5" is in the center of those calling for phones between 4.3 to 6 inches indicates you don't really understand the concept of the golden mean. It is absurd to state that I am just presenting my personal preference. Any reading of my statements will show that I repeatedly say "a poll will likely show" or "quite a few people state that..."

Of course 5" is in the middle of 4" and 6". That is not what the golden mean is about. It is about a desireable middle between two extreems (philosophical, not mathematical). If 70% of people prefer 4" screen size and 30% prefer 6", then sorry, but no matter how many times you tell me 5" is between 4" and 6", it does not magically become the golden mean. The fact is, we DON'T KNOW who prefers what size and anybody claiming ANY size as the "golden mean" is speaking out of their rear. Sloppy, lmao

A. Learn how to spell or use the spell check feature. 1. extreems 2. desireable B. In this case I expect that 5 is both the mathematical center of 4-6 and is also the current golden mean of what people are interested in. C. If you are going to suggest 70% preferring 4 inch screen size and 30% 6 inch screen size, don't then say "the fact is, we don't know who prefers what size" in the next paragraph. The entire purpose of the article is to allow people to sound off about their favorite windows phone display size is and for us to get an overall idea of what the responses are in the comments.

Nazi grammar over here nevertheless your point is subjective. Posted via the WPC App for Android!

Ok idiot, it's spelling not grammar. My "point" is simply that I expect a large amount of people will say 5 inches. I've not yet expressed a subjective opinion on the matter yet fool.

I think what they're saying is that 5" is not empirically the best.

I never said best. I always said that I think people prefer the size, and that some people are saying that it is ideal. Slater_GS talked about "best" attributing the idea to me, but like I said, he's sloppy. So again, I never said that I thought it was best or ideal, only that I think the majority would find the size appealing. Phone sizes are increasing over time and people are acclimatizing and coming to expect larger phones, but I do think there is an upper limit for many people.

People have different sized hands too. I'm sure there would be some people buying 7"-8" phones if they were available. They can easily fit in a coat pocket or purse.

I like the idea of a 5" screen, but I will likely never buy a phone with a larger width than the 1020 has because my hands are small and I don't want to "have to" use 2 hands. So, that probably puts my preferred screen size between 4-4.5"

On Nokia's site the width of the 1020 is listed as 71.4mm and here on WP Central the 929 is listed as 71.4 (hand measured). http://www.nokia.com/global/products/phone/lumia1020/specifications/ http://www.wpcentral.com/revealed-nokia-lumia-929-verizon-5-inch-1080p-phablet I'm a little surprised, but the older Lumia certainly do have a fairly large bezel. But overall there appears to be no width difference, that's good news....

I am proud of my 6 in, but 4.5 in is the perfect size for phone

I see what you tried to do there.

4.3 for me. Fits like a glove in my hand.

Twss Posted via the WPC App for Android!

Is there a 5" phone? I like 4.5" now but just slightly larger would be great.

I agree. Right now I own a 4.5" Lumia 920 and even though it is ok for me, I think 5 would be even better.

I love my red 920, but yea I'd like a 5" display. I would like to minimize the bezel as much as possible to maximize the display size vs phone size....

Yea, the size of the 920 body is ok but it could fit a larger screen. The lg g2 is nice in that aspect.

When people say this I ask that we also have to hold the phone. I don't want my fingers touching the display. Personally I love the nexus 7 and its big top bottom bezels which are perfect for holding it landscape mode and seeing a movie Posted via the WPC App for Android!

Slooooowww Neeewwwwwssssss Daaaaaaaaayyyyyyyyy!!!!!!!!!

That'd be the perfect size. In essence, I want exactly what the Lumia 929/ICON is rumored to be (5" screen, Snapdragon 800, etc.), but with a Lumia 1020's camera. That'd be the absolute perfect phone for me. :)

I think you are right. I would add a better design and bigger battery and if it is not much to ask for a snapdragon 805.

6in
The Lumia 1520 is a joy to hold.

Abso-fucking-lutely 5inch!

I say 5 as well unless they have a 6 inch with a very thin bezel that makes it feels like a 5inch.

I held a friend's Galaxy Note 3 recently and it was a lot lighter than my 920...Also, it fit well into my front pants pocket...It's close to the same size as the 1520 but I wish the 1520 had stylus support!...My friend uses his stylus on his Note 3 a lot and loves it...Here's to hoping that the 1520 successor has a stylus!!!

Agree. I like my 4.5" but 6" is too big. 5" seems just right.

Only if the bezel around it is not massive, Nokia is kind of guilty of puting tiny screens on massive phones with some of their models. The better question would be to ask what size phone you prefer.

4.3" is the appropriate to fit in...

Personally I think a 4 inch screen and no more than 60mm width is perfect for single handed use. Also its perfect for gripping. Just my opinion.

I agree, I think that a 5" device would be great, and even if I love the beauty of my HTC 8X 4.3" screen, I'll definitely change it for a 5"!!

Nah 4"-4-3" for me, with thin bezel

The one i have now. A ginormous Nokia 1520 six inch!

I have a 920 with a 4.5 inch screen right now, it's too small. I am looking forward to being able to get my hands on a 6 inch screen!

I just went from a 920 to a 1520 on Sunday, and I'm loving it. I read so much on my phone, it's been perfect. Especially when navigating websites.

+1520. I've sort of gotten used the the 1520's screen and find it small at times. If they could make the 1520's screen a little bigger while keeping its overall dimention, then I wouldn't mind getting it.

Ditto. Give us a 6.3inch with the same dimensions

6.3 are you insane? How the hell would you carry that thing around? Just carry around a freakin' Dell Venue.

Lol. I feel 6 inch is too small now. I don't realize how big it is until I see someone else phone

Agree. Wouldn't like the phone to be any bigger than my 1520 but if they could fit a bigger screen in that space, then I'm in!

Right! After using the 1520 for a few days I found that 6" is perfectly comfortable, and practical.. Anything less than 6" would be a drag now.

The 1520 but Verizon doesn't have it so I'm stuck with the 928 :/

Yep. After getting used to it, the 1520 doesn't even seem big. My wife's 1020 feels so tiny when I use it.

Ha. I changed my moms 520 to a quantum jump to 1320. She's delirious with joy!

Bought my mother to a 520, up from feature phone. Screen was too tiny so now she has a 1020. She loves my 1520 so I plan on getting here a 1320 in time. I am convinced that if anyone uses the 1520 consistently for more than 2 weeks that there is no way they could go back to using a smaller phone. It is the perfect size and I believe in time that it will be standard. It is inevitable. Bandwidth is getting cheaper. We will seek to consume more and more content. 5" will be popular here in the comments but 6" will be the standard in time. I believe that 7 isn't practical for most. Much harder to carry but I find that 6" just seems to fit in my clothing just right. Two hand typing is a breeze.

Interesting comment for me as I originally had the 800 and would not get the 920 as it seemed too large. I did in time get the 920 and now it seems a natural size for me. I have not seen the 1520 as not in any local UK mobile shops at the moment. Sure I will consider it too large but wonder if I will end up with one lol

+1 after using the 1520 my old 920 seems tiny to me

Agreed I can't even go back to my 920, its just not the same anymore.

+620 though i want the still-non-existent 5in

+620! Im happy with it! :D

+620 although i do mess up my typing a little more than I would like

Yup...4.3 to 4.5 would be right..

Between 4.0 and 4.5 inches.

Yes! 4.25 with LIMITED bezel would be the perfect phone!!!

Agreed! The 920's 4.5 inches are perfect for my hand. No more, no less.

Couldn't agree more! Anything larger than 4.5" and it becomes hard to carry around and use. My 920's 4.5" screen is perfectly comfortable.

I really think that's about the perfect size for me too. As long as it has good resolution.

I'd say 4.3-4.8" but not much difference there

Yup. I agree. These sizes are perfect for me as well.

4.3 - 4.5 is the sweet spot for me.
pocket-able, fit in my hand, and wide enough for gaming or video.

4.5. My hands are too small for a bigger size.

I was going to say the same thing!

Yep 4.3 is perfect for me!

I often mistype stuff on my 8X's screen, which measures 4.3". Maybe if it was a little bigger, no more than 5-5.2", that would be perfect for me.

Agreed. I currently have a 3.7 inch Lumia 800 and I could do with a bigger screen, but 4.5 is the upper limit of what`s still comfortable to hold. (Though 4.3 is more comfortable). Having a 5"+ phone next to your ear is like walking around with a ghetto blaster :) I am waiting for the 1020 successor as my upgarde, but my fear is they will go crazy and make it 5"+ just because that`s what flagships are supposed to be these days.

Why did you say "ghetto"!?

hmmm I see you are not a child of the 80's :) Wikipedia is your friend: http://en.wikipedia.org/wiki/Ghettoblaster

I have a 925 and this size seems perfect for me, I already have a bit of difficulty reaching the top left corner with my thumb and i think anything bigger would be too big for a phone. Also, coming from iPhone 5s, this phone seems huge already.

Waiting for 5" Nokia on AT&T. Especially with the changes in value plan they're offering now to stem people from leaving for T-Mo

I own a 520 (too small), a 1520 (too big) and a 1020 (almost right, but a little small). I think a 5" screen would be perfect.

Same here except 920 instead of the 1020. Returned the 1520 - too big for my situation. Looking for a 5" also.

The 1020 feels just right size for me

Its hard to argue with a 5" screen.(Ok Verizon...its time to show your hand)...

4.5 is good right now, but I think I'd like 5" more

Nokia Lumia 720 screen size type ;) :P

Lumia 720... The lost son. Never remembered.

4.5-5.0, but possibly 5.2 for 1820!

4.7 ..i want wp version htc one...best design n body ..but i love my 920 also

Being a guy with big hands I had problems with anything under 4.3 but 6 may be a little too big maybe 5.3 or 5.5 would be perfect for me

Have to agree.. 5.3 to 5.5 would be perfect..

I've got a 4.3" which I find small but the 4.7" I had previously was too small. My next phone will hopefully be 4.5".

I still have my Titan, which is 4.7". I've been holding out for 5".

I like the 4.7 of my Titan, but I dont know if I would go any bigger than that. Probably 4.5-4.7 for me. Enough with all the ridiculously big phones. Let's get a new flagship that's still business sized.

I like the 4.5" of my 928, and can't really see myself using anything bigger than maybe 5". Even that, I'd have to try first to be sure.

I have the L920 but I would like the size of the L1520.

Come on lets add 0.1 to it and you have the 1520 ;)

I love my 1520 and I have no issues with the 6" screen. I would be happy with anything from 5" to 6". My wife on the other hand needs something 4.3" to 4.5". So I hope they don't neglect those sizes with top end hardware.

4.5 ~5.2, bigger than that it'll be too big to fit nicely/comfortably in most of the pockets, and might look a bit silly to hold.

I used to think it was 4.5" until I got my 1520 and now I love the bigger screen. I can't go back!

1520 and I loved my 925 except storage issue

Right now I have a 4.5" screen and I like it a lot. However I would like to give a 5" screen a whirl for a bit to see how it feels.

My Ativ S Neo has a 4.8 in screen and that's perfect for me..

My Ativ S has a 4.8 in screen and that's perfect for me! Though my next phone might have 5", but that's not too shabby either. Just 0,2"..

I like my HTC 8X screen size, something a tad bigger would be good though. I'm considering a 1520.

4.3 to 4.5 inch.....not too big..not too small..

The 4.5" of the Lumia 920 is about perfect. If they could squeeze a bigger screen into the same overall dimensions it would be ideal. Of course, you could always argue that bigger is better, but the 1520 and similarly sized devices are just ridiculous. They're simply too big to be practical as a portable device. I don't want to have to make arrangements for carrying such an absurdly oversized phone. If I need the screen I'll just bring a proper tablet or laptop with me. Phablets are really nothing more than a stopgap until a better solution comes along. But I've interacted with enough of those devices that I don't see the value in the extra real estate given the pain in the ass they are to carry.

Speak for yourself. The 1520 is perfect for my line of work. No special "arrangements" need to be made as it still comfortably fits in my suit jacket pocket. No need for me to carry a laptop around at least half the time I used to. All bets would be off for anything bigger than that, though.

Ah, I see you like 'em real big ones..

The day someone drops a 8inch smartphone is the day all hell breaks loose. I'd go as far as 6-6.4". Anything bigger will not fit in someone's hands or pockets comfortably. Man purse anyone?

Are there any guys who actually use a man purse? The few guys I know who bought one never used them.

Cool. I sometimes wish my husband would consider one because he always wants to put stuff in my purse because they don't fit in his pockets.

4.5" is my favorite. Or 5" in the future when the borders of the screen can become razor thin.

My rule on screen size is, if my middle finger and thumb can't touch when wrapped around the phone, then it's too big. I have pretty large hands (I'm 6'3"), but I will not be buying a 1520, as nice as it is. Also, pocket-ability factors: Unless you always carry your phone in your hands or have a purse, portability seems like a no-brainer in the decision making.

so... a very few like 6" or bigger. that's kinda weird? right? :-P

They look stupid in jeans pockets, and laughable when held up against the head when talking. It's even funnier when you see a person with tiny hands trying to use them effectively.

4.3/4.5 much easy to handle and is optimum for mobile..in case of tablet 6" or perfect..

I feel 4.5" is ideal for me, with the 4.8" of the Ativ S being the maximum size I'd be comfortable with.
I've used a 5" screen phone for calling someone and I left very silly holding something so big against my face and uncomfortable holding it.

Well when the Icon comes out I want to check it out to see how it is in my hand, if I wanna go that route.

5" for me too, i miss my titan size but i too think 5" would be ideal size

So it appears that size really does matter!

Depends where you stick it.... In your jeans or a jacket pocket :P

If I were to get another Windows Phone, it would have to be the 6 inch 1520. Five inch would also be fine. You need something big for all those tiles.

To me the most important factor is how much wasted space is taken up by the bezel. I like the overall size of my 920 but I think you could fit a 5" screen in a relatively similar sized device if the bezel were smaller.

Or make a smaller phone with the same sized screen ...

The 3.8" on the HTC Radar 4g was perfect. It was very easy to use one handed. The 4" on my Lumia 520 is at the upper limit of one handed usability and is a bit of a stretch for my thumb.

The HTC 8x I had allowed an extra ROW of tiles to be shown due to the aspect ratio of the screen. Currently rocking a Lumia 925 which I love, but I do miss the extra row I had with the 8x.

I really wish Nokia would have made high-end Lumia with 4in but I'm currenty using Lumia 900(4.3in).

My htc 8x is a good size, could do with it being a little bigger. Maybe 5inches would be a better size. Held one of the 6inch phones and that was just too big. Lol an 8inch phone...! My dell V8p is 8inches and that would be a laughable size for a phone!

I like my 4.5 on my 1020 but got my mum the 625 and think its more perfect size but not spec wise

4.5 to 5 inch very beat size. That is the only reason that stopped me from buying Lumia 1520

Whatever size I have...currently 720's 4.3"

Funny how so many people are saying 5.5 to 6 inch. People used to make fun of Galaxy Note type Android phones on this website not too long ago.

Erm... They may not be the same people?

Maybe that was me :P I find them hysterical. Like comedy-sized gigantic phones ;)

For me, Lumia 800 was the perfect phone size.

5.5" is the magic number for me. Not too big or small.

I love the six inchers 1520 and the 1320...

6+ inches! Keep em coming

4 inches. Why can't I have a high end phone that's 4 inches?

I agree with 4".
I really like the way the 8x feels, in the hand, but I can't touch the top-left corner of the screen.
I think 4.3" would be perfect, if we didn't have so much bezel (including top and bottom).
As it is, I would like a 4" 720p (480p/768p is just a bit wide, for my taste).

4.8" is the right one for me.

4.5" of the Lumia 1020 is perfect for me.

Wouldn't a poll have been better for this? In any case, I'd say 4.5-5" would be best.

Lumia 720 is the perfect size, but I don't mind a 1020 :)

The 4.5" screen is pretty much perfect for me. If I HAD to, I could deal with the 5" screen, but that would be the absolute max.

I thought 6in would be too big. Then I held a 1520 in person. Beautiful and doesn't seem too big

4.3inches of my HTC 8X is perfect for me. But I would say 4.3 - 5.0 inches smartphones are nice enough. Dont like phablet.

5" all screen with soft keys would b good.

I really miss dedicated, hardware, buttons.

Whatever size the Apple commercial about thumbs says is the right size is obviously the right size. /s I have a 920 but think 5" would be ideal. The 1520 just seems too large.

4 inch maximum if its a phone

I have an 4" L520 but it's a little bit small. But I wouldnt go bigger than 5". 4,3"/4,5" is the perfect size of the screen. The specific screen would depend on the specific HW of the phone I would/will buy. Sizes will absolutely change in time I will buy new phone of course.

I'd like a high(ish)-end WP8 device with a 4" 720p display... Just because it could be very nice. Who knows. 4.5" 1080p could be fun.

6inch, women love this size.

My 920 screen size is perfect and I wouldn't mind if it was a 5". I've been looking at the 1520 since I play a lot of games on my phone, but I'm not sure how the 6" phone would be practical for everyday functions.

My HTC One is perfect in every way. Especially size 4.7", for me it's just right. And the 1080p screen is amazing. Posted via the WPC App for Android!

4.5 and I'm rubbing myself

I have massive hands and dreamed about the day when a Note sized Windows Phone would become available. Now with the 1520, I don't ever want to go back to using anything smaller.

Undoubtedly,5-inch display is the most wanted one.i like the Lumia 929 alot with its much speculated specifications.but,i wish it boasts a 3400mah battery.

Love my 1520, but if you were to down size to 5" and keep the look and feel, that would be some shit right there.

I find myself agreeing you though hesitantly. I loved the 1520 as soon as i saw it after launch but after handling in MS store, the overall size kind of killed it for me. Thickness is ok but ergonomically didn't work me for some reason due to overall size. Still a great phablet though.

It is easy to get stuck on the theoretical. I found through direct experience after about 10 days that my 1520 works just fine ergonomically. The initial idea and feel "seemed" too big for the first few days but only due to the fact I was just so used to the smaller 4.5" 920 screen. Now I have easily adapted and it is no big deal at all. I really LOVE the big screen interface enabling far greater ease with everything that I do!

I'd say it depends on the size of your hands! I'm tall, 6'4", so I have big hands...currently using a Lumia 822 which is 4.3" Not a bad size, but a 5 or bigger would be good for me.

I like 4.5 inch screen.like 920 and so on .easy to carry and comfortable in trousers. Although 5 inch are better for bigger displays and can watch high quality videos on big screen.still I prefer 4.5 inch screen.

Obviously 5" the most needed one, fit in palm n pocket large enough for games and internet or photography

4-5-5.0 is optimum for my hands and pocket

Used to have an HTC Titan, that had a wonderful screen size! My 520 is far too small, and I'd like something with a similar (if not slightly larger) screen size to the Titan.

Size doesn't matter but the OS features that comes with it does. Just look at the Gnote. I love my 1520. To call it a phablet is over stating. The Gnote deserves that name, "phablet", not the 1520.

The 1520 is a phablet whether you like it or not.

Its a giant WP. Nothing more.

Which makes it a phablet, but I do understand that it doesn't have any special features(which it should have).

Thank u. For now I'll just call it big phone.

It would be great to get a 5" screen in the size of a 4.5" phone. I checked out the 1520 in the AT&T store. It looks great, but just too big for everyday use. Maybe if you supplement it with a smaller phone and swap out the SIM.

I'm in the 4.5" to max 5" camp but certainly not the 1520 overall size. I currently use Lumia 925 and its quite appropriate

I think screen size is relative to the device. If Nokia made a 5" model with the same thickness and margins as the Lumia 920, I'd have a hard time with it. But if Samsung made a 5" model like the Galaxy S4, that would be awesome (or if Nokia could pull off something similar, I'd totally get the Nokia). I'd also like to see 1080 in a 4.5" screen.

I would like to announce that this thread just won the Guinness record for "more amount of comments without a double entendre posting about genitalia size on a Smartphone's screen sizes Thread".

Some of us were thinking it though...

you weren't paying attention, it's already happened more than a few times....

A 16:9 4.3" is the perfect size for me.
The screen is big yet narrow enough to be held & used with one hand.
The way things are going, its the last of the bread & have to go bigger next time around .... I can adapt ... However it must be LCD.

A revamped Lumia 800 with the latest specs would be great!! I like the size and don't like people staring at my phone, when I am checking emails and stuff.... :)

looking towards MWC for a 5 or 5.2" from Nokia/MS. No Samsung/HTC.

I like the screen size of my Lumia 920, however I would like to see a 5" phone (preferably Nokia).

4.5 has been pretty good to me, but every time I go up, seems like I enjoy it. I'll probably try a 1520 out and see how I feel. I just enjoy my 1020's camera too much.

I wouldn't want my phone to be much bigger than my 920. If they could squeeze an edge-to-edge 5" 1080p screen into a similar form factor, that would be awesome, but it's already close enough to being too big. I'm disappointed that the 3 column option didn't make it into GDR3. There are a few wide tiles that are nice, but take up too much real estate to have "above the fold" on my screen. Especially because so far GDR3 seems to have improved the reliability of live tile updates, so I actually look at them more often.

For me, 5" display is maximum just because it is still easily pocketed.

4.3 is the ideal to me, though I would be willing to go up to 5" IF the specs of the phone justify it. But since Sony proved you can put high specs on a 4.3" device, I'm less willing to accept a gigantic phone just "because".

4.5 - 5" No bigger than that

I think the 4.5" screen on my 925 is the ideal balance between display area and overall phone size.

Hmmm... 5" is the best. ;-)

Between 4.7 and 5 is perfect. I could probably get used to it but the idea of wearing a tool belt sized phone on my hip like the 1520 but it surpasses the limits of "coolness" in business.

I had xperia z 5" it was perfect size for me my new 920 feels sometime small

5 is what I'm waiting for. If there was a 5 inch version of the 1520 that could run on TMO, I'd buy it immediately.

5 - 5.5 would be perfect ...

4in is quite comfortable.

Love the 6" screen of my 1520

6''. I have Lumia 1520 and I got used to the bigger size pretty quickly. My old Lumia 920 seems very small now. But I think 5'' would be good for a lot of people, too. 8'' is too much for a phone/phablet. A tablet is another story.

I would have to go with the smaller screen size, 4 inch. Anything below that is too small, and anything above that is difficult to se with one hand.

After using the 1520 anything smaller just seems weird, Although smaller screen devices are easier to handle I gotta say 6"

5" is perfect, Lumia 920's screen can be bigger with the same dimensions. That would be great aswell.

As of now, the 4.5 inch screen size is the best, though I find 4.7 inches to be a perfect fit for my palm. I might consider a larger device only if it is has a companion smartwatch because that would negate the side-effects of having to carry around a huge phone.

I think 4.5-4.7 is the perfect size for a phone. 5" is just slightly too large for me. 4.3 and smaller is way too small.

5in and im going back to WP :) Posted via the WPC App for Android!

Minimially I would love to see a 5" screen or maybe 5.2"-5.5". I would love a bigger screen on my 1020 but not sure I'm ready for what the 1520 has to offer at the moment. It will be interesting to see what will be coming down the pipe from Microsoft and Nokia.

I have a HTC 8X and love the screen size, not to big, not to small :)

4 is perfect for most people. 5 to 6 for me.

For me is not more about "What's your favorite Windows Phone screen size?" but "What's your favorite phone size?" with this said my Lumia 920 phone size is nice, not too big and not too small but wouldn't mind it if a 5" or 4.7" screen is squeezed in there. So... 4.7" - 5". Hoping "Goldfinger" falls under the dimensions of the Lumia 920/1020 (a little bit smaller would be perfect) with a 5" screen.

Yep...5 inch is what we need!

I love my 1520 but it is a little big when making phone calls and pocketing it. 5" would be ideal, with the 1520's specs, for me.

Re: All comments above this one. Thats what she said.

I think 5in would be nice, but they NEED to reduce the bezel size!!!!

I think so, too!! Slim bezels look so damn sexy. Imagine that on a Lumia.

The 4.5" from my 925 is good enough for me. I would only go so far down as to a 4.3" and that's it!
The other way around would be 4.7" or 5" top - not so big as to be weird when making calls (1520), and not so small that games and videos look excellent! Put a 1080p display on top of it and BAM!!

I have a 920 but I would like to have something a little larger. My problem is that, I have an arm band for when I run/bike. It's already pretty big and I can't imagine having an arm band for a 6" phone. I wish someone had some sort of neoprene harness that would support larger phones. And no, I'm not wearing a fanny pack...

There is no reason why the current footprint of the 920 and 1020 cannot accommodate a 5" screen, especially as Windows Phone 8.1 moves towards virtual back, search, and home screen buttons. This would be a grand slam, IMHO.

yeah, they need to get rid of that huge bezel

For my past phones, I went from 3.2 to 4.3 to 4.1 to 4.5. Its amazing how much of a difference 0.4 inches is. Or even 0.2, as going from the HD2 to Dell VP was noticeable too. Do not want to go backwards... 4.3 maybe, nothing less.

it's not the size of the screen that counts...

5" all screen with soft keys and little bezel

I like my 1020's 4.5", but I would like to see smaller bezel.

That's something I've thought about. Every company gives these screen size numbers. But does that reflect bezel or no bezel? I personally wish it would be no bezel so we can get a true viewing area.

4.7 or above. The HTC Titan was my favorite phone.

Now that I have a 1520, I would say 5.5 inches or maybe 6 with less bezel.

Size DOES matter! My wife's iphone screen is way too small for my aging eyes - and my 920 is even small when it comes to viewing Word docs. Truly, there isn't one ideal size. It really depends on how you use your phone and how it physically works for you. Unlike iphone, we're not all forced into a one-size-fits-all mentality - and, for me, that's a very good thing!

Love my L1520, but I did set my lock screen pin to numbers on the left so that I can unlock it with my left thumb. I use a phone left handed.

Anywhere from 5" to 6" is perfect for needs.

For me it would be 4.5 to 5.0 and depending on what the phone packs no more than 5.5. I'd say I would have given the 6" a try but att made it so I won't. So I'm gonna stick with what I know I'm comfortable with.

Yea, also thinking a 5" would be perfect...

I got 5 on it. Perfect screen size. But I wouldn't be mad with 4.5" 1080p screen either.

4,3" for me. It's not extremely big but definitely not small either. And you can still use the phone with one hand.

anything between 1 - 21 inches, but weight should not be more than 2000 grams. i get used to whatever screen size i use. switching to smaller screen imediately makes me feel that screen is too small but after 5 mins its ok again. using 15.6 inch laptop, 10.6 inch surface, 7 inch nexus 7 2, 4.5 inch 1020, 3.5 inch nokia 701 and nokia c2 (dont know screen size). adapt to whatever screen size.

I would have loved to have had a 5" 1520. 6" is just a tad too big. Too bad Verizon is getting that version.

Perhaps Samsung would launch a 5 inch device with same hardware.
Ativ s is still a great device

I currently use a galaxy note 2 and a lumia520.
While the galaxy note is awesome to use for hardcore stuff, especially gaming, games with on screen controls . Also reading stuff, long pages and media consumption.
But what the lumia520 feels best for is messaging, long text sessions feel overwhelming on the giant display of the galaxy note .
So if you are a texter , over everything else the small screen is great, but for media consumption and those who actually use the plethora of features of their smartphone, a small display restricts the usability.
Still waiting for the perfect mid range device from wp8

4.5" 1020 is perfect. Not too small not too big. I think 6" is too big almost a tablet size, U won't be able to carry it in your pants pocket. If I want something more then 5" screen size - thats a tablet for me then.

I'm a taller guy with bigger hands and honestly, the 1020 is as far as I'll go. I have no idea why anyone would want to carry around these monstrosities and call them a phone. Remeber JNCO jeans. One day we're going to look at these massive phones and wonder "What the hell were we thinking?"

4.7 - 5.0" is optimum for me. I have hold 1520 in my hands and it just felt ridiculous for a smartphone. If it doesn't fit in your front pocket then it is too big. :)

I've had the HTC Titan 4.7" , Lumia 620 3.8" and am currently using the 920 4.5". 920, 4.5" is my favourite :)

I've used 4.3" (Focus S), 4.5" (1020), and 4.95" (Nexus 5). 4.3" was ideal for one-handed use and very easy to hold. 4.5" is a stretch to reach the upper-left corner with my thumb. With 4.95" it's nearly impossible. It's nice having the larger display sometimes, but wow.. for usability, 4.3" was the best. Clearly it's a very personal preference kind of thing and there is no single best option for everyone. Very much depends on how you use the phone.

For me it's the size of the phone , not so much the size of the screen. Nokia 920 is perfect phone size but : - Make "nokia" smaller of move it to the back - Use space below the buttons - Maybe make HW buttons a bit smaller as well This way you could probably fit 5" screen (or very close to it) into 920 case. Now THAT would be a perfect phone.

I love the size of mg Lumia 920

i want a phone between 5 - 5.5 inches wid a pureview cam!

I have the Samsung Ativ S with a 4.8 screen from Telus running on T-mobile with talk, text and Internet sharing. It's a good size but would also be happy if they came out with a 5 inch model. Also interop-unlocked and 3 medium tiles across.

Love my HTC 8X. The bigger screen size is tempting but I have a Windows RT for that.

5" is the perfect size for me; 8" for a Mini Tablet to be used as a Filofax Agenda and a 12" Convertible Tablet as portable computer.

5" with better battery which can last one day heavy usage and slim factor matching 925.I own lumia 925 ,its good device but battery let me down for my usage pattern (heavy use + need many push apps in background).Hope lumia icon has world wide release especially India.

Depends on the phones dimensions. Screen size is diagonal so one 4.5 inch could actually be harder to hold than another, depending on form factor and bezel the manufacturer uses. I found my hd7 unwieldy because of the form factor but my 925 is just fine.

I say the bigger the better... Using the 1020 right now... Can't wait to upgrade...

What I'd like? A thinner/lighter 920 frame, with a thinner bezel and the screen going almost edge to edge on the horizontal. Keep the space currently on the top, but drop the bottom edge way lower. Give me a 1080 res. for my third row of icons and I'd be happy.

I have a 1520 and a 2520. The 2520 is nice, but the UI of WP is much better thought out. I want an 8" phone. Any way I can root my 2520 and install WP?

I love my 6" screen on my Nokia 1520. Bigger is always better, ;), no pun intended.

4.3 4.5 would be fine too 5 is rather just big than comfy for me

Love the size of the screen on my 1520. It fits me perfectly.

"it's a question many of us ponder" I see what you did there, lol

With my 920 I think 4.5 is pretty good. Though I'd like to try out 5" screen.

Anything between 5' to 5'5 is ideal for me. Since no such phone exist in WP yet... I'm stuck with 6' Lumia 1520. As people have mentioned, the size of the bezel is very important as well.

4.5 to 5" is perfect for a mobile phone. Anything bigger than that could be considered a tablet

I didn't think I'd like the size of the 1520, but it consistently proves me wrong. Great size for web viewing, games movies/video, and any picture taking/viewing/editing.

4.5" is the best which I prefer to have with Me.

5inches is perfect for me. If they minimize the bezel and overall footprint of the phone I could do larger. I remember holding 1520 and thinking that 6in while nice in practice is awkward when holding to the ear or fitting in my pocket.

Mine is 4" but I think 4.5" is the best

6inch is my new fav. Love my 1520. Don't see myself ever going smaller again.

5 inch is perfect size for me

5 inches would be the perfect size for me.

I loved the screen size of the HTC Titan but cant wait to buy a 1520 or whatever secedes it.

5 inch would be perfect. After using my L521, another inch would be welcome.

I have a 4.3 inch, but a 4.8-5 inch would be the max and perfect for a phone. P.S. The 4.3 inch is sometimes too small, when reading or watching videos.

4,3 in on my 8x is good enough! 4,5 would be perfect, but px density is what counts for me!

I'd love a 4" screen with a powerful processor and say 2gb ram

When I first got my 920, I thought it was pushin' it, as far as the size was concerned. The idea of a 6 inch phone is ridiculous to me. (I appreciate that for some people, the 1520 is a great size) I would be willing to go up to 5 inches (but I'd rather not) for a 1080p flagship device, but I'd prefer smaller. It's a shame to me that anything with a smaller, more portable screen sacrifices a lot of the other features / hardware. The 4.5 inch on the 92x/1020 seems like a great size to keep the phone practical. I'm anxiously waiting to see news of a 929-like device on AT&T.

4.5" is the perfect size. It's not too big or too small. It's just right for watching movies and playing games. 8" is way too big.

4.5", 5.0", 5.5" and 6.00" with 1920 x 1080 resolution with the thinnest bezel available; Gorilla Glass 3; 5MB & 20MB front and rear cameras, respectively; UHD recording; SnapDragon 805; 32, 64 and 128GB storage w/ addn'l SDCARD capable; wireless charging; BT 4.0; HDMI 2.0, NFC, Miracast and LTE. Let the customer decide which size fits their palms. Also, offer the same sizes in 2K resolution, except for 4.5".

Anywhere from 4.5 to 5 inches.

I recently switched from a 925 to a HTC One and I am liking the upgrade from 4.5" to 4.7". I have big hands and could probably handle a 5" device, but the 4.7" of the HTC One is able the maximum size where I can reach the upper left corner with a thumb without readjusting my grip. Pocketability isn't a problem with anything under 6", but as long as OSes put navigation in the upper left corner you'll be limited. WP8 doesn't suffer this, Android and iOS do. Therefore bring on the 5" Nokias! Edit: Forgot to add, I really hope Nokia and others all don't shift away from making 4.3-4.5" flagship class devices. While I want a 5" device, my g/f REALLY doesn't. She tolerates the Moto X because it's a 4.7" with a comparatively small body, but would prefer a smaller device with a first-class camera and screen.

Anyone heard if the Lumia 929 will be released on Verizon? So many delays.... That seems like the biggest WP Verizon supposedly will carry.

4.5" is pretty good for me. I wouldn't buy a 1520, just too big even for my large hands.

I have a 920, but I'll love to have a 5 inch device... It seems the best...

4.5 - 5" screens. I can handle 6", have big hands but phablets are an issue when trying to carry 'em in the back pocket of jeans, or something. 1020 or gs4 size is good for me. Don't care how thick or heavy though.

1) Wouldn't this be better off as a Poll? 2) 4-4.5" max for me. I want a device I can easily slip into a pocket, not think about how large a pocket I will need.

it is high time that a Phone above 5" is brought, getting bored with my 4.5" Lumia 920. The specs of 1520 is impressive but is a bit too big to handle for daily use. But I think a >5" with specs of 1520 wud be great! Also Nokia cud think about providing zoom for future models of 1020 series without increasing thickness, eg how about a foldable zoom that rests on the body of the phone! Also pls think of increasing the actual display area in all Lumia phones, u cud get half an inch more there. With the same phone size.

Sure 4.5" is the ideal size for me, not bigger

4-4.5... Otherwise my thumbs cant reach the top. Phones should be operable with one hand!

I would've liked a 5.5" option, but 6" will do for now.

4.7" - 5" is the sweet spot.

5.5 inch! If Windows phone ever releases that.... Maybe Samsung can release a note 2 wp version? Posted via the WPC App for Android!

IT depends on how much the screen influences the form factor. I'd like to see better use of the real estate on phones, but I think the Lumia 925 or HTC 8s have great screens.

The bigger the better for me as I do a lot of reading & browsing. Minimum 4.5 and ideally 5.7.

I have the 4 inch 521 but I really want the 6 inch 1520! That would be my preference.

4.5 my best but still rocking a 4 (520) thinking of an upgrade maybe the 925

4.5-5 no bigger no smaller

5"-4.5" is my preferred size range, but the tradeoff between weight and battery life is the one that I pay attention to more.

Would like a Nokia/MS just exactly the size of my Lumia 1020, but with the screen stretched as much as possible. Could be a little thicker to fit a 3500mah battery, a quad 805, at least 64 GB memory, support for SD card up to 256 GB, 4 ram, the completely utterly beautiful out of this world iPhone- and Android-destroying camera of the Lumia 1020 just at 60 MP and larger lens +, separate camera processor, the same "all other f@#$%&$& phones are so extremely dull and boring" beautiful yellow color, 4 of them insanely effective haac microphones, an even stronger xenon flash... And a Guinness...
Oh Nokia, do you take orders?
And oh again, so extremely minimal, absolutely none existent is my longing back to anything Apple or Android

I had the Lumia920 and upgraded to the Lumia1520. The screen size was irrelevant at the time it was all about the specs.. Having had the 1520 for a month now, I would say that I prefer the size of the 920. I would like to see a 5in device and use it to see how it feels in day to day life before i could really say for definite which was better.

I'll have the 6 or 7 inch RT device with phone capabilities please.

Nokia Lumia 800/N9 size. Everything else is too big. Posted via the WPC App for Android!

920-sized is fine. It still fits comfortably in most pockets. They should continue to offer premium phones that are near this size alongside larger ones.

I prefer 4.3-4.5 (if the bezel is thin enough), and have (surprisingly) gotten to love the 1280X768 aspect ratio because it makes it easier to reach the top corner of the screen without moving my hand. I do like a larger screen, but prefer to type one handed more often than not, so that size range is a good meeting point for those two goals. My only real gripe with Nokia is their love of bezel. :P Also non-pentile AMOLED or bust,... especially for WP.

5 inch without hardware part, hope with upcoming wp8.1 the back,windows key,and search are on screen instead of bezel at bottom.

I think the Lumia 920 has the perfect size. The screen size its ok but it could be ~4.7" without modify the phone

I like small smartphones that really fits my pants' pocket comfortably but for viewing comfort, they're really pain in the eyes. ;)

I'm happy with my 4.5in 925, but I think a 5in Lumia would be perfect for me.

4.3"~4.5" should be enough for me.

Lets think about the facts here. People thought the iPhone had a perfect screen size at 3.5" a few years ago. Then Android started flooding the market with larger screens, 4.3" or so. Media consumption started to increase. People saw Galaxy devices and Nexus devices and started to want a larger screen. I mean, who really wants to watch a video on an iPhone and squint. My eyes are already starting to fail me, so why push the issue. I like larger screens, mainly for that reason. I have owned numerous devices from iPhones to Androids, as well as Windows Phones, with a varying amount of screen sizes. It all depends on what you are going to do or want to do with it. If you are just texting/email and checking statuses on Facebook or twitter, a smaller screen will more than likely suffice. Someone like myself that watches videos, browses the web in full view instead of mobile view, we need larger devices to take in the full experience.
Granted my 1020 seems to be a relatively ideal size for me, I see myself slightly drooling over the 1520. As a matter of fact, I am taking delivery of a Galaxy Note 3 tomorrow just because I like the screen size so much, as well as the S Pen.
Also remember, that large phones with almost non-existent bezels will not be on the market any time soon. The larger the device, the larger the battery. When you have to design a case to fit a battery as well as all of the circuitry, things can get crowded. Tear down a modern cell phone and see what I mean, or check out ifixit.com.

I'm using a 4.3 inch on the 720 & I really like it. I would upgrade to the 4.5 inch on the 925,but I too would like to see a 5 inch screen on this platform.

To me, 4 " is d best..... I can use only one hand to hold , type and navigate.....

4" is perfect, even though I love the 4.5 on my 920

I love the 4.8 in the 625, the aspect ratio makes the phone a lot fun that s3..
For favorite size, it would have to between 4.5-5" based on bezel.. The phone shouldn't be a whole bigger than the 920. Samsung packs in a 5" on the same form factor.

I'm waiting for a 5" Lumia 1020 successor with 1080p AMOLED display, 2gb of RAM, and Snapdragon 800. But it hasn't come out yet

A 920 with less bezel and a 5" screen would be perfect.

I have bog hands, nothing under 10"...

I have the 1520, but find it still too small. Ideally? 7.92" would be best for me (at 4K).

I love how everyone is arguing about it like its a serious issue. Rofl!

A 920 phone with a 520 size is the most ideal. Must include wireless charging and a decent (read: 920) camera.

My response to all of these comments is - "that's what she said." :)

4 inch screen and no more than 60mm width. Perfect for one hand operation and perfect for gripping... IMHO.

5 inch screen would be perfect

I went from a Droid 4 to a HTC Trophy, it was so tiny, but I really liked WP 7.5. Finally the Lumia 822 was released on Verizon. I loved it, but found myself wanting something bigger, and wanting off Verizon. I paid the ETF after about 14 months, and got an EU spec Lumia 925 on a prepaid carrier. I'm really happy with it. I use a holster. But I feel like a full 1080 HD 5 inch phone would he perfect, oh with 3 rows pleeeeeze! A friend had the Galaxy Note 3 and keeps it in his front pocket. He looooooves it. But its sooooooo super huge. All that bring said, seems like I always want something a little bigger. Still very happy with the six and sexy looks of my 925.

Until they make pockets bigger I will hold to still having heart for my Lumia 800 - perfect size - I have a tablet already.

was fine with 4.1in when i was primarily using my dvp(love the keyboard) but it wasnt untill the LTE based 4.8in ativ s came out that i decided to go a tad bigger because most others at the time were to small to touch type

I think 4.5 - 5 is the ideal size.

5.2" to 5.5", 1080P. Prefer the big screen for readability, but 6" is too big to carry in pocket. Hopefully to have a phone with very thin frame.

I used to say 5" but now I'm pro 6" haven't had a problem with it yet.

4.3 to 4.5 inches is fine for me. I actually thought the Lumia 810 was pretty big when I first got it, but I came from a 3.5 inch screen on an iPhone 4. I couldn't probably go up to a 4.7 inch at this point and not notice a difference.

Thanks Guys for highlighting the original topic. I am in awe....,

It took me all of 2 minutes to fall in love with the 1520 It just seems fix my needs

I want 4.7-5.5 with the tiles like 1520.

When I first got my 920, I thought it was pushin' it, as far as the size was concerned. The idea of a 6 inch phone is ridiculous to me. (I appreciate that for some people, the 1520 is a great size) I would be willing to go up to 5 inches (but I'd rather not) for a 1080p flagship device, but I'd prefer smaller. It's a shame to me that anything with a smaller, more portable screen sacrifices a lot of the other features / hardware. The 4.5 inch on the 92x/1020 seems like a great size to keep the phone practical. I'm anxiously waiting to see news of a 929-like device on AT&T.

I love my Lumia 920 but my wife's HTC 8X feels better in my hand. I would more than likely prefer a 4.5 in. screen on a negligible bezel. Hopefully Nokia or Microsoft will deliver but i have a feeling that the replacement to the L920 will have a 5 inch screen due to market trends.

4.5 inches of Lumia 925 are pretty decent. Maybe a little bit smaller at 4.3 would be even nicer, but the key is to make the body smaller accordingly. The HTC 8X, for example, has a 4.3 inch screen but the body itself is really not much smaller than a larger screened phone.

6in - I'll never go back to a smaller screen!

Haven't held the 1520 but I definitely want larger than the 920.

My Ativ S has 4,8 and it could be smaller,so Nokia 925 I think...

5 inches to me would be ideal, 32 gigs and QI charging, when can I buy one.

Thanks WPCentral for highlighting the original topic. I am in awe.....

4.5" Lumia 925 is perfect screen size wise. Although Nexus 5 manages to squeeze 5" into no bigger frame then 925. I really like the 15:9 ratio of 925. Lumia 720 is a perfect size phone (frame and all) for my hand. A bit less bezel and you could fit extra .2" into it to make 4.5, but even 4.3 is still great. I'm one of those <5" people. I have a 7" tablet to watch videos on the go, so there is that. I am VERY curious to try out the 1520 though, hint Nokia, 50 Cent has enough cash to buy his own phones, send me one instead! :D


4 - 4.5 for me. Now using Lumia 925.

Best screen size imo is 4.5" and the limit is Five inches. My 1520 is comparable to my nexus 7

The old Galaxy Tab 7 with a cover can slide into my suite pocket. If it would have a 1920 x 1080 screen, a 16 by 9, instead of a 1280 x 800 then I think an 8" screen could fit in the shell. Now give me that with Windows Phone 9.1 RT/phone hybrid (=better Office) and Intel Atom CPU in 14 nm plus a better version of the Pelican Images 4x4 camera (4x fixed focus with adjustable Xenon flash) in a waterproof sealed case and a sapphire screen => I'm in!
. . .
8"

The iconic size, 5 inches

I think my Lumia 920 is the largest I'll go. Maybe a hair smaller, so it's easier to hold in one hand, 4.3 inches seems perfect, it's big enough for a phone. Especially if you have a 7 inch tablet and a 12.5 inch Laptop (ThinkPad x230)

I have been using the 520 for several weeks, and really love the size. In your hand and in your pocket, it is close to perfect. The 8X is also good, similar feel due to aspect ratio. I will not get anything larger than 4.5", and even that would be a last resort. I accept that I am a minority, but it seems every other niche is being addressed. My ideal would be a high-end 520 sized device, and I'm more than willing to pay big bucks!!

A 5 inch screen would be cool

I have 4.8" Samsung Ativ S and it is a bit too large. I used to have 4.3" HTC HD7 and it was too small. I think 4.5" is the best, but it have to be proper HD (1280x720 is proper, 1280x768 is not) and it must have microSD slot.

4 to 4.3". Larger is too big in my hands. I'd like more Windows Phones to be of that size and with great specs. Like the 8X.

Before moving from 4" to 4.5" (Lumia 1020), I have debated whether I want such big device. Now I would defnitely consider a 5" screen.

I've enjoyed my 928 since it first hit the market last year. Its screen is at 4.7in, I believe, but not full HD. I'd love to snag a 929, with its 5 incher, but I'm beginning to believe that's not gonna be any time soon...8\

4"-5". Between these two values. Because that will fit into my pocket.

pretty sure it 5 or 4.7 on the ativ s, its great but causes thumb strain when the controls are at the top of the screen. just beyond single handed use (i have large hands too), what id love to see is for one, controls in apps made within easy reach, and hopefully a device with a 4.25" screen on the outer but with an 8 or 10" foldable inside, booklet style, hell they could even put it on the outside and make it shrink the usable area when folded. anything smaller than this screen and the keyboard becomes unusable for me, unlike ios which has never misplaced an input, the ms keyboard is fiddly, look at any wp specific chat app to see how many spelling mistakes occur. o and for gods sake ms get your act together and provide a decent landscape mode, even my old cowon j3 and s9 pmp's handle that task with ease.

Personally for me I enjoy windows phones in the 4-4.5 range.

I`m currently using lumia 925 with 4.5 inches, and i like it But 5 inches would be the BEST for me.

4.3 is good. 5-4.7 is a perfect range.

Between the Lumia 520, 521, 928, ATIV Odyssey, and the HTC Trophy, I'm glued to the 928 as my daily driver. I mean the Odyssey was fun for porting an InteropUnlock over to Verizon customers, the smaller system text is almost a must have now on it, but the 928 is just right sizewize along with the IPS display and the 1280x768 resolution gets me along pretty well for watching a movie on the go.

Now that I have gotten use to the 1520. The 6 inch screen seems the norm now. Anything smaller feels insufficient and anything beyond it is too much.

Currently have a 920. I feel the screen is nearly perfect in size but would agree that windows phone needs a couple 5" full HD models, that would be perfect. Tried the 1520 for a week and discovered even though the phone was of amazing quality, (especially that 20MP camera) it exceeded my needs for a phone screen. The screen quality and resolution were stunning however!!

4" - 4.5" is my comfort zone

Don't like display on me (4) (can't make proper layout w/ Windows apps), so I'd say >4.

4.5 would be good enough for me and it HAS to be the latest version if Windows Phone.

4,5" the best + the 3 column option and it would be perfect

I'd prefer a 7 inch screen phablet.

Love my dell venue 4.1" screen, would take a bit bigger but it fits my hand well, wish they would upgrade to windows 8...been great phone for 2 yrs now

I love my 4.3 in 822, at least as far as the size of the phone (1080p would make it perfect), and can easily get by with it. Then again, as the tech advances, the size of my 822 could prob hold close to a 5in screen with no bezels, now that'd be great. I like the larger screens as much as anyone while using them, but the rest of the time the overall size of current phablets is impractical to me. Here's to hoping the icon is the perfect wp8!

Have to say 6". I've got fairly big hands with a 9" span and the 1520 is perfect for me. The weight and feel is just right. With the keyboard being bigger, i find typing a lot easier too.

Well I thought that the 4.5 inch and a 5 inch was perfect. Until I got the Lumia 1520 and it changed my mind. I don't think I will ever go back to anything smaller than a 6 inch device. Its perfect!!! And also don't say a 5 inch is perfect when there aren't any windows phones right now that are out with a 5 inch screen.

I have read some stupied comments. 5,5 or 6' is too big...You will look stupied...People will look at you and will make fun of you. And this and that. What a bunch of stupied comments. Do you really care what people think of you when you are holding a big smartphone? Why??? I though that we were in 21 century. If its good for you fine. Dont think what others will say. I have the Note 2 and i never felt like an alien...I think i will buy the Nokia Lumia 1520 because of its beautiful 6''screen. Do you really think that i care what people gonna say? I want something that meets my expectations not others. And you know what i had Nokia N97 and it was always falling from my hands into the ground. Since i have the Note 2 it never hit the ground. Never. So yes big is great. Big is cooler. The only thing that i care is if i will adapt to WP quickly as i did with android. Apart from that i dont care what others say about my own choices. Remember we only live once.