The Halo: Outpost Discovery experiences are a Halo lover's dream
While there's a lot of room for improvement, Halo: Outpost Discovery is an excellent first attempt at a "Halo Con" by 343 Industries.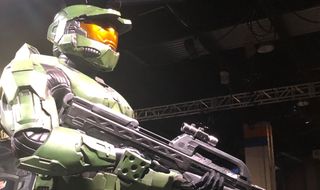 (Image credit: Windows Central)
Halo is one of the largest franchises in all of entertainment, and it features a huge collection of external media that goes far beyond the scope of the video games. Everything from books to animated short films have prospered under the Halo name. But would an entire Halo-themed convention be a successful endeavor?
This is a question that the stewards of the series, 343 Industries, set out to answer this summer with five Halo: Outpost Discovery events all across the U.S. Since I live relatively nearby, I was able to make my way to the Chicago event and experience it myself. Here's what I thought about my trip.
Halo: The Master Chief Collection
Finish the fight

The Master Chief Collection is a fantastic game that lets you experience the entirety of Master Chief's saga in one convenient package.
Immerse yourself in Halo
Halo: Outpost Discovery is framed as an in-universe experience that takes place right after the events of Halo 3. The UNSC has created Outpost Discovery, a special educational experience to teach and inform the general populace (referred to as "Recruits") about the UNSC, the Covenant, and the Forerunners. By attending Halo: Outpost Discovery, you are (in the meta-narrative) one of these Recruits, and you have the opportunity to explore the venue as you see fit.
Outpost Discovery is full of different attractions meant to be both informative and fun, and over the course of the three days that the event was running, I experienced them all. Some of them, such as the Hall of History (a large exhibit filled with to-scale sculptures and informative texts) and Training Grounds (a VR multiplayer experience) are fantastic. Others, like Covenant Escape (a short and simple activity where you try and get out of a Covenant ship) aren't quite as cool as I was hoping. Even so, I don't regret doing any of them, and the vast majority of Halo fans will find them good fun. There's even an area where you can test out Halo: Reach on PC (which feels amazing, by the way).
Image 1 of 2
In addition to the main attractions, there are also a plethora of special panels, run by both 343 Industries and community figures, that occur throughout each day. Some examples of panels include live 343 Industries playdates with members of the audience, in-depth studies of Halo's art and visual appearance, and a guide to helping fans get involved with the franchise's monumental amount of deep lore. (Yours truly was a host!) All of the panels I watched were entertaining and fascinating, and I walked away from each of them with a greater understanding of how Halo and its community have come together over the years.
Aside from everything listed above, there were also various opportunities to get photos with or have items signed by some of Halo's biggest names, such as long-time official artist Nicolas "Sparth" Bouvier and the voice behind the Master Chief himself, Steve Downes, among several others. These opportunities are available to both general admission attendees and VIPs, although being one of the latter generally means you deal with a shorter line as they're in the VIP lounge (more on that later). In addition, there are tons of Halo cosplayers walking around that you can take pictures with, as well as independent artists selling their work. If you haven't had the chance to play Halo's Fireteam Raven arcade game, there's a handful of machines for it on the main floor.
Gear up, Recruits!
What kind of merchandise can you get on-site? Well, 343 Industries absolutely did not skimp in this department for Halo: Outpost Discovery. There's a very wide selection of awesome items for sale there, and they vary greatly in price. The t-shirts, hats, books, posters, and toys are fairly affordable and will only set you back around $20 to $30, while items like the high-quality hoodie and zip-up jacket cost between $60 and $80 dollars. As far as convention merchandise goes, these prices are fair, and I'm very happy with my purchases overall.
In addition to what you can buy, there's actually some stuff you can earn, too. You can get several Halo-themed dog tags by completing the different attractions around the venue, and you can use the Halo: Outpost Discovery companion app to scan codes found all around the convention and earn points, which will get you some special exclusive tags. Lastly, people who are attending as a VIP can get their hands on an exclusive shirt and a golden Master Chief Funko-Pop (pictured above).
Room for improvement
While my experience at Halo: Outpost Discovery was excellent, there are definitely things that 343 Industries can work to improve it. The biggest issue I had with the venue was that it felt "gray" outside of the attraction areas. The convention would really have benefited from more banners, posters, and other types of props that could add more color to the show floor; this could have been done with the meta-narrative of Outpost Discovery in mind, too, as vibrant pieces of UNSC propaganda would definitely support the feeling of being in the Halo universe itself.
Another problem with the convention was that it should have been lit better. Only a fraction of the lights on the ceiling were lit up. I'm not sure if 343 Industries was limited by electricity usage restrictions in this specific convention center or something, but it was a bit hard to get clear, well-lit photos of all the cool stuff on display.
Thirdly, I think VIP tickets are priced a bit high. General admission tickets ($60 for one day, $130 for all three) are a fantastic deal, but the VIP option ($140 for one day, $320 for all three) is quite the markup. VIP purchases include a few neat exclusive merchandise items (physical ones as well as stuff for Xbox Avatars), six months of Xbox Game Pass Ultimate, access to the Outpost Discovery venue one hour before and after everyone else, and a VIP lounge with snacks, sofas, Fireteam Raven booths, and some Xbox One X's set up with local Halo multiplayer. This is all cool, but a lot of it is external from the event. Ultimately, I got some good use out of the extra time on the show floor and I enjoyed chilling out in the lounge, but I don't think it was worth paying roughly two-and-a-half times more for my three-day VIP pass than I would have paid for a general admissions one.
My final concern ⁠— and my smallest one ⁠— is the fact that the lines for attractions can become long. This was a major problem for the first Outpost Discovery event in Orlando, but 343 Industries has been working hard to make lines go quicker, and while the issue hasn't gone away, it has become a lot less severe. People still ended up waiting for the popular Training Grounds VR attraction for up to three hours during the busy parts of the days, but most of the other attractions only had around an hour wait-time, with two hours being the (rare) maximum.
Should you visit Outpost Discovery?
While there are some definite concerns I have with Halo: Outpost Discovery, I had a wonderful time at the convention, and I think every other diehard Halo fan will too. You should absolutely try to attend one of the remaining Outpost Discovery events, though I would say avoid going VIP if your budget is on the tighter side.
Outpost Discovery is coming to Houston, Texas, on August 16 to August 18 next, followed by Anaheim, Calif., from August 30 to September 1. If you'd like to purchase tickets to go to one of these final two Outpost Discovery locations this summer, check out the official website. We have no way of knowing if 343 Industries plans to do a "round two" of Halo: Outpost Discovery in 2020, but I hope the company does. It's off to an excellent start so far, and if it puts in the money and effort to improve, this great convention can become even more amazing down the line.
If you can't make it to Outpost Discovery, but you still want to get in on some Halo action, make sure to check out the Master Chief Collection. Also, have a look at my Halo timeline articles if you'd like a concise overview of Halo's complete story!
Halo: The Master Chief Collection
Finish the fight

The Master Chief Collection is a fantastic game that lets you experience the entirety of Master Chief's saga in one convenient package.
Excellent and affordable Xbox accessories
Up your Xbox experience with one (or all) of these budget accessories, all of which are approved by the gamers of Windows Central.
PowerA Play & Charge Kit for Xbox One ($15 at Amazon)
This charging kit keeps your Xbox One wireless controllers juiced up, and it offers batteries for two controllers. At just $15, this is hands-down our favorite budget charging companion.
ElecGear 4 Port USB Xbox One S Hub ($19 at Amazon)
This brilliant little USB splitter hub attaches perfectly to the side of your Xbox One S console. It's ideal for use with chargers, controllers, headsets, and more.
Controller Gear stand ($13 at Amazon)
Proudly display your Xbox gamepads with this stylish and functional stand. The licensed design is minimalist and black, and it has a hidden storage compartment, making the price of $13 a real steal.
Main
Get the Windows Central Newsletter
All the latest news, reviews, and guides for Windows and Xbox diehards.
Brendan Lowry is a Windows Central writer and Oakland University graduate with a burning passion for video games, of which he's been an avid fan since childhood. You'll find him doing reviews, editorials, and general coverage on everything Xbox and PC. Follow him on Twitter.