What it's like to win a Foursquare Swarm Challenge
Swarm, the location-based social network formerly known as Foursquare, runs regular "Challenge" contests for impressive prizes, including vacations, cash and gift certificates for all sorts of funky junk.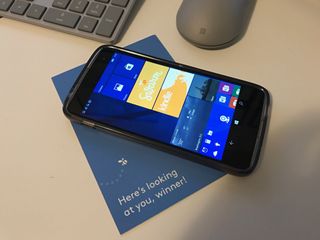 Swarm isn't hugely popular. It's certainly no Snapchat, but the service averages nine million check-ins a day, according to Foursquare, Swarm's parent company. Swarm's user base is also loyal; those of us who still regularly tap the app are diehard.
Last June, Swarm started running regular "Challenges," as part of which users can win a variety of cool stuff. To enter, you need only check-in to certain types of venues a set number of times during a specified period.
I like cool stuff, especially free cool stuff. So I checked-in and checked-in, entered Challenge after Challenge, and crossed my fingers. Months went by. Alas, no luck for lowly ol' me … until last December, when I received a most-awesome Swarm notification. I'd won the Swarm Touchdown promotion for checking into sports-related venues. Sort of.
Check out Swarm for Windows phone
What it's like to win a Swarm Challenge
First, I received a notification in the app, which informed me that I was "a potential winner." I clicked it and filled out a form within the app that requested some very basic contact information. A few days later, I got an email from a Foursquare employee who kindly told me that I'd soon hear from another staffer, who would send me some sort of form that I had to fill out to claim my winnings.
It still wasn't clear, however, what I'd won.
The grand prize for the Touchdown Challenge was a trip to see the NFL football team of your choice, along with some gear and spending money. Being a New England sports fan, the thought of heading to pricey Gillette Stadium to see the Patriots for free sounded great. The runner-up prize wasn't too shabby, either: A $100 gift certificate toward a jersey of your choice.
Swarm contacted me the next day with an "affidavit of eligibility," which made me specify that I don't work for the company and neither do any of my family members. It also let me know in the fine print that I had not won the grand prize, only one of the $100 gift certificates. Bummer. Still, a free jersey is a free jersey, right? (The person who won the grand prize caught a Dolphins game in Miami in December.)
More than a month after submitting the form, I still hadn't received a prize. Never one to forgo free cool stuff, I followed up, and the company told me my prize would be in the mail shortly. Three weeks later, a tiny, hand-addressed envelope that looked like an invitation to a child's birthday party arrived at my door. It contained a winner's card from Swarm and a $100 voucher for Fanatics.com, an online sports apparel retailer.
Takeaways from a Swarm Challenge winner
First of all, I'm a big fan of winning Swarm Challenges. You should try it some time.
I'm a New England Patriots fan, but I'm not a National Football League (NFL) fan — it's a questionable organization run by at least a few unethical people. When you purchase an officially-licensed NFL jersey, the league takes a chunk of your cash. I don't want to support the NFL, so I used my gift certificate to purchase a new Boston Celtics jersey instead.
It feels dirty to criticize Swarm and Foursquare when they just gave me $100, but some clearer communication would have been helpful. It took the company nearly two months to mail my winnings, and had I wanted to buy a spiffy new Tom Brady jersey to wear during last weekend's glorious Super Bowl win (sorry Haters), I wouldn't have had time to order one and receive it before the big game. That kind of defeats the purpose of an NFL-football-related contest.
Still: Thanks Swarm!
If you're not familiar with the app, check out Foursquare Swarm for Windows phone. It's also available for Android and iOS.
Get the Windows Central Newsletter
All the latest news, reviews, and guides for Windows and Xbox diehards.
Al Sacco is content director of Future PLC's Mobile Technology Vertical, which includes AndroidCentral.com, iMore.com and WindowsCentral.com. He is a veteran reporter, writer, reviewer and editor who has professionally covered and evaluated IT and mobile technology, and countless associated gadgets and accessories, for more than a decade. You can keep up with Al on Twitter and Instagram.