What's Installed On your WinMo Standard Device?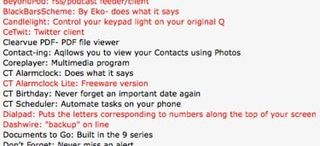 We've recovered from the Week o' Weather apps (hint: see the roundup here), but we still have Windows Mobile Standard on the brain. We figure that there are a lot of people out there who have moved to standard from Pro recently -- Standard is less and less the 'redheaded stepchild' of Windows Mobile Proper and more and more the platform of choice for developers. Plus -- the devices are, let's face it, thinner and a little sexier.
So! Cadman starts up a conversation in our forums that we want to continue: What's installed on your WinMo Standard Device? What's your fave? What do you miss from your old device that you need on your new WM Standard smartphone? Hit us up in the comments!
Windows Central Newsletter
Get the best of Windows Central in your inbox, every day!
Here is a running list of applications that are recommended/ asked about on the forums.
If you respond to me via pm or email, I will add your app to the list.
Respond with any that you use that you don't see listed.
* Note items highlighted in red are free applications.
PIM Software
Agenda One: PIM Software
Agendus: PIM Software
Extreme Agenda: Replace the standard calendar
Papyrus: Replace the standard calendar
Contact Software
Contact-ing: View your Contacts using Photos
[COLOR="Red">Dupededupe: Remove duplicate contacts from your device.[/COLOR]
SMS/Email/ IM Software
Agile: Instant Messaging Program
[COLOR="Red">CeTwit: Twitter client[/COLOR]
ExtremeTxt: Add SMS conversation ability to your phone
[COLOR="Red">GroupSMS: Send a message to multiple contacts at once[/COLOR]
IM+: Instant Messaging program
[COLOR="Red">Inbox Extender: The ability to delete all emails in bulk[/COLOR]
Inboxtones: assign ringtones to email/sms
LEDAlerts: visual alert email/sms
[COLOR="Red">Oist: Free sms tone program[/COLOR]
Palringo: Instant Messaging program
Pusheffect- push email for your device
Slick: Instant Messaging program (In Beta)
[COLOR="Red">SMSBubbles: sms preview on home screen[/COLOR]
Alarm/ Reminder Software
Alarm Master: Alarm management software
CT Alarmclock: Does what it says
[COLOR="Red">CT Alarmclock Lite: Freeware version[/COLOR]
CT Birthday: Never forget an important date again
Don't Forget: Never miss an alert
OxiosAlarm: Another alarm option
PDF Software
[COLOR="Red">Adobe PDF Reader- Free PDF viewer[/COLOR]
Clearvue PDF- PDF file viewer
Homescreen Software
[COLOR="Red">
BlackBarsScheme: From Eko- does exactly what it says[/COLOR]
Facade: Homescreen customization program.
[COLOR="Red">Orange.dll +Allows you to put multiple items along the top taskbar[/COLOR]
[COLOR="Red">SmartToolKit: Windows like interface[/COLOR]
Right Menu: Great to have fast access to your favorite things
Phone Software
Call Jockey: Simulate incoming calls
[COLOR="Red">Dialpad: Puts the letters corresponding to numbers along the top of yourscreen[/COLOR]
Games
Bejeweled: One of the greatest games for a mobile device
Bejeweled2: Update to a classic
[COLOR="Red">Doom: Get the Original Doom on your device[/COLOR]
Guitar Hero III: wm version of a recent hit
[COLOR="Red">GNUboy: Gameboy Emulator
Kevtris: Tetris Clone
Kevtris2: Update to the original
Nine Hole Golf: Par 3 Golf Game
PocketNesterPlus: Free Nintendo Emulator
SPVMan: Pacman[/COLOR]
RSS/Podcast Feeders
BeyondPod: rss/podcast feeder/client
MDigger: Rss feeds
Newsbreak: Newsfeeder program
Newsgator: rss feeds
Viigo: rss feeds
Password/ Wallet Software
Ewallet: Keeper of passwords & other stuff you don't wanna forget.
Flex Wallet: Now part of Ewallet
SplashID: Another Password App
Msafe: Remotely lock your device and SD card if lost or stolen
Multi-media Software
Coreplayer: Multimedia program
[COLOR="Red">TCPMP: Play videos from youtube on your device[/COLOR]
Utility Software
Candlelight: Control your keypad light on your original Q
CT Scheduler: Automate tasks on your phone
[COLOR="Red">CT Scheduler Lite: Automate tasks on your phone[/COLOR]
[COLOR="Red">Dashwire: "backup" on line[/COLOR]
[COLOR="Red">Keylock: Autolock your keypad[/COLOR]
[COLOR="Red">Moto Q Flashlight: Turn your camera flash into a flashlight[/COLOR]
MyMobiler: remote control phone from pc
QCaps- One handed typing (original Q only)
[COLOR="Red">Reset Button: Reset your device without removing the battery
SKTools Lite: Freeware version to clean misc files from your device[/COLOR]
SmartTweaker: Tweak your device
Sprite Backup: Must have backup program in case of phone crashes
[COLOR="Red">Tipster: Simple tip calculator[/COLOR]
[COLOR="Red">Screen Capture: Capture Screenshots of your device[/COLOR]
Vista Battery Monitor: Puts a battery monitor along the top of your device.
[COLOR="Red">VitoCopyPaste: Copy and paste program[/COLOR]
Vito Ringtone Editor: edit/create ring tones on Q
File Management Software
Resco Registry: registry editing
Resco FTP: ftp client
Resco Explorer: Improved file manager.
SmartphoneFind: let's you search the Q
[COLOR="Red">Total Commander: File explorer and registry editor[/COLOR]
Sync Software
[COLOR="Red">
MobSync: Sync files with your PC[/COLOR]
Smartphone Notes: sync's with desktop Outlook Notes
Oxios ToDo List: Manage your Outlook Tasks
Weather/ Maps Software
Fizz Weather: Weather App for your phone
Google Maps: Great mapping program for the device
LiveSearch: Maps and directions
Metro: Public Transportation Guide
Pocket Weather: Another recommended weather app
List Software
Listpro: Great for creating lists for shopping, repairs, etc.
Mylist: List software
Misc. Software
Documents to Go: Built in the 9 series
OlivetreeBibleReader: Bible Reader Opera Mini: Alternate web browser
PDAnet: Use your device while tethered

Awesome list! Here's what I'm currently rocking on my Q9h:
FREE:
- Google Maps
- GPSID Settings (GPS Hack for Qs)
- Live Search (My fave WinMo Software of all time)
- NewsGator Go (RSS Reader)
- Seven Beta (Best Push Email Ever, works with any account)
- Smaato Cost (Installed to test for a user. It's EVIL. RUN AWAY)
- Tiny Twitter
- Total Commander (decent file browser and reg editor, but it's no Resco)
- VSBenchMark
- Windows Live (The gimped, free version)
- Yahoo Go! (Meh. Can you tell I install a bunch of stuff just to test it?)
- CHome Configurator (For editing Windows Mobile 6.1 Panels. AWESOME)
PAY:
- Opera 8.65 (actually, presinstalled)
- Pocket Player (Soon to be replaced by Pocket Tunes)
- Sprite Backup
- Fizz Weather
- AT&T Navigator / Telenav (Though lately I just use Live Search)
- Astraware Boardgames
- Guitar Hero III

Here is my list on my Dopod C730
Free:
- Google Maps
- Live Search
- Info Feed (preinstalled)
- Nine Hole Golf 1.0
- SKTools Lite
- Gmail App (Java)
- Opera Mini (Java)
- Skyfire BETA
- SMSBubbles
- Tiny Twitter
- Viigo (Never use)
Pay:
- Facade
- MS Voice Command 1.6
- Sprite Backup

SK-tools Standard
Inboxtones
Vito Ringtone Editor
are now installed also on my 9m.
check out this new software:
qorefunctions.com has a popup program. Know who leaves voicemails without listening to them.
I don't have all the apps I listed in the first post, but close to it!
I have all the free ones.
About 40 apps installed on the 9m.

heres what I got on the BJII
Free:
sktools light (thanks for reminding me about that one)
opera mini
live search
yahoo go
Pay:
extreme text
lobster tubes (because even 8G isn't enough storage)
telenav

WM6.1!!
1-Calc
AlarmMaster
eWallet
Live Search
Resco Explorer
Slick
SmartSSPlus
Sprint Navigation (aka Telenav)
SprintTV
trackr
Motorola's Voice Recognition in ROM (which from what I hear is very different from MS's)
wmIRC
DocsToGo (in ROM)
Games (installed to the memory card):
Astraware Casino
Bubblebreaker (ROM)
Guitar Hero Mobile
Resco Defender
Solitaire (ROM)
Before WM6.1 I also had SMSBubbles, Fizzweather, the Orange homescreen plugin, Opera Mini/Jbed, TCPMP/ FlashVideoBundle, and SPBattMet installed. Opera had some issues for me with cookies on some websites so I just stick to PIE now. I never actually used TCPMP or FlashVideoBundle, so that was a waste. I now use CHomeWeather instead of Fizz, and SMSbubbles isn't really necessary for me either with the panel view it does now. Also very important the first time I synced contacts over to my Q9C was ContactFix, which switched all 100 of my contacts to the First Name Last Name type display that I prefer. I've considered PocketTunes myself, but since it doesn't work with the Music sliding panel, I decided to stick with WMP.
Plus... I have the q9c GPS Hack and ClockonTop installed, in addition to Rinku's Iconbar and CHomeWeather for my sliding panels homescreen (which uses Mortscript as a backend.)
Here's the homescreen, if anyone's interested in that as well:
Credit for the background goes to FreddyReyes.com, whose themes look awesome for portrait devices but unforunately don't work entirely right on landscape devices. I'm not entirely happy with the custom slim layout for CHome weather that it uses. (If you notice, it changes all of the panels to make them smaller.) There's some issues with alignment varying too much, and the picture for some panels being on the right and other panels being on the left, but its still nice.)
I've also changed the dialer screen just slightly using a file from one of his themes. I removed the ugly yellow strip (that shows the letters/ numbers a regular phone has) that was default on my Sprint q9c to replace it with the gray one shown here:
Edit: One last thing... I see Dieter lists Seven email. I had Seven installed at one point as well, though I noticed for my non-Gmail IMAP account (Fastmail) that it wasn't getting the messages immediately. After some research into the issue, it turns out that Seven's program is only true push for a few types of email accounts. They do not use IMAP IDLE like Chatter did. With Hotmail, Gmail, and Yahoo, Seven gets server notifications when a new email arrives, making it true push for those email accounts, but with a standard IMAP account like my Fastmail one, it just polls every five minutes, making it no better than Outlook Mobile on its own. Source: http://community.seven.com/viewtopic.php?t=1232

I guess not that many people here use WM Standard, huh? :D

We offer wow gold, Warcraft gold, We have an outstanding world of wow gold experience.Wow gold store welcome you! Look here to buy wow gold, cheap wow gold, buy cheap world of warcraft gold, power ieveling, wow gold on sale with fast instant.We are a world class wow gold store online.

I guess not that many people here use WM Standard, huh? :D
To me WM standard is so much more integrated into the phone, whereas wm pro seems to make it two separate devices.

Right now, all I have on my BlackJack is GamePack 2 from Implicit Software Solutions Inc. It has a good combination of "action" games and "thinking" games such as Sudoku, which I am addicted to. Here is where I got it, and there are sooo many other games I want to try. Luckily many have trials so I don't go broke finding the games I love, haha.http://www.wireless-gaming.com/desc.php?d=d2&id=198869&t=iSS202&com=Implicit20Solutions%20Inc

I like all the games. Sudoku is one of my favorites. It gives you into thinking. Makes you play over and over again.

In replica Rolex Daytona replicas the pins holding the strap to the watch are threaded very neatly and properly now days.

Du kan ha kopiaRolex datejust och andra replica Rolex Submariner kopior, utan att st