Weather App Smackdown! - Week o' Weather Apps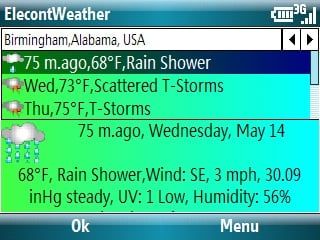 (Join us this week as George reviews 4 Weather Apps for Windows Mobile Standard and then gives them all a big smackdown on Friday. Today's entrant: The final roundup! Also, several folks have mentioned in previous articles that they like WeatherPanel, which doesn't work on Standard-Edition. We'll be bringing you a look at that app in the coming weeks)
The capabilities and potential of a smartphone has very few limits. Beyond using smartphones such as the Palm Treo 750 and the Samsung BlackJack II as a phone, users have the ability to track appointments, contacts, surf the internet, check email, play games, create documents, and other tasks designed to help with your day to day lifestyles. One application that is growing in popularity is the ability to retrieve weather information. Several software developers offer such applications with a varying degree of success. Read on to see what the options are!
This software roundup brings into light the more popular weather applications available to Smartphones. I try to pinpoint who the software is more suited for with the Casual Weather User wanting to know just the facts, the Middle of the Road User wanting to scratch the surface, and the Hardcore User wanting all the weather data they can get their hands on. The Overall Rating is how well the application meets the needs of the targeted User.
Elecont Weather ($14.95)
Elecont Software produces one of the more basic weather applications in its Elecont Weather. Offering the basics in current conditions and forecasts, Elecont Weather is compatible with Home Screen plug-ins such as Façade to provide a weather information bar on your Home Screen. The application does not have any maps but does report on a good selection of weather data.
Who's it for: Casual Weather User
Overall Rating in the Full Review: 5/5 Stars
Pocket Weather ($12.95)
SBSH Software, developers of the popular Home Screen Plug-in Façade, enters the weather application field with PocketWeather. PocketWeather is based on weather data collected at METAR sites (fancy acronym for airport weather reports). It also provides information on global earthquake activities. Being developed by SBSH, it is a natural plug-in for Façade and an information bar can be easily displayed on your Home Screen. Where Elecont Weather gives you the basics, PocketWeather goes two, maybe three steps beyond.
Who's it for: Hardcore Weather User
Overall Rating in the Full Review: 5/5 Stars
Fizz Weather ($16.95)
Fizz Software's entry into the weather application arena is aptly named, Fizz Weather. Offering information not only on current conditions and weather forecasts, Fizz Weather also offers forecast maps and animated satellite maps. It is compatible with Home Screens and an information bar can be displayed. One key benefit to Fizz Weather is that if a severe weather alert is issued for your forecast city, an alert icon is displayed on the information bar and when you enter the application, you go directly to the text of the weather alert. The weak point of this application is in it's navigation but otherwise, this is a good application.
Who's it for: Middle of the Road Weather User
Overall Rating in the Full Review: 4.5/5
Handy Weather ($17.95)
One of the newest weather applications on the market, Handy Weather has one glowing fault. Software developers omitted one of the fifty States in their preset city listings. While Paragon Software has recognized this error and will be including cities in Alabama in future releases, the current version is of no use for someone living in or traveling to this State. If you are the type that has never lost anything in Alabama and will never travel to that State, the application provides the basic weather information that a Casual Weather User would need. Options are limited on what is displayed but when all 50 States are represented this application will improve 100%.
Who's it for: Casual Weather User
Overall Rating in the Full Review: 2/5
Microsoft offers Live Search which is a free application that gives you access to maps, driving directions, traffic issues and now weather information. It gives you the basic weather information and the option to go to the internet for more detailed weather information. Its strength is in its price, free but I would have to say its weakness is that you have to go to the internet for more detailed weather information.
Who's it for: Casual to Middle of the Road Weather User
Overall Rating: 4/5
Conclusion
If you couldn't tell, there's really not a bad weather application available -- it mainly depends on your needs. Elecont gets a slight edge for "causal" weather users, Pocket Weather for those with "hardcore" needs, with Fizz and Live Search competing for the "average" folks (slight edge to Fizz, but then again Live Search is free). I'll even go so far as to say that when Handy Weather includes Alabama in their preset city locations, that application will be a good, middle of the road application.
The key to selecting the right application is finding out which one meets your needs. Luckily, every application listed has a trial download that allows you to try the application before purchasing it.
Windows Central Newsletter
Get the best of Windows Central in your inbox, every day!
The only problem is like I said in an earlier post, none of these support the WM 6.1 sliding panels homescreen, which in the next few months depending on the device... makes them all completely irrelevant.

WM 6.1 may affect the home screen information bars but I doubt it will affect the functionality of the applications. You will still have access to the weather information but will have to go into the application to see it.
I would be shocked if Fizz, Elecont, and SBSH do not update their applications to make their homescreen plugins compatible with WM 6.1. Plus, for those who don't make the move to WM 6.1, these applications will still be very relevant.

one day i went shopping outside ?and in an links of london store?I found some kinds of links of london i love most?they are: watch Links of london bracelets watch Links of london bracelets watch Links of london bracelets watch Links of london bracelets watch Links of london bracelets watch Links of london bracelets watch Links of london bracelets watch Links of london bracelets watch Links of london bracelets watch Links of london bracelets charms for Links of london bracelets charms for Links of london bracelets charms for Links of london bracelets charms for Links of london bracelets charms for Links of london bracelets charms for Links of london bracelets charms for Links of london bracelets charms for Links of london bracelets charms for Links of london bracelets charms for Links of london bracelets