Review: Elecont Weather - Week O' Weather Apps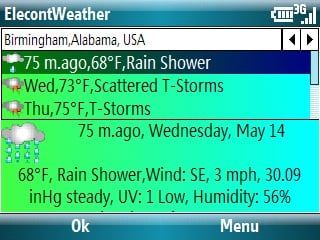 Join us this week as George reviews 4 Weather Apps for Windows Mobile Standard and then gives them all a big smackdown on Friday. Today's entrant: Elecont Weather
It's amazing the capabilities smart phones have today, especially if you have a data connection. From keeping track of your email to tracking your favorite blogs the possibilities seem endless. Having weather information handy at a glance is yet another amazing capability of smart phones. To help you keep up with the weather, Elecont Software offers a program that will report the current conditions as well as forecasted conditions for the upcoming days.
Read on for the full review of Elecont Weather ($14.95)
Elecont Weather offers a 5 day forecast with optional temperature forecasts that is displayed on a banner that runs across your home screen. The location and appearance can be modified to suit your personal tastes and the program is compatible with third party software such as Facade.
Opening the program gives you more detailed information on the weather (current and forecasted) including air pressure, humidity levels, UV levels and wind speed and direction. The appearance and detail of this forecast can be modified through the options menu as well. Weather conditions and forecasts are updated through Intellicast.com's Division of Weather Services International. The frequency of the updates can be set by the user ranging from every hour to every 12 hours to specific times of the day. Updates can be obtained at anytime through the main menu as well.
Elecont Weather is easy to navigate through and set up was easy. When you first use the software, you are prompted to select your forecast city. Elecont includes over 51,000 global cities greatly increasing the odds that your hometown or your next door neighbor is listed. Once you select your forecast city, you can modify the appearance of the information bar and frequency of updates. Elecont Weather will allow you to track the forecast for multiple locations but only one city forecast is displayed in the information banner at a time. In the main program, you can scroll from city to city to view each forecast. You can disable Elecont Weather through your settings menu and if using Façade, simply un-check the plug-in in your setting menu. One feature that is under development for future releases is that ability for an alert to be sounded through your phone (audible or vibration) when a severe weather warning is issued for your area. Future releases will also have the ability to view local weather radar. If your activities are weather dependant and need to know the forecast at a glance, Elecont Weather ($14.95) is a program to consider.
Swipe to scroll horizontally
| | |
| --- | --- |
| Ratings (out of 5)Ease of Use: 5/5Installation/Setup: 5/5Functionality: 4.5/5Overall: | ProsEasy NavigationCustomizableConsNo weather alerts or radar (under development) |
Get the Windows Central Newsletter
All the latest news, reviews, and guides for Windows and Xbox diehards.