All the coolest tech on Daniel Rubino's desk right now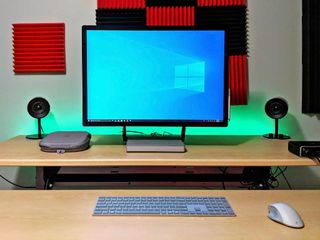 Although I try to keep my work desk clean, I have so many products coming and going it's hard to keep away the clutter. But when that desk is cleaned, these are my core essentials that I'm currently using every day. Some items are obvious, like a PC, but others not so much, like adding some low-cost sound absorption materials for podcasts. Hopefully, you'll find something you like too and get some ideas for your home desk!
Which one of my favorites do you like?
While there are a ton of amazing accessories, gizmos, and gadgets one can use for their home office, gaming rig, or family computer most people can't afford to buy them all.
If I had to choose just a few items here it'd be Surface Headphone (opens in new tab) because you can use them with your PC and smartphone at the same time making them an all-day product to take wherever you go. I'd also be remiss in telling you how much I adore the Razer Mamba Hyperflux & Firefly (opens in new tab) mouse and mouse pad set. Sure, it's super expensive, but this is arguably the best mouse you'll ever purchase, and the wireless connectivity and charging is fantastic.
Overall, though, any of these items will make your online and PC gaming life a lot more enjoyable. Like a carpenter, you need the right tools, and this list here is a good start.