What's your favorite Windows 11 feature so far?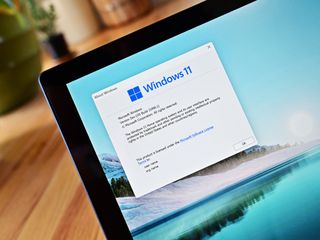 (Image credit: Daniel Rubino / Windows Central)
There was a time when we were all excited for Microsoft's June 24 event, a time when we had no idea what was coming. Now, we're still excited for both the main event as well as the secondary one, but a good chunk of the mystery is, well, missing. That's because Windows 11 leaked in a big, big way.
We've seen so much of Windows 11. We did a hands-on walkthrough video of it, got a glimpse of everything from its wallpapers to its startup sound, and so much more. So, having seen a good deal of its innards, we're wondering: Of the ones that have been leaked thus far, what's your favorite Windows 11 feature?
As we've already mentioned here on Windows Central, there's a lot more to Windows 11 than just a new start menu. And even if you're not absolutely overwhelmed by the features that have been put on display thus far, don't forget that Microsoft is bound to announce a lot more at its June 24 event — you know, when the official Windows 11 reveal will happen.
Windows Central Newsletter
Get the best of Windows Central in your inbox, every day!
Robert Carnevale is the News Editor for Windows Central. He's a big fan of Kinect (it lives on in his heart), Sonic the Hedgehog, and the legendary intersection of those two titans, Sonic Free Riders. He is the author of Cold War 2395. Have a useful tip? Send it to robert.carnevale@futurenet.com.
I really want to go to lunch it's very simple.
Windows 11 Pro
Windows 11X foldable PC
Windows 11 ES education and people that don't need Windows 11 Pro

Lunch sounds good to me too. ;-)

Rounded corners 😂
And I'm not even joking.
Legacy programs like regedit suddenly look nicer 🤩

The devs who sanded those edges are likely very happy to hear this. Thanks for the comment!

Just because Apple and Google are doing it, doesn't mean Microsoft should. I prefer the sharp concerns, looks more professional.

Rounded corners are same as Windows 7. I hope until public release, they completely retouch the input form UI.

I don't care either way, but rounded corners are a fad and on the Window frame just mean there are a small percentage of unusable space.

The snapping improvements is really something I wanted for a long time and Microsoft has finally listened but they also removed live tiles which I won't accept.

I do like the look of the snapping enhancements, looks very useful, not enough to get me to update to Windows 11, but would be nice on Windows 10, I use Fancy Zones, which is good.
As for the start menu, I don't use it, I use Start is back. I presume iot will work on Windows 11, if not then I presume the producer of it will make it compatible,.

Put it on the next surface Duo pleeeeeeezzzzsee

Just No. Will never happen thankfully. That runs Android for good reason.

Why not why is everybody scared of have an option.

But it runs it poorly, so does it really matter.

You've to use Surface tab for that.

Well, they canceled W10X, and it seems the Neo died with it. As for the existing lineup (Pro/Book), I'll consider it when they start offering AMD.

Definitely, I hate Android.

Yeah I know I'm almost back to get a flip phone because Android is so horrible.

I still love my windows phones: Lumia 810,1020 and 950.

I really like the ornate box it comes in, just perfect for housing my collection of antique buttons. ;-)

Start Menu. Modern and useful again.

Stare menu seems like such a step backwards.

But
What about one dimension users? Where's live tiles? What's unique?

The lack of dead tiles. Putting a red or blue box around every icon defeats the whole purpose of icons.

Tell that to all churches framing icons.

I love how much faster it is compared to Windows 10!

https://www.windowscentral.com/windows-11-appears-outperform-windows-10-... Answer is already there.

Very sad most ppl like the ugly Android start menu. 😑😑

Settings icon resembles the old Android icon.

I wish Microsoft would change that icon and the Store icon. The Store icon is terrible.

I'm sad I have a cheaper lenovo laptop and a mac book pro and the leaked windows 11 iso doesn't work on either of them.. oh well Linux for daily driver it is....

Correction found some online who did a work around now it's installing 👌😃

My favorite feature of Windows 11, is that the name Windows 11 implies there will be a dramatic change to the functions of the OS, not just the look. Can't wait to find out what it is.

Instead of the Start menu. Take the mouse to the middle of the desktop. Move the mouse to the right and left. Display rectangular menu. Choose what you want from the rectangular menu and do your job.

The new Start Menu looks good for Laptops and Tablets, but as most desktops are going to large format monitors, it's too small. I don't like tiles, so that part I like, but it's too much like a phone with pages of apps and dots. Also, there doesn't appear to be any way to organize the icons into groups or to resize the menu. I know I can revert back to the Windows 10 Start Menu, but that defeats the purpose of the new UI/UX. It is also unclear if you can pin folders or files. I like to keep a clean desktop to display art. I have 136 apps, folders, and files pinned to my Start Menu, all with custom icons via TileIconifer, which I use on a daily basis. I was an early adopter of Windows 8 and liked it even better with Windows 8.1. I like new technology and change, so I will give it a try, but time will tell if the new Start Menu will get improvements as we move closer to October.

I concur. I hipe to group icons/apps like in Windows 10. 🙂

I do like the Start menu, but in my opinion they keep making the same mistakes with acrylic. If you ask me, acrylic should sample the desktop background by default, no matter what is behind it. This way if you have a monotone program open, like an all-white webpage in Edge, when you open Start you are still greeted by a colorfully blurred menu, not an all-white menu that samples from the boring all-white webpage. Same goes for Action Center and the left pane in Settings. In short, the desktop background would be much more visible throughout the OS. No longer is it an image that you only see when everything is minimized--now it is a crucial part across the UI, like an accent color almost. I would love to see this added as an option for Windows 11.

I take this back, sort of. I just installed an Insider build. Apps like Store and Settings do exactly this--they always sample from the desktop image, and it looks great! Now if only Start did this too 🤔

I've really no idea but everybody needs to understand this is simply a a leak of Windows 11 Pro. I really got to look at Windows 11 X
Windows 11 SE I think it's something for education and replace Windows 10 home.

Nothing, I'll probably wait for Windows 12

Friend of mine asks fie the link to the iso you have users

I do wish for a way to group icons/live tiles like in Windows 10 (Not like Android or iPhone. I want to sort the groups but still have all the icons to all be visible.
I hope that is made available some how.

Something like Stardock Fences but built-in?

To be honest all the appearance stuff is kinda mute for me. I'll just put a custom theme on it as soon as the Deviant Art community comes up with something 1000 times nicer looking. They always do. Hopefully, everything under the hood has been updated to work more efficiently, especially gaming and video editing.

I'll let you know after June 24.

My favorite feature of Windows 11 is that it refines and expands on what Windows 10 has become: the computing platform that enables how I choose to live in the second decade of the 21st century, connected endlessly to the people in my life near and thousands of miles distant, as a management system for my life and investments, a tool for creating art and writing, sharing it, and handing off that legacy when that time comes, profoundly altered how I consume information and entertainment, and that it is a democratic environment where I pick what devices and software experiences to use. Yes, Windows has it short comings but over the decades no other platform has enabled more innovation, wealth, or revolutionized communication in its various forms than Windows. Most certainly the mobile revolution does many of these things too but without the Windows backbone that preceded it, that revolution might not be as robust. My sense from the Windows 11 rollout is Microsoft has finally shed permanently the missteps of the last 10 years or so, sorted out its place and ambition for the next 10 years. There was real confidence in the presentation that was grounded in a deep understanding its own history with a dash of dreamy eyed futurism tossed in. Windows 11 is not just the right platform upon which the next phase of highly connected computing will be built but will thrive. The new Start Menu is an apt metaphor for all this: it is front and center and clearly revels what is next and is possible. Great job Microsoft. Now about those loopy updates....