WhatsApp adds OneDrive chat backups and more to non-beta Windows Phone app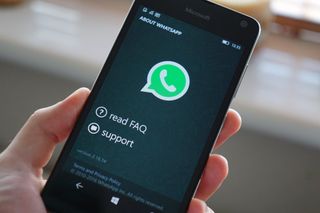 The WhatsApp messaging app has updated its non-beta Windows Phone client, adding the ability to back up chats to a OneDrive account. This feature was added in the beta version of WhatsApp in September.
The new version number for WhatsApp is 2.16.240.0. Besides the OneDrive chat backup, the updates adds the ability to crop a video down to 6 seconds or less and send it as a GIF file. If you notice anything else that's new or different, feel free to let us know in the comments!
Thanks to Hassan and Nathan for the tips!
Download WhatsApp from the Windows Store (opens in new tab)
Windows Central Newsletter
Get the best of Windows Central in in your inbox, every day!
Need that windows 10 photo picker please

Appreciate the dedication to Windows Phone. Font style feature needed.

There is a handsome perf increase after the update which is really cool.

The comment is in English. It's like an expression. Handsome performance increase = an appreciable increase in performance.
/s

Support for Windows 10 gallery please T.T

They really should adopt W10M style and coding.
App just getting slower, with frequent "resuming and loading".
Heard it still uses old W8.0 Silverlight coding.
I believe Facebook has the resources to make a nice app for us.

just look at UWP Skype app. it'd looks amazing!

Yeah WhatsApp is still written in Silverlight for WP8.0, that's the same reason why it doesn't support W10 features like actionable notifications and more - simply because it can't

Silverlight 7.5 on WP7.x, S8.0 on WP8.0 and S8.1 on W8.1 and W10M.

W10M doesn't use Silverlight but supports.

yeah we need to let them know, they should adpot many things from uwp, even feedback feature they should update like Disqus Beta

On RS2 it starts totally slow, the same is with restoring from the background, it takes ages.

Typically the one app all my friends use and actually has a regularly updated Windows app just will NOT work on my phone, and I can't fix it! I never get notifications from the app at all.

Go into your background apps settings and allow it, this may be switched off

Also check the notifications settings within the app itself.

What is the problem with M$ Store ? whenever I want to launch an app from Store it tooks atleast 15-30 sec's to show Launch button.

It checks the installation status of the app before shows the button every time. Say if you uninstalled the app, it has to show Get or install once the page loads again.

Yes, we know that. But what he is trying to say is that, that's still really slow !!

its damn slow.. when u compare with android store its instantly shows to open or uninstall the app. We brand them as Laggy phones but still they perform better than windows mobiles in lot of aspects.

I hate this "true" fact but yup, it's "true" !!
Android Gingerbread and ICS were bad. Really bad. I used them then. Next I used Kitkat for a bit, and Lollipop a bit mote that KK.
I found KK faster than Lollipop. Marshmallow is about the same as Lollipop. OS bugs are plenty but it's still fast. Now, i love Windows 10 Mobile. This OS also has many bugs (even in the Anniversary Update - Mostly Mobile; PC is a beauty), but with the bugs, it's also VERY SLOW !! :( I've seen even the 950XL coming down to a crawl and heating up (CPU gets throttled mostly). All this means poor OS optimization. Sigh.

No problem on my Lumia 1520, run very fast

The only thing I want from this WhatsApp now is the ability to respond to messages without having to close the app I am in to go to WhatsApp just to respond. I want the ability to respond from the notification bar.

The only thing I want from this WhatsApp now is the ability to respond to messages without having to close the app I am in to go to WhatsApp just to respond. I want the ability to respond from the notification bar.

That is possible only if they write the app with UWP framework. It is currently running with old Silverlight code and they are adding features upon it.

Exactly. Actionable notifications. But they can't do that on this WP 8.1 app

Does anyone know what kind of encryption is used for WhatsApp backups?

None at all. It is stored under "\Apps\WhatsApp\PHONE_NUMBER\". There are two folders: The media folder containing all media files (which is nice as you can access them directly there) and another folder containing a few "*.db" files which are SQLite databases with a (to me unknown) password.

OneDrive itself is pretty secure.

@CFI How do you access that folder? Or is it only API?

I saved hundreds of pages (Word docs) by sending myself emails, and don't need OneDrive backup anymore :)

Nice option to have. However, I'm not fond of FB having access to my OneDrive contents! No thanks.

Exactly, no thanks is right, it seems to be the price of every new whatsapp or facebook feature. It is not for me. My red line in the sand was the FB messenger app - give me all your contacts if you want to exchange facebook messages on mobile. I read them through a browser so FB doesn't get to mine all my device contacts.

But how does it matter they get your contacts as long as its not your own important stuff like bank details?
If this is the argument then we all will lose because Truecaller itself has almost 90% of the world's phone numbers !! And we don't even have to have the app. Someone else in our contact list has it and that's enough.

I believe you are correct about Truecaller. I have no problem with Truecaller having my phone number. I have a problem with Facebook having access to my one drive content. No, I don't store sensitive personal data, financial or otherwise, on onedrive. Consider this, if you block location services to facebook but give whatsapp access to your onedrive content, you are also giving facebook access to the metadata associated with your onedrive content, including location. You don't need to be a conspiracy theorist to assume facebook will use that data for generate yet more marketing revenue. Call me a cynical capitalist but I prefer to be paid in exchange for sharing items of value that I own.

When the app asks for the permission, it clearly states that the app will only have access to an app specific folder and not your entire One Drive.

Can now forward images to multiple chats instead of one at a time

I have a suggestion for Whatsapp. Using OneDrive why don't they build in a photo sharing utility that doesnt have the 10 pic limit?
It would also make the chat stream much better having a OneDrive URL rather than having to deal with a truckload of pics. Posted via the Windows Central App for Android

How does OneDrive backup work?

Am I the only one who has problems with resuming screen with this version? I'm using a 950XL with RS2 build installed, previous version .217 works without this issue. Any one else?? Off topic: I can't reply from WC app in my phone, the little arrow paper plane doesn't works!!

I also have the 'resumin...' problem on this version of WhatsApp. Previous version had instant resume. Lumia 730, official Anniversary update!

how does these options (OneDrive backup and GIF) work?

One drive backup option is in 'Chats and calls ' under WA settings . Install this version and you'll find your answers...

Sharing something from the photos app now offers the ability to select multiple recipients...

-Ui improvement: 1.Emotions are bigger and improved 3d look.
2. Emoticons are centre aligned(at the time of replying any msg).
3. Size of emoji changes affect by number of emoji
- share any media to multiple users(more users= more time taken coming back from blackout)

There are several new classes of emoticons: national flags, etc.

whatsapp beta has got updated with the option of sending "forward" to many people. you can forward or send pic to many people by ticking the respective persons name

A really handy and latest feature (available for android & ios users recently) of forwarding single or multiple messages to multiple contacts. Now whatsapp provide multiple chat delete option.

It doesn't log you out on the other device if you switch SIM to another phone... That's an improvement Edit: Oops. The phone number verification finally pop out on the SIM-less phone. Guess it's still one account to one phone

New update also allow to forward any files to one and more members...by selecting

My lumia 650 very slow when take picture using WhatsApp. Sometimes crash. Is it my phone problem or my Samsung evo SD card 64GB? I'm using WhatsApp beta and windows 10 fast ring latest version.

WhatsApp beta is a lot slower than normal version

After this update, WhatsApp on my 930 is noticeably slower, "resuming..." Every time I open it.

Aw man still no way to directly upload GIFs :( all my cinemahraphs are waiting!

How were WhatsApp chat logs backed up prior to this? Were thay backed up at all?

It's not working correctly. I am unable to back up my whatsapp data to onedrive. Its approx 500-600 MB in size and it keeps on backing up data but everytime i open whatsapp, backingup starts happening again starting from 1 %.... Isnt it possible to view download progress in the status bar (just like in android), that how much data is backedup and how much is left to be backed up, on windows phone 10?

Where does it store the encryption key for the saved messages? or are the messages stored unencrypted. Don't really use WhatsApp and it doesn't affect me but interested to know since the messages are using end-to-end encryption. Can't see how it is using the devices hardware itself as the key otherwise you wouldn't be able to restore to another phone, so curious.

In certain windows phones..der s a option to hide navigation bar.. So while hiding that navigation bar...a white patch is appearing in what's app...pls clear that issue...in 8.1 it doesn't appears but in win 10 it appears ...

Its app scaling issue. They should develop an UWP app to resolve it. I sent emails to them but no solution

Emoticons got polished and ability to Fwd pics or vids to multiple groups at the same time.... Like just selecting Tick mark on which and all groups we want.... Good work... But WhatsApp for Windows mobile should get actionable notifications and also W10M full support

Emoticons are different and nicer than before. Like

still missing actionable notification and @ functionality. By when can we expect this?

Still resuming and loading screen . older coding software used. Lumia high end mobiles get loading and resumig screen also. same as like on 8.1. when the developers remove loading / resuming .????????? or developers wait for window 11 ,12....

Did anyone get a bug on the lsst update where you only see new messages if open the app???

Whether or not... After taking all these backups, you can't restore the Windwos Phone WP backup on Android phone... And for a person switching from Windows Phone to Android, it's the biggest disadvantage.... (if you know any method, plese reply)

i am using lumia 535my backup file .but how to read my backup fuile in system if any possibility . the file .db type , please advice .
Windows Central Newsletter
Thank you for signing up to Windows Central. You will receive a verification email shortly.
There was a problem. Please refresh the page and try again.