WhatsApp Desktop now up for grabs in the Microsoft Store
WhatsApp's desktop app is finally available for everyone to download in the Microsoft Store.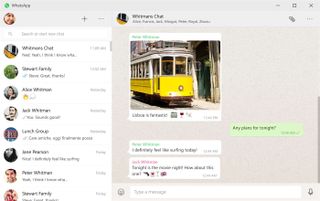 WhatsApp has been working on bringing its desktop app to the Microsoft Store for some time, with the first hints of a store listing having popped up early last year. After quite a wait, the app is now available on the Microsoft Store (opens in new tab) for everyone to download. But if you were hoping for something taking advantage on Microsoft's Universal Windows Platform (UWP), this doesn't look to be it.
The WhatsApp Desktop app on the Microsoft Store appears to be a conversion of the existing desktop app for Windows. Still, all of your chats are accessible as you'd expect and, importantly, this gives Windows 10 S users a way to install WhatsApp. For other versions of Windows 10, the only benefit to installing the Store version would be offloading automatic updates to the Store.
In any case, if you're interested in giving WhatsApp Desktop a shot, the Microsoft Store version is available now. Alternatively, you can grab the Win32 version directly from WhatsApp.
See at Microsoft Store (opens in new tab)
Dan Thorp-Lancaster is the former Editor-in-Chief of Windows Central. He began working with Windows Central, Android Central, and iMore as a news writer in 2014 and is obsessed with tech of all sorts. You can follow Dan on Twitter @DthorpL and Instagram @heyitsdtl.
Does it sync message history, too?

I think so, but what I want to know is does it work in an always connected WoA device without needing to link in to a mobile phone? It'll be a bit useless going forward if it does not.

Usually for these kinds of services, FB Messenger and Kik being sort of the exceptions, you need to be able to receive text messages to a non VOIP/Virtual type service. So no Google Voice or TextNow apps. That being said, activating data on an always on Windows PC or iOS tablet or any data only SIM based device for that matter, typically prevents you from being able to receive that text message so you can activate the service. Hope this clears things up. Not to say WhatsApp couldn't find some other way of authenticating users if they wanted WhatsApp to be usable away from phones...

It is a Web wrapper for Whatsapp Web, as far as I can tell. It does nothing more nor less.

Got it. The desktop download that I was using did the job but glad to have the app.

No different to the desktop win32 app, except the download is over twice the size.

It's a welcome move though... It shows WhatsApp is committed to Windows 10 imho... We can only hope they'll add more uwp stuff to the app like live tiles, actionable notifications, fluent design and what not. So for me this more than just: Oh, it's the same thing as the desktop win32 version...

At the monent it's no different but if there are improvements, live tiles etc then it will be worthwhile.

Or just commited to Windows 10 S (or S Mode now), like everyone else. It's an easy option to add.

I use the version from the Store for over a year now (slideload) and back then it was way better in tablet mode than the classic installer.

Thanks. This is good to know. The Win32 Download EXE used in Tablet mode and the on-screen keyboard covers the message box. It's unusable in tablet mode for sending messages.

It's no different now :(. Still in Tablet mode (Surface Pro 4) and the on-screen keyboard covers the message box. It's unusable in tablet mode for sending messages

It's 244Mb vs. 133Mb. We don't know it's larger. You're comparing a compressed download (the Win32 download) vs. a Microsoft Store app which could very well be displayingt he uncompressed download size or similar.

Yes, LISBOA is fantastic (the illustrative picture). 😀

I downloaded it since December, 2017. I would have loved it if it were capable of standing on its own and taking a SIM. The fact that I need to connect it with my phone through WhatsApp Web, and must have the WhatsApp on my phone working for the one on the PC to work makes it repugnant.

Indeed, I really don't understand how did WhatsApp get so popular. Its requirement of the phone being connected is superfluous, and necessary only to maintain its resemblance to ancient texts. Why would anyone need SMS v2 if there are better ways to communicate? I wish they just smartly merged WA with Messenger - just imagine, connection to all your Facebook contacts without the need for numbers and other WA bullshit (like QR code login - seriously, wth), but without all the crap that Messenger has (bots, games, filters, date planners, sandwich makers, ear cleanliness checker, etc.). WhatsApp is nice and clean, but it's not worth the extra hassle as is.

Whatsapp shouldn't need a phone number, users should be able to set up an account with username and password like every other messaging app

The thing is Whatsapp was built for phones first and now is transitioning to the desktop / windows store. Skype has the opposite dilemma, BBM had the potential of both worlds as it uses a PIN system but they didn't capitalise on that opportunity. I understand why, BBM was one of their key USPs for a few years and having a BBM pin was the norm amongst teens. But that market was taken over by other Instant messaging services using phone numbers as it was simple to set up and didn't require you to add a person twice. As they use your own phone book as an authentication database. So therefore a User name and password is not the way to go - there are plenty of other reasons such security but I'm not going to go in that or these reasons as i'd end up typing a thesis.

This is it's major selling point. Having to create an account puts of a lot of people. You use Whatsapp like you do SMS, you just ask for someone's number. This is very appealing.

Any difference to web.whatsapp.com?

at this point no. there's no difference. but i'm pretty sure in next version it's gonna take the advantage of store apps like (live tiles, direct reply, etc) 🙄

You can have this today with clatter - great messaging app for Win10, supporting WA, FB Messenger and Skype (and many more).

It's an App instead of a Website and should in theory use Windows Notification Centre. Those are it.

Truly nice! Session is remembered and cache seesm to work great. ONE thing: cliking a location on a message, browser opens for Google.map.. NO, This is wrong in Windows 10 DeskTop application. The correct way is to open Windows Maps.

Said no one ever. Google Maps is the standard.

The original Whatsapp Desktop Win32 download has an option to Load on Windows Startup. As this is exactly the same app but repackaged in a UWP wrapper you lose this. Which is a shame. The reason Whatsapp gave for it being better than the website is it utilises Windows 8.1/10's Notification Centre. This stopped working for me a while ago. This new UWP type app doesn't even appear in the list of Windows 10 Notifications :-/ I like Desktop apps being available in the Microsoft Store, mostly they Update all using the same mechanism. I'll keep it for now.
Windows Central Newsletter
Thank you for signing up to Windows Central. You will receive a verification email shortly.
There was a problem. Please refresh the page and try again.